South Point Hawaii is a destination that's on many an adventurer's bucket list. The dramatic cliff tops and windswept coastline are Hawaii's version of Ireland's Cliffs of Moher and are an astonishing sight to see on Big Island getaways.
What's more, it's located 1.5 miles (4 minutes drive) to one of the world's rare green sand beaches!
Exceptional scenery aside, Ka Lae – which means 'the point' in Hawaiian – is also a popular spot for cliff jumping daredevils, who throw themselves five stories into the roaring Pacific Ocean below. Talk about an adrenalin rush!
But whether you choose to face your fears and cliff jump here or not, this awesome geographical landmark next to Green Sand Beach is definitely worth adding to your Hawaii must-do list – even if only for grabbing a touristy selfie in front of the famous sign that confirms you've reached 'the southernmost point of the United States.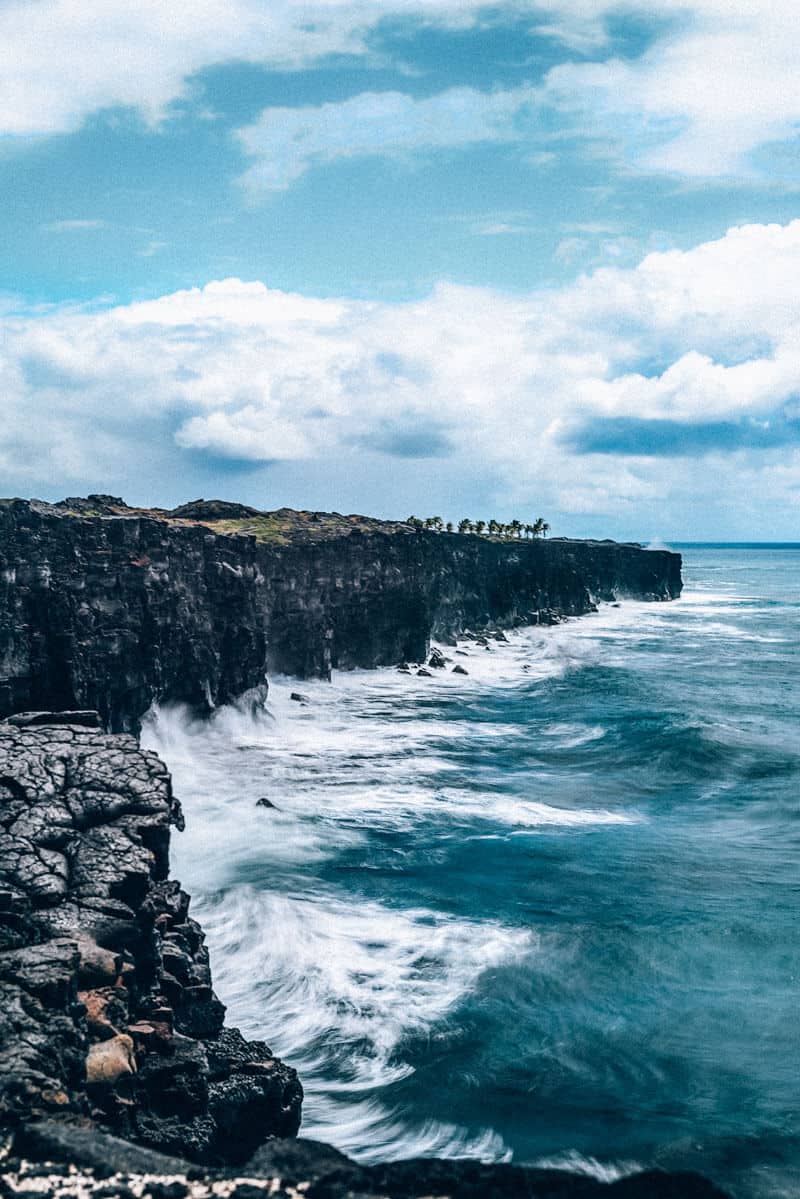 What to Pack? Before traveling to Hawaii, make sure to read my Hawaii Packing List guide so you can know exactly what you need to bring on your trip to The Big Island.
Where to Stay on the Big Island – We stayed at the Royal Kona Resort and loved it. Honestly, we did not have high expectations for this hotel as we ended up having to book it last minute. We were pleasantly surprised by how nice it was. Yes, the actual property was a little bit older, but was meticulously maintained and positioned in an awesome area.
It was not on a beach, but it was right on the water and rocky shore that was beautiful to walk along and watch the sunset. Our hotel even had its own lagoon you could swim in. Super easy access from the airport. Book the Royal Kona Resort here on Booking.com
South Point Hawaii Cliffs (Ka Lae): Cliff Jumping Hawaii Big Island Style
Planning on visiting South Point Hawaii? Here's what you should know:
South Point Cliff Jump is the Southernmost Point in the US
Located at the southernmost point of Big Island Hawaii, Ka Lae – also known as Kalae, South Point or South Cape – is also the southernmost tip of the United States.
While the US does have territories that are further south, Ka Lae is the southernmost point (in an actual state) in the United States, while Florida's Key West (that many people mistakenly think holds the title) is actually only the southernmost point of the continental United States.
Ka Lae's Cliff Jumping History
Believed to be the landing place of the first Polynesians on Hawaii Big Island in 750 AD, Ka Lae is rich in age-old history and registered as a National Historic Landmark.
Traces of these early inhabitants are still visible today, so keep an eye out for ruins of an ancient Hawaiian temple (a 'heiau'), a fishing shrine, and canoe mooring holes carved into the rocks at Ka Lae still used by local fisherman.
Getting to South Point Cliff Jump
Situated at the end of South Point Road, a 12-mile paved yet narrow road off of the Hawaii Belt Road (State Route 11), Ka Lae Hawaii is about an hour and a half's drive from Kona. South Point itself can be found just past the lighthouse, right next to Green Sand Beach and near Punalulu Black Sand Beach.
The easiest way to get to South Point is by renting a car. Having your own transport means you can discover the nearby Kona activities and attractions and stop whenever and wherever you want (including a stop at South Point and Green Sand Beach!)
The 12-mile road leading down to South Point is quite narrow, but it's not too bad. Contrary to many other reviews, you don't need to be driving a 4×4 to reach the cliff top; we didn't have one, and we got there just fine.
South Point Hawaii Cliff Height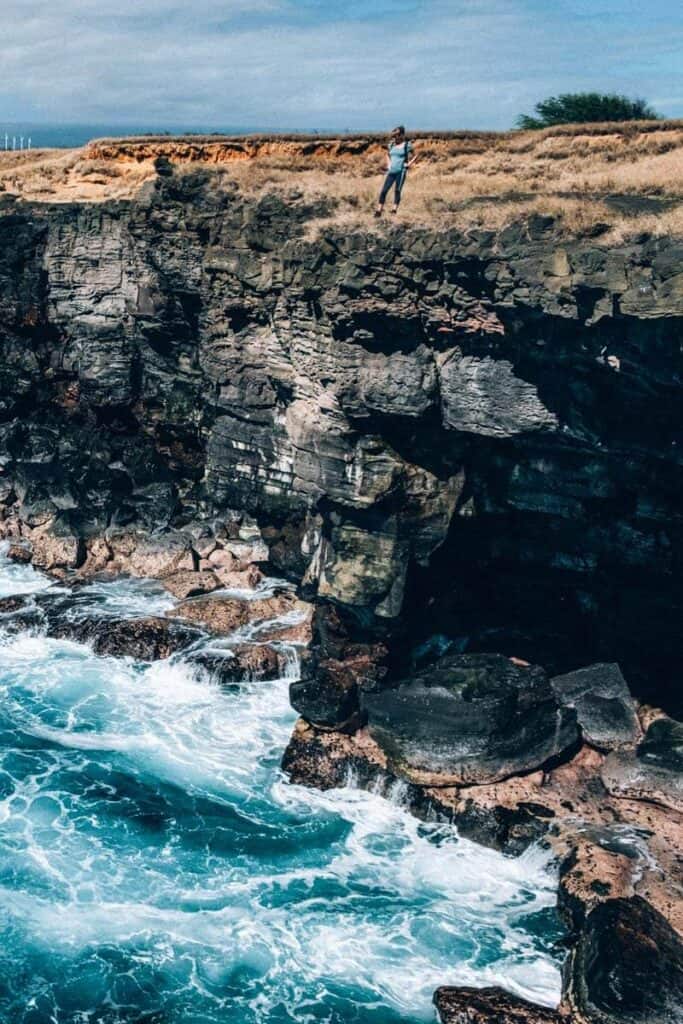 The Hawaii cliffs look amazing at South Point, but they're very high. Accounts vary as to how high the jump actually is, but it's safe to say that the South Point cliff jump height is anything between 40 and 60 feet (40 or 50 feet are the most common estimates). The ocean here is about 20 feet deep.
Is it Safe to Jump off the Hawaii Cliffs?
What you can't see when you're up on the cliff top is that you're basically standing on top of a sea cave, so there's actually less risk of getting slammed into the cliff when you jump than you might think. That being said, there are signs telling visitors explicitly not to cliff jump at the southernmost point in the US, Hawaii.
How Do You Climb up the Hawaii Cliffs Again?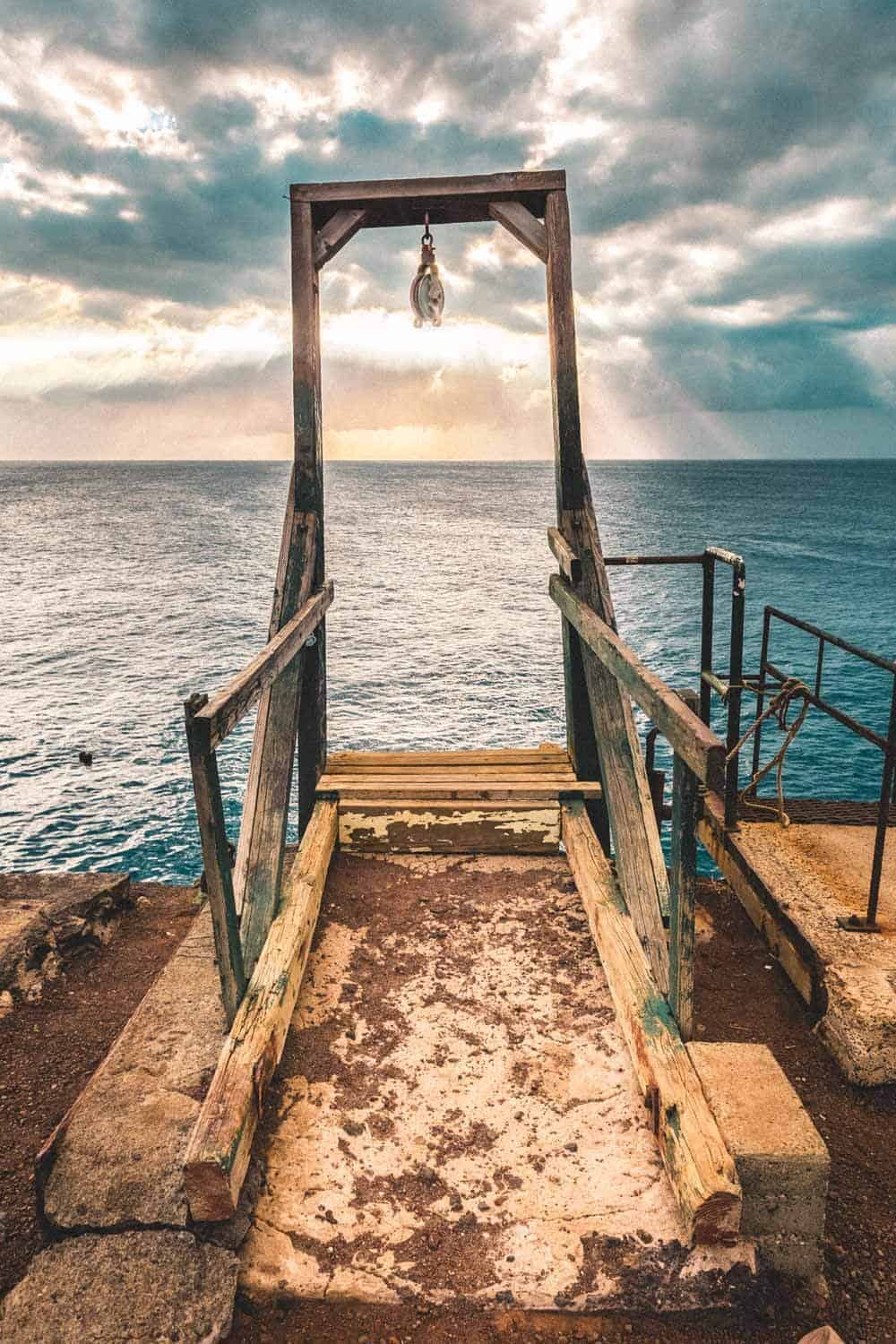 We didn't cliff jump ourselves, but we enjoyed watching the other people as they jumped into the frothing ocean below; it's undoubtedly one of the most unforgettable Big Island adventures you'll find on the island if you can brave the jump!
If you're one of the few courageous (or, equally, stupid) people who want to jump or swim at South Point, there are metal ladders that allow you to climb back up afterward. The water looked a bit rough, and some of the ladders looked a bit rusty, but the people we watched seemed to manage just fine.
Swimming at South Point Hawaii
While Ka Lae (south cape) Hawaii is undoubtedly a great fishing spot because of the merging of ocean currents, it's not advisable for swimming because of its deep water, rocky cliffs, and powerful 'Halaea Current' that threatens to drag unsuspecting cliff jumpers out into the ocean.
The current is actually christened after a Hawaiian chief that learned the lesson the hard way. He was supposedly swept away when he jumped and never seen again.
The Formidable Winds of South Point
South Point is known for its powerful gusts of wind that sweep the spectacular stretch of coastline here, so prepare to hold on to your hat!
They've built a wind farm nearby, so it's not really all that surprising that the waters are rough. In fact, the wind farm is probably what is causing some of the rough seas here!
As you drive down the narrow 12-mile road, you'll pass rows and rows of enormous windmills that take advantage of the gusty wind and turn it into electricity. You can even see the effect of the wind as some of the trees on the coastline have started growing horizontally!
Tips for Visiting Ka Lae Hawaii
Even though it's a top hotspot on all Hawaii Big Island tours, South Point is not always as touristy as you might think. When we went, there were actually only a few people there, as other hotspots around had been slammed.
Because South Point can be very windy, wear a hat that can't blow away and avoid dresses or skirts that fly up easily. You'll thank us later.
The signs warn people NOT to jump at South Point because there have been accidents before. So if you do decide to go cliff jumping Hawaii Big island, it's at your own risk!
Pack a picnic as you won't find any facilities at South Point. If you need a snack, you'll find locals selling all sorts of treats – from pineapples to chocolate and coffee – on the road down to Ka Lae.
There isn't much to see along the drive to South Point from Kailua-Kona, so come prepared with snacks and road trip music. Luckily, the drive time from Kona is just an hour and a half.
Things to do near South Point Hawaii
Visit the Green Sand Beach (Papakolea)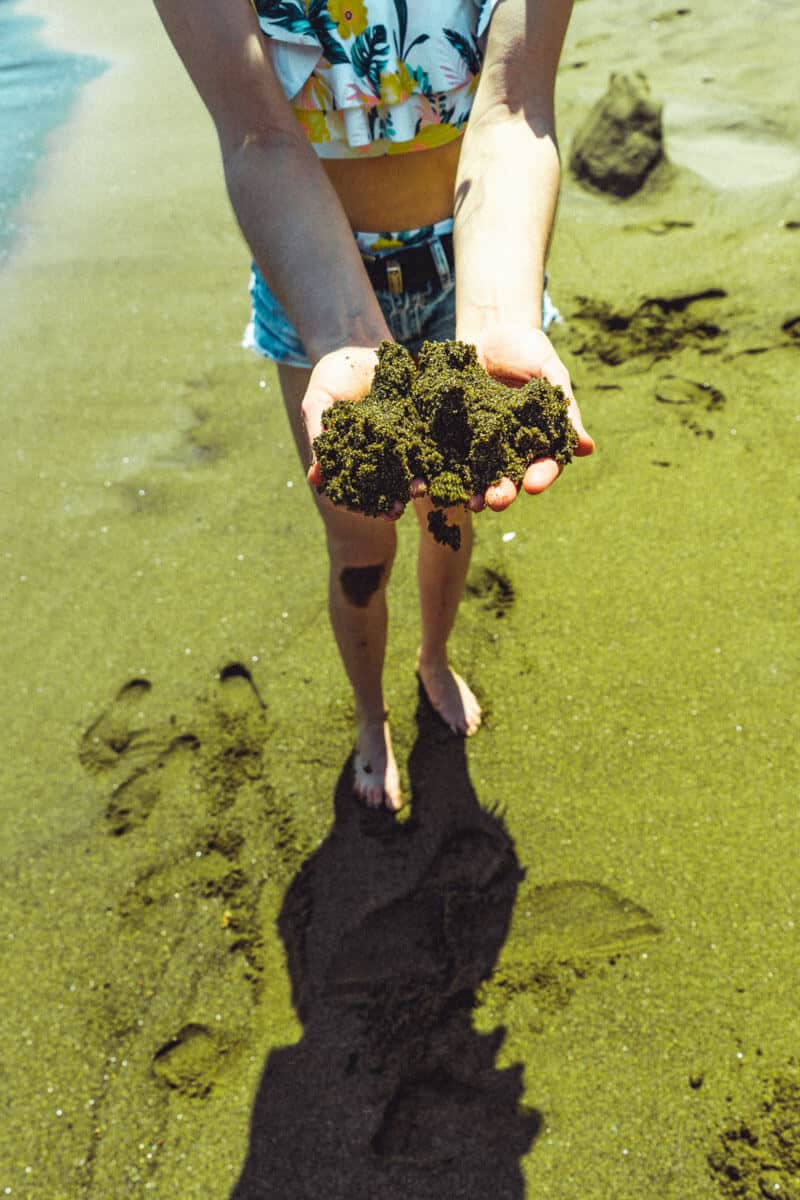 But all is not lost; there is a perfectly safe swimming area on the western side of South Point called Green Sand Beach, or 'Papakolea' in Hawaiian.
This unique beach is named after the unusual colored sands caused by volcanic olivine, the main mineral found in green peridot gemstones.
One of the top Kona excursions, this rare beach is tucked away inside a collapsed cinder cone and is not all that easy to get to. It can be reached with a six-mile round trip hike (most reviews say five, but it's longer), a 4×4 drive, or you can pay to get a lift from a local for about $10 each way.
But Green Sand Beach is totally worth the free walk; it's one of only four green sand beaches in the world! Many tracks have been created by 4x4s venturing down over the years, but you can take any pathway you find as they all lead to the beach.
Directions to the Green Sand Beach from South Point Hawaii
The Green sand beach trailhead is literally just a mile and a half from South Point (4 minute drive).
Although its really close it will still take longer to get to the actual beach since you have to pay a local to drive you to the beach.
The roads to the beach are insanely bumpy and impossible to drive through without the proper truck and driving experience.
Green Sand Beach Is One of the Rarest Kona Beaches on Big Island Hawaii: Guide on visiting the Green Sand Beach.
Tell us, would you dare to cliff jump at South Point in Hawaii Big Island?