Are you planning a trip to Hawaii and not sure what to bring? or worried you might miss something?
This Hawaii packing list will help you get organized for your trip. It covers the best beach wear, dresses for Hawaii, outfits, shoes, electronics and even toiletries I recommend for Hawaii.
Hawaii Packing List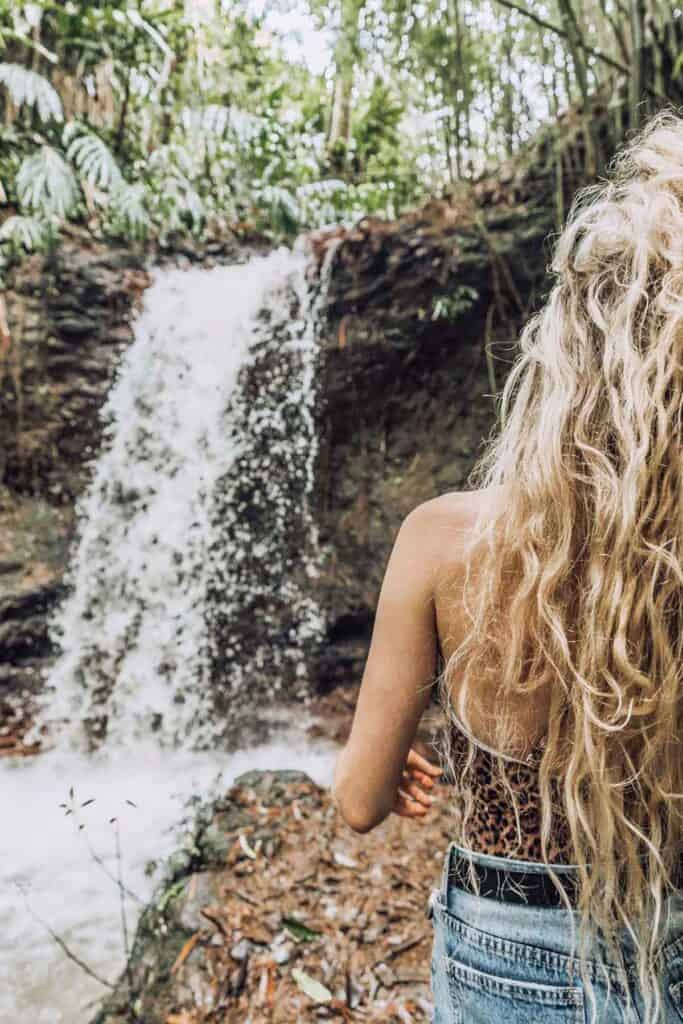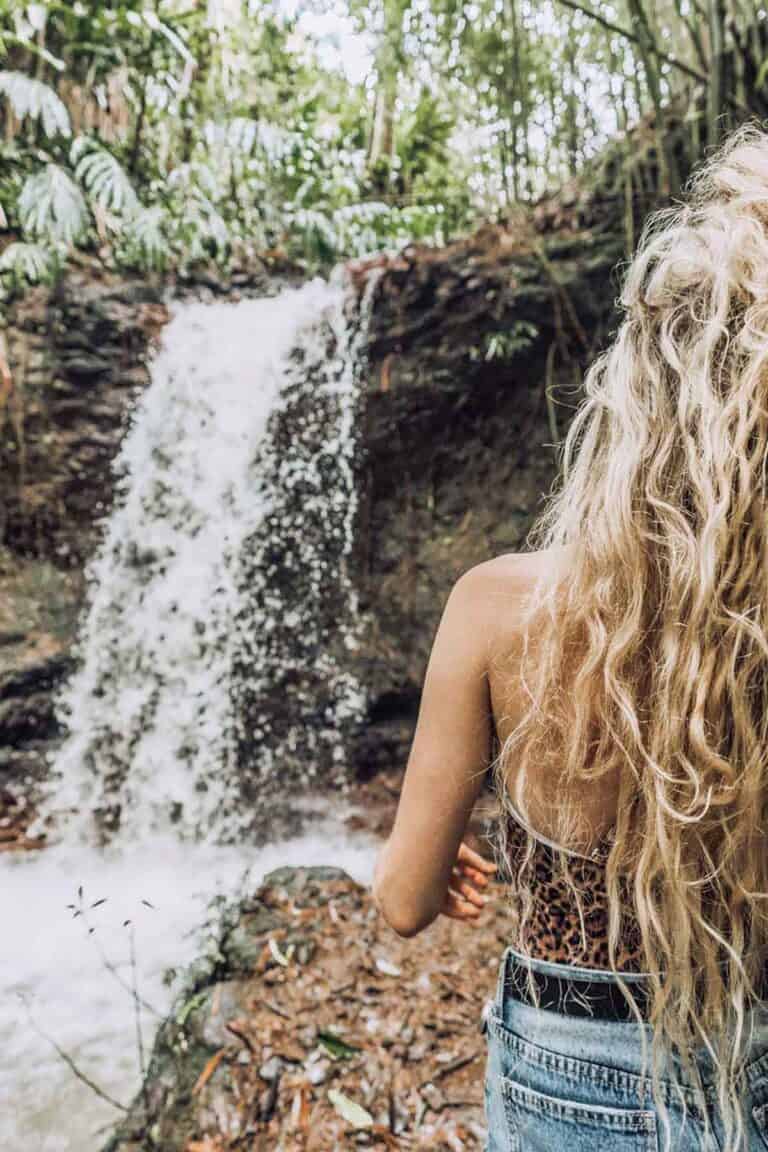 Hawaii is one of those destinations that will always be prettier in in person than in photos, and that is saying a lot because it seems impossible to get a "bad" photo in Hawaii.
The first time I visited Hawaii couldn't believe how beautiful it was! It really was incredible! There were literally views everywhere: mountains, beaches, unique plant life, etc. From the moment we arrived, I kept my eyes glued to the car window.
It amazed me at how much I could see, without really setting out to "see" anything. We rented a car and drove around the island, but we had a hard time actually getting anywhere because I kept making us stop to take more photos.
If you want to read more about that trip, you can check out our Hawaiian vacation post.
Packing List For Hawaii (For Her)
The best place to start is to make sure you are packed for the beach (obviously right, but be sure to keep reading because there are lot of things you probably haven't thought of including).
Quick Dry Towel
Am I the only one that is obsessed with these quick dry microfiber travel towels? This quick dry towel is amazing to travel with. It really will come in handy when you need extra room in your suitcase.
There is nothing worse than having to use a wet towel to dry off; this towel allows you to be at the beach all day and then swim at the hotel pool at night, all while avoiding the wet towel problem.
Packing List Item: Quick Dry Travel Towel
Dry Bag
We never travel without this Earthpak Dry Bag. It is too stressful to be out in the rain and worry about whether or not your electronics will still work when you get inside. It also comes with a waterproof phone case which I love.
Packing List Item: Earthpak Dry Bag
Portable Charger (A must have!)
Portable charger (Power Bank) – My husband is incredibly hard to buy gifts for, but when I saw this portable charger I knew I found something he would use.
Thankfully, I was right! This power bank is amazing and gives you so many full charges. I love that it has multiple slots so that we can charge our devices at the same time. I guess you can say it was a gift to myself as well. We now travel with 2 of them since I kept stealing his.
Packing List Item: Power Bank
Sunscreen
Sunscreen is something that you could just buy once you are there, but with the need to wear sunscreen every day, you shouldn't risk going anywhere without it. Check prices on Amazon.
I've tried a few all-natural sunscreens with limited success. Thankfully I found one that works out pretty well (especially for your face), but for a Hawaii trip I don't recommend trying out a new sunscreen in case it doesn't work for you. The sun is so strong there that you may end up regretting your decision due to an early burn. I linked one of my favorites here.
Packing List Item: Sunscreen
Sunglasses
Did you know that if you look at the sun for 2 minutes you will go completely blind? I didn't. Sunglasses are a no brainer to pack for Hawaii. Not only are they stylish, but they also protect your eyes. I love Ray Ban's and these oval Quay sunglasses.
Water Bottle
I am now obsessed with the MIRA water bottle.
This is no ordinary water bottle; it keeps your liquids cold for up to 24 hours or hot for up to 12 hours (seriously, it's amazing)! It is the exact same thing as the super popular "Hydro Flask" water bottle, but is less than half of the cost!
I wanted a Hydro Flask for a while, but couldn't bring myself to pay $45 for one water bottle. I was excited when I found the MIRA, and especially excited when it worked (if you don't believe me, read the reviews).
Packing List Item: MIRA Water Bottle
You might also be interested: What to expect on each of the Hawaiian Islands
Clothing for Hawaii
(For hiking, swimming, outdoor activities, and working out)
Sandals
Beach sandals are a necessity! One of my favorite places to purchase affordable but cute sandals is ASOS. Trust me, you will not be disappointed. These Birkenstocks are the perfect everyday sandal for hot days, plus, you can wear these with so many outfits.
Hawaii Packing List Item: Sandals (Birkenstocks)
Beach cover-up
Having at least one good cover-up is essential on any beach trip. Amazon actually has amazing ones at really affordable prices. If you aren't a fan of buying clothes off Amazon I recommend ASOS and Revolve as well.
Tip – Check the sale section..you'll thank me later.
Hat
Above is another great way to protect yourself from the sun and heat. I also love wearing hats for photos when my hair is just not working out. Baseball hats have been my go to recently. Shop the newest hats at Nordstrom.
If you are looking for a stylish hat to wear Urban Outfitters is my absolute favorite place to buy hats! Shop my favorites.
Packing List Item: Hat
Swimsuit
I know Amazon is probably not the first..or even second place you would look for a swimsuit, but after watching a popular YouTuber try on and review a bunch of $20 swimsuits from Amazon, I was sold.
They have so many cute options and most of them offer free returns if it doesn't work out, fits weird, or just looks different than the pictures.
I love buying clothes off of Amazon because of the thousands of reviews, and the feature that allows you to see other people's photos of themselves in the swimsuit. It is nice to see what a swimsuit looks like on a real person, and not just a model.
Shop my favorite Revolve swimsuits. Shop my favorite ASOS swimwear
Packing List Item: Swimsuit
Moonlight Pajamas
Moonlight Pajamas – The only pajamas I will wear.
Sports Bra's
You want to make sure you have a sports bra for hiking, running, and really any kind of outdoor activity. This one is so cute and so comfy.
Comfortable running shoes
I struggled to find a good pair of running shoes that didn't make my feet hurt (ask my husband, he got stuck returning the others). I finally found these Nikes; they aren't anything like the popular Nike Free Runs that look cool but have no support. You can wear this in Hawaii for outdoor activities, even hiking and running.
Packing List Item: Tennis Shoes
Yoga pants
These are my favorite Yoga pants you can buy on Amazon. I love the capri version, especially since they are under $20. Don't let the price fool you, as they are just as good quality as any workout pants I have bought. Check current prices on Amazon.
These Alo Yoga pants are my absolute favorite!
Tank tops
I love these tank tops because they are "flowy". I like to get one a little bit big and tie the bottom.
Dresses For Hawaii
Packing a few good dresses is essential for Hawaii. Dresses have become my go to on trips to help quickly put an outfit together. It's easy to throw on a comfortable dress and shoes and be ready to go.
Shorts
Anyone who is traveling to Hawaii needs a good pair of shorts. Khakis are great for guys. For women, cute athletic shorts or denim shorts are perfect for a breezy summertime look.
You might want to take two pairs, especially if you plan to hike around the ruins in the humid tropical climate.
These denim shorts are my current favorites! These high waisted athletic shorts have gone viral on instagram and for good reason, they are AMAZING.
Socks
This one is easy to forget but still just as important as everything else if you plan on doing any outdoor activities that require shoes. BUY HERE.
Toiletries for Hawaii
My Camera Gear
The exact camera gear I use to take photos on all my trips around the world.
Go Pro
Yes, I'm a camera nerd, but no, I'm not a professional photographer. This means that my experience is much closer to the average user. Given my frequent travels, I've had plenty of opportunities to experiment with new equipment to see what works well, and what doesn't.
If you aren't familiar with the insanely popular GoPro series of cameras, you need to get a quick understanding of what the big deal is. It allows you to take underwater photos at a very affordable price. They are also built to be able to withstand wear, pressure, or damage. Very durable. Go pro's are honestly the Best Camera for Travel right now.
The best current GoPro models are: Hero 9, Hero8 Black and GoPro Max.
Hawaii Packing List Item: Go Pro Hero 9
Sony A7iii Mirrorless Camera
I have been using the Sony A7iii for a couple years now and I love it for travel. It is a lot smaller than a DSLR (major bonus when traveling). It is water resistant, and there are a number of water resistant lenses available.
Packing List Item: Sony A7iii Mirrorless Camera
Tripod
This one is perfect for travelers and the one I have been using on all my trips.
Airplane Essentials
I never step foot onto an airplane without these items.
Beis on the Go Essentials Case
This small organizer is perfect for travel. It is double sided so you can keep things organized while you are traveling. It is perfect for electronics, charging cables, power banks, makeup, jewelry and so much more.
I use one side for all my electronics, ear pods and cables and the other side for hand wipes, ear plugs, vitamins, makeup and anything else I might need quick access too on the plane.
Packing List Item: On the go Essentials Case
Noise Cancelling Headphones
This is one of those oft-forgotten travel essentials. You'll want this for the plane ride, of course, but you'll really be glad you brought a pair when you're chilling to your favorite summertime tunes with your toes buried in the sand.
These headphones were a game changer for me. I use them every day. They look bulkier than they actually are; they fold up really nicely for travel. Check current prices here.
Packing List Item: Bose Noise Cancelling Headphones
Related: Best Noise Cancelling Earplugs for Sleeping on a Plane
Carry-on Luggage
Speaking of luggage, remember to find a carry-on bag well before you leave. Find one with rolling wheels, and you practically have another suitcase to fill with treasures from your Hawaii vacation! We never travel without our Osprey Luggage.
Packing List Item: Osprey Carry on Bag
Packing Cubes
We LOVE packing cubes, especially the compression kind! If you haven't heard of these, you'll be thanking us later. These are basically tinier packing compartments that you can neatly stack in your luggage. Hate the inevitable clothing explosion that erupts from your suitcase? These solve that problem, and help you find what you need quickly.
Packing List Item: Packing Cubes
OUR MOST POPULAR HAWAII BLOG POSTS
My husband and I have been to Hawaii many times and have written up more blog posts to help you plan your trip. These are my most popular blog posts and Hawaii travel guides to help you plan your trip.
The top things to do on Oahu – 15 Places You Can't Miss in Oahu (Hawaii) – our most viewed post ever!
The best places to see on all the Hawaiian Islands – 27 Incredible Places To Visit In Hawaii
Best Things to do in Maui: 10 Cool Things to do in Maui Hawaii
What to Pack for Hawaii: The Ultimate Hawaii Packing List
For those looking for more unique things to do in Oahu – 11 Best Things to do in Oahu (You Probably Haven't Heard of)
Guide to visiting one of the best beaches Maui offers – Red Sand Beach: Guide to Visiting the Red Sand Beach in Maui
The Ultimate Guide to Visiting the Hawaiian Islands – and what to expect on each island: What To Expect On Each Of The Hawaiian Islands
The Best and Most Easily Accessible Maui Waterfalls: 6 Easily Accessible Maui Waterfalls