Green Sand Beach Is One of the Rarest Kona Beaches on Big Island Hawaii
Papakolea Beach, also know as Green Sand Beach is a truly unique Big Island bay. It has the most unusual but amazing green colored sand you'll find on any beach in the world. Most importantly, the sand is NOT green due to fungus, moss, or seaweed.
This beach is located alongside the southernmost point of Big Island in Hawaii famous for its cliff-jumping opportunities. Green Sand Beach is yet another of the many adventures and unique experiences Hawaii's Big Island is so famous for (read more here).
The beach sits in the remains of a volcanic crater. This rare beach isn't actually that big. It's tucked into a secluded cove that you have to hike to get to. If we can tell you one thing, it's that pictures simply don't do it justice. It's even more unbelievably beautiful in person, so you'll just have to see it for yourself!
What to Pack? Before traveling to Hawaii, make sure to read my Hawaii Packing List guide so you can know exactly what you need to bring on your trip to The Big Island.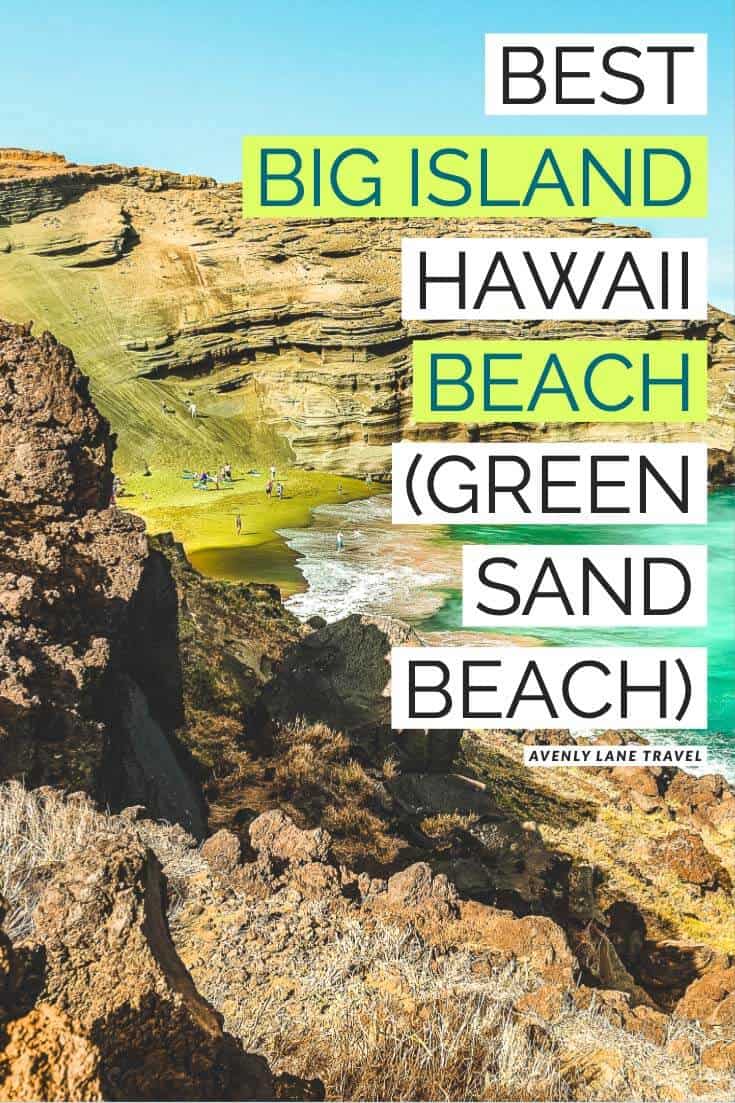 Here's everything you need to know about visiting this one-of-a-kind Green Beach:
What Causes the Green Colored Sand?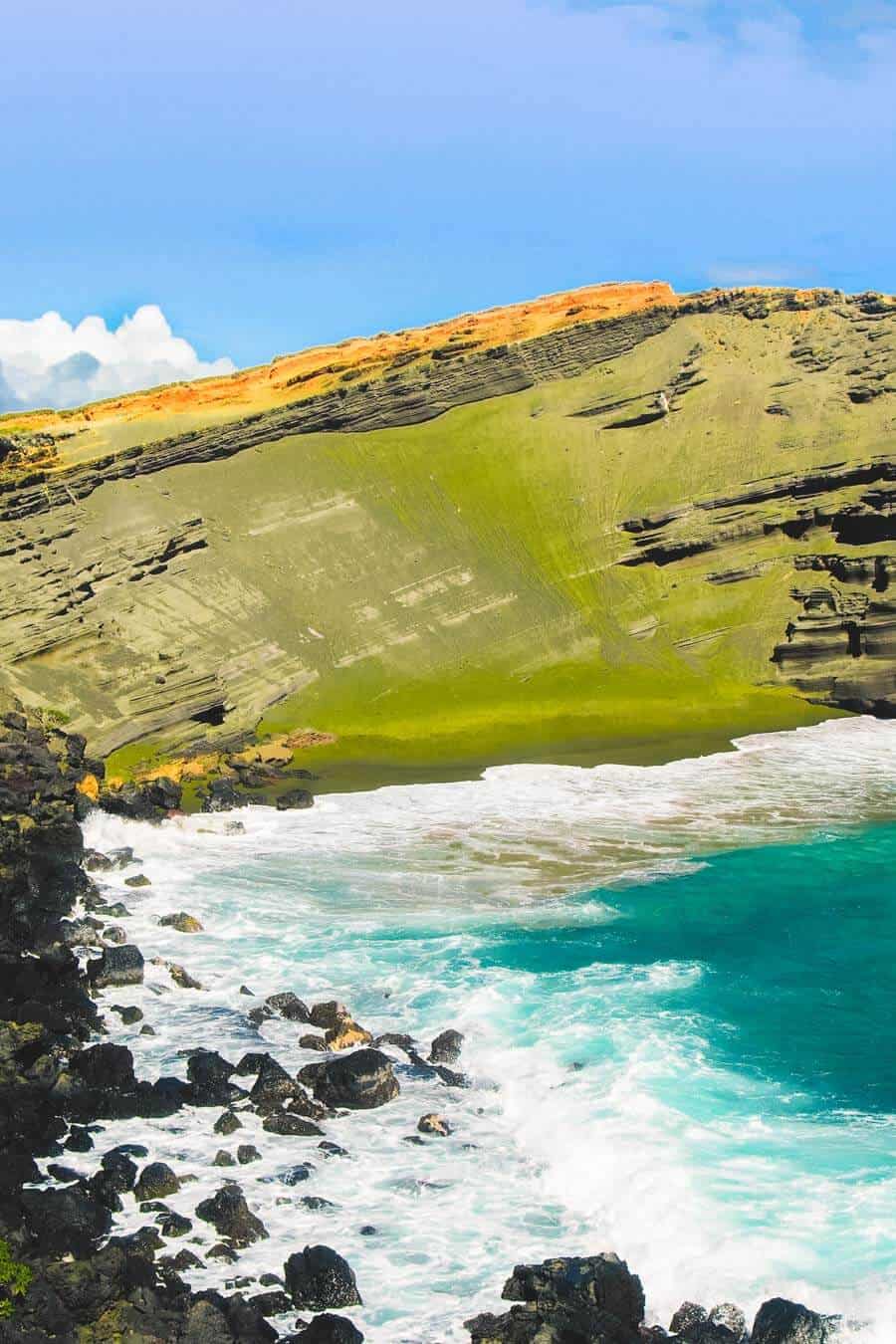 The amazing green colored sand at Papakolea Beach is not caused by moss, fungus, or seaweed. It is actually from actual green crystals that have resulted from Big Island's thousands of years of volcanic activity.
These olivine crystals contain the same mineral found in both igneous rocks and green peridot gemstones; you can pick up these crystals and inspect them for yourself – they're gorgeous!
It's One of Only a Few With Green Colored Sand in the World
Lots of places around the world have some excellent beaches that are fun to relax on, but there are very few beaches of this kind in the world.
Supposedly there are only four green sand beaches on earth! Papakolea's unique green colored sand is very striking and perfect for Instagram!
Tips for Getting to Green Sand Beach
The drive time from Kona (where you are probably flying into) takes about an hour and a half. From Hilo, the drive time is about an hour and 45 minutes. It sounds far, but it's worth it.
You are going to want a rental car to get around Big Island; it's what everyone does, and it's pretty affordable. Having your own transportation gives you the freedom to explore all the best Kona beaches and attractions whenever and wherever you want.
Green Beach is located close to other amazing Big Island hotspots, such as the South Point cliffs or the nearby black sand beach. These spots make for the perfect for one day Big Island itinerary!
Directions to Green Sand Beach
GPS: 18.936134, -155.646360
Papakolea Beach is located three miles to the east of Ka Lae (South Point). From Highway 11, take the turnoff between mile marker #69 and #70 onto South Point Road, the southernmost road in the country.
Drive along South Point Road for around eight miles, then take a left at the sign that reads Green Sand Beach and park your car in the parking area here. Take note that certain parts of this road are one-way only.
Permits for the Green Beach???
The Department of Hawaiian Homelands has restricted vehicle access on the trail to Green Sand Beach. Despite what other reviews may tell you, vehicle permits are not available. You have to park your car in the parking area and get there on foot.
While you don't need a permit to hike, and you can walk down to the beach completely free of charge, supposedly you do need to call DHHL to let them know you will be going to Green Sand Beach.
As far as we could tell no one actually does this, but just in case the state of Hawaii decides to enforce this, don't say we didn't warn you.
Hiking to Green Sand Beach
Arriving at Green Beach comes after a three-mile hike (approximately six miles there and back). While we almost skipped it, one of the biggest surprises of our Big Island vacation was just how much we enjoyed it!
The hike takes about 45 minutes each way along a trail that leads down the rugged coastline. The hiking trail is really enjoyable, with gorgeous views along the coast, but remember that it's Hawaii and the sun can be blazing hot, so pack plenty of water!
Getting a Ride or Driving to Papakolea Beach
Officially you are not allowed to drive your own vehicle down past the parking area to Green Sand Beach, though people with a four-wheel drive vehicle will do it.
If you don't want to hike, there are locals who will drive you there and back in the bed of a truck for about $20 per person there and back. Warning, jumping in with locals offering rides is technically illegal, but they have been doing it for a long time, and it seems the state of Hawaii doesn't seem to mind.
For us, it was nice not to have to walk in the scorching sun as we were already tired. However, if you have the energy to walk, we highly recommend doing it, because then you can stay at the beach as long as you want.
If you're curious and want to see what it is like, watch our video of this ride:
Finding the Green Beach Trail
From the parking area, this backcountry hike along the path to Green Sand Beach takes around 45 minutes to an hour each way. The beach can be accessed by climbing down a steep trail down the wall of the volcanic crater.
From the parking lot, walk south along a road that goes from paved to gravel, and head in the direction of the ocean. You'll come across a boat launch area into Kaulana Bay. Hike north-east along a rough four-wheel drive road, where you'll walk alongside a pretty bay.
There are loads of dirt roads here caused by four-wheel drive cars that have driven down to the beach in the past, which can be confusing, but if you stay parallel to the ocean, you'll be fine. After about two miles, you'll have a fantastic view of one of the rarest Big Island Hawaii beaches, so pack your camera!
When you arrive at the crater, walk along the rim until you find a path leading down to the beach. There will be a metal staircase you can take to descend into the cove. The pathway is very steep, so watch your footing!
Parking at Green Sand Beach
There are no parking fees at Green Sand Beach. You can park here free of charge, so don't be fooled by any of the locals attempting to charge you for parking.
How Long Do You Need at Green Sand Beach?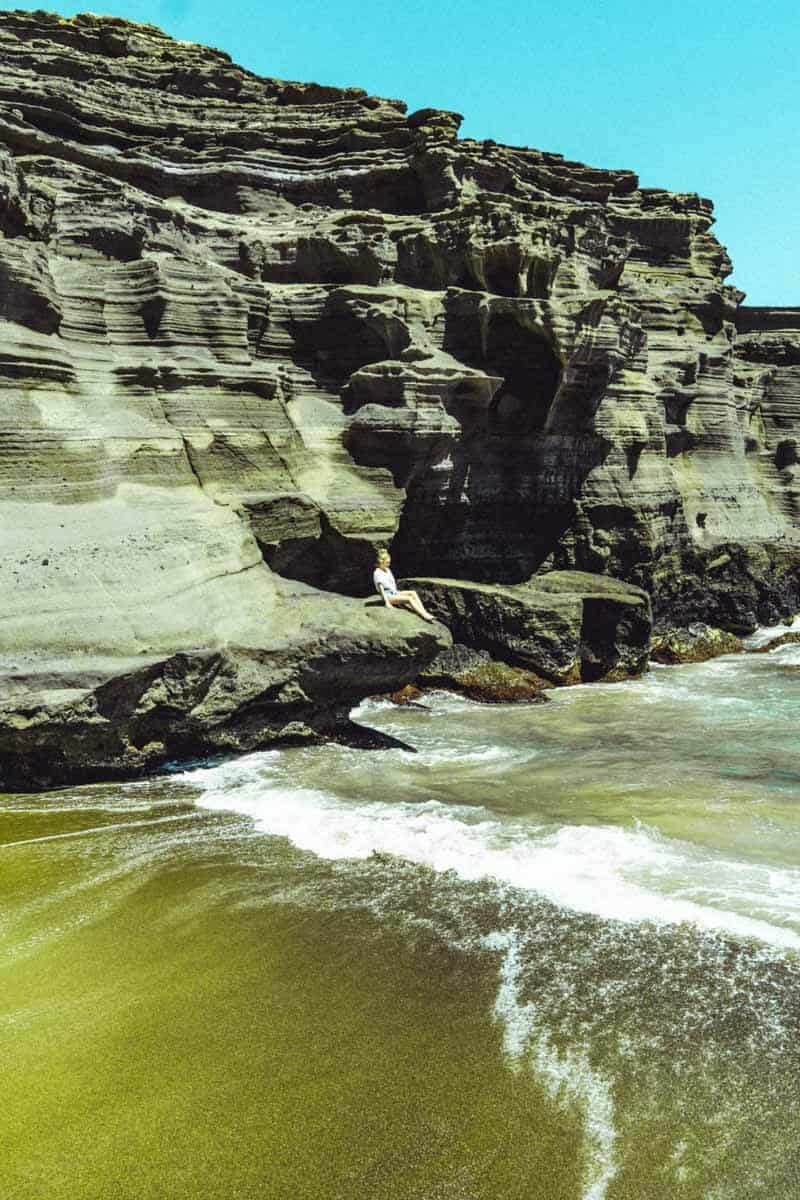 As we had got a ride from the locals, we could only stay for an hour. By the time we were done taking photos, we barely had any time left to swim and relax. We certainly could have spent more time there. The beach isn't that big, but the cove is amazing – definitely one of the best Big Island beaches we've been to!
We would recommend allowing as much time as possible for relaxing on the beach. Pack a picnic and hike here early in the morning to spend the afternoon on the sand – it's worth it!
Swimming at Papakolea
The water is that beautiful blue you find in Hawaii, so it's incredibly tempting to just jump right in. However, while swimming at Papakolea Green Sand Beach is possible, there are powerful waves and rip currents. You may not want to swim here if you don't have skills as a swimmer, as there are no lifeguards on duty at any time.
When to Go to Green Beach
As it's one of the best beaches Big Island offers, word is getting out about Green Sand Beach. While it wasn't crowded, we definitely didn't have it to ourselves.
We were there on a Saturday afternoon though, so it was one of the busier days, as you can imagine. However, we still had space to spread out on the beach and enjoy it – too bad we didn't leave ourselves enough time to enjoy it properly!
Due to its very remote setting and the steep hike to get there, the beach is rarely overcrowded, but as more people hear about it, it is slowly getting busier. Make sure you plan a trip before it gets too touristy. Aim for mornings during the middle of the week when it's much quieter.
Tips for Papakolea Green Beach, Big Island
Wear decent hiking shoes for the steep and rugged trail.
Bring plenty of water, a hat, and sunscreen as the sun can be blazing hot.
There are no facilities – including trash cans – at the beach, so be sure to bring what you need and take everything back with you.
Keep an eye out for Honu sea turtles that come into the cove to feed on the algae.
Have you done the incredible hike to Green Sand Beach on Hawaii Big Island?
PIN IT FOR LATER!