The Azores are a collection of nine spellbinding islands in the Atlantic Ocean. It has acres of wild jungle, steamy hot springs, cascading waterfalls, and jaw-droppingly beautiful coastal hikes and black sand beaches.
The Azores are a destination that are definitely worth exploring. And the best part? Nobody really knows about them!
Virtually undiscovered by tourists, the Azores archipelago is part of Portugal. While they're undeniably European, the geography is a fusion of Big Island Hawaii and Iceland (read more unique things about the Azores here).
With 26 active volcanoes – a third of which are underwater – you can expect plenty of geothermal activity, with natural hot pools and volcanic steam perfectly suited for cooking cozida!
The biggest island is Sao Miguel, home to Ponta Delgado Azores, the biggest city and the airport you'll likely be flying into.
Azores Hotel Recommendation
We stayed at the Azoris Royal Garden and it turned out to be even better than expected. In fact, I loved it! Highly recommend staying here.
The location was great – very central to everything we wanted to see. We didn't want to be stuck on one side of the island. Check prices here.
Top 10 Things to Do in Ponta Delgada Azores
Here are our 10 favorite things to do on Sao Miguel Azores: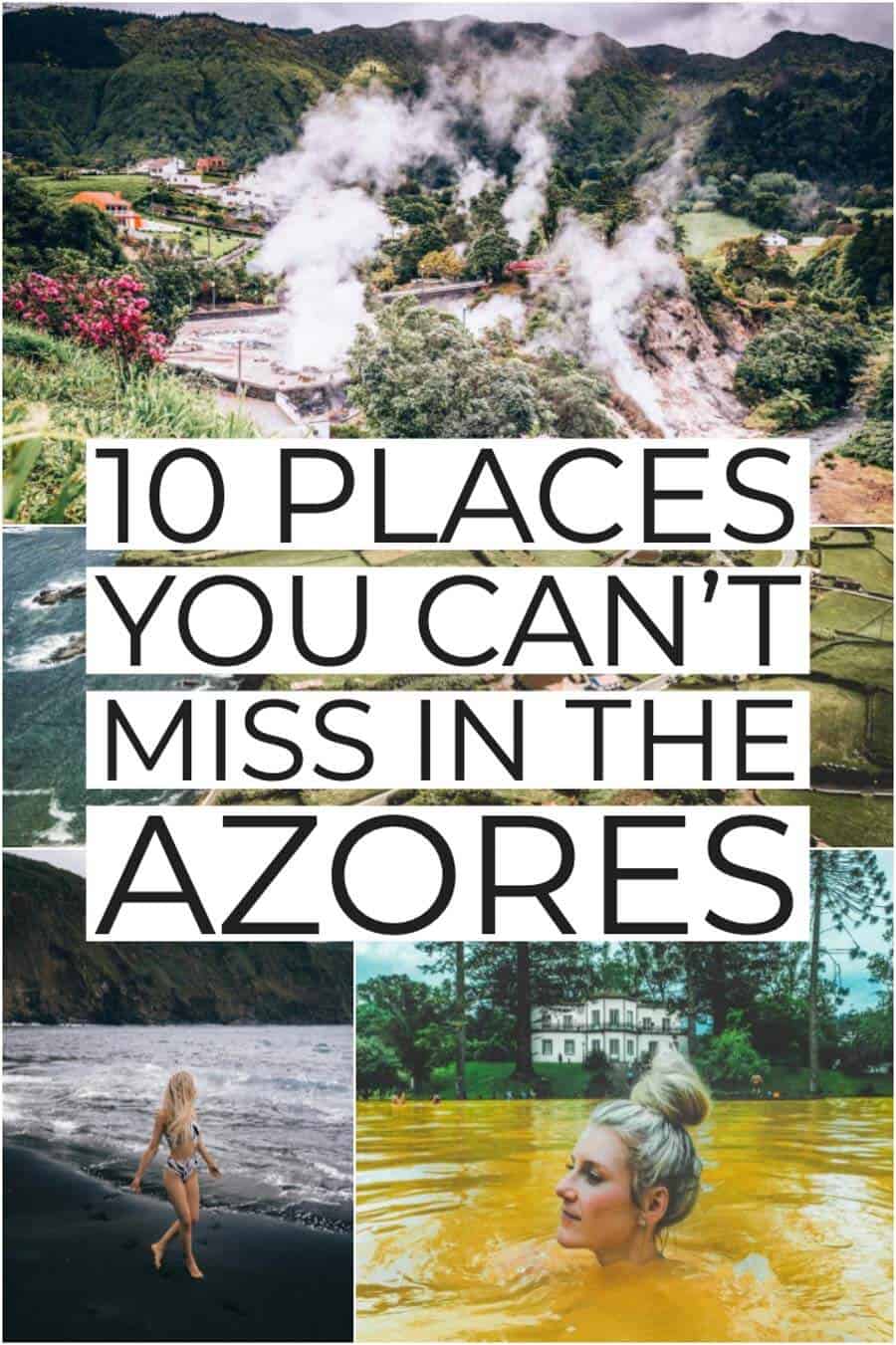 1. Swim in Terra Nostra Botanical Park's Orange Pool (Azores Hot Spring!)
Discover 31 acres of geothermal spas, warm-water streams, and tropical plants – including 300 varieties of fern – along the flourishing trails snaking through Terra Nostra Park.
Over 240 years old, these botanical gardens offer the perfect day trip if you're wondering what to do in the Azores. While there are several multi-colored thermal pools to choose from, the enormous orange water spa was our favorite because it's so incredibly unique. It may look just like muddy water, but the unusual orange color is actually caused by its high iron content.
Open: 10h00 to 18h00 | Cost: €8.
Pro Tip: Be careful when swimming in the orange pool as it stains everything it touches, including your swimsuit! I learned this the hard way.
2. Explore the Sete Cidades Lakes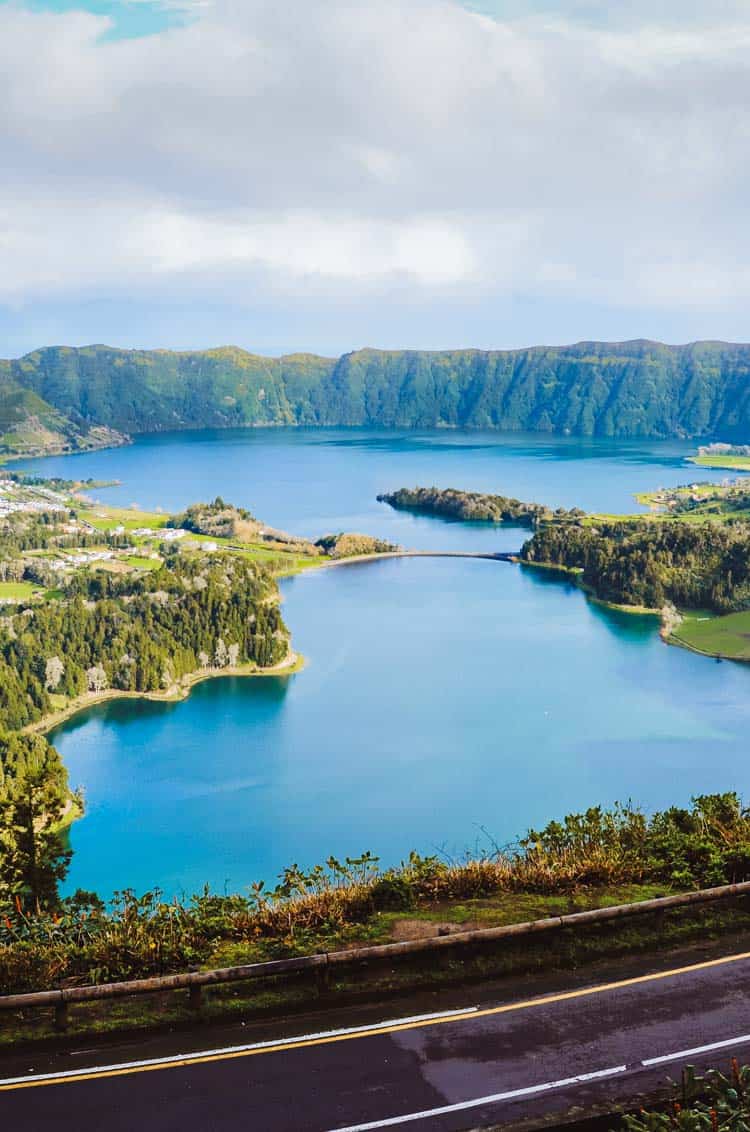 Open: N/A | Cost: Free.
Sete Cidades is a small village on the western side of San Miguel Azores, but the name is more commonly used to refer to the three-mile (five km) wide series of volcanic crater lakes in the area, surrounded by some absolutely amazing hikes and lookout points.
The two calderas, or filled-in lakes, are often said to be different colors due to the vegetation and algae in the water – one gray and one green – but they looked the same when we were there. You'll find all the activities you could dream of in Sete Cidades, from hiking to canoeing and kayaking.
Pro Tip: Buses run daily from Ponta Delgada Azores to Sete Cidades, but they are unreliable. The best way to explore is with a rental car. Most of the viewpoints are marked in Google Maps, so they're easy to find.
Top Rated Sete Cidades Tours:
3. Visit the Miradouro do Boca de Inferno Viewpoint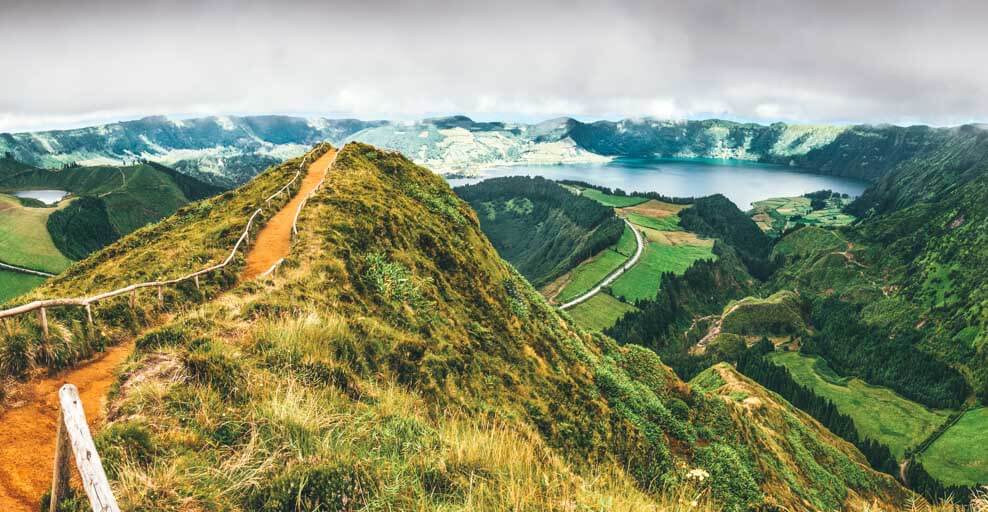 Open: 24 hours | Cost: Free.
Miradouro Boca do Inferno may mean 'the mouth of hell,' but the viewpoint is anything but – it's absolutely gorgeous and perfect for all types of travelers. It's the most famous viewpoint on the island, looking down from the top of the mountain to the twin lakes below.
It's a short five-minute hike up a few steps to the famous viewpoint, but if you want more of a challenging hike, there are longer trails around the lakes.
Be warned that the weather is often extremely foggy here, even if it's clear on other parts of the island, so if you get a sunny day while you're here, go immediately!
For more Azores weather tips you can check out our post on the weather in the Azores here. (Warning, it is pretty unpredictable.)
Pro Tip: Check the weather using the free SpotAzores app or VisitAzores before you leave home. These handy apps have webcams at major tourist attractions across the Azores, where you can check out the current cloud situation.
4. Check Out the Miradouro Vista do Rei Viewpoint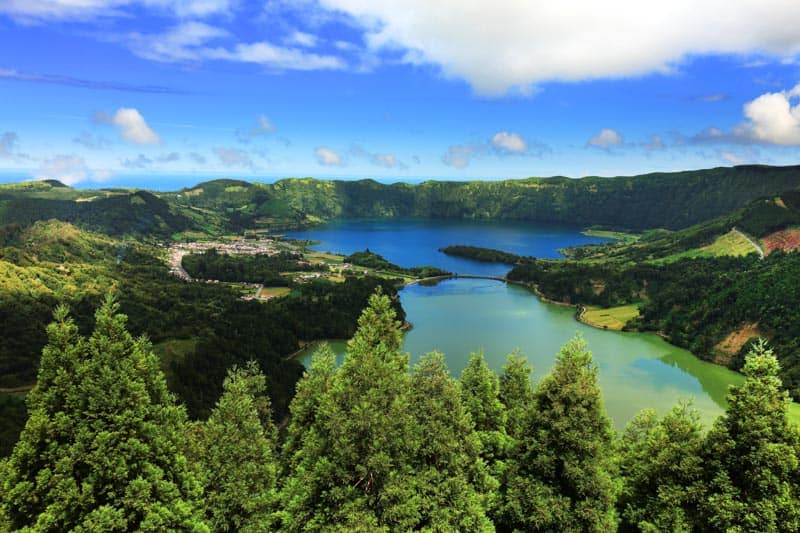 Open: 24 hours | Cost: Free.
Miradouro Vista do Rei – also known as King's View – is another awesome place with views over the twin lakes of Sete Cidades. At an elevation of 823 feet (251 meters), it's supposed to offer the best panoramic angle of the two different colored lakes.
An extra car park has been added at the viewpoint behind the old Monte Palace hotel; this, along with the existing car park, is available for only 20 minutes. If you want more than just a quick photo opportunity, park at the fork along the road leading to Sete Cidades.
Tip: Get another great photo from the rooftop of the abandoned Monte Palace Hotel Azores – it's free! Watch your step though, as it's really rundown.
5. Soak in the Poca da Dona Beija Hot Springs
Open: 07h00 to 23h00 | Cost: €6.
Another awesome hot spring is the Poca da Dona Beija, where geothermal activities are a definite plus. Soaking in these hot tubs is a must on any trip to Furnas, a region that's a natural hotbed of geothermal activity. One of the best things about it is that it stays open late, so it's great to be able to go after dark – blissfully romantic.
There are five open-air hot tubs, spas, or thermal pools here of varying depths and temperatures, going from colder to hotter. We enjoyed going back and forth between the different temperatures.
Tip: Younger people tend to hang out here at night, so it becomes more of a party environment – it's not like spring break though, as Azores holidays aren't that kind of destination. You'll still definitely be able to relax, but don't expect to have it all to yourself. Early morning is best if you want to escape the crowds.
Read our full guide on visiting the Poca da Dona Beija Hot Springs here.
6. Admire the Caldeira Das Furnas Thermal Valley
Open: 24 hours | Cost: €2.
Caldeira Das Furnas is an enchanting thermal valley on the edge of Lake Furnas; it gives off a sense of mystery with plumes of steam bubbling up out of the ground. It's a great spot to witness the geothermal activity the Azures are so famous for, as well as watch the locals cooking cozida – basically a sausage stew that gets cooked in the ground and then heated by the volcanic steam!
A 24-hour boardwalk on the northern side of Lake Furnas provides access over the steaming ground so you can get up super close.
There's a strong smell of sulfur around here, and I thought it would make me feel sick, but it didn't. It supposedly costs €2 to park, but when we pulled in, there was no gate and no one around to collect the money from us.
Pro Tip: If you're looking for a quieter experience, go later in the day; we had it pretty much all to ourselves, minus a couple of cozida chefs burying their sausage stew in the ground.
7. Visit Our Lady of Peace Chapel (Nossa Senhora Da Paz)
Open: N/A | Cost: Free.
Okay, we know you may have seen gorgeous churches on top of hills before, but this one is exceptional. Dating back to the 1500s, Nossa Senhora Da Paz (Our Lady of Peace Chapel) isn't technically located on a hill, but rather a mountain that offers a phenomenal view of Vila Franco Do Campo and the harbor below.
Some people hike up the 110 steps to the top, which can be grueling, but there are little landings on each platform where you can get some great photographs.
Pro Tip: Following the GPS can be confusing on the narrow, winding roads, but you can usually follow the signs from the village.
8. Hang Out at Mosteiros Beach
Open: 24 hours | Cost: Free
This town on the far western side of the island is definitely worth a visit. We were close by at the Termas da Ferraria natural spa and went up to Mosteiros Azores on a whim –it would have been a huge mistake to skip it.
The small, quaint town has a gorgeous little black sand beach – one of the most beautiful Azores beaches – with a series of refreshing natural tidal pools. From here, you have a view of three islets and a series of dramatic rock formations.
Pro Tip: Bring water shoes for navigating the rocks!
9. Taste Tea at Plantacoes De Cha Gorreana
Open: 08h00 (09h00 on weekends) – 19h00 | Cost: Free
The Plantacoes De Cha Gorreana, or the Gorreana tea plantation, is another amazing way to experience the unique aspects of the Azores. With its lush tea plantations, you'd think you were in Asia. The views are simply stunning.
It's worth a visit if you're interested in learning about Azores tea, from determining the quality of the leaves to watching the machinery.
Pro Tip: This Azores tea plantation is a great stop off when you're passing by; you'll enjoy a free tour and a free tea tasting!
Book your tour: Full-Day Tour of Furnas Valley (Tea tasting included!)
10. Explore Gruta Do Carvao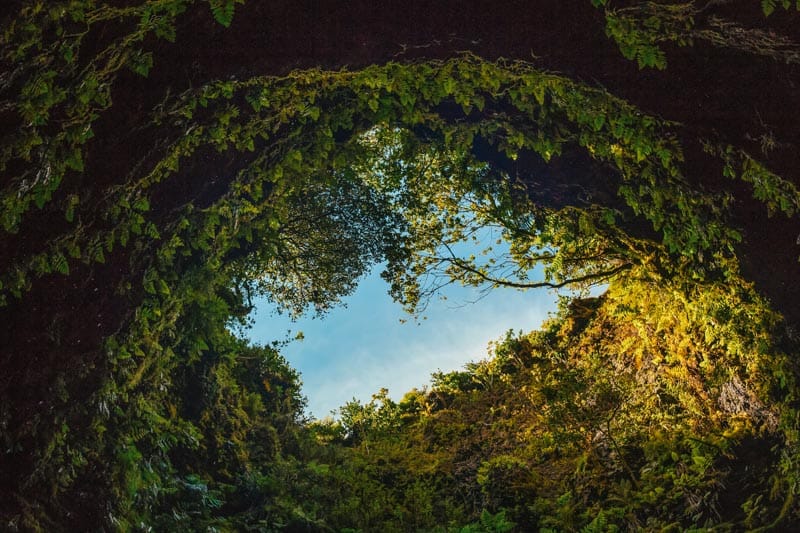 Open: 10h30, 11h30, 14h30, 15h30, and 16h30 | Cost: €5
Visiting Gruta Do Carvao is a great way to spend a rainy day, as the caves are warm inside year round. As the largest known lava tunnel on the island, the Coal Caves extend 6273 feet (191 meters) into the earth, only 820 feet (250 meters) of which are accessible to the public.
All sorts of geological wonders are hidden inside, such as stalactites and stalagmites, lava bridges, striated walls, lava balls, and gas bubbles, which make it a fascinating day trip for those with an interest in geology.
Pro Tip: Staying at Hotel Ponta Delgada, the caves were only a five-minute drive away. Advanced booking is required.
11. Ponta Da Ferraria (Natural Azores Hot Springs)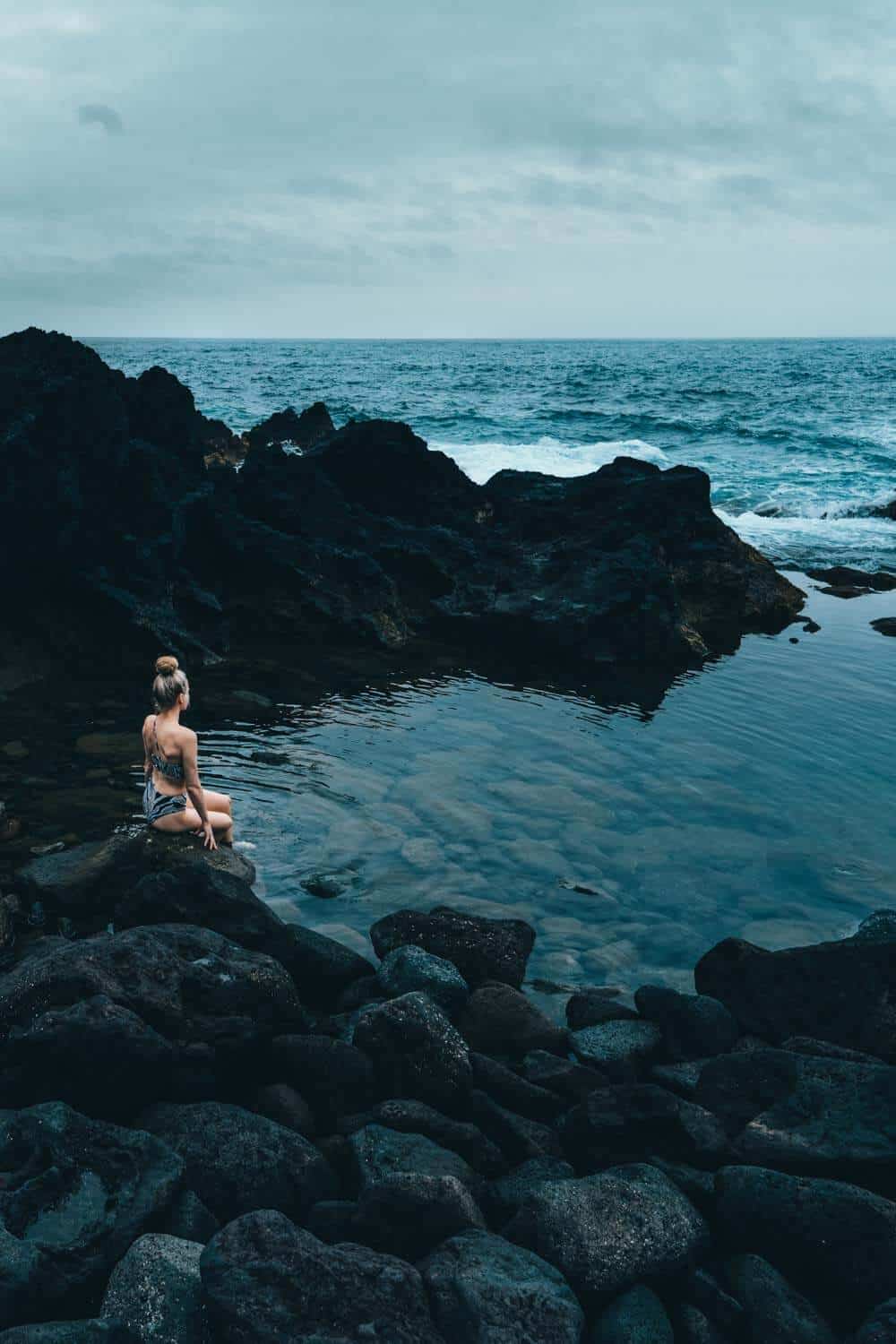 Yup, bonus item that was our absolute favorite part of the island. Ponta Da Ferraria is a natural lagoon in the Atlantic Ocean on the western coast of Sao Miguel.
What makes Ponta da Ferraria especially unique is that it is a natural ocean lagoon, but is heated up from geothermal activity. It is amazing that you can be swimming in the ocean and all of a sudden feel hot water warming the lagoon around you.
Getting to Ferraria Azores is only about a 35 minute drive from Ponta Delgada Azores, and is 100% worth it. Read more about here.
Pro Tip: Go at low tide so that the entire lagoon feels warm.
From Ferraria Azores natural springs to orange colored pools and black sand beaches, Azores is a feast for the senses! What are your favorite things to do in the Azores?
Related reading – A Natural Ocean Hot Spring – Ponta Da Ferraria
Read Next: Azores Travel Guide: 7 Things You MUST Know Before Going