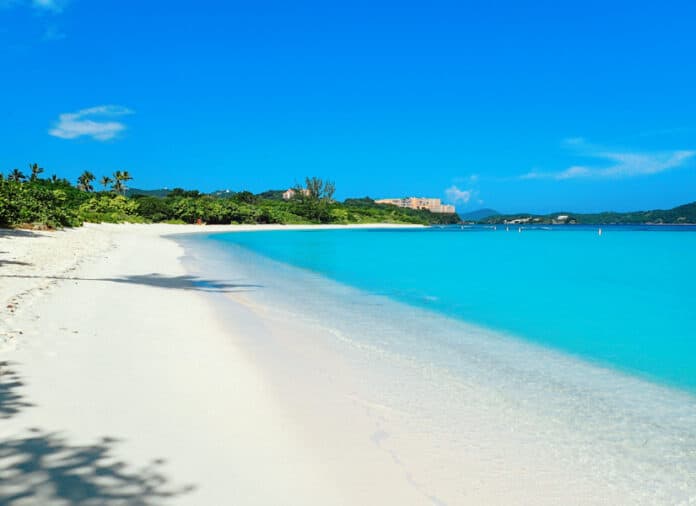 I've bopped around almost all of the beaches on the island of St. Thomas in the US Virgin Islands. While there are a lot of different options, Lindquist Beach is my absolute favorite! It is criminally underrated!
Many of the best St. Thomas beaches have soft white sand and clear water, but somehow the water at Lindquist Beach is better. It was so clear I felt like I was swimming in a pool! Seriously, when in the water watching waves come towards me I realized I could actually see through them!
Still not convinced? Check out this video on my Youtube page to see it.
There are a couple reasons this beach isn't as popular as some of the others, but those reasons are things you might be totally okay with! Whether you are staying on the island for a week or just looking for a 1 day cruise excursion, read on to see why Lindquist Beach is worth your time!
Lindquist Beach Quick Tips
Water color: Turquoise and stunningly clear!
Sand quality: fine and soft white sand
Swimming conditions: generally quite calm and PERFECT for snorkeling
Snorkeling: so many fish that are so easy to find just off the shore!
Facilities: Bathrooms, foot baths, showers, but NO restaurant, and no bars
Lifeguard: Yes!
Cost: $5 entry fee
Parking: $2 parking fee
Where is Lindquist beach located?
Lindquist beach is located on the north east end of St. Thomas, USVI. It is located between a couple other popular beaches. It is less than 5 minutes from the local favorite Coki Beach and the Sapphire Beach/Sapphire Beach Resort.
If you are coming from the airport it is about a 25 minute drive. It is less than 10 minutes to the Red Hook Ferry Terminal that is the gateway to the island of St. John
Lindquist Beach is located in a 21 acre park named Smith Bay Park.
Lindqvist Beach
Even though it is labeled as Lindquist Beach on Google Maps, signs at the actual park say the name of it is Lindqvist Beach.
Lindquist beach from Cruise Port
If you come in at the main cruise port in Charlotte Amalie (also the biggest city in St. Thomas the beach is about a 20 minute drive. There are plenty of taxis that could take you relatively cheap, just make sure you set up with your driver to take you back.
Cost of Lindquist Beach
You do have to pay to get into this beach. That being said, it making you pay could actually be the best thing about it. It costs $5 per person to get into the beach, and $2 to park a car.
The entrance fee discourages a number of visitors from coming in, which causes it to be substantially less busy than other nearby beaches that are free.
It also helps keep the areas maintained. Some of the other beaches get big clumps of seaweed, but there was none on the shores at Lindquist Beach.
Thankfully they take credit cards at the entrance. There are a lot of other places on the island that don't, so it's nice to have the option.
How to get to Lindquist Beach
Rent a car! – This is what we did since we were staying for a few days and we wanted freedom to explore the entire island. I highly recommend renting a car though the roads can be trecharous. Get the best prices on Virgin Island rental cars here.
Warning, they drive on the LEFT side of the road, but with vehicles meant for driving on the RIGHT side of the road.
By Tour – If you prefer there are also a number of tours that will take you to Lindquist beach. Check them out here.
Available tours that will take you to Lindquist Beach
Read also: Best things to do in St. Thomas
Lindquist beach hours
This beach closes at about 5pm on weekdays and 4pm on weekends. When the sun sets late this can be a little bit annoying!
What you can Expect at the actual beach
First off, it is a lot bigger than many of the other beaches. The only beach that is bigger that we visited was Magen's Bay Beach.
Swimming Conditions
The water is PERFECT. It is so stunningly blue that it literally looks like an Instagram filter, but somehow completely legit in real life. Generally the water is quite calm.
Lindquist Beach Snorkeling
The calm waters make it the perfect location to snorkel in. You won't get pushed around by waves and when you look in the water you will see it full of sealife. Seriously, the rocks and seagrasses are full of fish and other creatures in all parts of the beach.
The sun is relentless out here so be sure to protect yourself, and the reef, by using only reef safe sunscreen!
I also recommend wearing a long sleeve swimsuit or top like these ones from Skims. (I have 3 of them and wear them all the time! It is so nice to have that extra sun protection without having to constantly worry about reapplying sunscreen.)
Free people also has some amazing rash guards that are great for snorkeling.
Lindquist Beach Facilities
This beach has ALMOST everything. There are showers, IMPECCABLY CLEAN restrooms, changing rooms, showers, and lifeguards. There are picnic tables and a large parking lot with plenty of spaces.
What this beach does not have is a concession stand, restaurant, or bar. For those looking to have drinks all day it would probably be better to go somewhere else or make sure to bring your own in. We brought our own snacks so we were okay being here, but the lack of those options likely steers people elsewhere.
There are a few convenience stores nearby where we stocked up on drinks and snacks ahead of time, but it's not quite the same as sipping a cold drink at the bar.
Are there restaurants nearby?
There are restaurants close by, but not directly on the beach. You need to rent a car or take a taxi. We usually opt to pack a lunch.
Lindquist Beach Negatives
It sucks to have to pay to access a public beach. It also sucks to pay to park here. While neither of those were too expensive, it is a little bit irritating considering there are a number of free beaches directly next door. Remember though, this keeps a lot of the craziness and crowds you can find at other beaches away though.
It also is a ways away from the cruise port. If you are looking for a beach where you don't have to take a taxi then you won't like the 25 minute drive. There isn't a resort directly on the beach as well, so no one gets to stay right here.
What else to do in the area
Conclusion: Is Lindquist beach worth visiting?
Even though there isn't a restaurant or bar on the ground, the lack of crowds, gorgeous clear blue water, and wide stretch of sand make this beach amazing. I love it so much because it has all of those things with way less people than other nearby beach!