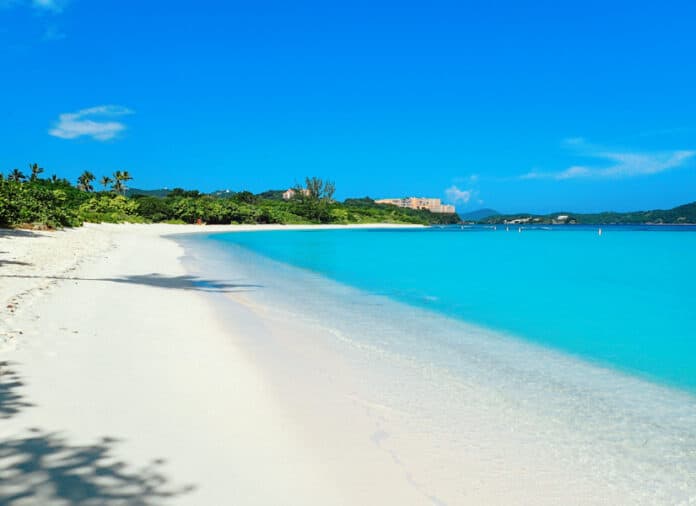 Lindquist beach is a paid, public beach on the island of St. Thomas, USVI. It is part of a protected 21 acre area called Smith Bay Park.
Part of a protected 21-acre park, this public beach includes a lifeguard, picnic tables & bathrooms.
Lindquist Beach Quick Tips
Water color: Turquoise, clear!
Sand quality: White fine sand
Swimming conditions:
Facilities: Bathrooms,
Lifeguard: Yes!
Cost: $5 entry fee
Parking: $2 parking fee
Where is Lindquist beach located?
Lindquist beach is located on the east end of St. Thomas, USVI. Located between Wyndham Sugar Bay Beach Club and Sapphire Beach Resort.
Lindquist beach from cruise port – The beach is about a 23 minute drive from the cruise port in Charlotte Amalie.
From the airport – It is a 25 minute drive from the St. Thomas airport.
How to get to Lindquist beach
Rent a car – this is what we did since we were staying for a few days. Highly recommend. If you are planning on renting a car in the U.S. Virgin Islands I always get the best prices here.
Warning, they drive on the LEFT side of the road, but with vehicles meant for driving on the RIGHT side of the road.
By Tour – If you prefer there are also a number of tours that will take you to Lindquist beach. Check them out here.
Available tours that will take you to Lindquist beach –
Read also: Best things to do in St. Thomas
Lindquist beach hours
This beach closes at about 5pm on weekdays and 4pm on weekends.
Parking
They have a $5 per person entrance fee and $2 parking fee. If you're a veteran the parking fee is waived. Parking is a less than 5 min walk to the beach.
Parking lot with plenty of parking is roadside and a concrete path leads beachgoers to the beach. Handicap parking is available steps from the beach.
What you can Expect at the actual beach
Swimming Conditions
The gorgeous, crystal clear, turquoise water is perfect for swimming. Heading west, the swimming area gives way to another area of the bay, a very shallow shelf with tide pools.
Lindquist Beach Snorkeling
The sun is relentless out here so be sure to protect yourself, and the reef, by using only reef safe sunscreen!
I also recommend wearing a long sleeve swimsuit or top like these ones from Skims. (I have 3 of them and wear them all the time! So nice to have that extra sun protection.)
Free people also has some amazing rash guards that are great for snorkeling.
Tip – Make sure if you snorkel you have a waterproof phone case (I have this waterproof housing from amazon that works ridiculously well) and a good dry bag for your electronics. This is my favorite dry bag. I never travel without it. Go pro also works wonders!
If you want to be able to take over/under water pics you will need an additional dome housing. I have this one from amazon that connects perfectly to my axis go waterproof phone case and is expensive, but works amazing.
Facilities
Picnic tables, showers and public restrooms. There is also a concession where you can rent chairs for the day.
Are there restaurants nearby?
Yes there are restaurants close by, but not directly on the beach. You would need to rent a car or take a taxi. We usually opt to pack a lunch.
Negatives
While I did not experience this there, I did see quite a few reviews about homeless people sleeping on the beach. Also, the see grass can get heavy here at certain times.
What else to do in the area
Conclusion: Is Lindquist beach worth visiting?
Yes!