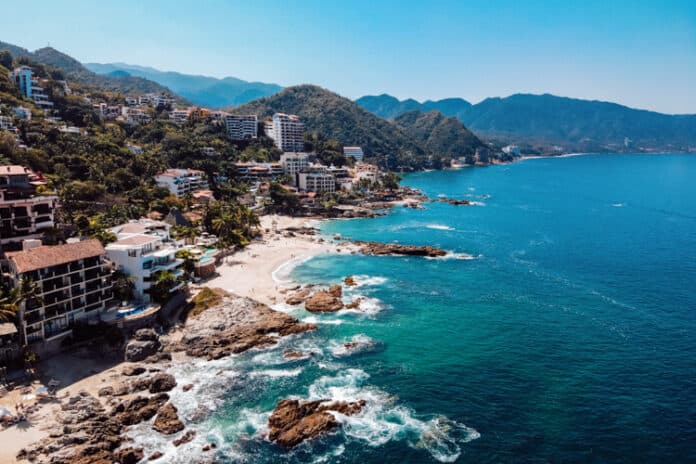 Playa Conchas Chinas wins my best all-around beach award in Puerto Vallarta.
I'm not saying Conchas Chinas Beach is the best beach ever, but when you take all factors into account like crowds, ease of access, and consistent waves it's pretty great.
Conchas Chinas Beach is a large one that you can drive to or walk to in about 15-20 minutes from the Zona Romantica. If you aren't yet familiar with Puerto Vallarta, the Zona Romantica is one of the busiest hotel zones of the destination.
Book your airport transfer shuttle here that will take you from the airport directly to your hotel. (Free cancellation 24 hours ahead)
Playa Conchas Chinas Quick Tips
Best for: gorgeous beach in close proximity to the Zona Romantica with less crowds
Famous for: generally gentle waves and unique rocky outcroppings
Day & time I visited: twice over December weekends
Facilities: officially none but given proximity to town, all accessible
Lifeguard: one part of the beach yes, but the beach is big enough that most parts don't
Cost: free
Parking: no set lot but plenty on the side of the road.
Entrance: my favorite access point is the trail following the shoreline from Playa Amapas/Zona Romantica. There is a steep set of stairs deafening to the beach on the south end.
Conchas Chinas Beach Map
What to expect at Playa Conchas Chinas?
If you are willing to venture just a bit away from the hustle and bustle of the Zona Romantica you can escape a lot of the crowds and craziness and still get a prime beach experience.
The signage to get to Conchas Chinas Beach is fairly poor, but that's an advantage because it keeps unprepared away from the beach. Even without signage it is still super easy to find though.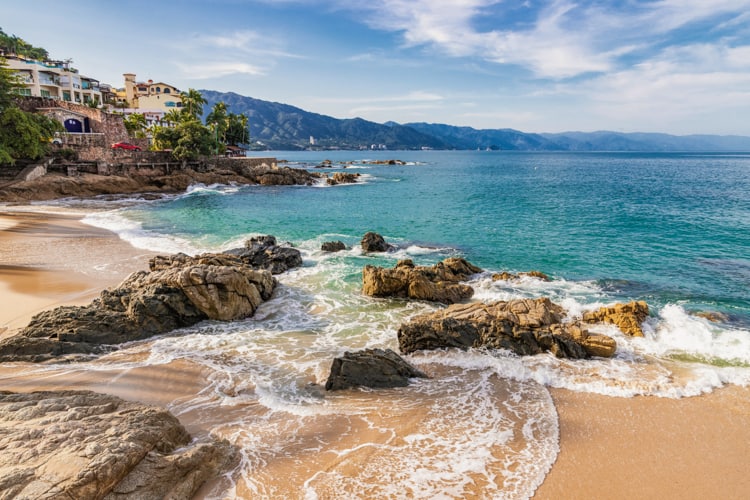 Hike From Zona Romantica
Thankfully Mexican authorities built a wide and super easy to follow shoreline trail the entire way to this beach from the Zona Romantica.
The walk is only about ½ a mile, and it's gorgeous the entire way.
The most difficult part is going over the Rocky outcropping dividing Los Muertos Beach from Playa Amapas, but trust me, this is a flip flop and kids can come kind of "hike."
On Conchas Chinas Beach
While You won't get this beach to yourself, you are sure to find far less crowds than the busier spots like Los Muertos Beach.
Unique Rock Formations
One of the things I like best about this beach is that it has large rocks that come up into the shore. The effect is that it divides the beach into a few smaller mini beaches.
These "mini beaches" are great if you want to feel like you've escaped other people or find some shade. They also make for striking photo spots.
The rocks also can block or amplify the waves. This means if you are looking for a tide pool for the kids to swim in you can find it here. There are also spots where you can see the waves get bigger and more aggressive.
Vendors On Playa Conchas Chinas
I had read that there weren't vendors trying to sell you the standard jewelry, hats, and scarves, but in my experience this wasn't true.
There were certainly less vendors than the busier beaches, but they were still there. As with most of Mexico, a simple "no gracias" is enough to keep them moving along if you don't want to be disturbed.
This beach is where I met my favorite vendor. A 12 year old boy was selling fresh donuts.
Donuts aren't usually something I associate with a sunny day on the beach, but I'm not going to lie, they were delicious!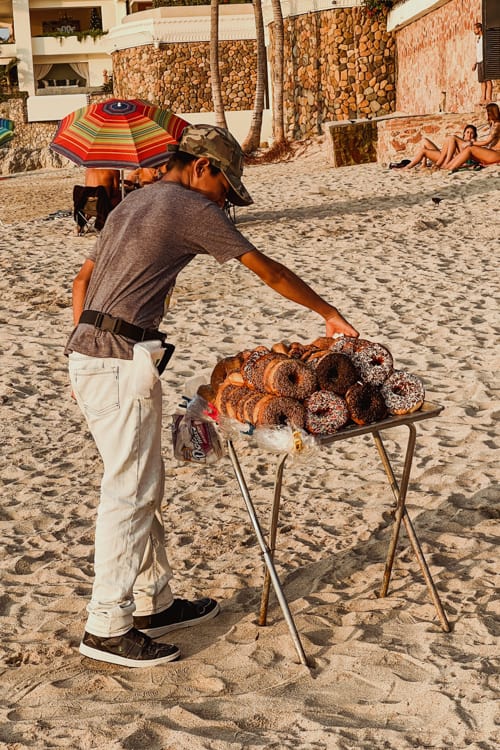 Conclusion
The name Plays Conchas Chinastranslates to Chinese shells beach, which I assume has something to do with the seashells on the shore. The shells aren't the reason I love this beach though.
To me it strikes the perfect balance of being close enough to walk to but giving me space from the crowds. While the beach itself is basically amenity free, it's super close to everything else you would want if you are willing to walk a bit.
Things to see near Conchas Chinas Beach
While you are in the area you will very likely see Playa Amapas and Los Muertos Beach.
Playa Amapas (Small but beautiful beach)
Los Muertos Beach (Most popular beach in Puerto Vallarta) Located in the Hotel Zone.