Los Muertos Beach is probably the most popular beach in all of Puerto Vallarta.
It makes sense, it's in the Zona Romantica by a lot of the best hotels, shopping, and nightlife.
The Los Muertos Pier also serves as a hub for a lot of other tours and excursions.
You can pop directly off of the cobblestones and hubbub of the town to a beautiful beach. It's perfect if you want to lounge on the sand, then shop for a bit, and then go swimming.
Side note – while cobblestones are pretty to look at, they suck to walk or drive on, and don't even attempt it if you want to go to one of the dance clubs at night.
Book your airport transfer shuttle here that will take you from the airport directly to your hotel. (Free cancellation 24 hours ahead)
Playa De Los Muertos
The name Playa De Los Muertos translates to dead man's beach – no clues or signs of the source of the name were apparent. The gigantic seahorse monument didn't give off a dead man vibe either.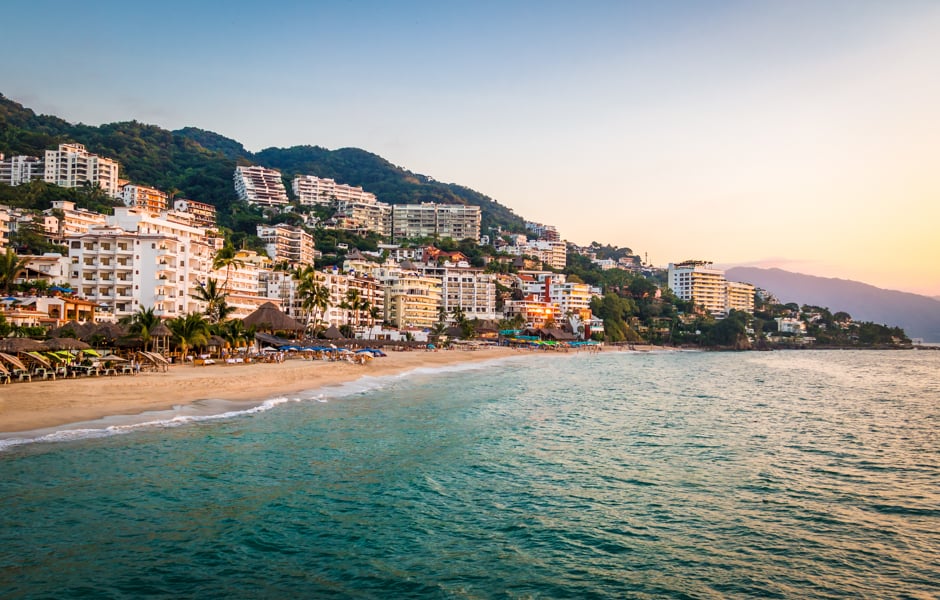 Los Muertos Beach Quick Tips
Best for: ease of access from your hotel, a booming LGBT scene, and using the Los Muertos Pier as a launching point for other tours
Day & time I visited: weekend afternoons
Facilities: being in the heart of Puerto Vallarta, everything is available – though most of the public restrooms
Lifeguard: yes
Cost: free
Parking: ample street parking, though traffic in this area can be a nightmare. Even if you take an uber or taxi in you might be better off walking
Los Muertos Beach Location
What to expect at Los Metros Beach?
You know how people often say that something can look better in person than pictures. With Los Muertos Beach I would say that it looks and feels a lot like the pictures. This is generally a very good thing since the pictures usually show this as a beautiful beach.
What might not be shown is that it tends to be quite crowded. If you dream of having your own stretch of sand and hardly anyone else in sight, your only hope would be showing up for a sunrise, and even then I would still expect to see a number of other people. Sorry, I'm not a morning person so I cannot personally verify.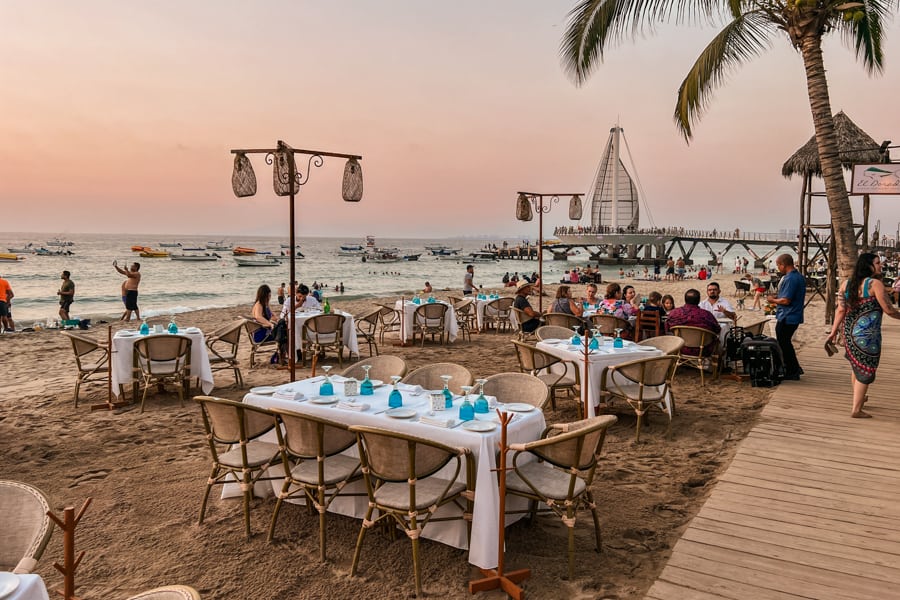 Beach Salesman
Like a lot of Mexican people there are a number of people coming by trying to sell you something. What shocked me was that most of the products offered weren't anything I was especially interested in. Of course, they did have the standard jewelry and sunglasses, but I was genuinely confused when one tried to sell me a stuffed watermelon plushie and another a sheet of sequin fabric.
While I don't love being bothered, they weren't aggressive and moved on with a quick, "no gracias."
Umbrellas And Chairs For Rent
A number of hotels have their own private stretches of the beach where they reserve chairs for their guests, but there are still a number of places where you can rent your own. The prices aren't bad at all if you want to plop down in one location for the day.
Los Muertos Pier Launch Dock
The unique shaped Los Muertos Pier is the perfect place to wait for your water taxi or tour. You will see groups of people hanging out and waiting to leave from here.
While I do like this beach, this is a place where you can leave in a water taxi to get dropped off at a truly amazing beach instead.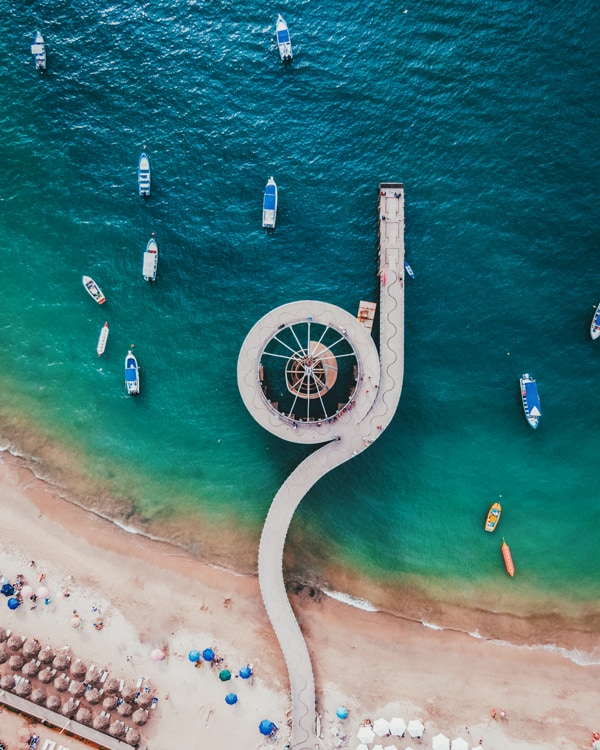 Is it a Gay Beach?
Los Muertos Beach is pretty big. There are sections of it where you will see the normal families, couples, and spring break type of groups.
There is also a portion of the beach (the far south end) where the proportion of hunky guys in speedos is a lot higher than any other beach I've been to in the world (and I've been to a lot of European beaches).
While I didn't ask anyone their sexuality, it's pretty safe to assume that if you are looking for a happening gay scene, the south end of Los Muertos Beach is a great choice.
There are actually a lot of resorts, restaurants, and shows in this area that cater specifically to their gay clientele.
Conclusion: Is Los Muertos Beach worth visiting?
So is it a good beach? The answer is yes, just with reservations.
If you want a beach that is likely right next to your hotel in a spot that's good for partying, it's great. If you are looking for the pristine and unmolested beach experience, this isn't it.
Things to see near Los Muertos Beach
Playa Conchas Chinas
If you are willing to walk a little bit further you can reach one of two other amazing beaches. You don't even need to get in a car, taxi, or Uber to have all the benefits of Los Muertos with less crowds. Playa Amapas or Playa Conchas Chinas are only minutes away.