Boca de Tomatlan
This sleepy fishing village is a must stop on any trip to Puerto Vallarta.
In addition to serving as a hub for water taxis to some of the absolute best Vallarta beaches, it's also got its nice beach along with plenty of restaurants, little shops, and authentic Mexican culture.
Boca de Tomatlan Beach
Their beach doesn't really lend itself to lounging in the sand since the entire area is covered by the water taxis and people waiting, loading, and unloading.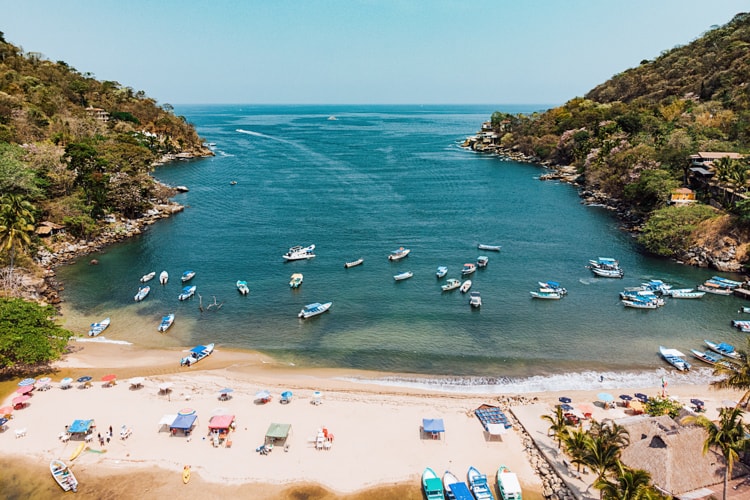 If you are looking for a slower pace and some more authentic Mexican culture then this is a must visit, and this isn't even taking into account that Boca is a gateway to Vallarta's best beaches.
And yes, the locals just call it Boca.
Book your airport transfer shuttle here that will take you from the airport directly to your hotel. (Free cancellation 24 hours ahead)
Getting To Boca de Tomatlan
Boca de Tomatlan is about a 25 minute drive south from Puerto Vallarta proper. It's an easy drive along the coast. There is plenty of signage, and like almost everywhere in Puerto Vallarta it is very safe.
Taxi
You can take a taxi from Vallarta if you like, or even an Uber. I took an Uber from Vallarta and it cost me about $11 us.
Warning, it is a lot easier to find an Uber down to the village than back. Be careful without have alternative plans to get back to town.
If you have your own car don't worry about parking. Tons of spots around the little city. As well as a couple of cheap pay lots if you are extra worried about security.
Bus to Boca de Tomatlan
I Normally Hate Busses, but Take The Bus
The best way to get down there though is actually by bus. I normally hate taking busses, but in Puerto Vallarta I actually recommend it.
Cost to ride the bus
It is only $10 pesos to ride (so about fifty cents) and the busses come every 10 minutes. Most of the time it is literally faster than an Uber or taxi, and a fraction of the cost.
The routing isn't hard to figure out as it drives back and forth between the two. Yes there are stops in the middle, but they barely slow you down and you don't have to worry about strange and unexpected routings.
The only drawback is that you have to have cash, which isn't so hard to have because it's so cheap.
Quick tips for taking the bus to Boca de Tomatlan:
You have to pay in cash
Cost about .50 cents USD (10 pesos)
Bus comes every 10 minutes
Water Taxi Hub
You can spend more on a tour that will pick you up in the hotel zone of Vallarta, but it really isn't hard to get here.
Once here you can make the decision on where to go next. I think that Vallarta's best beaches all have a water taxi leaving from here.
There is no official process, you just walk up to the boat captains and ask if the are going to the beach you want.
Cost to ride the water taxi from Boca de Tomatlan to Las Animas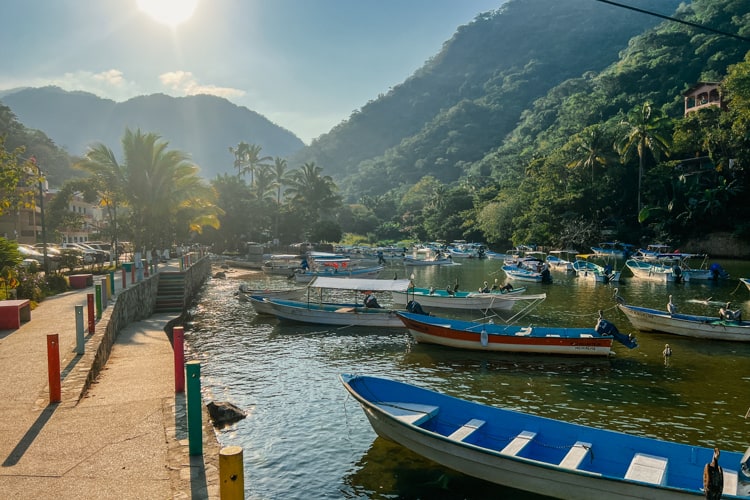 A boat ride to Las Animas is generally about 100 pesos ($5 usd each way) and takes about 10 minutes.
If you want to stop at some of the closer in beaches the price will be the same, and slightly more if you want to go the further away ones.
When last there I wanted to hike to Las Animas and take the boat back.
Once on the beach in Las Animas I walked up to a few boat captains asking, "Boca?" until I found one. It only took three.
The boats are comfortable and the drivers used to tourists and are great at answering your questions.
Hike to the Best Beaches in Puerto Vallarta
Boca de Tomatlan also serves as a trailhead for an awesome hike that follows the Mexican shoreline to some truly gorgeous beaches.
Read my posts here on the hike and those beaches so you can see exactly why you should put the two together.
The most famous beaches that you can access are Colomitos Beach and Las Animas Beach, but there are at least 3 other along the way.
Check out the most popular tours in the Boca de Tomatlan here.
What to do in Boca de Tomatlan
Hike to Colomitos Beach
Hike to Las Animas Beach
Caballo Beach
Vallarta Botanical Gardens AC
Muelle de boca de tomatlan
Las Caletas, Cabo Corrientes
In The Town of Boca de Tomatlan
The town is basically just a small fishing village. There are a few hotels, shops, and restaurants.
You are most likely to see locals getting ready to spend their day fishing though. Even though there are a lot of tourist passing through, it's still great to see a place that's functioning without the tourists.
Boca de Tomatlan Restaurants & food
I'm a sucker for taco stands; some people worry about getting sick from drinking the water, or even eating fresh produce washed with that water.
The water has made my weak American stomach churn, but never had the problem with fresh produce.
With most of the street vendors it's easy to tell them to only put grilled vegetables on your taco instead. The delicious taco stands in Boca are no different.
If you are looking for the best restaurants in Boca de Tomtlan I would check out trip advisors recommendations here.
Pharmacies
The town also has pharmacies for all those drugs people love getting in Mexico that don't require a prescription like in the USA (HGH, tretinoin, adderal, Valium, etc). I'm generally pretty adventurous, but I would be nervous trying those out.
Warning. Ubers back very hard to get. No drivers available. But the bus is so easy. Only 10 pesos.
Conclusion: Is Boca de Tomatlan worth visiting?
To see a different way of life and escape the Vallarta party scene I highly recommend heading down to Boca de Tomatlan.
Exploring the quaint village is fun enough in itself, but once you add in a hike or water taxi to an unreal beach it's so much better.