Have you heard about Taipei's night markets? We talked briefly about the best night markets in Taipei in another post where we covered the more general topic of places to go in Taipei. But, the night markets in Taipei are so amazing, they get their very own feature! Seriously, if you're going to Taipei, go to a night market!!
Why should you visit the Taiwan Night Markets?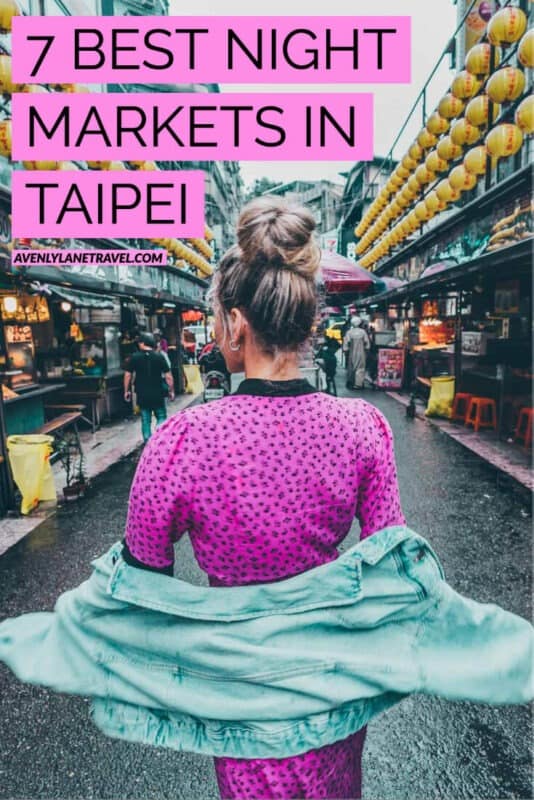 Best Food in Taipei
They are genuinely the best place to get amazing food at affordable prices. You can expect your entire meal to be less than $5, and it could easily be as low as $2.
They're open late, giving you ample time to fit in all of the sightseeing. Most of the markets are open from about 5pm to 1am. I love that they are open late! I tend to be a night owl, especially on trips. With night markets, I can fill in my day and still have time to eat amazing food in an exciting atmosphere. The next morning, I'm all about sleeping in.
What To Buy At a Taipei Night Market
You can buy clothes, electronics, and cultural knick-knacks at night markets, but the best reason is the food. I'm not normally a foodie person at all, and I seriously dream of going back.
The locals running the night markets are also so friendly. Don't expect to get hustled like in other countries. One time when I bought some food, I needed help paying. I trusted people so much I held up a handful of coins to buy some little pork rolls, and then trusted them enough to pick the correct coins right out of my hand. I wasn't completely familiar with their money, and of course, they were honest. They even had the vendor tell me they wouldn't take all my money since the amount I bought qualified me for a discount. I love being around people that are generally so honest!
There are so many night markets! If you don't go to at least one. you are missing out. And I recommend visiting more than one. There are a lot of smaller markets around, but the most well-known and worth visiting markets are as follows:
Best Taipei Night Markets
Shilin Night Market food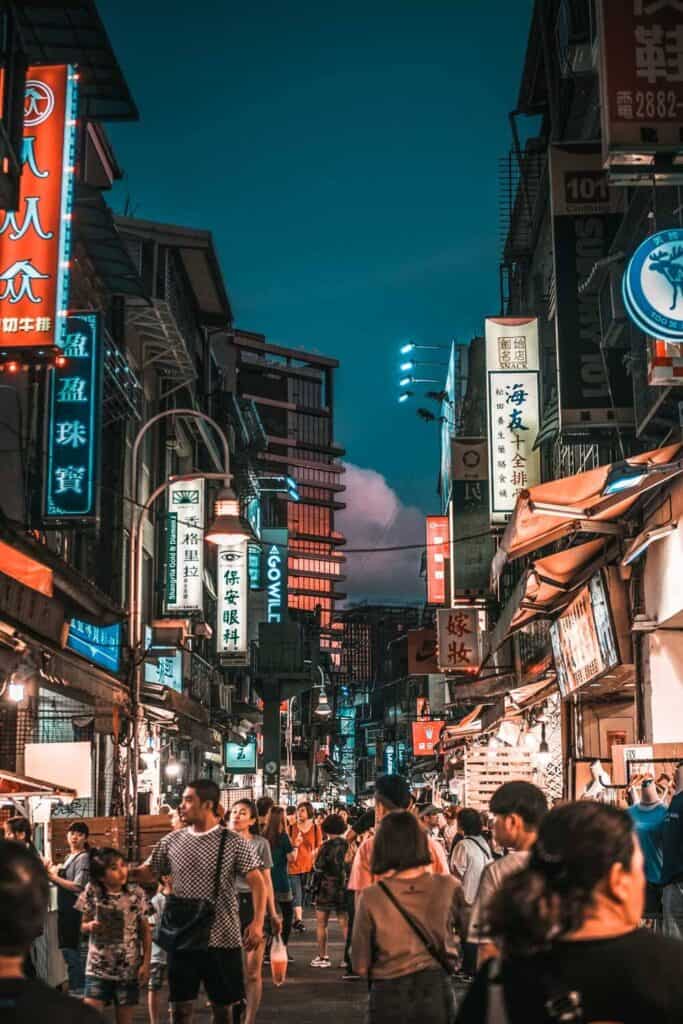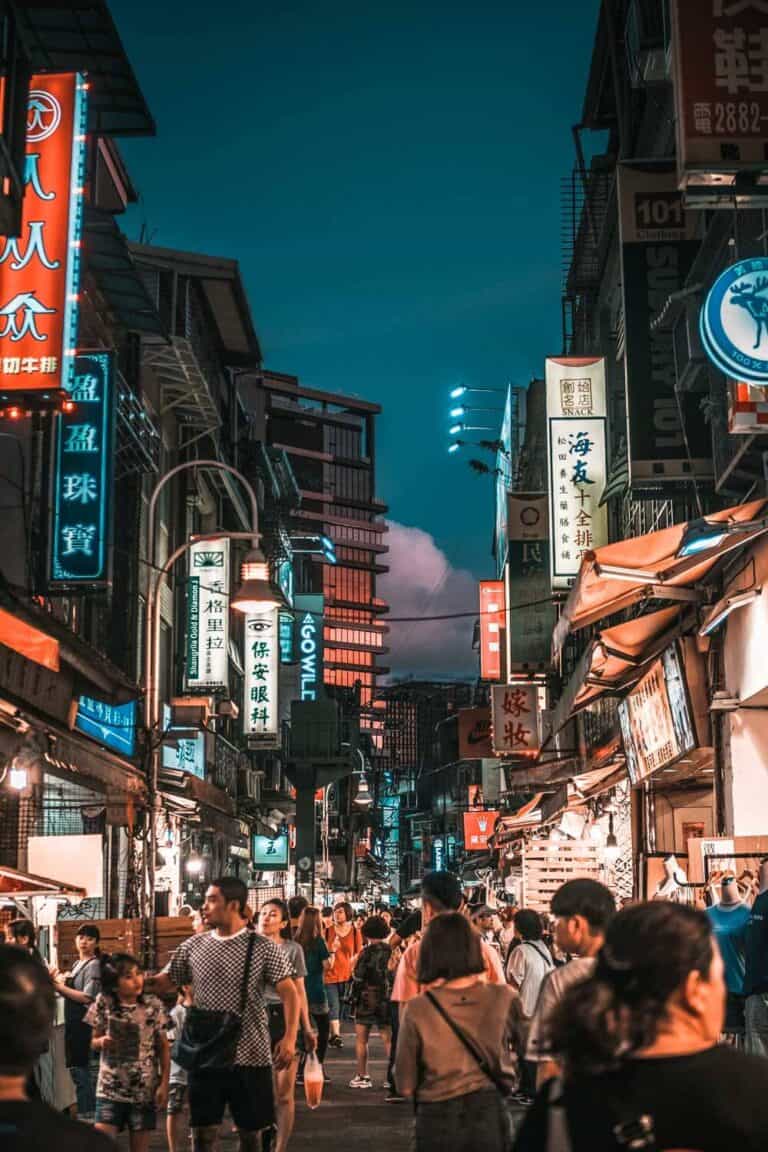 Shilin Night Market is the most popular in Taipei and, naturally, the most touristy. Just because it's touristy doesn't mean you'll see a lot of Americans. People come from all over Taiwan, along with all over the world to visit Shilin.
Even though Shilin is the most popular, it still offers great food at an awesome price. We went to some other markets that were cheaper, but we still enjoyed this one.
Huaxi Night Market
Huaxi Night Market (Snake Alley Taipei) is exactly what it sounds like. Huaxi is a market where locals and tourists often eat a snake and drink its blood mixed with alcohol. Snake wine is super popular, as well.
We opted out of all of that, but that doesn't mean we didn't wander through the alley to see the doomed, alive snakes on display. The snakes are very big and very scary but…soon to be food. Huaxi was not our favorite neighborhood or market, but a lot of people are interested in it. It's also Taipei's red light district.
Raohe Night Market
Raohe Night Market is another great place to buy food. It's not the biggest market, but if you're in the area, we 100% recommend it. It offers all of the same food favorites with an emphasis on meat dishes. Even as someone aiming to not eat a ton of meat, though, I was able to find vegetable and noodle dishes.
Ximending Night Market
Ximending Night Market is known as the Harajuku of Taiwan (don't know where Harajuku is, read here). That means a lot of youth hang out here, having sanctioned it the cool spot. If you want a quick glance into the Taipei fashion scene, here it is. There are trendy clothes for sale and the same great good. I especially liked all of the street performers we saw here.
Ningxia Night Market
Ningxia Night Market is another great option. It differs from other markets in that it has a lot of sitdown restaurants around. You can actually sit and eat comfortably! Most other markets only consist of stalls, and you have to search around for a seat. At Shilin, for example, we sat on the steps of a temple (only after seeing other people do it; we wanted to make sure we weren't doing something offensive).
Fengjia Night Market
The Fengjia Night Market, also known as Feng Chia Night Market, might be the largest one out there at around 1 kilometer in diameter. We didn't get to make it to this one, but it's also popular, especially because it's by a university.
Shida Night Market
Also close to a university is Shida Night Market. This market is smaller. It used to be much bigger but was supposedly downsized after late noise complaints and trash in the area. Despite previous complaints, Shida is still an attractive area with a younger student crowd.
As you can see, you won't run out of night market possibilities. We hope you take the opportunity to check out a few in Taipei. Let us know which ones turn out to be your favorite. Enjoy the steam buns, fried chicken, and stinky tofu!
Read Next: 11 Best Things to do in Taiwan