Taipei, Taiwan is the city that snuck up on us. We went there on a whim. (That's what we do sometimes after so much traveling…just go places on a whim.) We decided to check Taipei out, and it absolutely blew us away.

Things to do in Taipei
If you're unfamiliar with Taiwan's background, Taiwan is officially part of China. It's officially part of China but…not really part of China. Any debate on territory is a very sensitive subject to mainland China because they insist on claiming Taiwan as part of the family, while the Taiwanese insist on distinguishing themselves as independent. Beyond those generalities, I try to stay out of it.

The Taipei Sightseeing is Amazing
So, what can you expect in Taipei? Taipei is the biggest city in Taiwan. It's known for its incredible food cooked by famous street vendors. It's known for its unique culture, as well – a blend of Chinese and Japanese with its own unique flair. There are also gorgeous natural attractions worked into the city, like parks and waterways.

Taipei is a developed, modern economy. It has great transportation options, much better than most US big cities. A big source of Taipei travel is business, yet the city is not overly crowded or expensive. It's still remarkably affordable. In fact, it's the best fusion of modern hustle-and-bustle with affordability I've ever seen. We were able to stay in a great hotel for less than $100 a night. You can eat awesome meals for under $5 per person.

And the best part is, there are a ton of great things to see!

The best things to do in Taipei
Visit Taipei 101
A remarkable piece of architecture is Taipei 101. Taipei 101 used to be the tallest skyscraper in the world with 101 floors! It seriously looks like a bunch of upside down Chinese food cartons stacked on top of each other. You can go up and take a tour if you'd like, though we didn't.

While the view from the top of Taipei 101 has to be pretty cool, the best way to see Taipei 101 is from a distance. Where is the best viewing point to view Taipei 101? The Elephant Mountain hike!
Hike Elephant Mountain, Taipei
It's amazing how great this hike is, especially since it's right next to the buzz of the city. Elephant Mountain is only about 20 minutes long, and it will quickly reward you with an awesome, overlooking city view. It was by far one of my favorite experiences from the trip.
If you are interested you can check out my instastories (Here is a direct link to our Taiwan insta-story) to see this hike in greater detail. Spoiler alert – it was way more intense then I thought it was going to be.

Explore the Taipei Night Markets
Shilin Night Market Taipei

Keelung Night Market
We've already mentioned that Taipei has famous food vendors, so be sure to go to a night market. There are a number of them, though Shilin Night Market is the most popular. Night markets open late, which is great since they're the best place to get amazing and affordable food.
Shilin is the most touristy, so if you'd like to avoid the crowds, there are plenty of other night markets. They should all be super affordable with great food. Usually, you can also buy clothes, electronics, and cultural knick-knacks.
You might also be interested in: 7 Best Night Markets in Taipei
Night Market in Ximending, Shied, Huaxi
Other night markets I recommend are Ximending Night Market, as well as Shied Night Market, and Huaxi Night Market (snake alley). At the Huaxi Night Market, locals will eat snakes and drink their blood mixed with alcohol. We didn't do that, but that doesn't mean we didn't wander through the alley to see the poor snakes on display! Huaxi was not our favorite neighborhood or market because it's also their red light district.
If you don't go to at least one night market, you are missing out. And I recommend visiting more than one.

Liberty Square Taipei
Liberty Square is a large city plaza. It's most notable landmark is the Chiang Kai shek Memorial Hall. Chiang Kai shek Memorial is not only beautiful from the outside, but inside, you'll find a library and museum chronicling Taiwan's fascinating history.
You can learn more about the occupation by Japan, how the Taiwanese currently interact with China, what makes Taiwan culture unique, and more. It's also so much bigger in person than expected.

Yangmingshan Taipei
Yangmingshan is a national park that's within Taipei's city limits. It's cool to see nature incorporated with a city. This national park has it all – a volcano, hot springs, a sulfur pit, and gorgeous landscape.

Beitou Hot Springs
We are always up for a good soak, so Beitou Hot Spring was the place for us. It was near our hotel, and it turned out to be the best place for us to hang out with the locals, doing what they do. It was seriously the best hot tub experience. Check it out!

Longshan Temple
Longshan Temple is a picturesque Chinese temple. It's still a functioning temple, and it's clearly still used for religious practice. If you observe prayer while you're there, you'll see that those praying throw blocks of wood to the ground. Always remember to be respectful, but these temple-goers are used to tourists.

Grand Hotel Taipei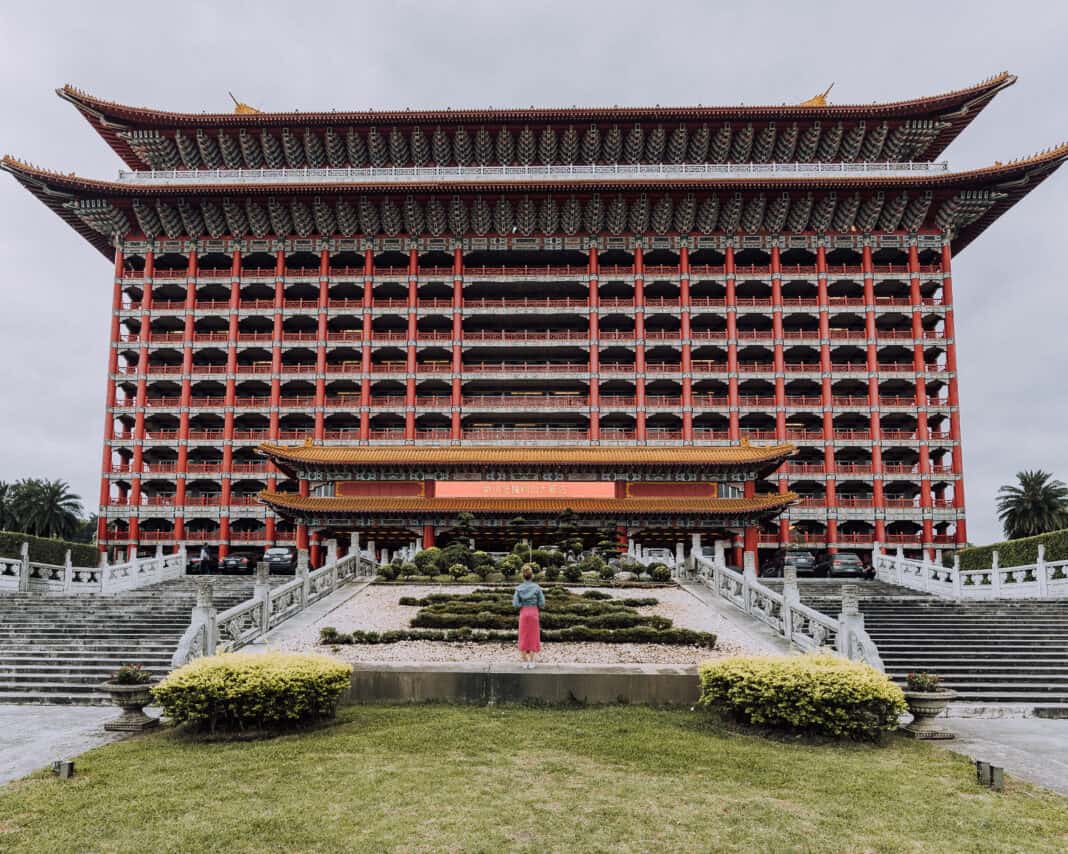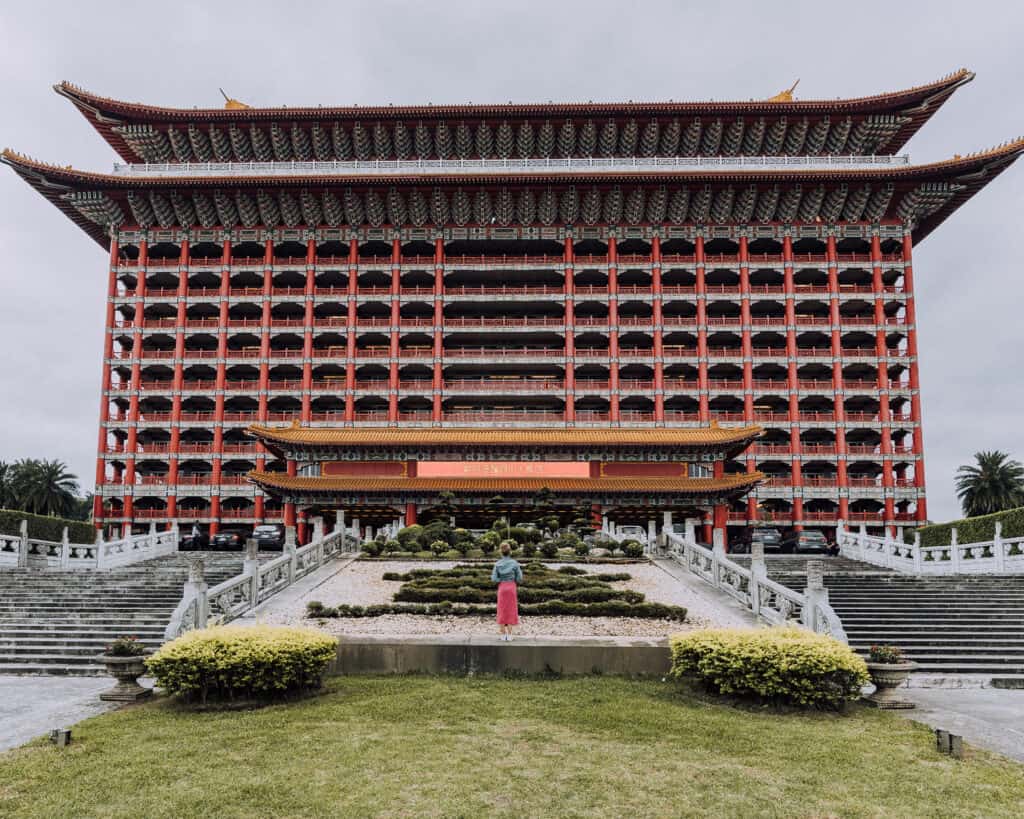 We're a little biased because this is the hotel we stayed at, but the Grand Hotel is absolutely huge. It looks like a palace with beautiful landscaping, and has delicious restaurants to accompany the view.

Dihua Street
Dihua Street in Taipei is a fun street to explore. It's primary purpose is commerce, which it's been doing since Taipei existed! This is a good place to find traditional Chinese medicine, incense, and more. Even if you don't buy anything, exploring the shops is an experience alone.

Taipei Confucius Temple
Two more temples worthy of a visit are the Confucius Temple and the Baoan Temple. They're both traditional temples but of differing religions. Located right next to each other, with easy access, both of these temples are amazing sites to see.
So now over to you!
What Places to Visit in Taipei would you add to the list?
This list is just a short glimpse into the great surprise Taipei gave us. Taiwan is incredible and worth a visit. I can say that with confidence. Really, I'm shocked it isn't more well known as a hot travel destination.