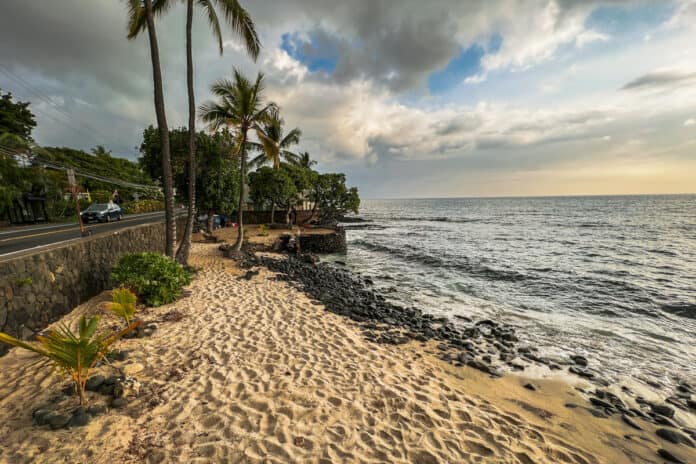 Honl's Beach in Downtown Kona
In downtown Kona and looking for a beach to relax on? Honls Beach is in the heart of the action! You'll likely encounter it whether you plan it or not.
This small rocky beach isn't great for swimming, but if you are looking for a spot to boogie board, surf (when conditions are right) or take in an amazing sunset this could be your spot!
Honls Beach has all the facilities you need, along with access that everything that comes from being in the heart of the Kona "downtown."
Quick Tips
Known for: proximity shops and restaurants and amazing sunsets
Facilities: restrooms, showers, and picnic tables
Lifeguards: no
Parking: easy parking on side of road
Cost: free
Where is Honl's Beach located?
Honls Beach is 20 minutes south of the Kona airport. Kona isn't a big town, but with the Big Island of Hawaii being rather undeveloped this is almost as much action as you can find.
The beach is on the southwest side of the island, which lines it up perfectly for sunsets.
How to get there?
If you are coming from the airport all you have to do is drive south for 20 minutes. You can't miss the beach as it is immediately off the side of the main road.
There are parking spots directly in front of the beach and further along the sides of the road.
Tip: When in Hawaii I highly recommend renting a car to get the most out of your experience. It would be difficult to see all the beautiful places in Hawaii without a car. Reserve a car here.
Honl's Beach Parking
There are a few parking spots directly in front of the beach, but if those are full there are plenty of other street parking spots available. (see photo below)
What can you expect at Honl's Beach?
This isn't your "typical" beach since it's in the city center. There will be a lot of people strolling by the beach. This shouldn't stop you from lounging on the beach if you want to, though you will see less people lounging than normal.
The sandy area isn't that big, and there are lava rocks spread throughout the entire beach area.
The rocks make swimming difficult since they go into the water and can be quite sharp.
The waves comes and go, but when present the beach can be a really good spot for boogie boarding and surfing. While there I enjoyed watching some locals catch waves.
The best part of this beach is how it looks at sunset. You will be facing out to the setting sun as it dips beneath the water.
Facilities
Directly across the street from. The beach are showers and restrooms.
There are also a couple picnic tables if you want to bring a meal!
Things to do near
Due to its convenient location you are close to a ton of other attractions!
Conclusion
Is this the beach that I would seek out to spend a day on? No, but if in the area I could easily and happily divert there for a while.