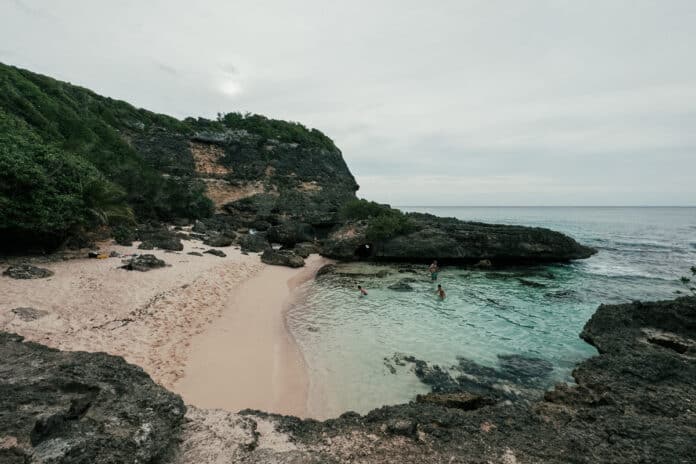 Guide to visiting Trou a Man Loui
This gorgeous cove beach makes you feel like you are literally on your own deserted island!
I thought Guadeloupe, the French overseas territory in the Caribbean, was already far enough off the beaten path! My significant other wanted to take things even further and drug me to the northern tip of the Guadeloupe island of Grande-Terre in search of an absolutely perfect cove beach!
While, I often complain, this time I had to apologize for my resistance because we arrived at such an amazing hidden gem!
And full disclosure, it wasn't actually that hard to get to, and there were even amenities in the vicinity.
Check out my YouTube short here to see what Trou a Man Loui looks like in person.
Trou A Man Loui Info
Where: Northern tip of Grand-Terre in Guadeloupe
Facilities/Amenities: technically none, but full amenities only a 10 minute walk away at Plage De Anse Laborde
Best for: Getting away from people (hopefully most)
Parking: A lot within a 200 yard walk, or a 10 minute hike from Plage De Anse Laborde
Cost: Free
Other Names: Anse A Burgaut (the entire cove) and Plage De Anse Laborde (next door)
Trou A Man Loui Beach Name
As a non-French speaker I can't verify the translation, but the funky name of this beach supposedly translate's to Loui's Manhole.
The word manhole is somewhat descriptive because you descend down into this cove beach; it could be somewhat like descending down into a manhole.
Where is Trou A Man Loui located?
If you think of the two main islands of Guadeloupe as the shape of a butterfly, then this beach is on the top tip of the right (or eastern) wing.
How to get to Trou A Man Loui Beach
It is about a 1 hour drive to get to there from the main airport. You will need to rent a car to get here. Thankfully, renting a car in Guadeloupe can be pretty cheap (depending on the time of year). We went in May and it only cost us $85 for 4 days! If we would have gone in the winter the pricing would have been closer to $75 per day.
Regardless of the specific pricing the rates seem to jump abnormally high close in, so make sure to make a reservation ahead of time. Check out the rental car place we find the best deals at here.
The area at the northern tip of Grande-Terre isn't as developed as other parts of the island, so you aren't likely to be staying in this area unless you get super lucky with a great AirBnB.
Program your GPS to take you to Plage De Anse Laborde. This bigger beach is an excellent starting ground for your mini hike.
Trou a Man Loui Parking
I suggest parking in the large Plage de Anse Laborde parking lot. It's free and has restrooms, showers, and even a couple restaurants and bars.
There is a smaller dirt road access point that would cut the hike in half, but I worried that our little rental car wasn't up for it.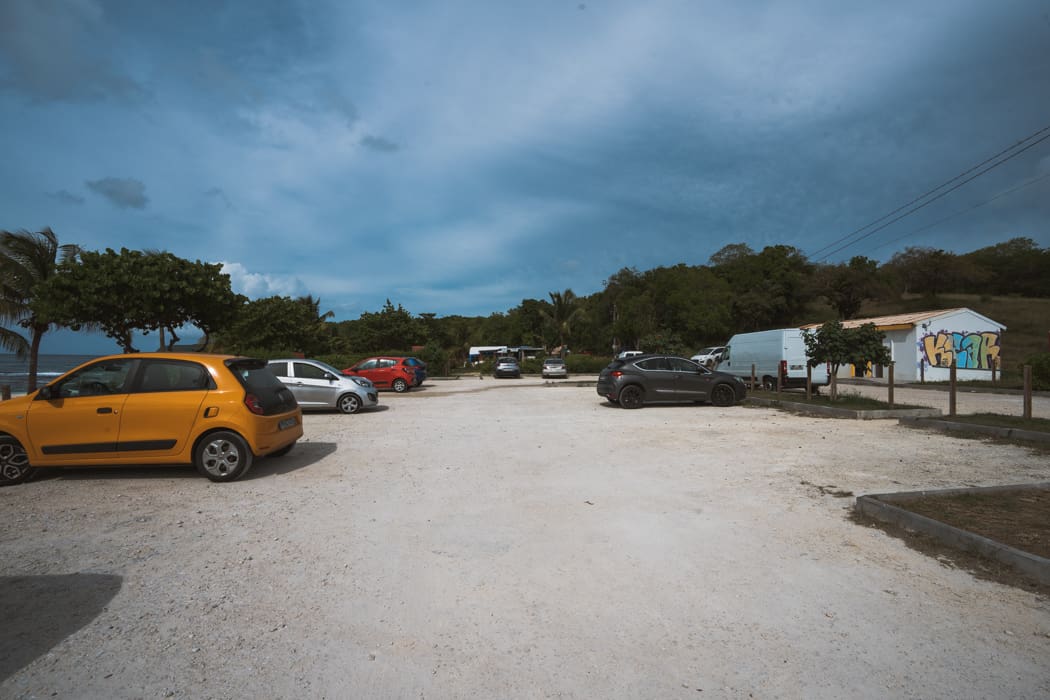 Closer Parking Option With Dirt Road
If you don't want to do a 10-15 minute hike you can park closer to the beach and only have to hike about 200 yards to get to the beautiful cove beach. It doesn't show up on all GPS searches, but it is just beyond the turn off for Anse Laborde.
This lot requires you to drive a little ways down a dirt road, which you might not feel comfortable doing in your rental car.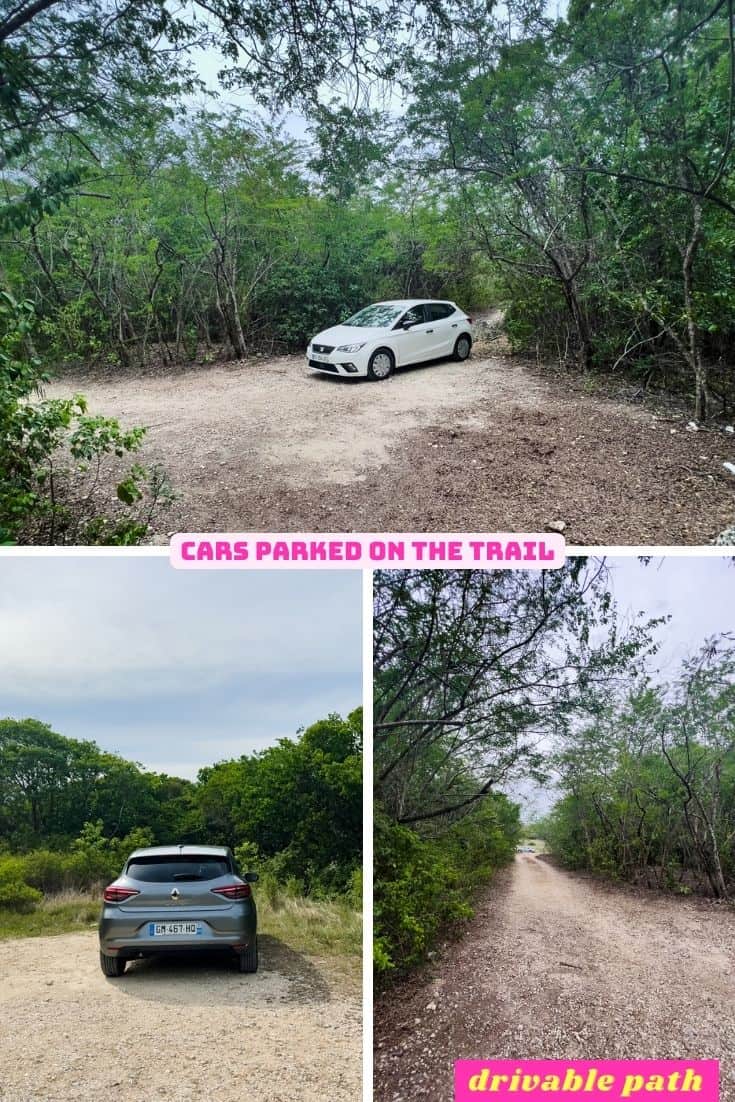 Hike from Plage De Anse Laborde
From Plage De Anse Laborde the hike will only take you about 10-15 minutes. It is only about 1/2 a mile. To find the path simply continue along the road that you entered the Laborde Beach parking lot on.
It turns into a gravel path that winds up a hill and then down through the forest. The trail has a couple of offshoots, but in general follow the biggest trail in a straight/left direction.
You could do this hike in flip flops, but it would be a little annoying so I would recommend shoes of some sort.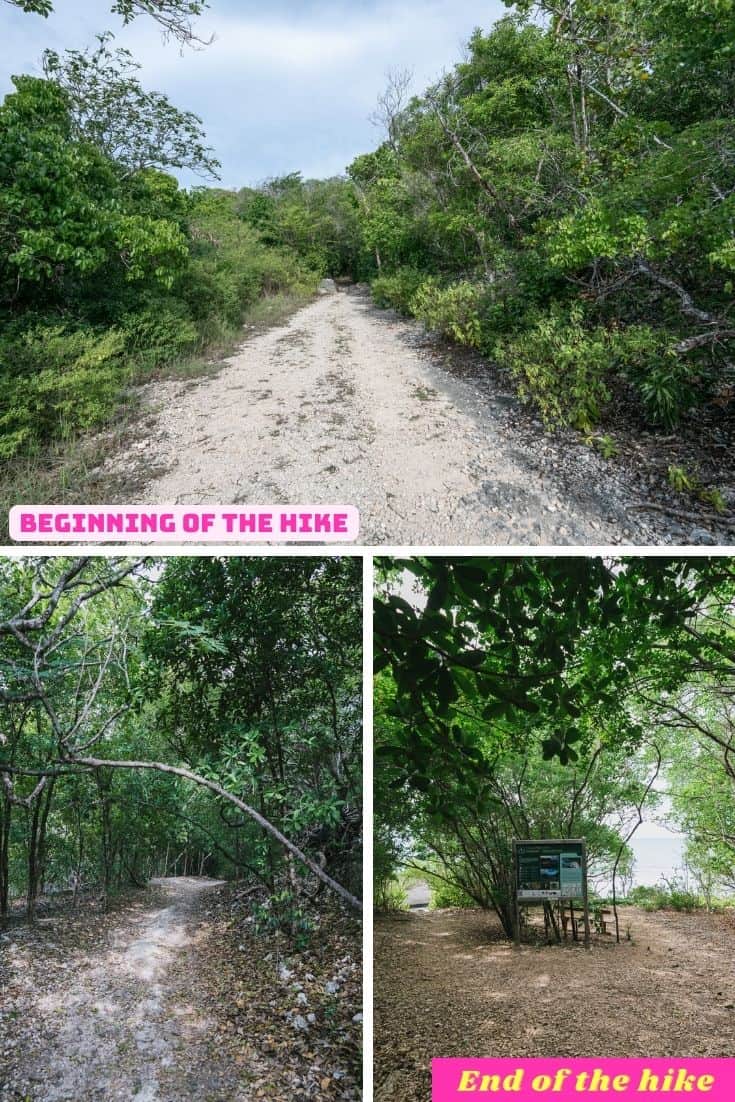 What you can Expect at Trou A Man Loui
The beach itself looks even better than the pictures. The jagged rocks perfectly punctuate the golden sand and clear turquoise water.
The beach is small, but it is just so beautiful and peaceful.
Swimming Conditions
I've seen the conditions listed as too dangerous to swim at, but while there we safely swam along with others.
There were waves crashing outside of the cove, but within the cove itself the waves were very mild-ish.
The ocean floor at this beach is generally sandy with a few big rocks in areas. It's best for wading and hanging out in waist deep water.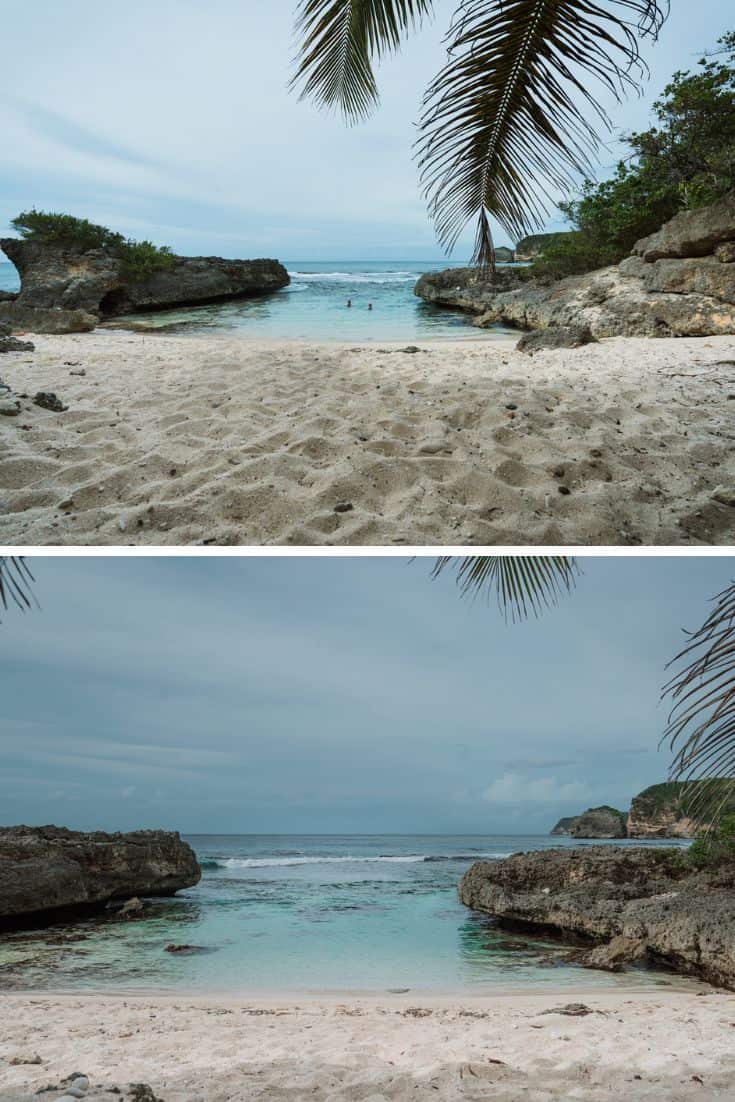 Trou A Man Loui Snorkeling
We attempted to do a bit of snorkeling because the water was so clear and we could see fish swimming around in the ankle and waist deep water.
While Trou A Man Loui may not be known for its snorkeling I personally loved it! There was so much to see practically right at the shoreline!
Be careful of the currents.
The underwater currents were pretty strong so I actually had my husband hold my feet to keep me from getting sucked out by the currents. I also stayed really close to shore but there was still a lot of cool fish and plants.
There was a little bit of life by the rocks, but in general the waves were too much to be able to go too far out.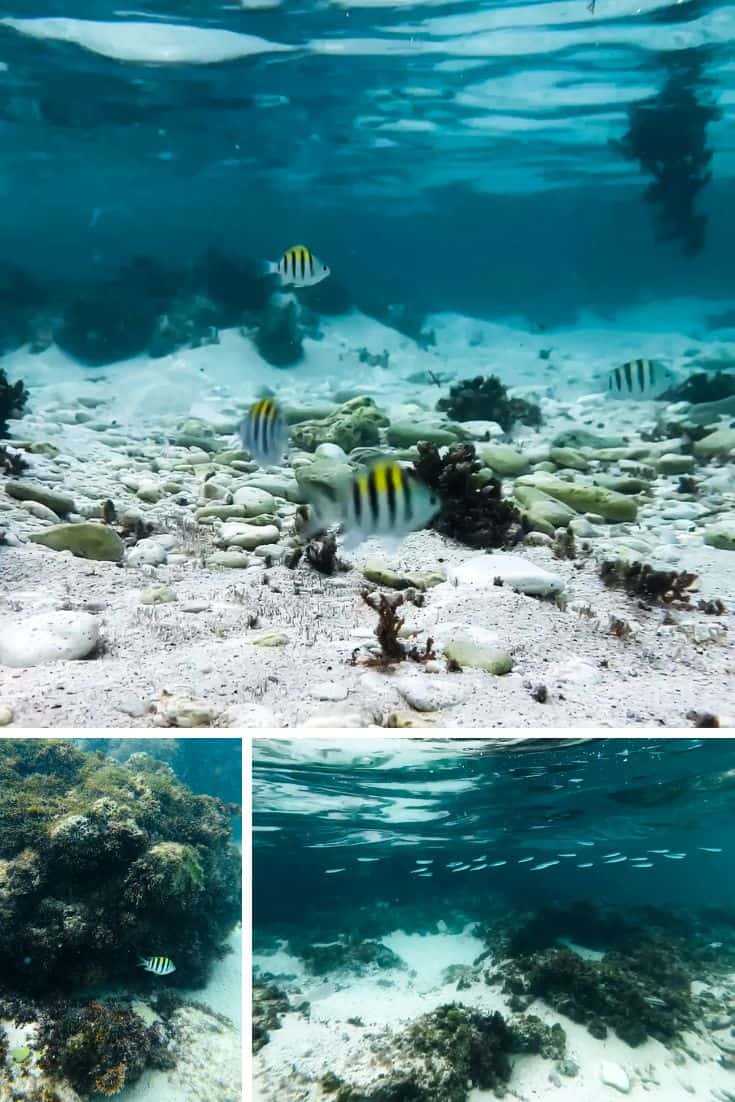 Crowds
While it is off the beaten path the word is getting about this exquisite little gem. We went on a Monday and had it to ourselves for only a few minutes. While hanging out there three other couples showed up.
It's a small beach, but even with a few people it still feels intimate and not crowded. There are enough rocks in the sand that we split up and hung out not being able to see the rest of the people.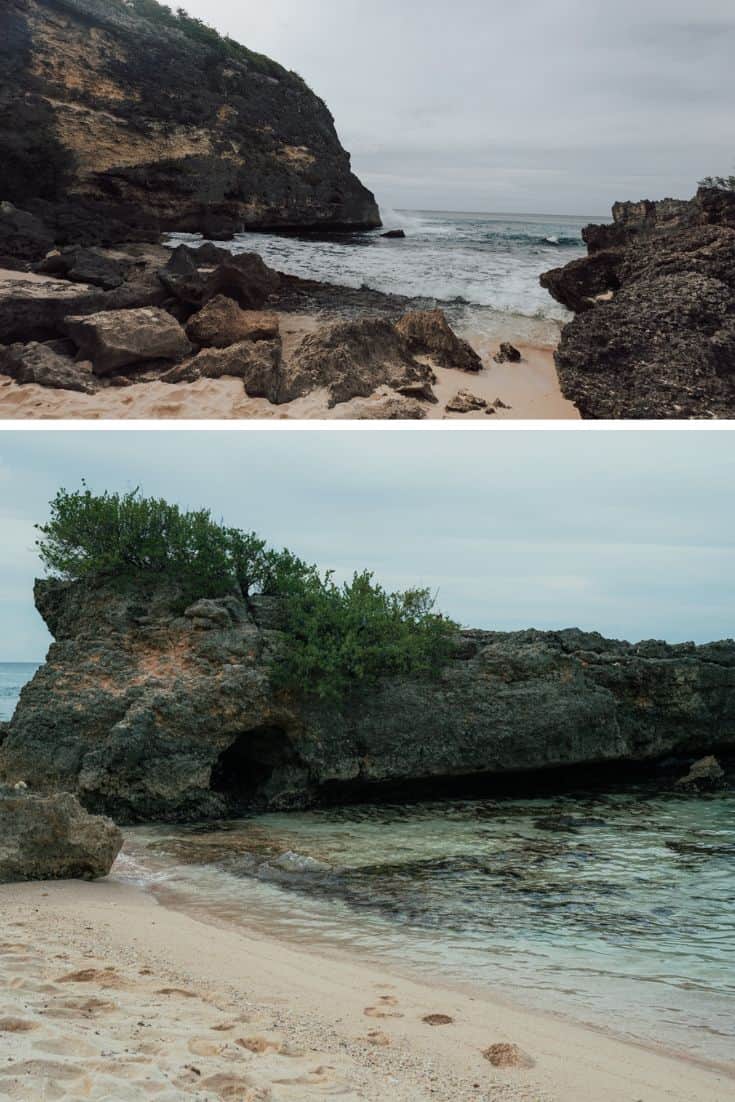 Facilities/Amenities/Activities
The beach itself has no amenities, but if you park at Plage De Anse Laborde you will have almost everything. This includes restrooms, showers, picnic pavilions, and even a restaurant and bar.
Is Trou a Man Louis worth visiting?
Yes! Absolutely. While it does require extra effort to get to this beach, I absolutely think it is worth the effort. This little beach just might be my favorite in all of Guadeloupe!
Where to Stay in Anse-Bertrand
If you are looking to stay on the north side of Grande-Terre island there are a few great options. All pretty affordable.
You won't find fancy resorts, but you won't really find those anywhere in Guadeloupe. Guadeloupe is more of a discover on your own destination than an all inclusive like much of the Caribbean.
Also, FYI – all the Airbnb and hotel names are in French since there is very little to no English spoken on the island.
Ti coin paradis (rated 9.1 on booking.com)
Fleurs d'épices – beach front to a private beach.
Gîtes Soussoune (rated 8.2 one booking.com)
Top things to do in Anse-Bertrand
Anse Laborde Beach – literally a 10 minute walk from Trou a man Loui
Plage de la Chapelle
Plage d'Antigues
Souffleur Beach
Plage à Jouibert
How to get to Guadeloupe
Okay, the first part is getting to Guadeloupe. The quick summary is that even though it is much closer to the United States than Europe, there are more flights in from Europe than the United States.
If you can't find flights in on the day you want, check the next day as flight offerings are limited to certain days of the week, typically around weekends.
Where to stay in Guadeloupe
La Toubana Hotel & Spa – This hotel is in an amazing location in Sainte-Anne overlooking Les Saintes.
Guadeloupe is not known for their amazing resort hotels, and yet, if that's what you are looking for La Toubana Hotel is one of the nicest on the island. Located in Sainte-Anne, the location is ideal! So close to all the best beaches in Guadeloupe.
Make sure you book in advance as this place fills up really fast. We went to Guadeloupe in January and I checked prices for March and a lot of days were already booked out. Check availability here.
La Toubana has been recently renovated and upgraded to a five-star hotel, the first and only five star hotel in Guadeloupe. Vénite said. "It is our first five-star property; we've never had that before," she said. "It is in an amazing location in Sainte-Anne overlooking Les Saintes."
Nearby Beaches: Bois Jolan Beach, La Caravelle Beach and Sainte Anne Beach
Some things to be aware of before traveling to Guadeloupe
The power plugs and sockets used on the island are types C and E Just like the rest of France. Voltage in Guadeloupe is 220 AC. This means if you are coming from the US you will need a plug converter. We forgot one and had a difficult time finding one on the island. We had to go to three different stores so definitely plan ahead.
Money – They use the Euro.
Population – about 400,000 people.
Almost every Guadeloupean is Roman Catholic. A lot of the stores were closed on Sunday or only open for a few hours.
Geography Clarification – most people think of Guadeloupe as 1 island, but there are actually 6 different inhabited islands. The biggest island is named Guadeloupe, but this island is split in two by a small sound – the west (left side on most maps) is called Basse-Terre and the east (right side on most maps is called Grand-Terre.
Language Barrier – Guadeloupe is a French speaking island and there is very little English spoken. Trust me, it will help to know a few beach terms in French. Creole is the second, unofficial language of Guadeloupe.
I had to use google translate while doing my trip research because most of the articles were written in French. Once there, most of the people are not used to tourists who do not speak French. Google translate is a MUST have when ordering food, etc.
Some words that will be especially helpful to know are…
Plage – Beach
Anse – Cove
Plongée en apnée or "palme masque tuba" PMT – Snorkeling