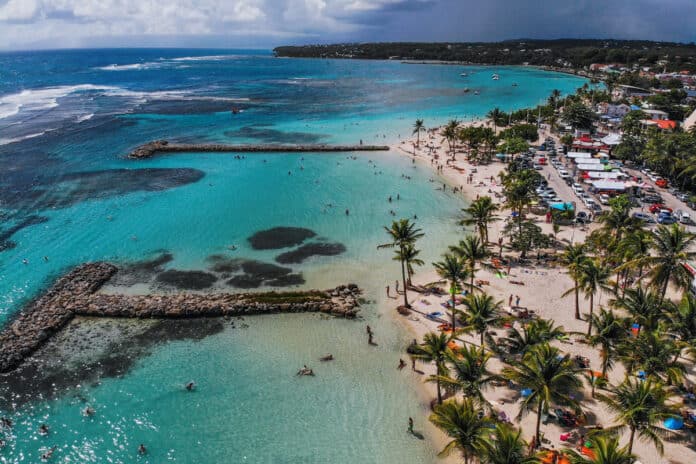 Plage de Sainte Anne (Guadeloupe)
Plage de Sainte Anne is a gorgeous white sand beach located on Grande-Terre island in Guadeloupe. This beach is perfect for you if you are looking for a beach with restaurants, bars, food trucks and calm shallow water.
The negatives about this beach are the parking and the crowds.
What to Expect at Plage de Sainte Anne
Lots of palm trees for shade
Family friendly
Shallow, clear turquoise water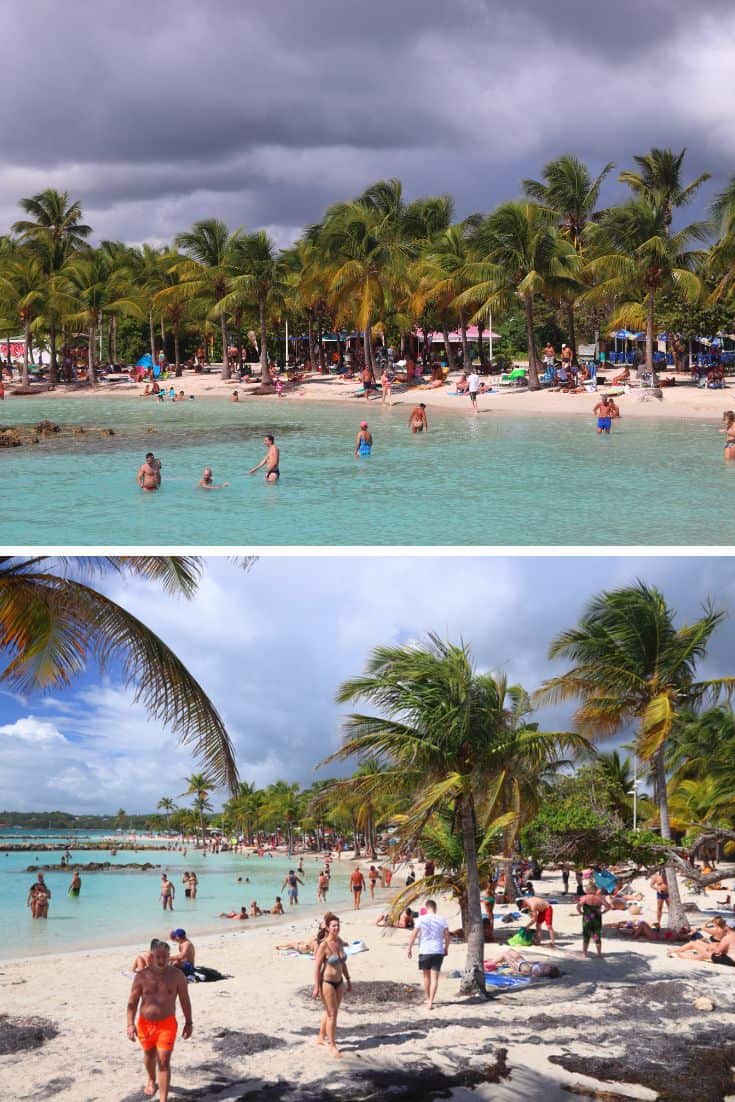 Amenities
Here you have bathrooms, restaurants, bars, food trucks and lots of palm trees for shade.
Restaurants nearby
THINGS TO DO IN THE AREA
There are a few other beaches close to this one. My favorite on this part of the island is Plage De Bois Jolan. You are also close to Plage De Petite Havre.
OTHER BEACHES CLOSE BY:
Plage de Sainte Anne – walking distance (2 minute drive)
Plage de la Caravelle – 7 minute drive away (this beach is one of my favorites in the island. Definitely worth checking out.
Plage de Gros Sable – Exclusively a surfers beach (13 minute drive away). Great beach to watch surfers. Beautiful and very different than most of the other beaches we visited in Guadeloupe.
Conclusion: Is Plage de Sainte Anne worth visiting?
Yes! It is a great beach with a few drawbacks. The beach is fairly crowded, pretty commercial and the water is shallow. So depending on what you are looking for this beach has a little bit of everything.
If you are looking for a beach with a very similar vibe but fewer crowds I would check out Plage de Bois Jolan. It has a much more laid back vibe.
Where to stay in Guadeloupe
La Toubana Hotel & Spa – This hotel is in an amazing location in Sainte-Anne overlooking Les Saintes.
Guadeloupe is not known for their amazing resort hotels, and yet, if that's what you are looking for La Toubana Hotel is one of the nicest on the island. Located in Sainte-Anne, the location is ideal! So close to all the best beaches in Guadeloupe.
Make sure you book in advance as this place fills up really fast. We went to Guadeloupe in January and I checked prices for March and a lot of days were already booked out. Check availability here.
La Toubana has been recently renovated and upgraded to a five-star hotel, the first and only five star hotel in Guadeloupe. Vénite said. "It is our first five-star property; we've never had that before," she said. "It is in an amazing location in Sainte-Anne overlooking Les Saintes."
Nearby Beaches: Bois Jolan Beach, La Caravelle Beach and Sainte Anne Beach
Some things to be aware of before traveling to Guadeloupe
The power plugs and sockets used on the island are types C and E Just like the rest of France. Voltage in Guadeloupe is 220 AC. This means if you are coming from the US you will need a plug converter. We forgot one and had a difficult time finding one on the island. We had to go to three different stores so definitely plan ahead.
Money – They use the Euro.
Population – about 400,000 people.
Almost every Guadeloupean is Roman Catholic. A lot of the stores were closed on Sunday or only open for a few hours.
Geography Clarification – most people think of Guadeloupe as 1 island, but there are actually 6 different inhabited islands. The biggest island is named Guadeloupe, but this island is split in two by a small sound – the west (left side on most maps) is called Basse-Terre and the east (right side on most maps is called Grand-Terre.
Language Barrier – Guadeloupe is a French speaking island and there is very little English spoken. Trust me, it will help to know a few beach terms in French. Creole is the second, unofficial language of Guadeloupe.
I had to use google translate while doing my trip research because most of the articles were written in French. Once there, most of the people are not used to tourists who do not speak French. Google translate is a MUST have when ordering food, etc.
Some words that will be especially helpful to know are…
Plage – Beach
Anse – Cove
Plongée en apnée or "palme masque tuba" PMT – Snorkeling