Best things to do on the Big Island Hawaii
Here are all the top Big Island activities and tours you can't miss in Hawaii.
Manta Ray Dive in Kona
Night Manta Ray Adventure on the Big Island, Hawaii. Snorkel With Manta Rays At Night.
Click here to check availability for this Manta Ray snorkeling tour. Booking in advance is highly advised since this is really one of the most popular actives on the Big island.
Big Island Zipline Over KoleKole Falls
I highly recommend this particular zipline tour, which ziplines over Kolekole Falls.
Snorkel at Captain Cook and Kealakekua Bay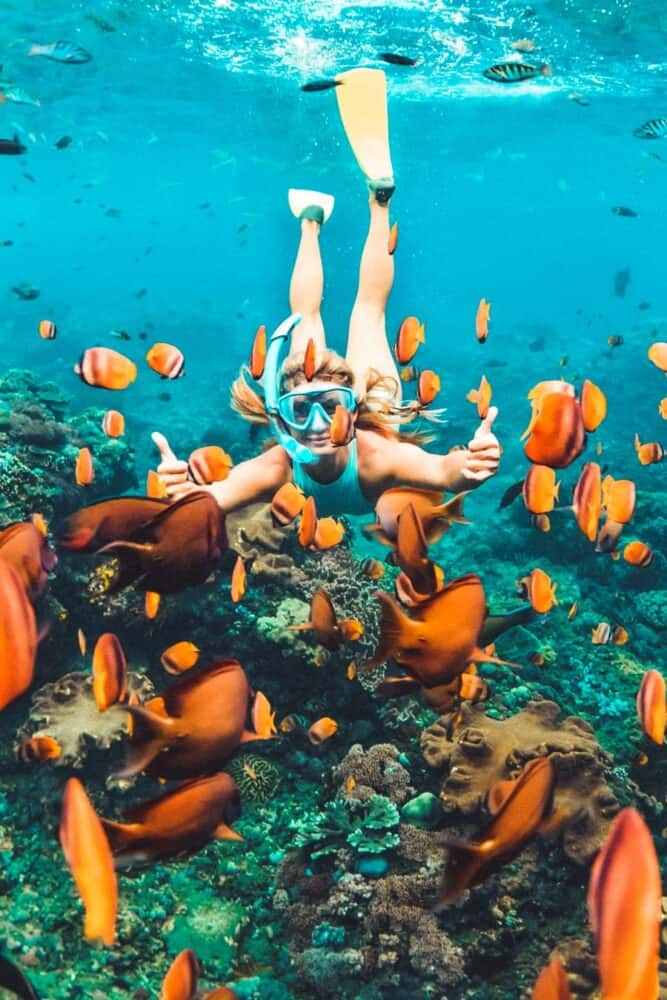 One of the best spots for snorkeling on in Kona. I highly recommend this tour if you want to avoid the crowds.
Big Island: 3 Hour Waikoloa Snorkeling & Sailing Adventure
You Can Take a Helicopter Ride over Volcanoes
Soar over Volcano National Park on this helicopter tour from Hilo. Marvel at views of the Mauna Kea and Mauna Loa volcanos. Fly over some of the best Big Island waterfalls. Book this tour in advance as it is likely to sell out.
Hawaii Big Island has a total of five volcanoes – Kohala, Mauna Kea, Hualalai, Mahukona, Mauna Loa, and Kilauea – the latter two being the most recently active.
A popular way to see the sights of this enormous island is from the sky – by riding a helicopter over the hard-to-reach areas, including the craters of the island's beautiful volcanoes.
Some lava flow can be seen at certain times over the Halema'uma'u crater within Hawaii Volcanoes National Park via a helicopter tour. However, as of May 2019, even Kilauea – which was one of the most active volcanoes in the world – is no longer erupting.
There is currently no surface lava flow, which is sad, as you won't be able to see the orange glow of lava. Even without seeing lava, it's still an impressive island to see from above. If the surface lava starts flowing freely again, you definitely have to go!
Dolphin Watch & Snorkel Captain Cook Monument Big Island Kailua-Kona Hawaii
Dolphin Watch & Snorkel Captain Cook Monument Big Island Kailua-Kona Hawaii. Check availability for this tour here.
Spot sea turtles at the Punalu'u Black Sand Beach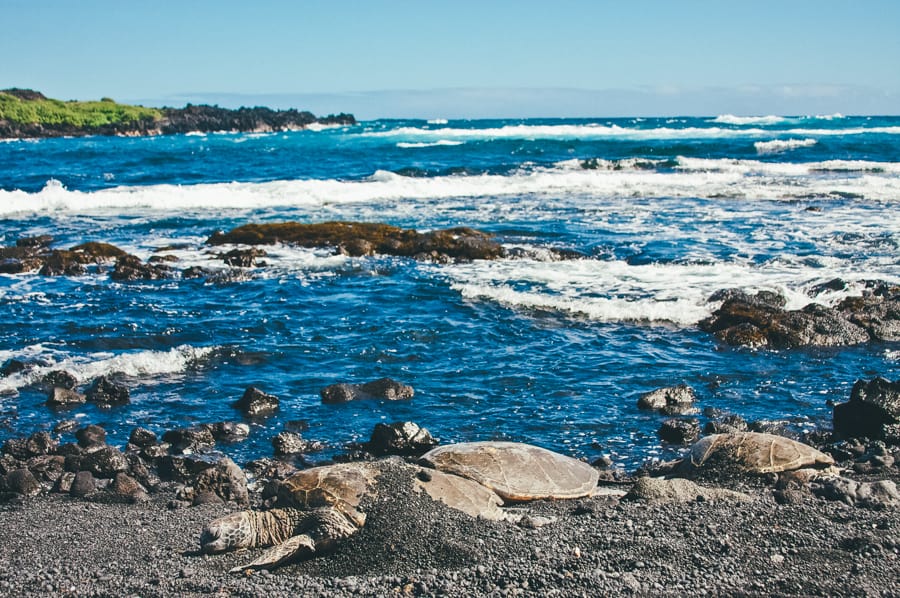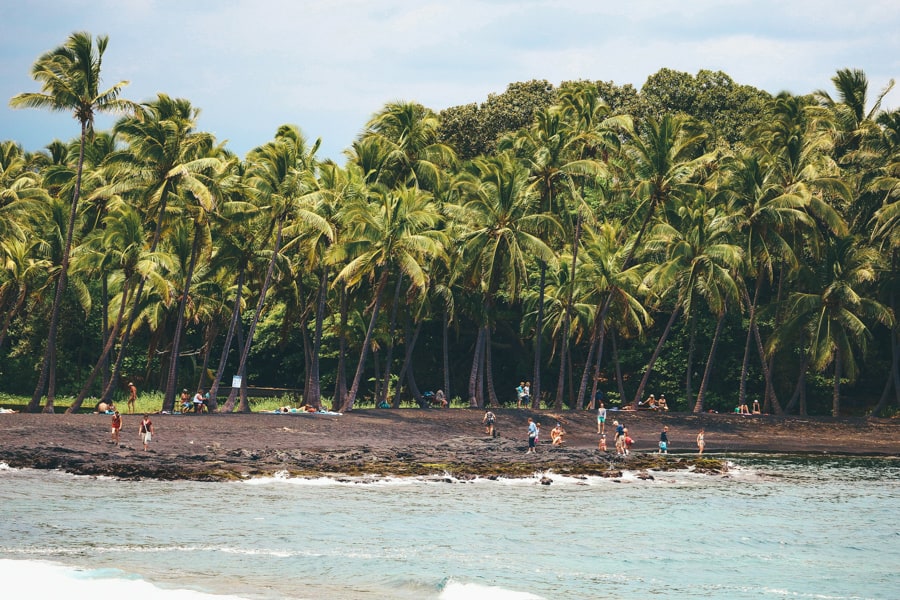 While your there make sure to check out the sea turtles! There are so many of them at this beach.
Waimea, United States cliff jumping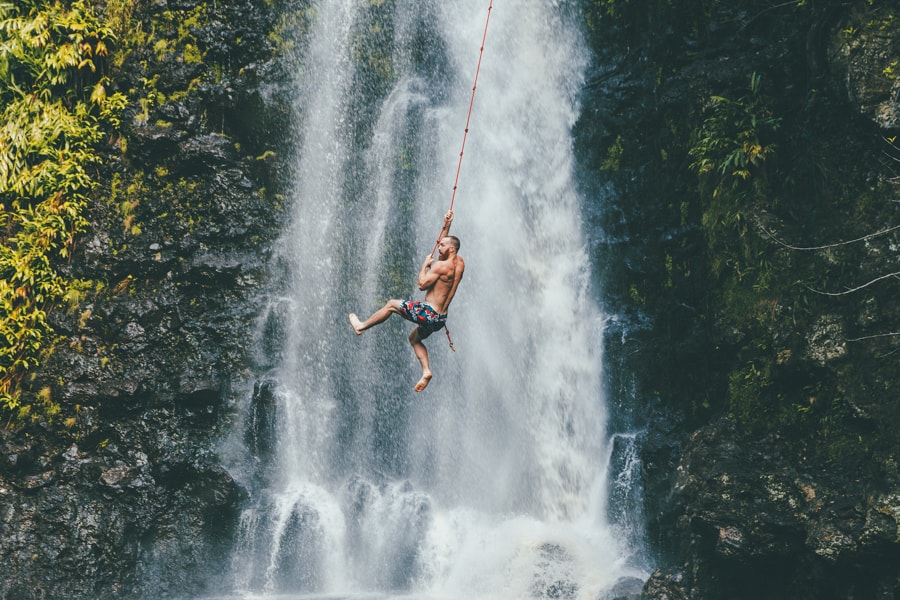 Atlantis Submarine in Kona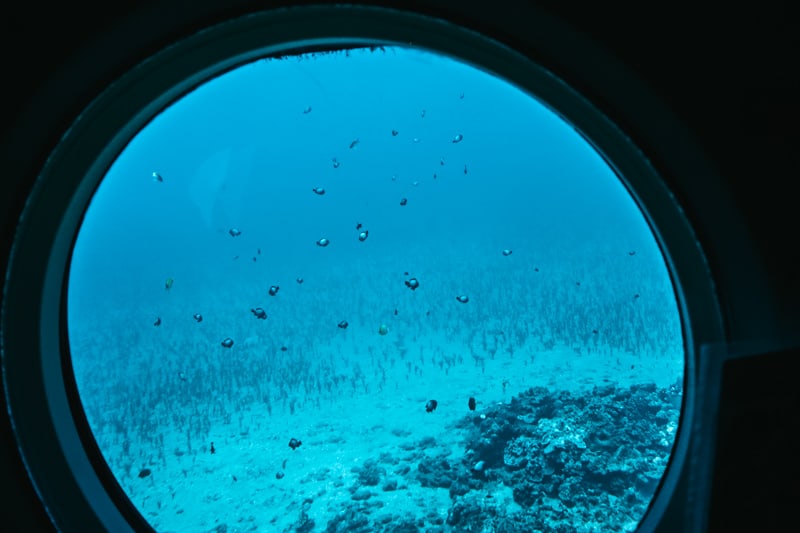 Book your tour in advance here.
Visit Akaka Falls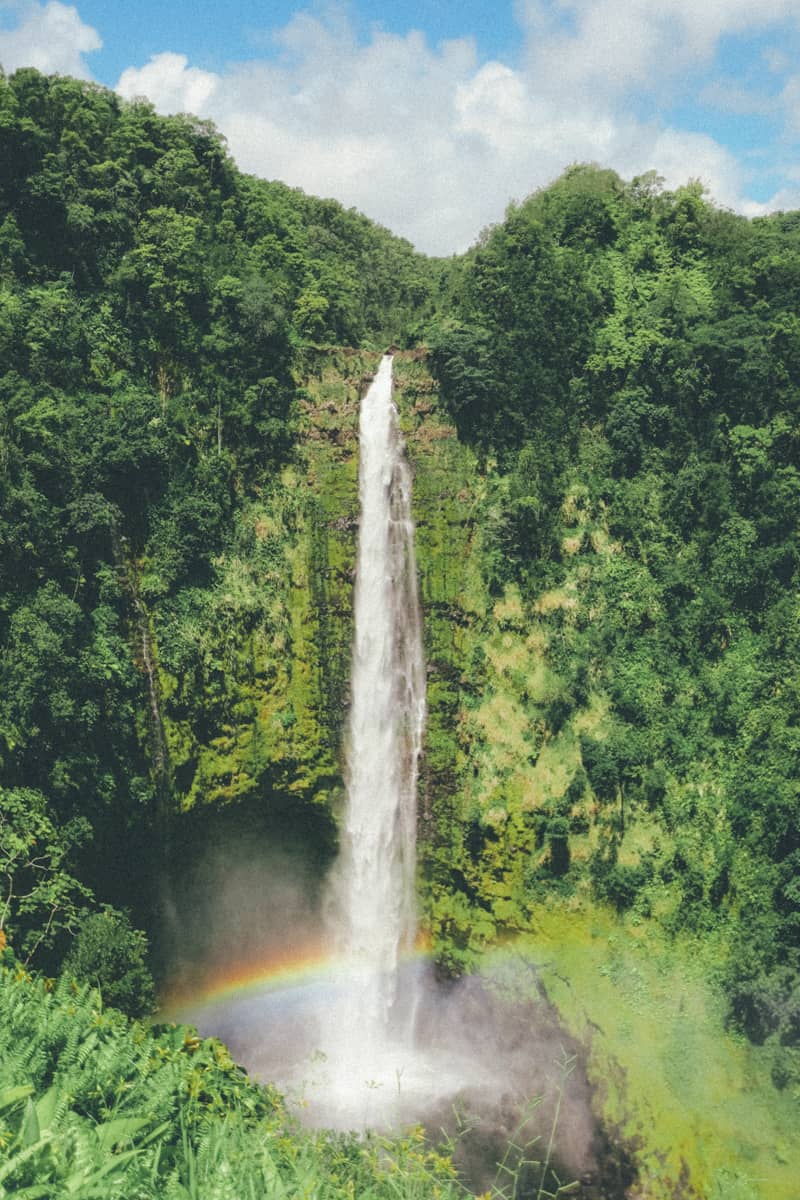 One of the best waterfalls on the Big Island.
Whale watching cruise Big Island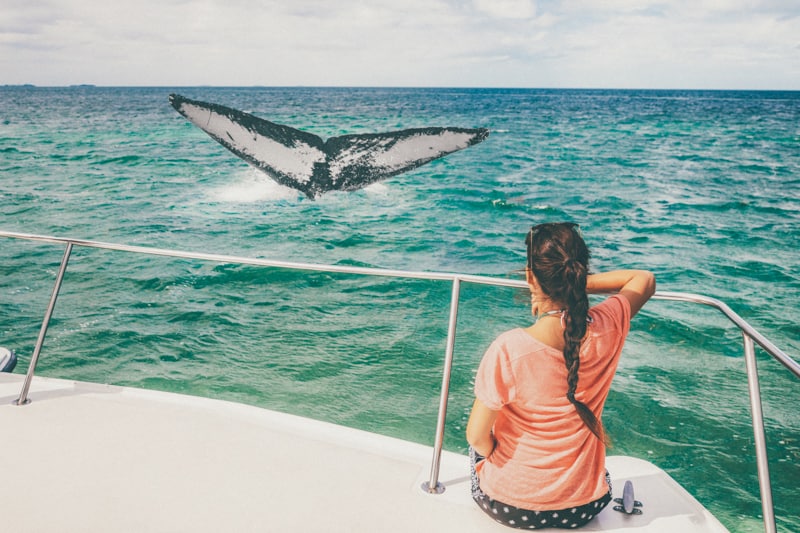 Whale season starts in December and lasts until mid-April. Whales arrive yearly in the Hawaiian Islands after a 3,000 mile journey. If you are visiting Hawaii during this time, don't miss out and reserve your seat to see these magnificent creatures. I recommend this Whale Watching cruise in Kona.
Climb the Biggest Mountain/Volcano in the World – Mauna Kea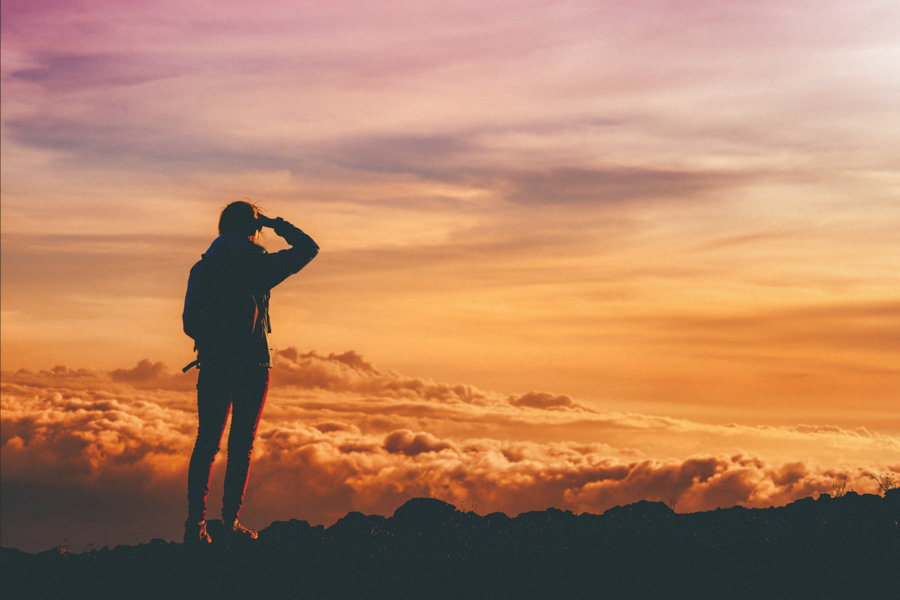 Forget Everest; did you know that Big Island has the largest mountain on the planet? At 13,000 feet above the ocean, Mauna Kea may not be the tallest mountain above sea level, but Mauna Kea rivals Mount Everest as the tallest in total surface area when measured from its base on the sea floor – a total of 33,000 feet!
While the majority of Mauna Kea lies underwater, this volcano is still the highest point in Hawaii, and one of the greatest spots on earth to observe space. You'll see loads of humungous telescopes up there! We'd recommend hiking the six-mile trail or driving up to the summit in time for sunrise or sunset, just make sure that you are ready to deal with the altitude!
Whether you are a morning person or a night person you have to check out the sunrise/sunset views at Mauna Kea! It is breathtaking. One of the best things to do on the Big Island.
There are multiple tour options for seeing the best views.
Option 1 – Best Mauna Kea Summit Tour (Free sunset and star photo!)
Option 2 – Mauna Kea Summit Sunset and Stars – Includes free astro photos and pick up from Hilo, Kona or Waikoloa.
Mauna Kea observatory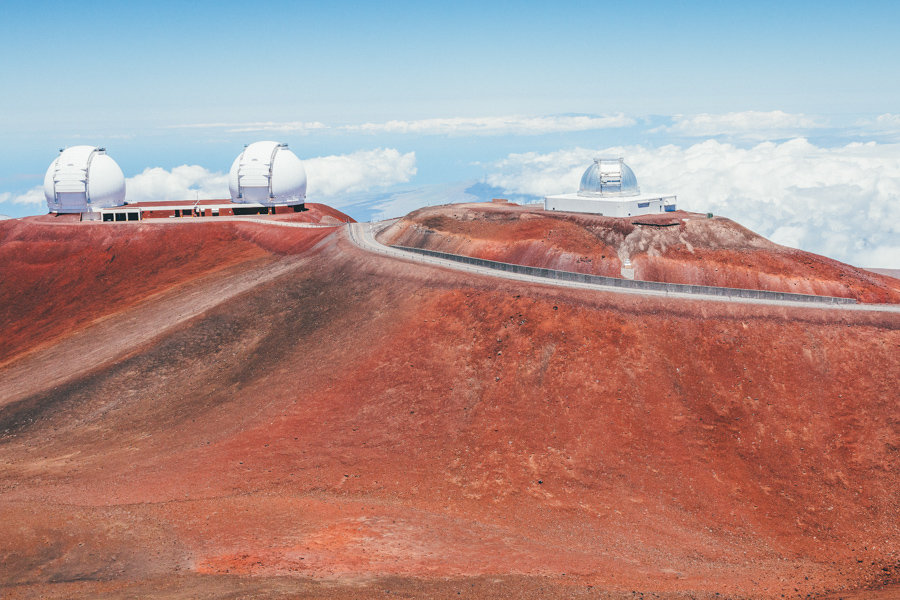 You Can Horse Ride through the Rainforest like a Hawaiian Cowboy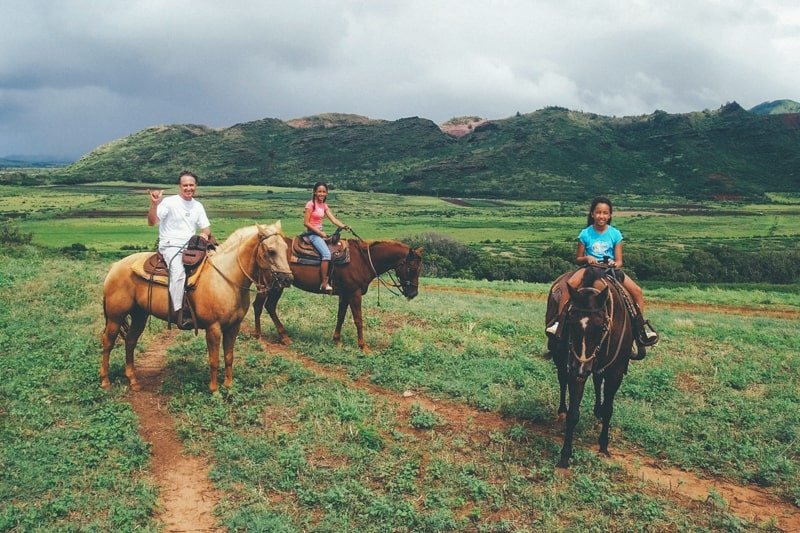 Hawaii has its own cowboys with a history of horse riding and roping that dates back to the 19th century when Spanish cowboys arrived.
The open landscape of the Big Island with its lush rainforests, horse and hiking trails, rocky Kona Hawaii beaches, and coastlines are perfect for exploring by horseback.
Today, many of these Hawaiian Cowboys offer horse riding adventures, especially in and around Waimea, the Waipi'o Valley, Hilo, and the Hamakua coast. They are a truly unique way to discover this massive toll.
Visit the Green Sand Beach
For a day spent lounging on a green sand beach, visit Papakolea Beach – one of just two green sand beaches and one of the best beaches the Big Island offers.
Located beneath a lava cliff, the unusual green colored sand is created by olivine, a mineral found in both Big Island's volcanic lava and green peridot gemstones.
The Green sand beach is one of my favorite off the beaten path big island activities. The green sand was unlike anything I had ever seen before and if you contrast that with the bright blue water it truly makes for a unique experience.
Read the full article on visiting the green sand beach in Hawaii here.
Wood statue in Puuhouna in Hawaii in the national historical park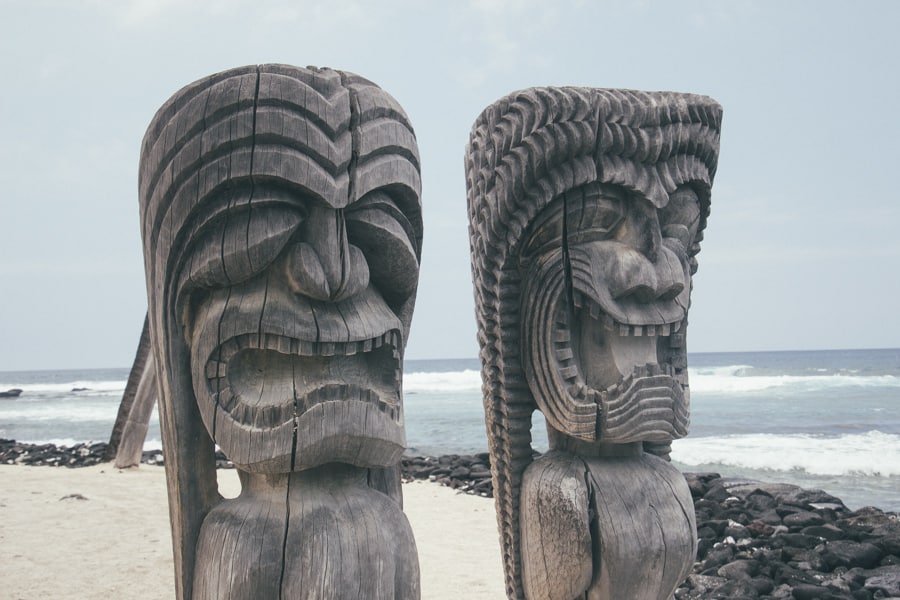 Visit the sulfur banks and steam vents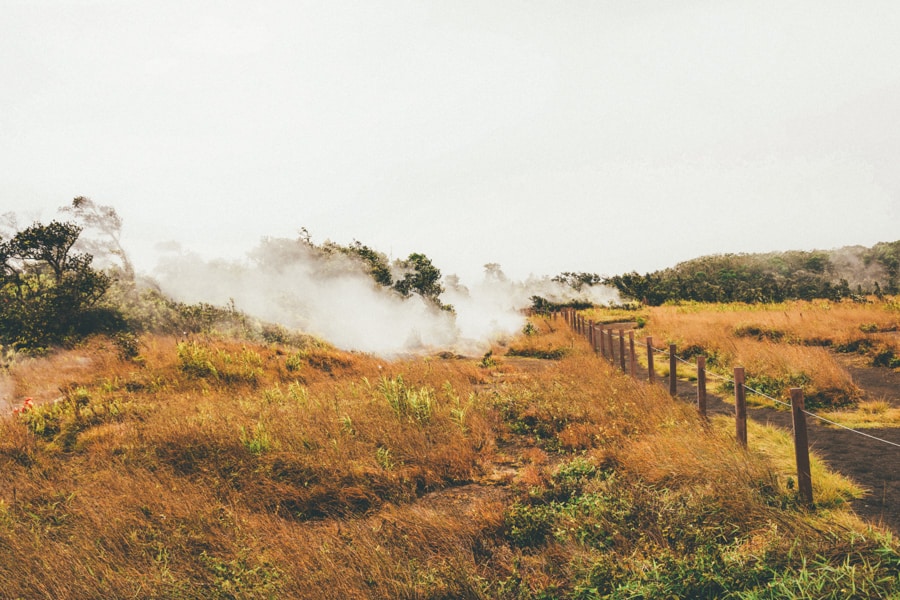 The sulfur banks and steam vents are an easy loop right from the Kīlauea Visitor Center.
The walk is about 2 miles, give or take, depending on what you add in and cut out, and is a great spot to catch the sunset. Get there a bit earlier, at golden hour, and watch as the sun lights up the steam vents.
Holei Sea Arch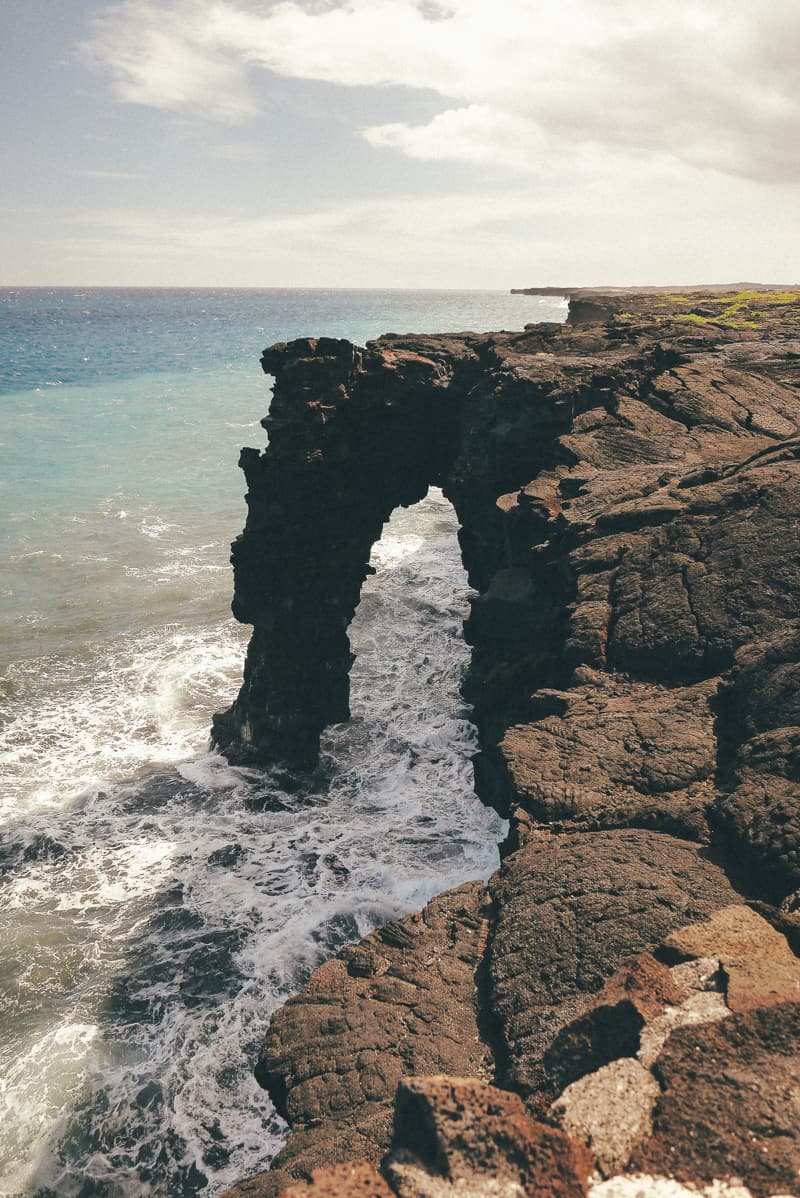 Holei Sea Arch, Big Island, Hawaii Volcanoes National Park
Luau Buffet
Big Island: Voyagers of the Pacific Luau with Buffet
Hawaii Volcanoes National Park
Nāhuku – Thurston Lava Tube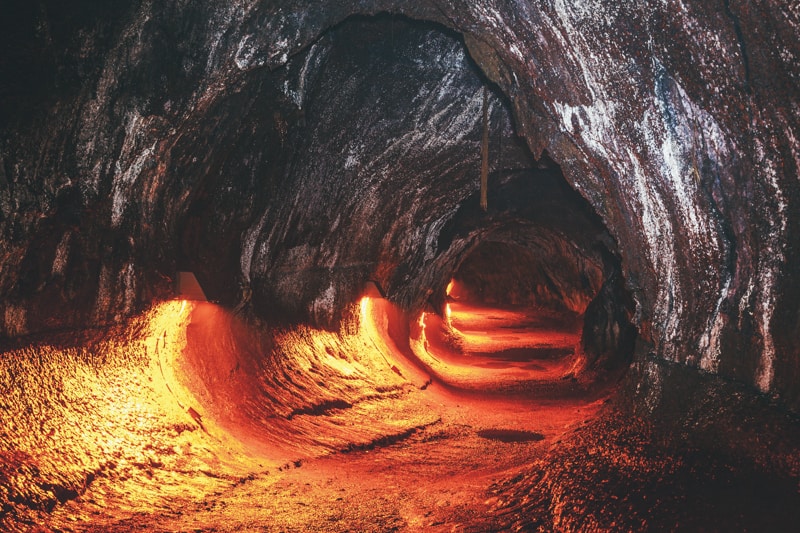 A super cool lava tunnel – not for the claustrophobic!
This 500 year old lava cave is a must see spot if you are on The Big Island. There are quite a few lava tubes on the island, but Nahuku is one of the easiest and biggest to get to. These tubes are formed from flowing lava cooling and hardening.
At the time of this writing, this is closed but they are working on re-opening it.
Hapuna Beach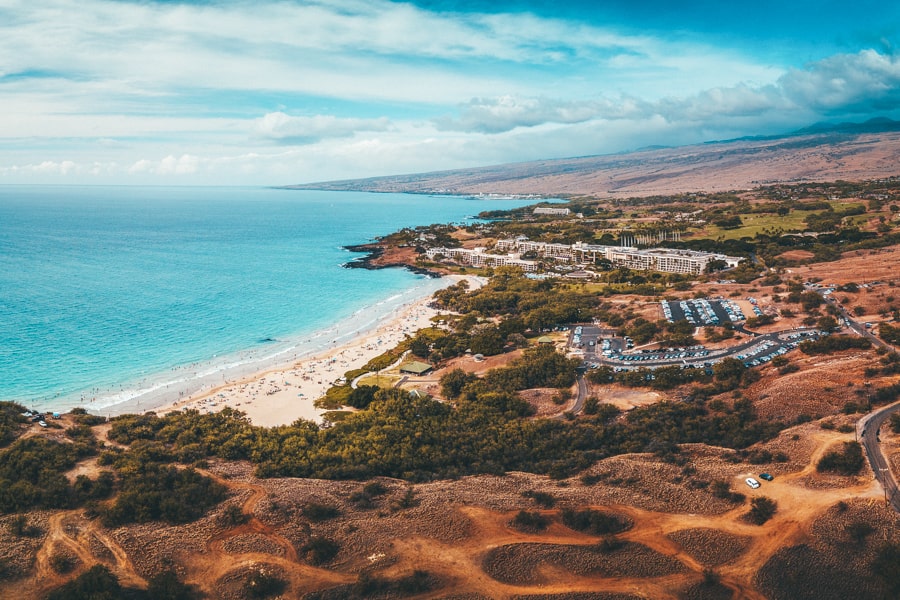 Pololu Valley Lookout and Hike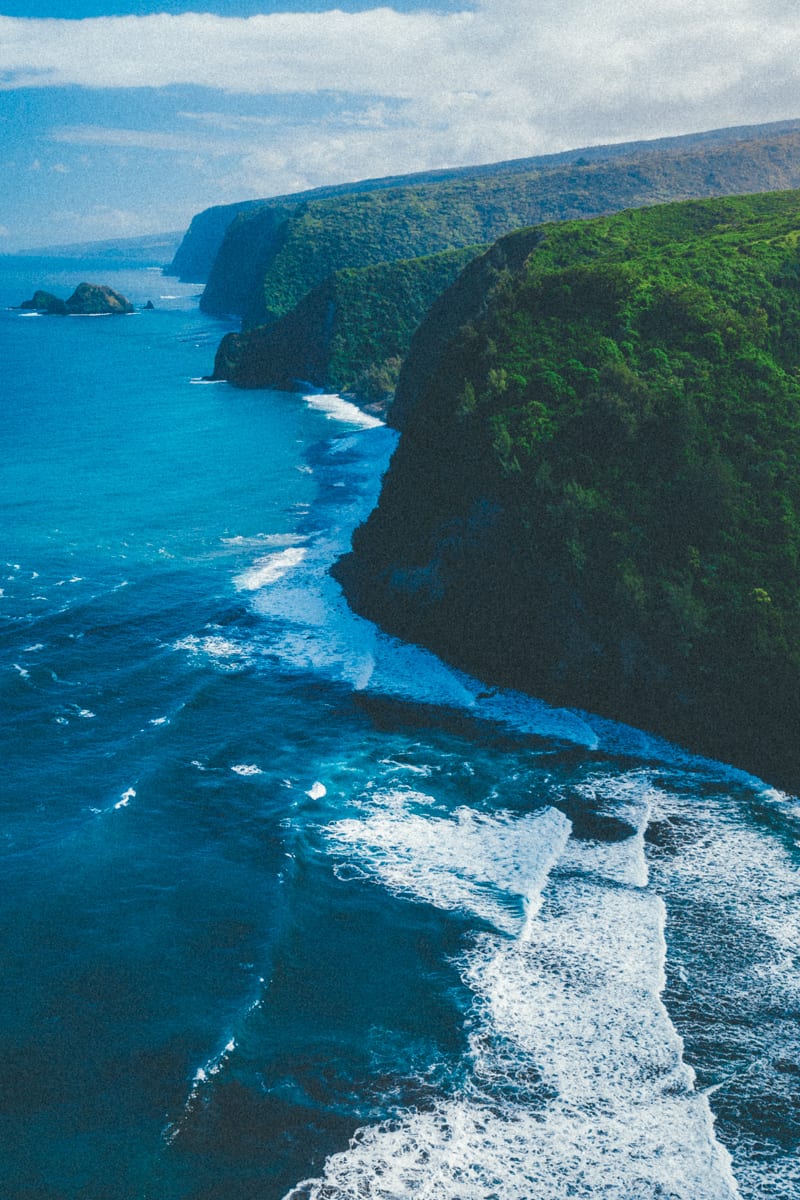 Mauna Loa Road in volcanoes national park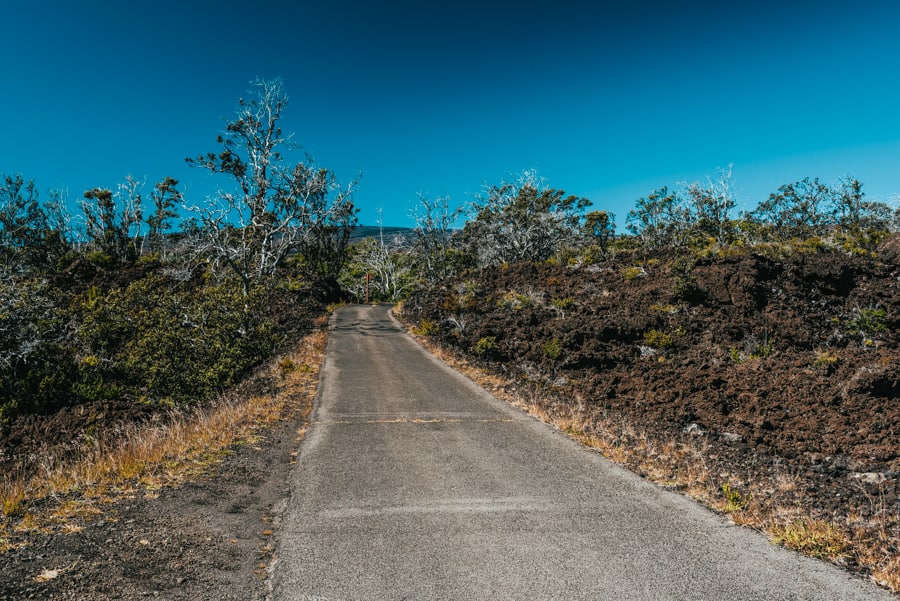 South Point Hawaii Cliffs (Ka Lae)
Would you jump? Wait till the end of the video to see how high it actually is!
Cliff jumping enthusiasts will likely already know about the world-famous cliff jumping spot at South Point.
If you're not an eager daredevil, you may not have heard of it. The scenic coastline along the southernmost point of Big Island is a cliff jumping paradise for those who dare to brave the five-floor drop into the crashing waves below.
Accounts vary as to how high the jump actually is, but the most common guess is between 40 and 50 feet.
Though there are many signs telling you not to cliff jump at Ka Lae ('the Point' in Hawaiian), tons of people do. You are going to want a rental car to get here (rental cars are pretty cheap) as it's located around an hour and a half's drive from Kona – right next to Green Sand Beach, one of the best Kona beaches.
Read more about South Point cliff jumping here.
Rainbow Falls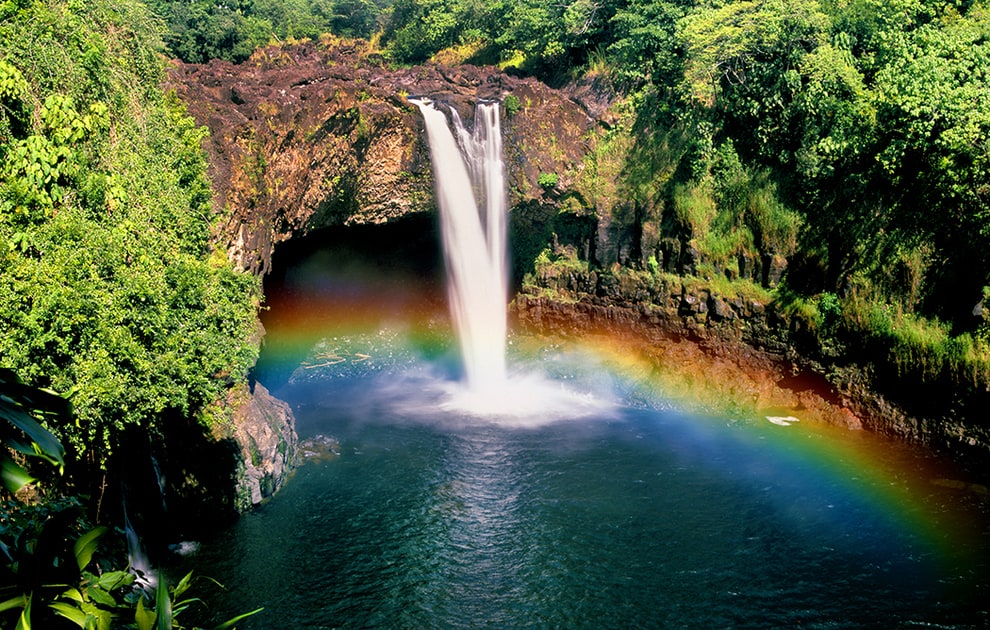 Waipi'o Valley Lookout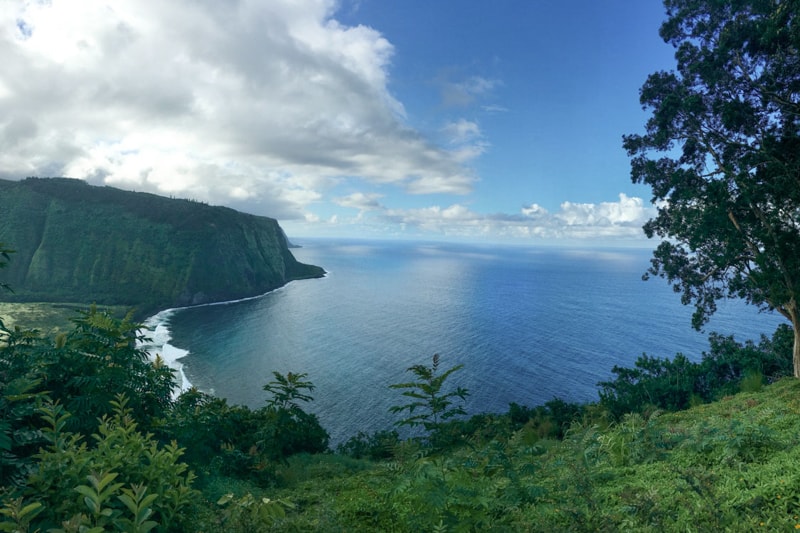 Waipio Valley lookout.
Waipi'o black sand beach
As beautiful as the view was from the Waipio Valley lookout, it was even more beautiful on the black sand beach below.
It is a huge hike to get down to the beach but we just asked one of the locals if we could hop in the back of their truck and they gave us a ride! Highly recommend. 👌 We offered them money for the ride and they refused to accept any.
Everyone was so kind so if you are hesitant to hitchhike down don't be! It was one of our favorite spots on the Big Island.
It was one of the best things to do in Hilo.
Kayak and snorkel at Kealakekua Bay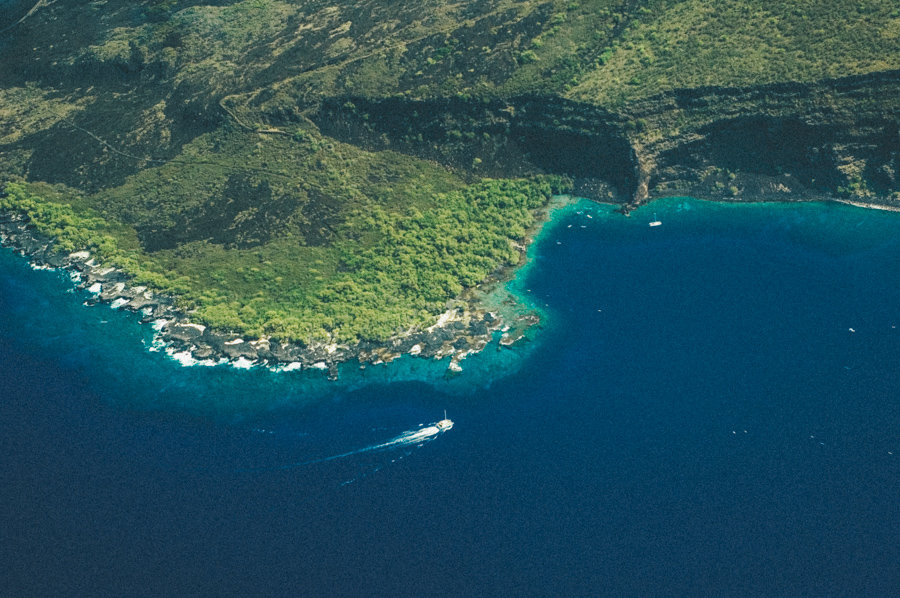 Explore the Kaumana Caves
Entrance of Kaumana Caves, a massive 1881 lava tube cave formed by Mauna Loa on the Island of Hawai'i.
Black and white rock beach Kona
Go on the ultimate sightseeing tour
If you want to see all the top spots on this list in one day I recommend this tour. It will take you to …
Book your tour: Big Island in a Day: Volcanoes, Waterfalls, Sightseeing, History
Read more on the Big Island here.
OUR MOST POPULAR HAWAII BLOG POSTS
My husband and I have been to Hawaii many times and have written up more blog posts to help you plan your trip. These are my most popular blog posts and Hawaii travel guides to help you plan your trip.
The top things to do on Oahu – 15 Places You Can't Miss in Oahu (Hawaii) – our most viewed post ever!
The best places to see on all the Hawaiian Islands – 27 Incredible Places To Visit In Hawaii
Best Things to do in Maui: 10 Cool Things to do in Maui Hawaii
What to Pack for Hawaii: The Ultimate Hawaii Packing List
For those looking for more unique things to do in Oahu – 11 Best Things to do in Oahu (You Probably Haven't Heard of)
Guide to visiting one of the best beaches Maui offers – Red Sand Beach: Guide to Visiting the Red Sand Beach in Maui
The Ultimate Guide to Visiting the Hawaiian Islands – and what to expect on each island: What To Expect On Each Of The Hawaiian Islands
The Best and Most Easily Accessible Maui Waterfalls: 6 Easily Accessible Maui Waterfalls