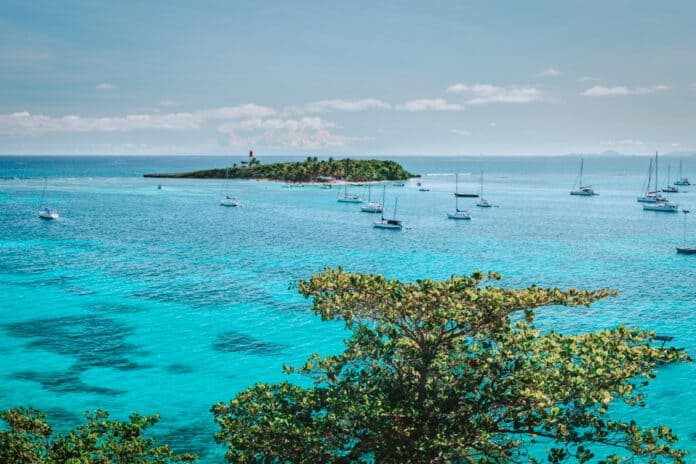 Îlet du Gosier is truly paradise on earth.
Located in front of the Datcha beach in Gosier, the islet is accessible via a shuttle you can catch at the end of the pier by Tabarin beach, or you can simply kayak or swim there.
Take a look at the top reasons why you should visit Îlet du Gosier on your epic vacation in Guadeloupe.
Where is Îlet du Gosier located?
How to get to Îlet du Gosier
The island can be reached in about 15 min and has a little bar/restaurant and a nice beach (but nothing more to see really).
Option 1: Take the ferry
The ferry from Le Gosier jetty is reliable and runs at least every 30 mins from 0900 to 1700. The cost of the ferry is 5 euros.
Option 2: Round trip cruise (4 hours total)
Cruise stopover – Plage du Gosier Round trip.
Option 3: Kayak or Paddle Board (about 15 minutes)
Riding a ferry over to the little island is possible, but going over there by kayak is a lot more fun.
I highly recommend renting a kayak! It is safe and you will have the best views on and around the island!
Kayaking to the island will take around 15-20 minutes. It's really not bad at all.
Inside the kayak there is usually a box to put your stuff inside so it doesn't get wet.
I still always travel with a dry bag just in case. This is my favorite dry bag. I have dropped my phone in the ocean before and trust me, it doesn't take much for it to stop working. Salt water kills any and all electronics.
Cost: You can expect to pay around 20 EUR for 3.5 hour (half day) paddle.
Option 4: Swim
I did not swim but hey, more power to ya. It is possible if you are a strong swimmer.
Top things to do on Îlet du Gosier
There isn't a ton to do here. But the little that this island offers is pretty spectacular.
1. Relax on the beach at Plage du Gosier
Plage du Gosier is an incredible Caribbean beach located on Îlet du Gosier.
2. Go snorkeling
The beaches here have amazing snorkeling.
Tip – Make sure if you snorkel you have a waterproof phone case (I have this waterproof housing from amazon that works ridiculously well) and a good dry bag for your electronics. This is my favorite dry bag. I never travel without it. Go pro also works wonders!
If you want to be able to take over/under water pics you will need an additional dome housing. I have this one from amazon that connects perfectly to my axis go waterproof phone case and is expensive, but works amazing.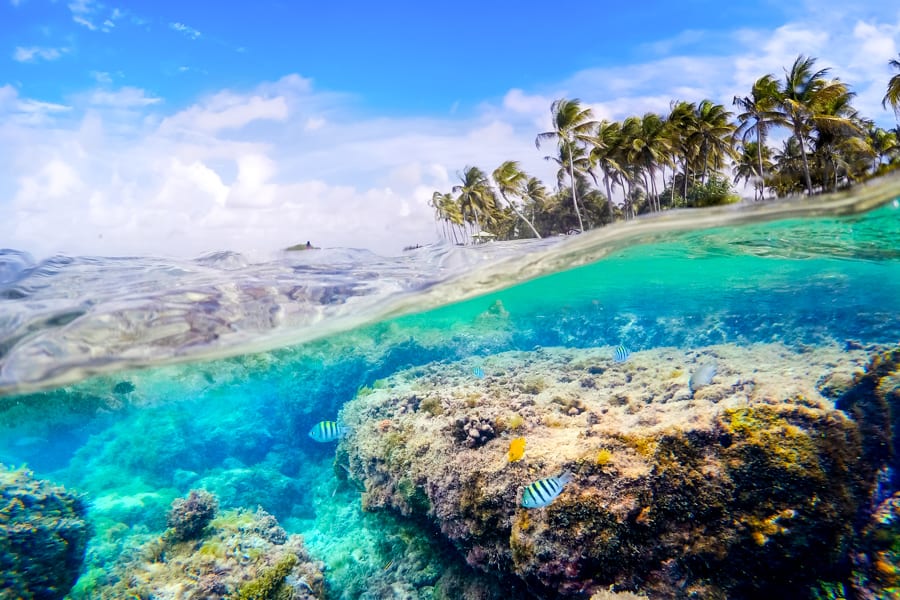 3. Eat at a Restaurant
The food is pretty good here!
4. See the Lighthouse
It's beautiful.
What to Bring to the Beach
Travel towel – So much easier to pack these quick dry microfiber travel towels than go without or be forced to buy one once there. We always travel with at least two of them.
Dry Bag – There are some lessons you just don't want to learn the hard way. Ruining your phone, camera, or other valuables at the beach is a very expensive lesson to learn. This dry bag is amazing and works for any and all water activities.
Reef-safe sunscreen – The sun here can be very strong. Make sure to wear a reef safe sunscreen or a rashguard.
Rash guard or long sleeve swim top – I wear the one from Skims and I love not having to worry about getting burned when I am out in the sun ALL DAY. Free people also has some amazing rash guards you can shop here.
Backpack or waterbottle sling – I am obsessed with my Beis travel backpack. I never travel without it. It is seriously the perfect size. Not too big, not too small. If you don't want to bring a full backpack this waterbottle sling is my absolute favorite. It fits a waterbottle, iPhone 14 pro max, plus some extra space for bars or snacks or your wallet.
Packable snacks – I always travel with these That's it bars from Amazon. OMG, they are sooo good and only have a few minimal ingredients.