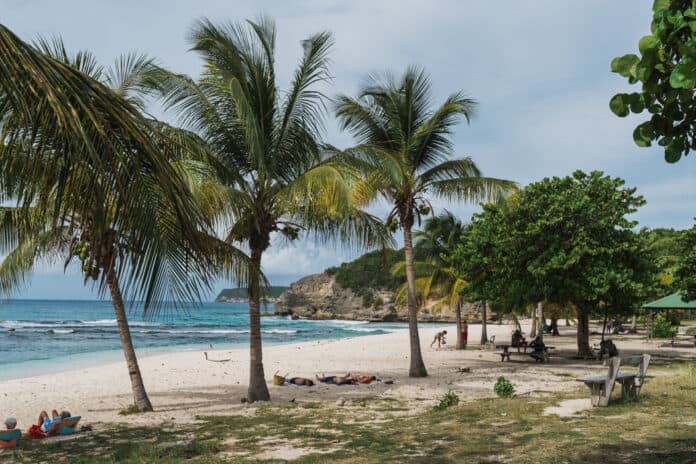 Anse Laborde is a beautiful but out of the way beach in Guadeloupe. As a whole Guadeloupe doesn't attract as many visitors as I think it should, and this even is especially true with the northwest tip of the island of Grande-Terre in Guadeloupe.
It takes about an hour to drive up to this part of the island from the main airport. The roads are winding and it can make you a bit carsick.
There aren't a lot of restaurants or developments in the area, but what you will find is an absolutely stunning beach.
If you do make it up here you will be greeted by an amazing beach, and will also have the opportunity to hike a bit further to a super unique and amazing cove beach!
Plage De Anse Laborde Quick Tips
Sand: Fine golden brown
Water: Clear, turquoise blue
Amenities: restrooms, showers, one on beach restaurant, and showers
Swimming conditions: Strong currents and coral reefs. Overall moderate to swim in.
Parking: Large parking lot directly on the beach that is almost never full
Other: Starting point for a short trail to Trou A Man Loui (an awesome cove beach)
Meaning Of The Beach Name
I'm not a French speaker, but I think the name of this beach translates to the "border cove beach." It makes sense since this beach is at the far end/border of the islands of Guadeloupe.
Where is Anse Laborde located?
This beach is located on the northern coast of Grande Terre in Guadeloupe. It takes about one hour to drive here from the main airport on some seriously winding roads.
It is next to the town of Bertrand, which is where you will find the restaurants, shops, and other limited development.
Anse Laborde Parking
You do not need to worry about parking here. Even on a crowded day the lot at the beach should be plenty big enough. Even if the lot does somehow fill up, there are ample places along the approaching street that you can park on the side of.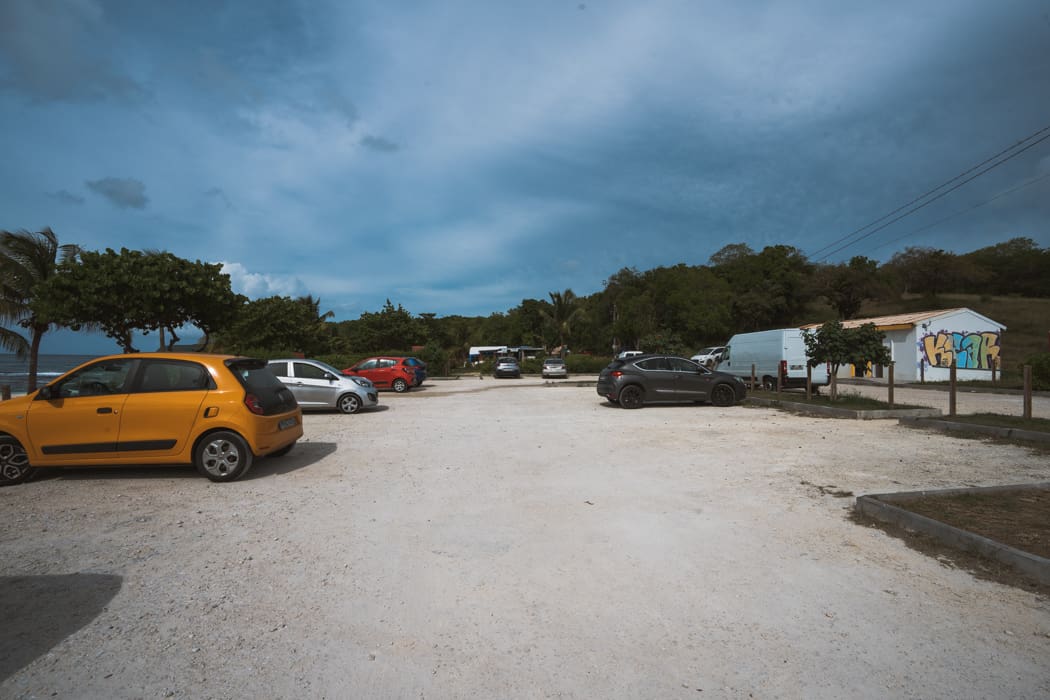 What you can Expect at Anse Laborde Beach
This beach is every bit as beautiful as the pictures show. The white sand is punctuated by the piercing blue water.
Generally this area has strong waves pounding the shore.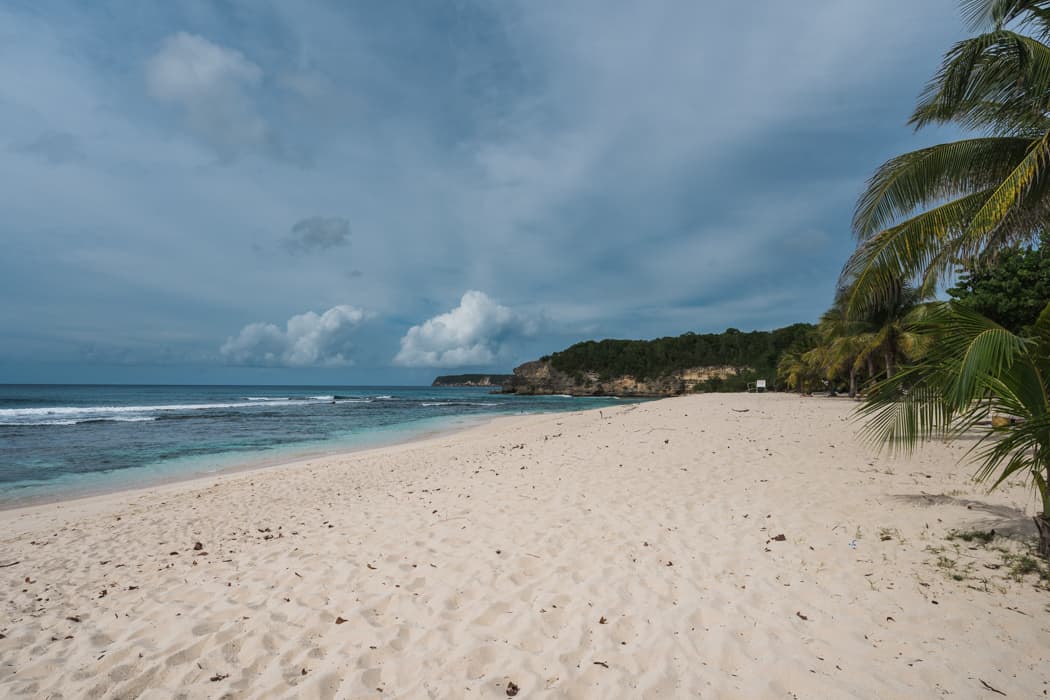 Swimming Conditions
Consistent waves and strong currents mean that this generally isn't the friendliest place to swim, unless you are brave and a strong swimmer.
We played around in the water for a bit, but didn't want to risk going in any deeper than our waists.
Anse Laborde Snorkeling
Unfortunately, this beach is not ideal for snorkeling. The best beaches for snorkeling on Grande-Terre are Plage du Souffleur, Plage de Sainte Anne and Plage de Bois Jolan.
Other Beach Amenities
There are restrooms, showers, pavillions for a picnic, and even a beach volleyball court on this beach.
There is even one restaurant directly on the beach and others in town if it's not open (it was closed when we were there later in the afternoon).
Short Hiking Trail To Trou A Man Loui Cove Beach
The parking lot is a starting point of a wide and easy to follow trail to my favorite cove beach, Trou A Man Loui. If you are willing to push a little bit further you can complete the trail and be rewarded with another stunning and intimate beach experience.
Pros and Cons
Pros
Shade is provided by trees around the beach
Water is beautiful
Soft golden sand
Likely not a ton of people
Hiking trail to Trou A Man Louis
Cons
Strong currents make it harder to swim
Not great for young kids.
Conclusion: Is Anse Laborde beach worth visiting?
Yes, as long as the strong currents don't deter you. It's truly beautiful.
Where to Stay in Anse-Bertrand
If you are looking to stay on the north side of Grande-Terre island there are a few great options. All pretty affordable.
You won't find fancy resorts, but you won't really find those anywhere in Guadeloupe. Guadeloupe is more of a discover on your own destination than an all inclusive like much of the Caribbean.
Also, FYI – all the Airbnb and hotel names are in French since there is very little to no English spoken on the island.
Ti coin paradis (rated 9.1 on booking.com)
Fleurs d'épices – beach front to a private beach.
Gîtes Soussoune (rated 8.2 one booking.com)
Things to do near Anse Laborde
Plage Du Souffleur – Great beach for snorkeling with much calmer waters
Trou a Man Loui – Gorgeous, secluded cove beach within a 10 min walk from this beach.
What to Bring to the Beach
Travel towel – So much easier to pack these quick dry microfiber travel towels than go without or be forced to buy one once there. We always travel with at least two of them.
Dry Bag – There are some lessons you just don't want to learn the hard way. Ruining your phone, camera, or other valuables at the beach is a very expensive lesson to learn. This dry bag is amazing and works for any and all water activities.
Reef-safe sunscreen – The sun here can be very strong. Make sure to wear a reef safe sunscreen or a rashguard.
Rash guard or long sleeve swim top – I wear the one from Skims and I love not having to worry about getting burned when I am out in the sun ALL DAY. Free people also has some amazing rash guards you can shop here.
Backpack or waterbottle sling – I am obsessed with my Beis travel backpack. I never travel without it. It is seriously the perfect size. Not too big, not too small. If you don't want to bring a full backpack this waterbottle sling is my absolute favorite. It fits a waterbottle, iPhone 14 pro max, plus some extra space for bars or snacks or your wallet.
Packable snacks – I always travel with these That's it bars from Amazon. OMG, they are sooo good and only have a few minimal ingredients.
Some things to be aware of before traveling to Guadeloupe
Language Barrier: Guadeloupe is a French speaking island and there is very little English spoken. Trust me, it will help to know a few beach terms in French.
I had to use google translate while doing my trip research because most of the articles were written in French.
Some words that will be especially helpful to know are…
Plage – Beach
Anse – Cove
Plongée en apnée or "palme masque tuba" PMT (Fins, snorkel, mask) – Snorkeling
Geography Clarification – most people think of Guadeloupe as 1 island, but there are actually 6 different inhabited islands. The biggest island is named Guadeloupe, but this island is split in two by a small sound – the west (left side on most maps) is called Basse-Terre and the east (right side on most maps is called Grand-Terre.
Money – They use the Euro
Population – about 400,000 people.