I've previously talked about the allure of Johnston Canyon. It is one of the best all around hikes in Banff. It's easy to access, not too difficult, has options for a number of different stops. If you want a quick hike you can go to the Lower Falls, but if you are feeling more adventurous you can go on to the Upper Falls and then Ink Pots. Not only are those landmarks amazing, but the scenery along the way is also truly beautiufl.
It may sound crazy to say, but I think that Johnston Canyon in Winter may be even better than the summer! Hard to believe, I know!
Still dubious? Read on to see the top 8 reasons that Johnson Canyon in winter could be even better than visiting in the summer.
8 Reasons to Hike Johnston Canyon in Winter
Related reading: Guide to Hiking Johnston Canyon in Summer
Less Crowds
This benefit is obvious, but after just getting back from Johnson Canyon in winter I can confirm that there are WAY less crowds. In the summer you literally need to wait in line to take pictures at the best photo spots or squeeze through narrow passages.
We barely saw other hikers. I felt like we saw a small group every mile or so.
Johnston Canyon Frozen Waterfalls and Rivers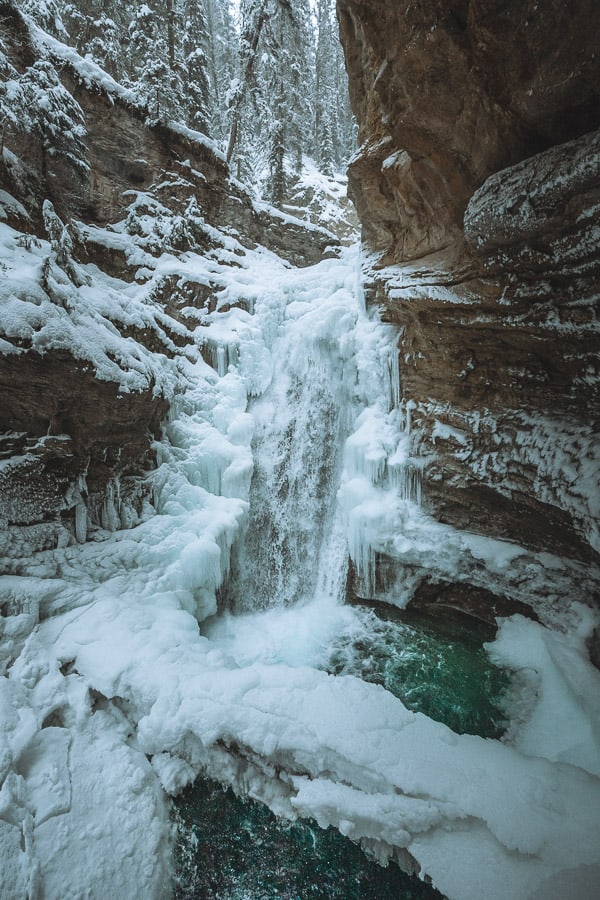 Johnston Canyon frozen waterfalls will blow your mind!
A frozen waterfall looks and feels completely different, and pictures don't do it justice. I love the frozen power of a waterfall caught in place. It is still amazing to see how the water flows, but will remain stuck until spring.
Even if you've visited Johnson Canyon in the summer, it feels completely different if you go in the winter. If you are super adventurous you can ice climb up the waterfalls.
The Trees Make a Winter Wonderland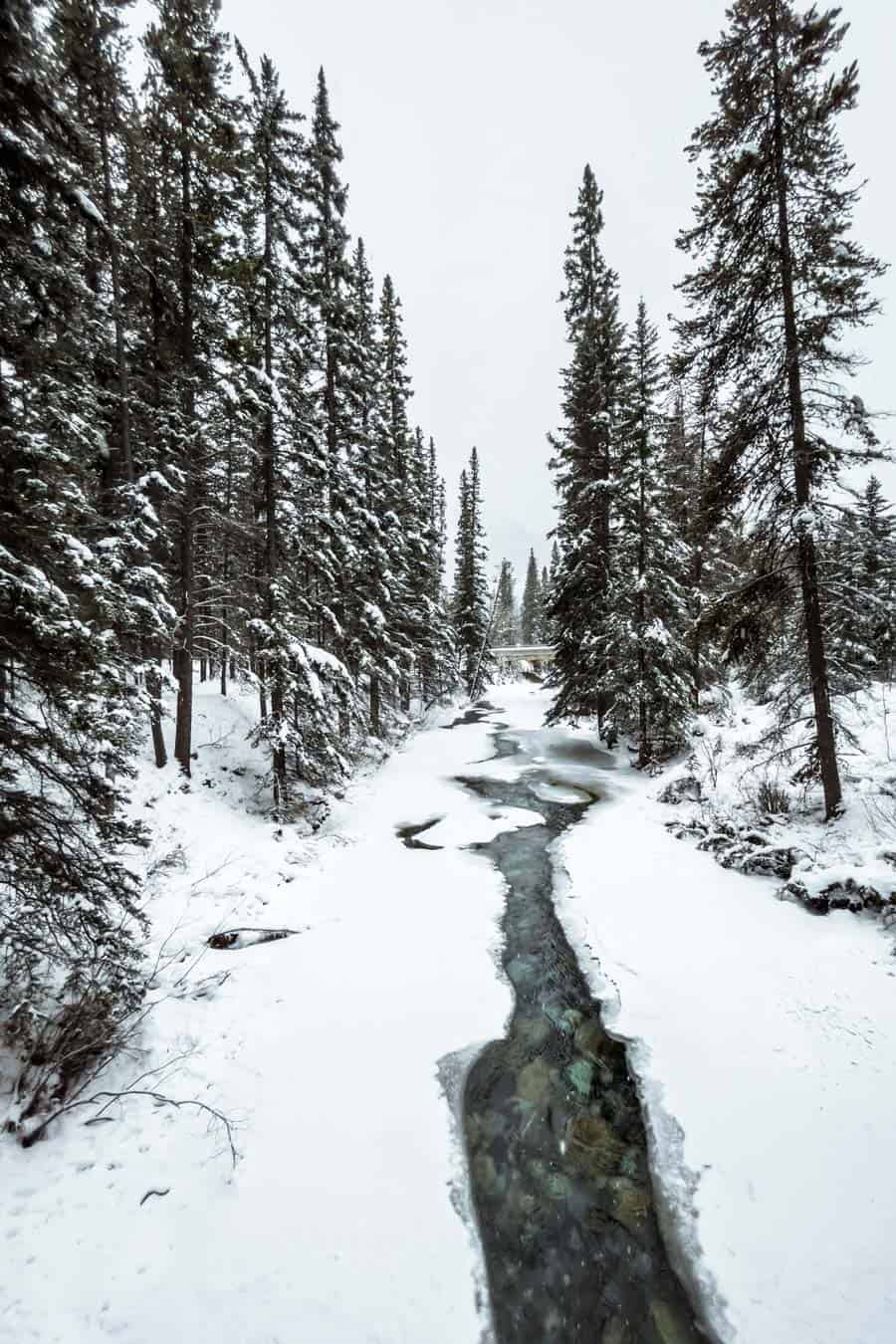 Is there anything more beautiful than a snow capped tree? Winter wonderland is an understatement. The trees will surely be covered with snow, which creates one of the most peaceful and beautiful scenes. Make sure you dress accordingly. You will need quality boots, a good jacket, and gloves to make sure you stay warm.
Cheaper Tours/Better Service
I'll admit this one is a little bit anecdotal, but the winter tours I've priced are cheaper than the summer ones. Not only can you save a few bucks, but given that there will likely be fewer attendees you will be able to have more personalized service and may even be able to customize the experience.
Special Winter Tours: A Johnston Canyon Icewalk Tour
One of the best tours is the Johnston Canyon Evening Icewalk Tour. It involves exploring Johnson Canyon at night with headlamps and ice cleats (provided by them). Aside from an exciting night adventure, you also get hot chocolate!
Prefer to go during the day? That is an option as well with the Morning or Afternoon Johnston Canyon Ice walk tour can also be booked here. The tour lasts 4 hours which I think is a perfect amount of time to spend at Johnston Canyon.
Another daytime option for you to consider: Johnston Canyon Ice walk tour. This one has over 300 positive reviews! Read the reviews here.
Another perk of booking a tour is that if you aren't comfortable driving in the snow, you can get picked up.
Easy Parking
This one goes hand in hand with the crowds, but given the lack of tour buses and people, you easily park at the entrance to the hike. This means that you can go whenever it suits your schedule. I HATE having to wake up super early to be able to get a space or beat the crowds.
Johnston Canyon Ink Pots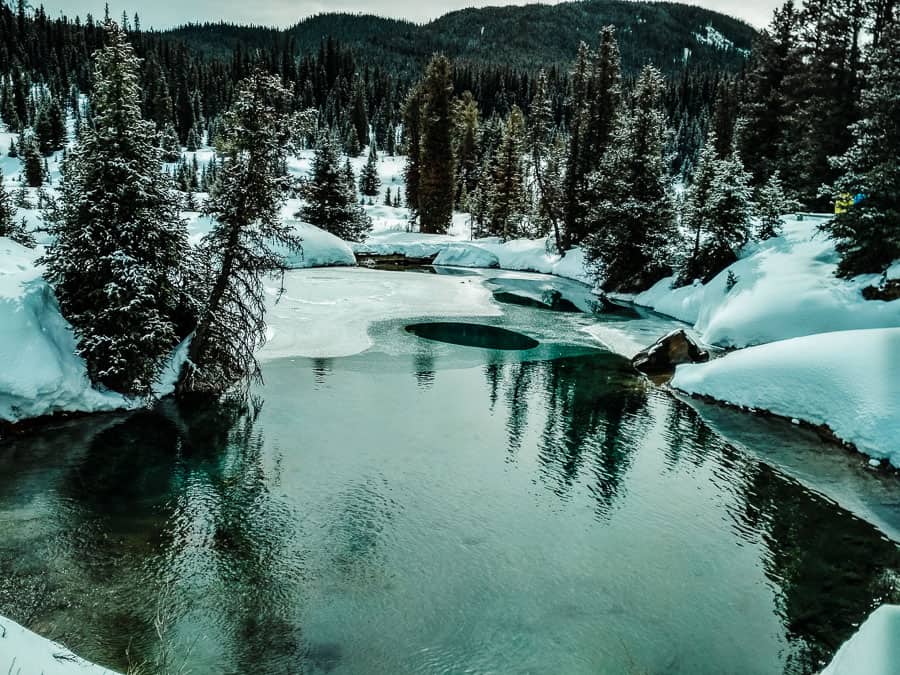 In my opinion the Johnston Canyon Ink Pots hike is never more fun in the winter. The views are incredible.
You Will Save Money
While not Johnston Canyon specific, going to Banff in the winter can save you a SIGNIFICANT amount of money. On our winter trip our hotel, rental car, and flights were a fraction of what we've paid in the summer. For context, we booked a hotel in the middle of Banff town for around $50 per night! It came with free use of the hot tub, sauna and steam room.
Sheltered From Wind
Another perk of hiking through a canyon is that you are largely sheltered from the wind. You can taste the crisp mountain air without having it blow your hat off.
Secret Cave – Only open during certain times of the year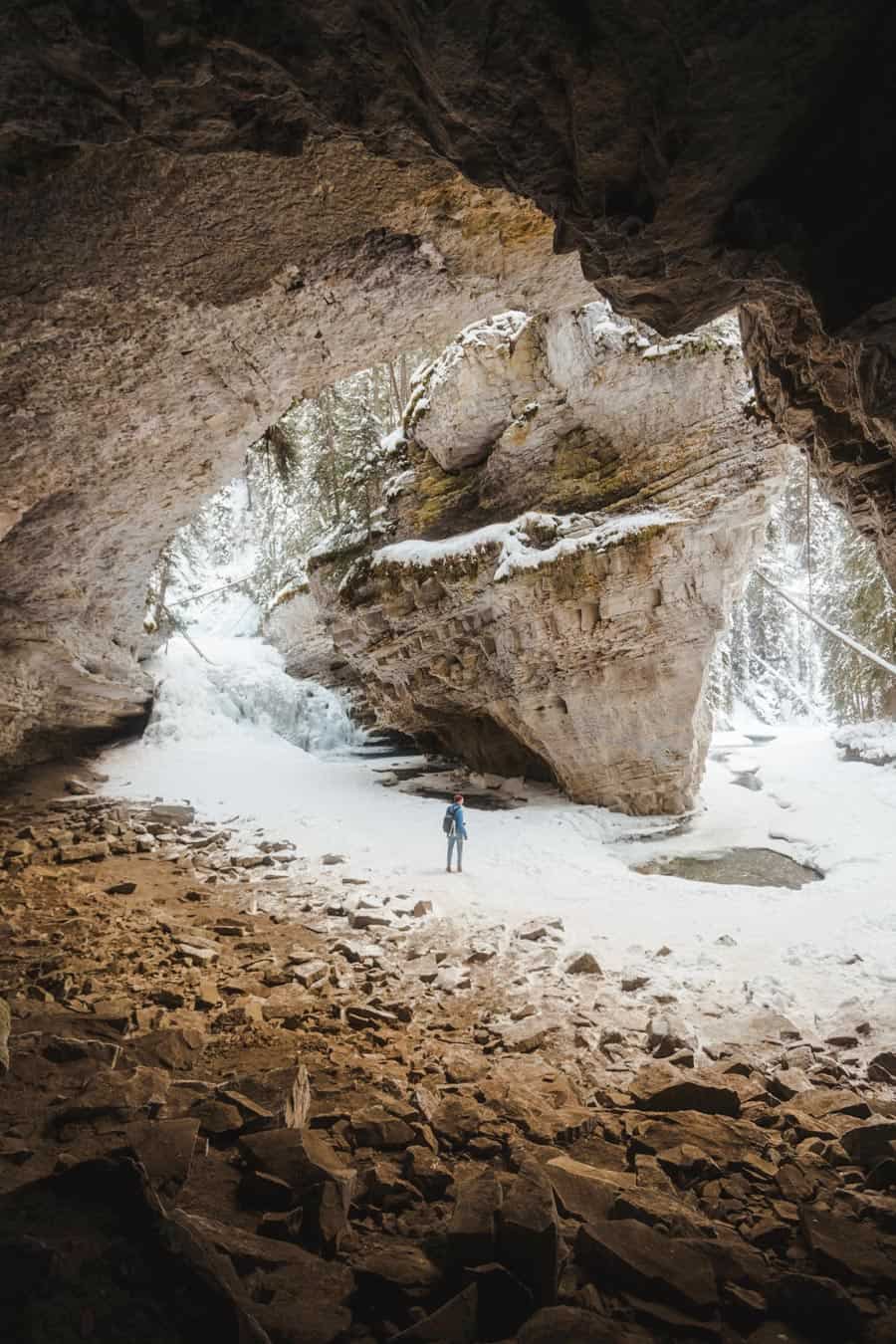 You may have heard about a "secret cave" that can only be accessed in the winter. This secret cave is located just off the trail close to the Upper Falls. You can read more about it here.
This cave is closed from April-June.
I've read conflicting things about why access is restricted to the winter only, but the most common explanation is that they prohibit access in the summer to protect nests of a local bird, the black swifts.
This winter, the secret cave is closed, so check back to see if it is opened again so you don't risk a fine.
Negatives of Johnston Canyon Winter
Full disclosure, the winter experience isn't perfect. There are a couple of negatives that I feel the need to point out.
Little Turquoise Water
You are likely to not see a lot of the turquoise water that makes Banff so famous. In the summer, the Johnston Canyon stream you hike next and over is often a vibrant turquoise. If you go too far into the winter you will miss this experience.
It's Cold
Canada in the winter is cold. Duh! Don't let this deter you though since you can make do with adequate preparations. Your cute jacket might not actually be that warm, waterproof boots are a must, and use hand warmers liberally!
More Tiring With Snow
It is harder to hike in the snow than it is on regular ground. This means that the hike will likely take you longer and make you have to use more energy. That being said, who doesn't want a better workout?
In spite of the negatives I love Johnston Canyon in winter! What would keep you from going?
Check out my video below to see Johnston Canyon in the summer.