Have you been to Banff National Park yet? If not, it will blow your mind! Johnston Canyon Alberta is about 2 hours from Calgary, but even the drive there is easy and scenic.
Johnston Canyon Hike
Banff features beautiful views and hikes for days. One of our favorite hikes in Banff is Johnston Canyon. It is also one of the most popular due to its simplicity and location near the front (Calgary side) of the park.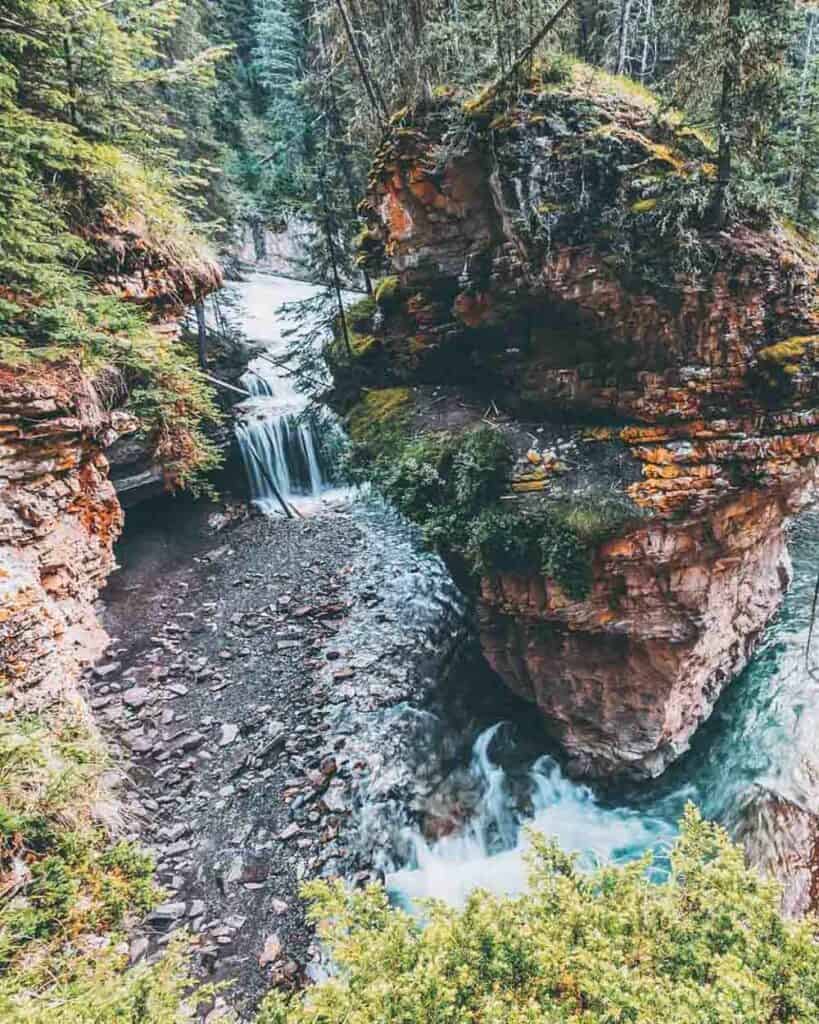 You really can't miss this! This hike is the perfect mix of fun and challenging. Depending on the level of challenge you're up for, you can make the hike appropriate for a beginner (my style), or you can extend the hike into a bigger adventure.
Tip – Make sure when hiking in Banff you have a good pair of waterproof hiking shoes. These are my absolute favorite! They are affordable, comfortable, fashionable (love the red laces), and 100% waterproof. Buy here.
Johnston Canyon Trail Cost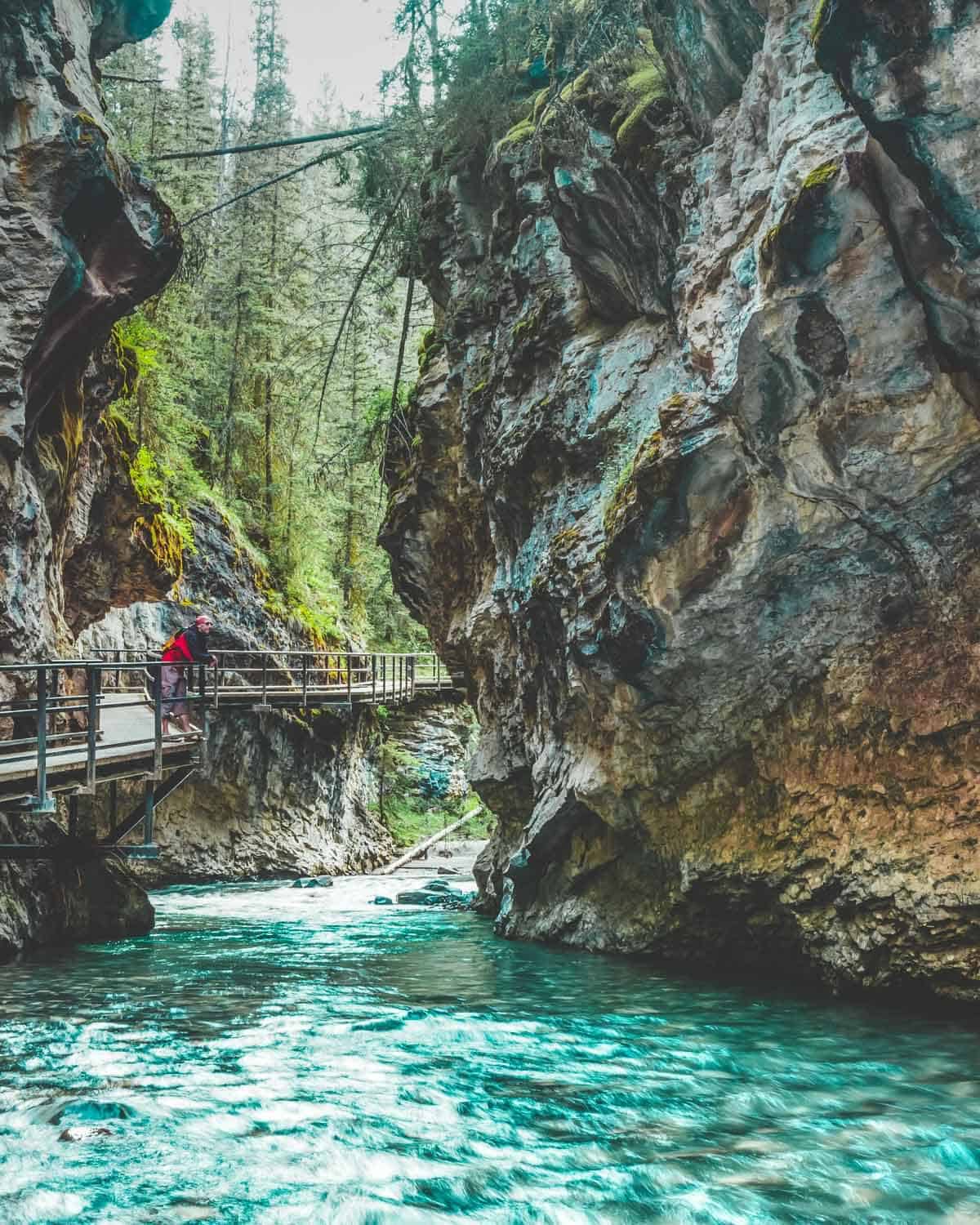 You have to pay for admission to Banff National Park (about $20 CAD), but pulling into Johnston Canyon, you'll find the parking lot is free, and so is the hike, with bathrooms available.
The trail itself is very well marked, expertly built on the side of canyon walls. That may sound a little scary, but there are a lot of walkways with plenty of places to overlook.
Even with crowds, you'll have great opportunities to take in the 3 main highlights of the national park – Johnston Canyon Lower Falls, Johnston Canyon Upper Falls, Johnston Canyon Ink Pots.
Even though there are three main things to see, it is one main trail that you simply keep going down if you want to see more. The first attraction is the Johnston Canyon Lower Falls, then the Johnston Canyon Upper Falls, then Johnston Canyon Ink Pots.
Johnston Canyon Lower Falls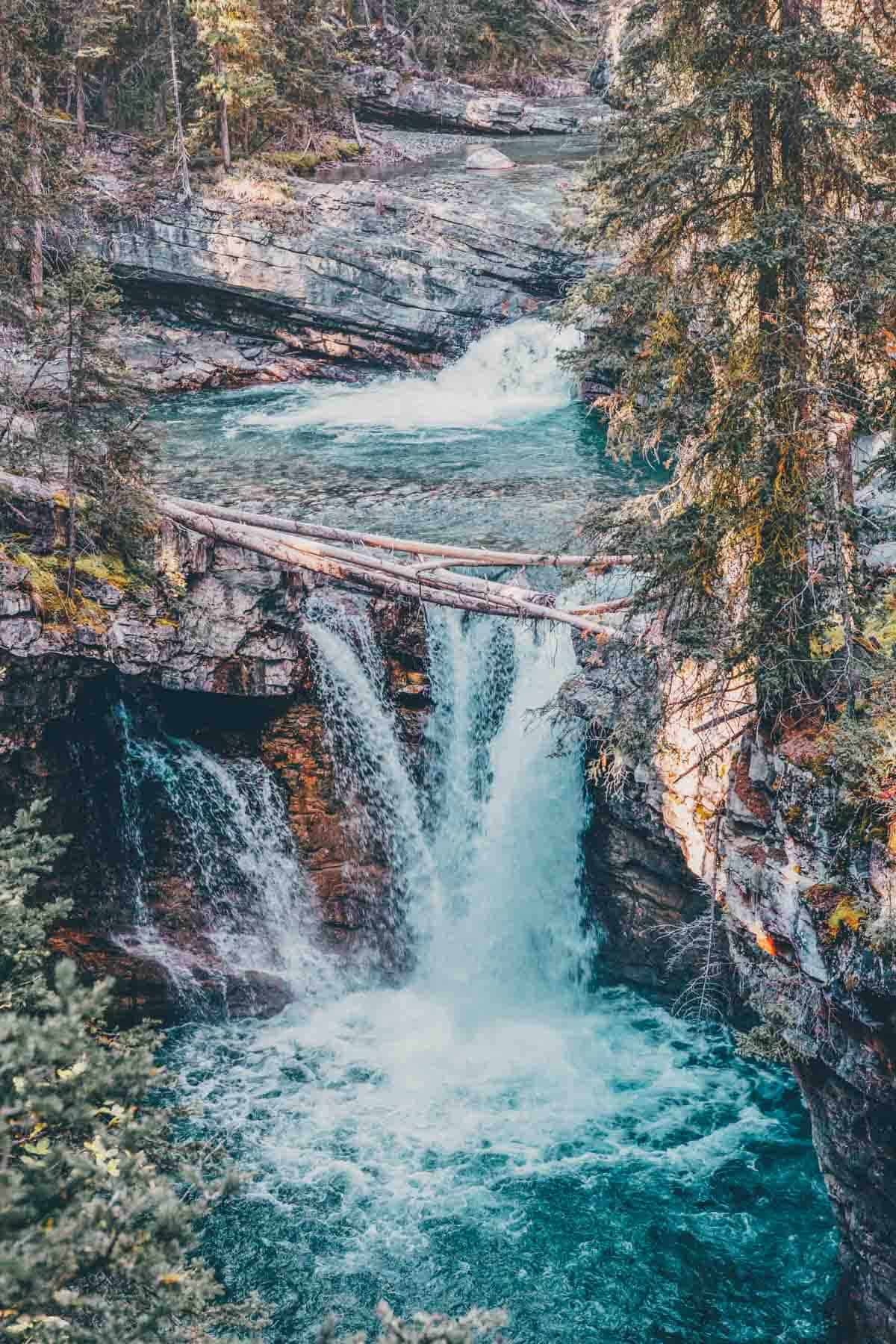 Banff waterfalls are incredible! If you're interested in hitting up all three spots, make sure you have time for a longer hike. First, along the Johnston Canyon Trail are the Lower Falls. After starting out on the trail, the Lower Falls are about a 30 minute hike in, or about ¾ mile/1.1 km.
This is a hike appropriate for all ages and a wide range of abilities. This hike winds through a shaded canyon and along a running creek. It's also a nice way to cool off in the middle of the summer.
A charming bridge crosses directly in front of the waterfall in full-force spray, and there's a fun cave you can duck into that brings you out directly in front of the falls where you will get wet.
Book your tour: Banff: 4.5-Hour E-Bike and Walking Tour in Johnston Canyon
Johnston Canyon Upper Falls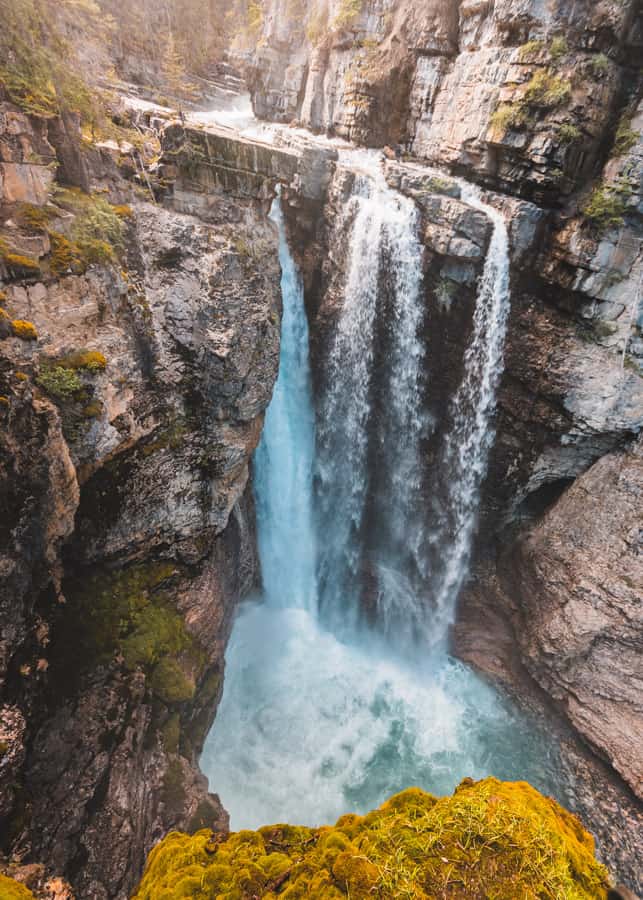 After Lower Falls, you have the option to turn around and head back to the parking lot. Many people do!
If you're up for more of a workout, though, the Upper Falls are worth the walk. The Upper Falls makes your hike a total of 1.5 miles/2.6 km. Things get steeper after passing Lower Falls. If you're worried about that, you can always start out the hike and decide if you want to keep going.
Once you get there, you'll get to enjoy the bigger of the two waterfalls with two great viewing spots!
Johnston Canyon Ink Pots
The third stop on Johnston Canyon Trail is not actually a waterfall like many people think. The Ink Pots are seven pools of green-colored mineral springs located in an open, gorgeous meadow. Being the furthest of the three Banff highlights, the total distance for the Ink Pots is about 4 miles/6 km each way.
More Johnston Canyon Alberta Tips
Because of its popularity and proximity to the entrance, Johnston Canyon can get crowded. To avoid the crowd, go early in the morning, or later in the day.
Remember, that the sun sets late in the Canadian summer, so even if you start at 6 PM you will have plenty of sunlight. We started at 6 PM and had the place almost to ourselves even on a Saturday in July.
What is the Johnston Canyon Winter Like?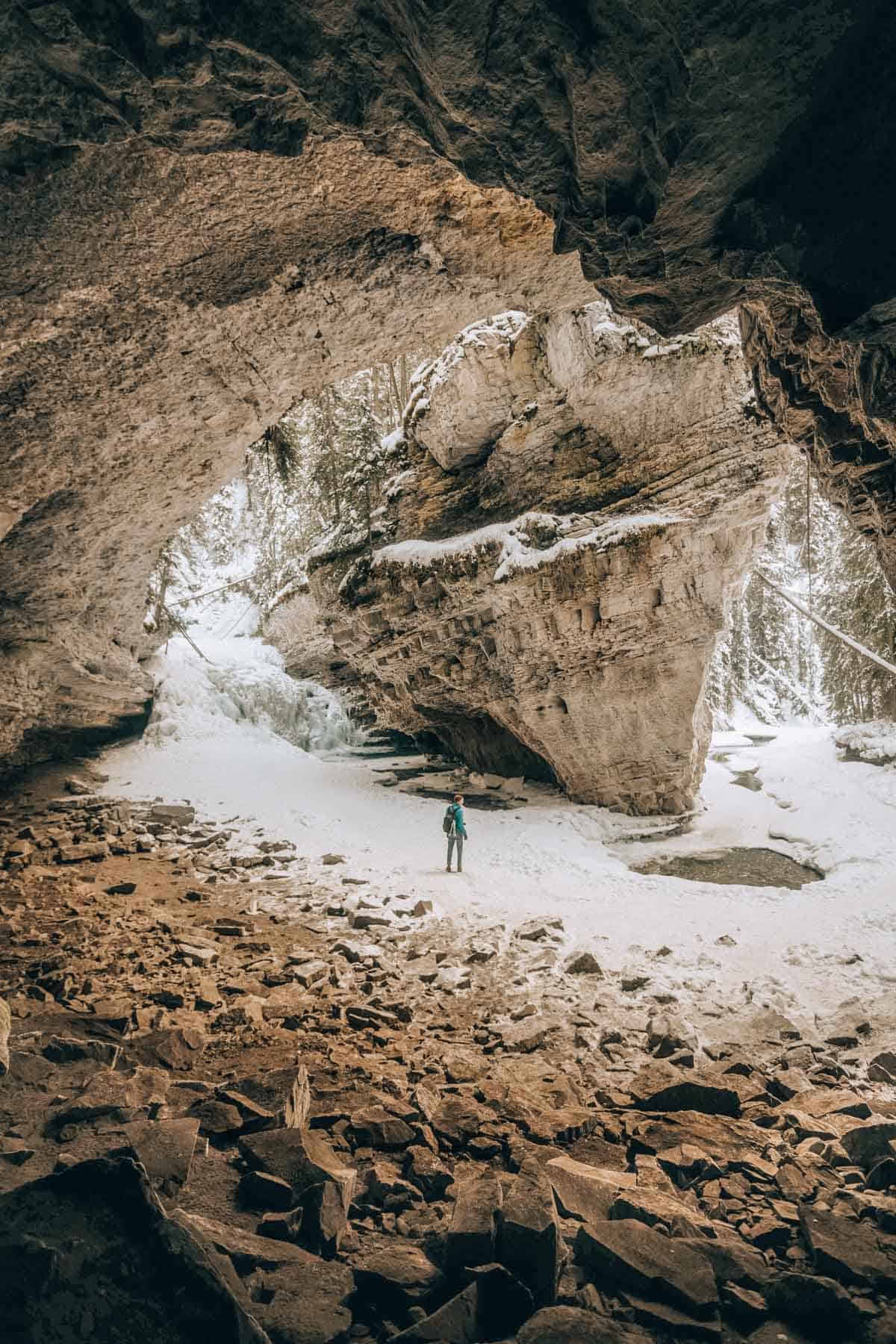 Banff is a vacation spot that's getting so popular it can get really crowded. Crowds always makes things a little less enjoyable.
If you are one who can take cold weather, consider going in the winter. There will be WAY less crowds, and a completely unique frozen look. Is ice climbing your thing? If so, you can climb up the waterfalls.
We hope you get a chance to enjoy one of our favorite spots in Canada. A beautiful hike, waterfalls, and a sunset, should be just what the doctor ordered.
Book your tour: Banff: Morning or Afternoon Johnston Canyon Icewalk
Where to stay in Banff
Luxury Choice: Fairmont Château Lake Louise – If yup want to have the best view in all of Banff you stay here. Located right on Lake Louise you will have gorgeous views of the turquoise blue lake and one of the main attractions in all of Banff. Staying at the Fairmont hotel is not budget friendly but having dinner there doesn't have to be as bad. The very least you should do though is go inside to use the bathroom before beginning the hikes! Book here if you have the budget.
Budget Choice: Buffalo Mountain Lodge – This hotel is located in Banff town and is a great option if you're traveling on a budget. If you are going for a rustic mountain lodge feel this hotel will do the trick.
Check out more of the most popular hotels in Banff here.
MORE ALBERTA CANADA BLOG POSTS
My husband is from Alberta and totally has me drinking the Canadian Kool-Aid! I love everything from the mountains to the gorgeous turquoise lakes. These are my most popular blog posts and guides from Alberta to help you plan your trip.
Places you Can't Miss in Alberta: 10 Amazing Places to Visit in Alberta, Canada
Best Places to See in Jasper: Top 10 Things to do in Jasper National Park
The Best Waterfall in Jasper: Sunwapta Falls Travel Guide
Guide to Visiting the Columbia Icefield Skywalk: Why you Should Visit the Columbia Icefield Skywalk
Guide to visiting the Miette Hot Springs in Jasper: Relax in the Jasper Hot Springs
Check out the most Most Underrated of All Jasper Attractions: Mount Edith Cavell (My favorite place in Jasper)
Which is better? Banff or Jasper: Should You Go From Banff to Jasper in Alberta Canada?
Enjoy it? Pin it for later!