Looking for the best Las Vegas attractions for couples?
Las Vegas may not be the first city that comes to mind when you think of romantic getaways. Most people are more likely to think of temptations Vegas offers that could break up a couple. Don't be dissuaded as there are lots of fun things to do in Las Vegas for couples!
You can find tons of fun and romantic things for couples to do in Las Vegas. There are nature escapes, thrilling adventures, and the opportunity for romantic serenades. In fact, if you know what to look for and plan accordingly, it can be one of the most romantic cities in the world.
SAVE MONEY – BUY AN ALL-INCLUSIVE PASS!
Don't skip this section like I normally do.
Most all-inclusive passes suck! They don't actually include things you would want to do, or you need to visit 10,000 attractions in a short amount of time to make it worth their while. The Go City Las Vegas Pass is different; it is a huge cost savings and includes things you actually want to do!
Seriously – if you want to see a Cirque du Soleil show alone the pass basically pays for itself.
Some of the other big ticket items included are a ride on the High Roller, LINQ Zipline, and Illuminarium at Area 15.
Some of the things that I think are coolest are the LINQ Zipline, the High Roller, SkyPod at the Strat, Area15 Illuminarium, and the New York New York Big Apple roller coaster.
There are 35 different things you can choose from.
They include other show tickets, museums, bar crawls, as well as things like go-cart racing and escape rooms.
If you don't want to see a Cirque show you can switch out those tickets for a Strip Helicopter tour instead.
This deal literally can't be beat if you are looking to do more than just gamble while in Vegas. There is a day time limit though so to get your money's worth you have to keep moving, though there isn't a more affordable way to cover so much ground in Vegas.
15 Best Things to do in Las Vegas for couples
The top Romantic things to do in Las Vegas are…
Book a Romantic Dinner at the Eiffel Tower
Want to experience the romance of Paris without having to cross an ocean? Las Vegas has its own Paris themed casino featuring its own 1/2 size Eiffel Tower (still big). You can eat in the Eiffel Tower restaurant itself, or you can take it in by heading up to the viewing deck.
This is a must do in Vegas for couples! I promise you won't regret it.
If you do want to go, I recommend skipping the line and buying your tickets in advance – Eiffel Tower Viewing Deck Entrance Ticket.
Get Married!
Looking for romantic things to do in Vegas? Everyone knows that Vegas is a great place to tie the knot! What could be more romantic than actually exchanging vows and getting married? Las Vegas offers the opportunity to get a marriage license and have a ceremony performed immediately.
You don't have to do an Elvis or Zombie themed wedding (you can if you want). There are gorgeous venues for those simply looking to get hitched without the pomp and circumstance of planning a full-on wedding extravaganza.
Here are 10 of the top options if you are considering saying "I do".
Kayak at Emerald Cave
Interested in a romantic kayak tour through an emerald cave? No it's not in a casino. It is located on the Colorado River only 1 hour from the Las Vegas strip. If you want to kayak into the amazing Emerald Cave you can book an amazing excursion with your partner.
This half day tour will pick you up at your hotel, transfer you to and from the river, and get you set up in a kayak. It is the perfect nature getaway from the hustle and bustle of the Las Vegas Strip.
Happy Hour on the High Roller at The Linq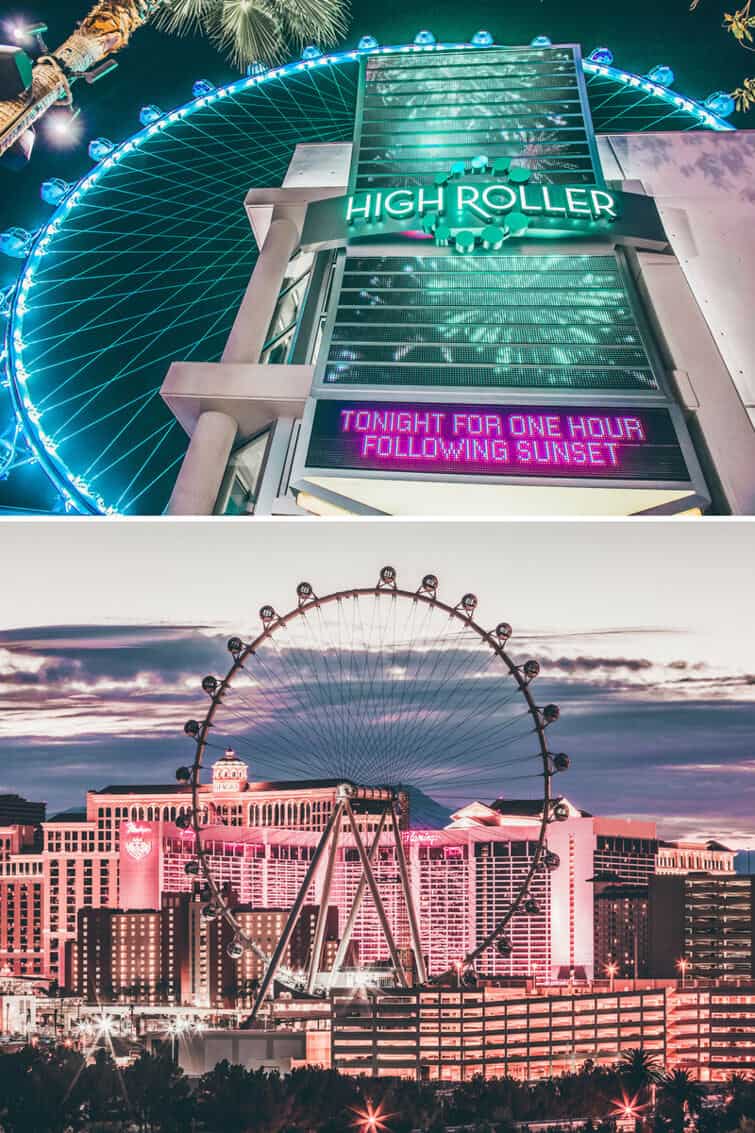 This is the perfect date night idea in Las Vegas!
How about setting off as a couple on what was the world's tallest observation/ferris wheel? The High Roller at the Linq is a perfect getaway that gives you unobstructed views of the Strip.
The actual pods are big enough for each to feature its own bar, allowing you to peacefully sip drinks as you circle around.
Make sure you book your tickets ahead of time since they can sell out (especially at the gootid times).
Prefer to book during Happy Hour so you can enjoy the open bar? Book here!
Helicopter Tours
What is more romantic that whisking your special one away on a scenic helicopter tour? How about being able to whisk them away while not breaking the bank! There are a number of fabulous and affordable helicopter tours in Las Vegas. It is one of the most romantic things to do in Las Vegas.
Fly over the Strip at Night
Want to see the glow of the Strip from high above? The Las Vegas Helicopter Night Flight with Optional VIP Transportation cannot be beat if you are trying to impress your date! It even includes sparkling wine.
Even though it is quick (just under 15 min), it is absolutely unforgettable.
Take a Grand Canyon Tour from Las Vegas
Want to see the Grand Canyon but not up for the hike? Want to quickly enjoy it from the comfort of a helicopter? How about getting to touch down in the canyon without the arduous hike? All of these possible via helicopter tour!
The Grand Canyon is a 4 and 1/2 hour drive from Las Vegas, but you can cover the same distance in an amazing 45 minute helicopter ride. These tours are an incredibly popular way to take in some of the best natural scenery on earth without actually having to work up a sweat.
Here are the 4 best grand canyon tours from las vegas:
Helicopter Tour over Red Rock Canyon National Park
Want to see the majestic red rocks of the Mohave Desert? The rock formations are truly unique and absolutely beautiful. This helicopter tour will take you over these features and touch down for a champagne toast. Book your Red Rock Canyon Helicopter Tour.
Watch the Fremont Street Light Show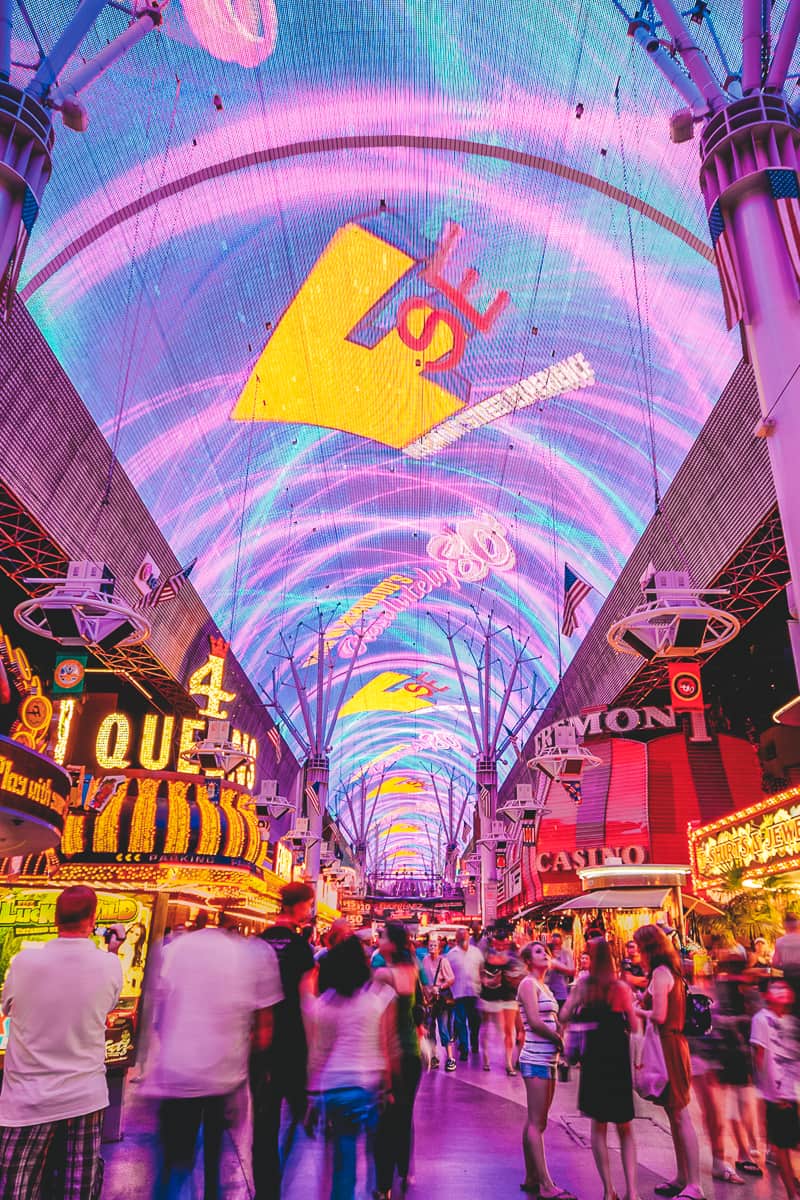 Want to observe a massive beautiful neon light show for free? The Viva Vision Light Show on Fremont Street features a 1,375 foot long and 90 foot wide screen stretched out over the street.
Shows start at 6 pm and go until 2 am, at the top of every hour. If the allure of neon speaks to you as a couple, you should head down to Fremont Street.
Take a Hot Air Balloon Ride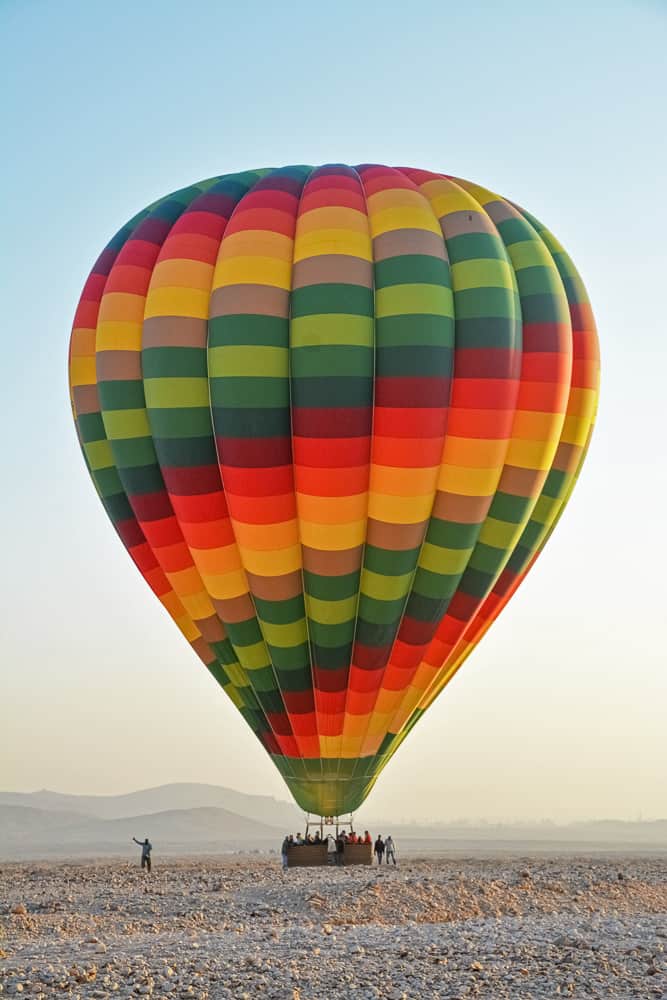 A hot air balloon ride over stunning mountain scenery isn't available only in Cappadocia Turkey. You can have a strikingly similar experience in Las Vegas.
A hot air balloon is an exciting and peaceful (if you aren't petrified of heights) experience. The mountain scenery around Las Vegas is so much more stunning that I ever imagined.
You don't have to head to Cappdocia Turkey to experience a hot air balloon ride over stunning rock formations. Exactly what you can do in Las Vegas.
Book your Hot Air Balloon tour here.
The Vegas Mob Tour
Are you part of a couple that enjoys learning about history? If yes, you have to check out the Vegas Mob Museum. It is fascinating and alarming to find out how directly involved organized crime was in the development of Las Vegas.
Click here to purchase your tickets ahead of time to make sure you can get in.
Take a gondola ride at the Venetian Hotel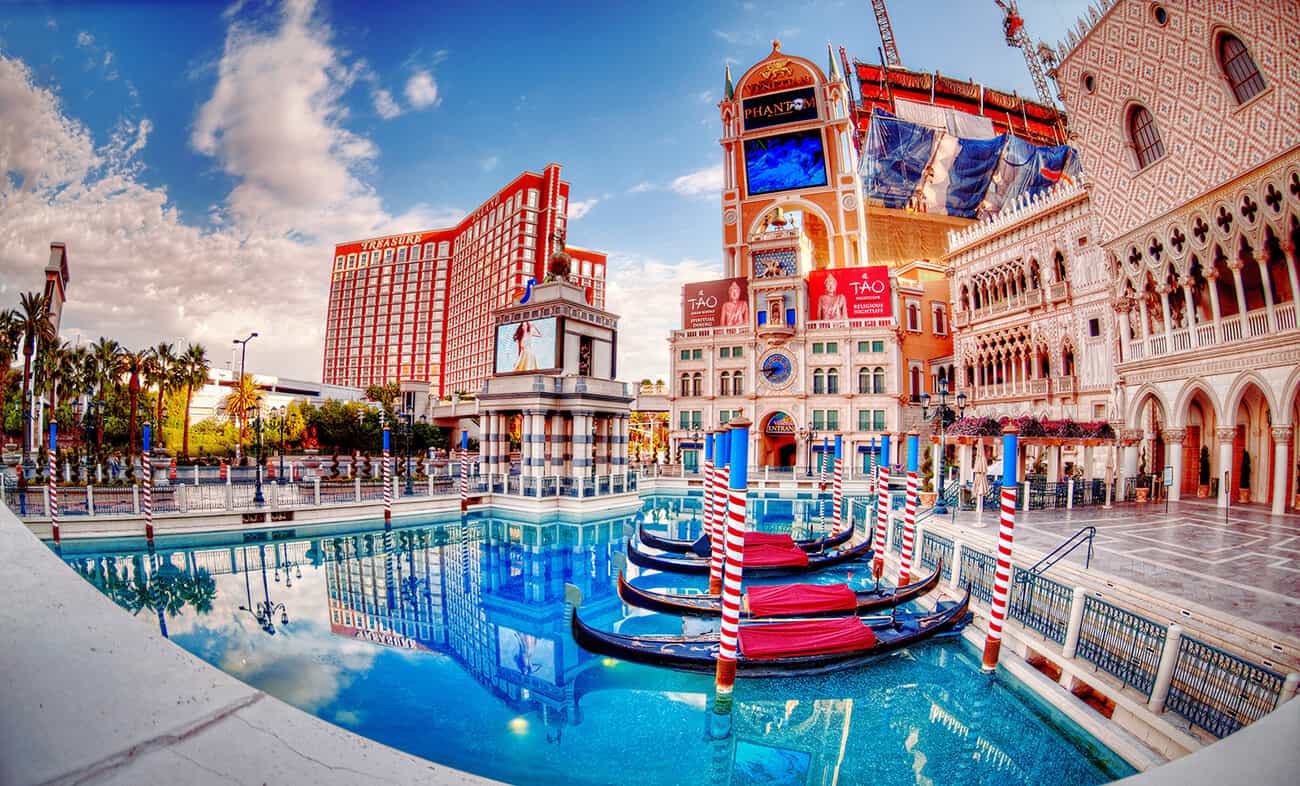 Want to go on a boat ride in Venice, Italy through gorgeous canals? Imagining being serenaded by a professionally trained gondolier to really make the moment pop with your partner? This is another experience that you can actually have in Vegas.
The Venetian Hotel and Casino features a re-creation of the Venice Grand Canal. It may like a cheap knock-off to row through man-made canals at a Vegas casino but trust me, it's actually really cool. You will see the sights of Venice while floating under bridges and around balconies while being sung to.
You have the option of floating inside or outside (or both). If interested, I recommend booking the two-for-one option where you will also get admission to Madame Tussauds Wax Museuem. Definitely one of the best activities in Vegas for couples.
Book your tour now: Madame Tussauds with Gondola Boat Ride
Note – Although not super romantic, the wax museum features over 100 lifelike celebrities that you can post for pictures with. Who knows, maybe your idea of romance is posing for pictures with Taylor Swift or Michael Jackson!
Buy your tickets here: Madame Tussauds Las Vegas Admission Ticket
Watch the Bellagio Water Show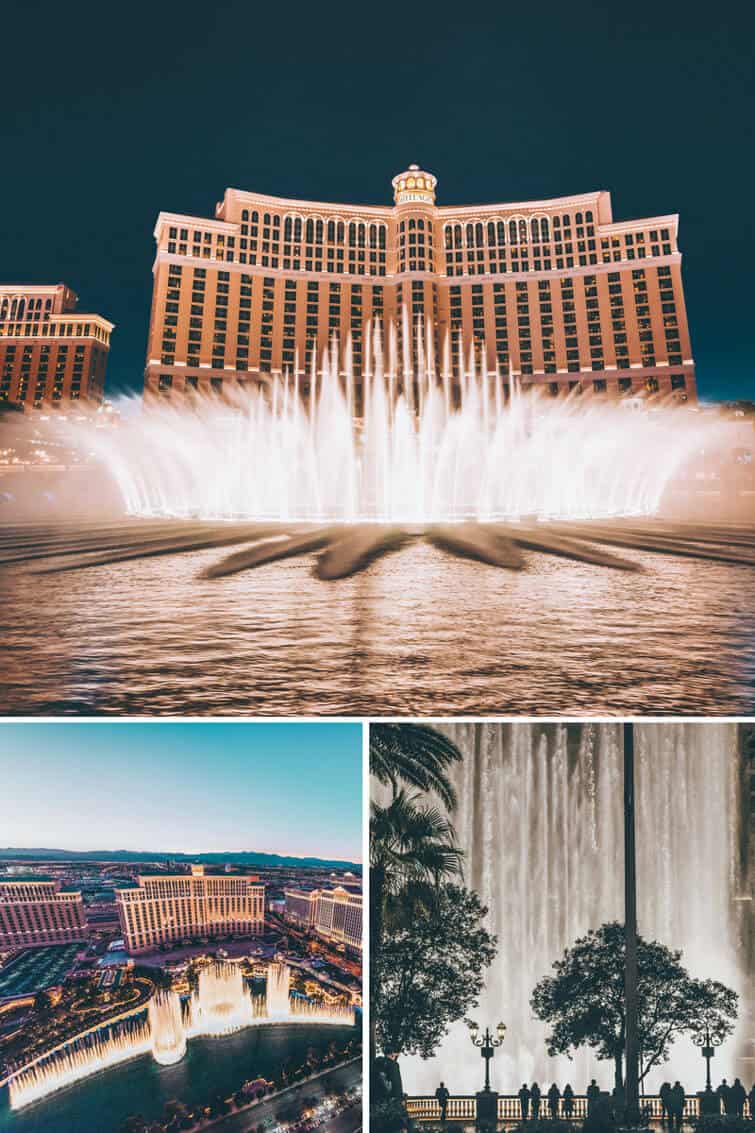 Another free option to to stroll down the Strip and take in the Bellagio Fountain Show. Over 1,000 feet of fountains are programmed spray rhythmically to music (often romantic).
The spray goes over 450 feet in the air. Shows begin every 30 beginning in the afternoon and going until midnight.
Take a stroll through the Bellagio Botanical Gardens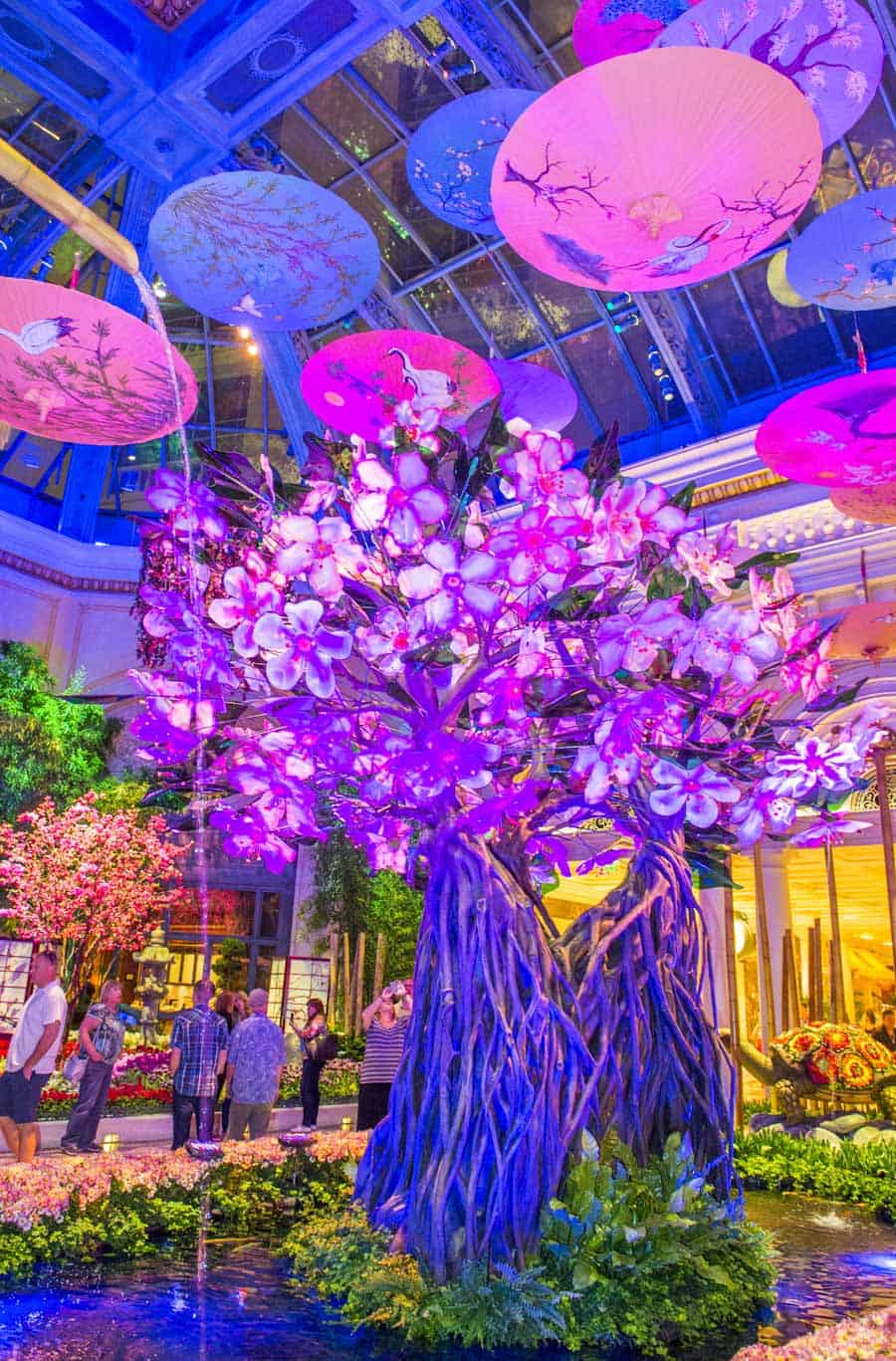 While at the Bellagio you have to more than just take in the fountains. The Bellagio Botanical Gardens are equally as amazing. The grounds are continually re-decorated, and features some of the world's most exotic plants.
I love going through to see how it is decorated for each season, though the Christmas display is usually my favorite.
Go hiking at Red Rock Canyon Natural Park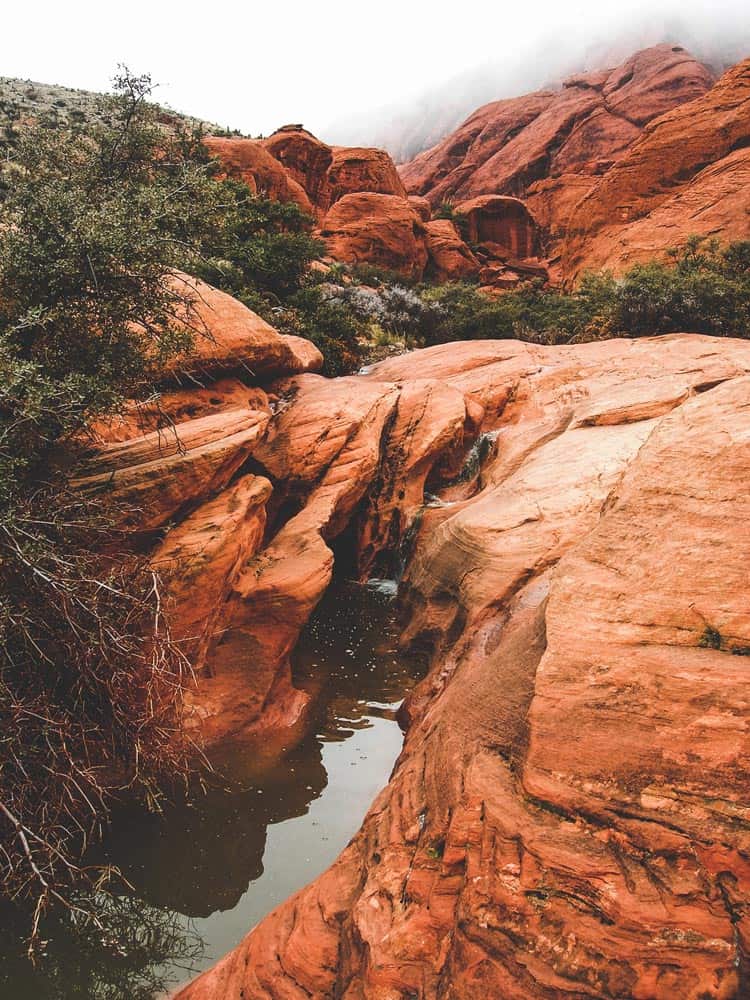 Yes, Las Vegas does feature the gorgeous red rocks that you see in famous nature photography. Previously, I had no idea that the majestic scenery of the Mohave desert was so close. You can take them in yourself by driving 20 minutes west of the Las Vegas Strip.
If you don't want to drive yourself, you can take a tour that will also take you to one of Las Vegas' most unique art exhibits, Seven Magic Mountains.
Book your tour: Red Rock Canyon and Seven Magic Mountains Van Tour with Snacks and Water
Visit the Neon Graveyard Museum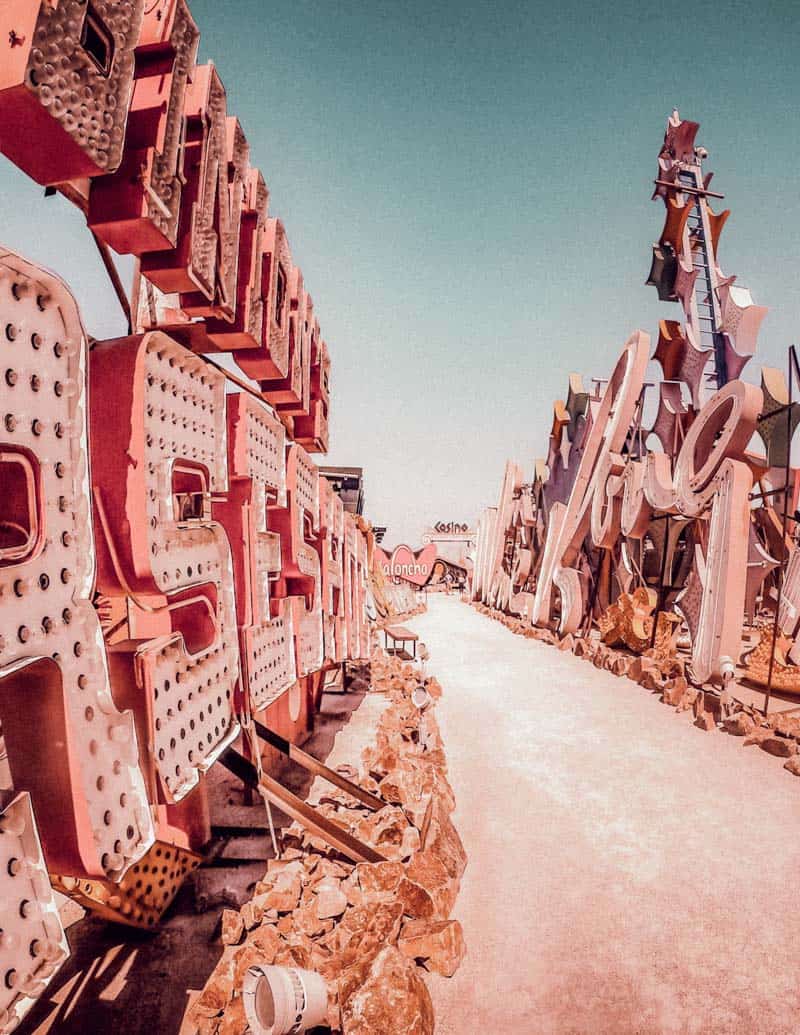 Want to stroll through the neon lights of Las Vegas past? The Neon Museum is perfect for those looking for an amazing photo spot, or those looking to learn more about Vegas history. I've seen a ton of super cute engagement pictures taken at the Neon Museum.
What other romantic attractions in Las Vegas should be included?
More posts on Las Vegas:
I lived in Las Vegas for almost 10 years and loved it there! Here are a few of our most popular Las Vegas posts that will help you plan your trip.