Kuang Si Falls or known as Tat Kuang Si Waterfalls is a three-tiered waterfall just south of Luang Prabang, Laos in Southeast Asia. These waterfalls are a favorite day trip for tourists in Luang Prabang featuring turquoise blue pools and cascades of small waterfalls.
Honestly, it is the most beautiful waterfall I have ever seen! Some places look worse in person than online, and others look better. This one definitely looked better in person. These photos just don't do it justice.
It was the highlight of my trip to Luang Prabang.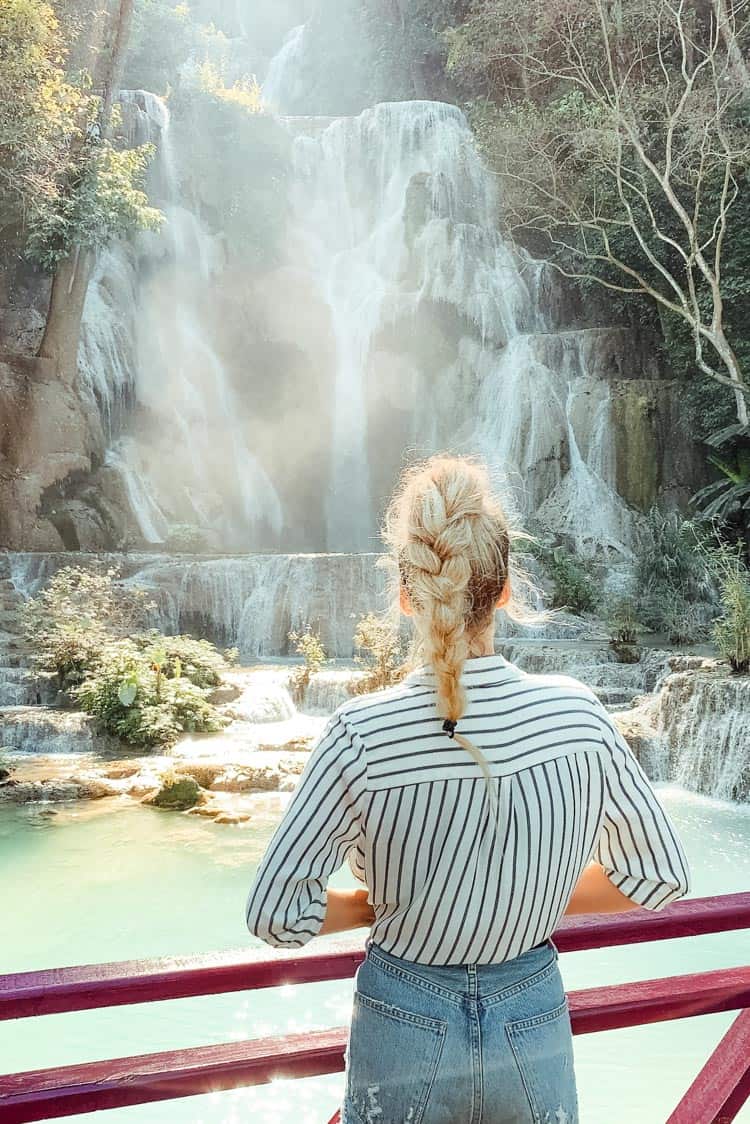 Kuang Si Falls Quick Facts
Kuang Si Waterfall entrance fee – 20,000 LAK ($2.50 USD)
Kuang Si Falls Location – About a 45 minute drive from Luang Prabang
Best time to visit – November/December through April/May (More on why later in the post)
Hours – 8 am to 5 pm
How long should you plan on spending there? The entire day. There is so much do and see!
Where to stay in Luang Prabang | One of the best hotels in Luang Prabang is Le Palais Juliana.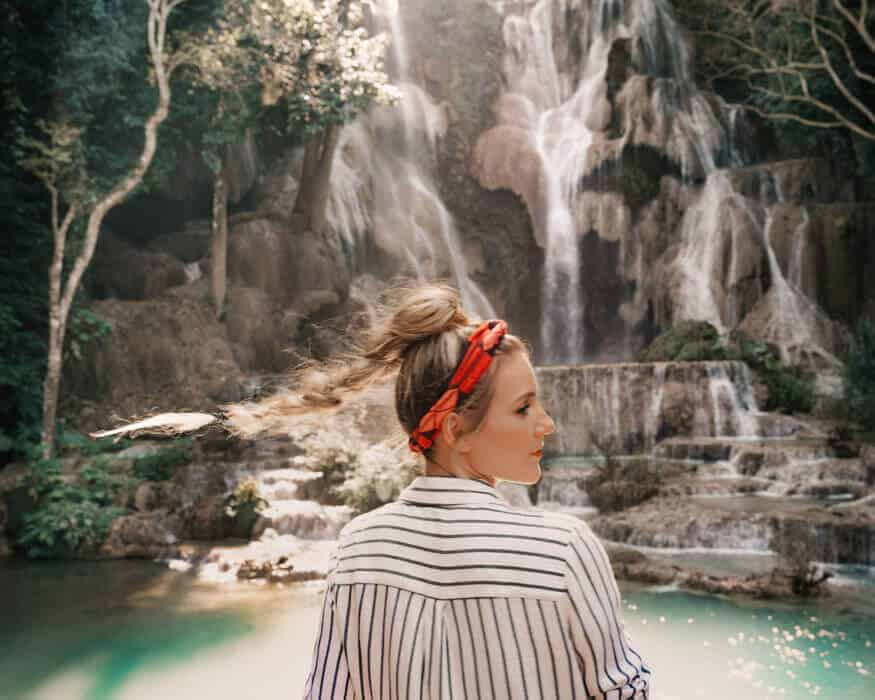 What to see and do at Kuang Si Falls
Once you arrive you will walk through a small market of food and local vendors. Once you are in the park you will hike through a Moon Bear sanctuary. This was not my favorite part and honestly not really worth mentioning other than knowing what to expect. About a 5 minute walk from there will bring you to the first of the waterfalls and swimming area; from there you will follow the trail up to all 6 levels of the waterfalls. The last one being the most beautiful! It will take about a 15 minute walk to get to the top tier and the star of the show.
Tip – Arrive early to beat the crowds. If you arrive at opening you should have the place basically to yourself. We arrived around noon and it was already fairly crowded.
Laos inspiration | Why you Need to Visit Laos Now
Go swimming in the Turquoise pools
You can swim in almost all the pools there. There are a few of them that are not open for swimming, but most of the waterfalls levels are.
Eat lunch at the lower falls
They have a wonderful little restaurant right next to the lower falls. I had some fresh coconut water and a great lunch. Me and my husband were pleasantly surprised with the quality.
See Kuang Si Waterfall at it's highest & most beautiful point
As you reach the top of the waterfall, you'll see the most beautiful waterfall. The largest set of falls plunge down 200 ft (60 m) into yet another gorgeous turquoise pool. You can't swim in this one but it is definitely the most stunning of all the cascades.
During the dry season, you can walk on the boardwalks to get an even better view of the falls. In the rainy season this boardwalk gets washed away in the rapids.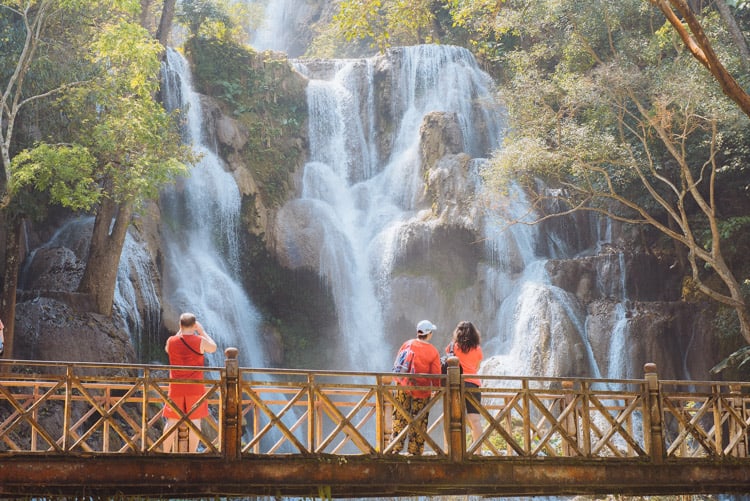 Find all >> Hotels in Luang Prabang
Hike to the top of Kuang Si Waterfall
After reaching the largest waterfall you will cross the bridge and begin to see stairs to the right of the waterfall. Climb up to the top and you will find swimming holes, rope swings, and incredible views of the entire area.
We even found a hidden waterfall that cascaded down a staircase. It was completely unexpected and we had the entire area to ourselves! I highly recommend taking time to explore the top area while visiting Kuang Si Falls.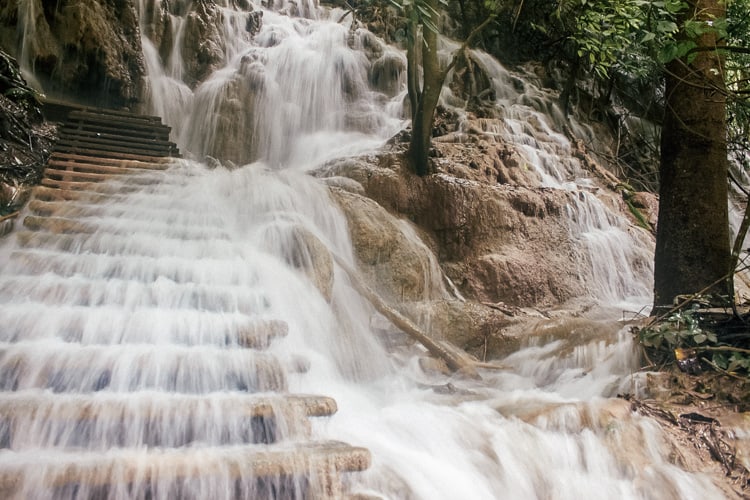 Best Time to Visit Kuang Si Falls
If you take anything away from this post let it be this, it matters when you plan to visit Kuang Si Falls. If you visit during monsoon season the water will be brown and muddy. You will also not be able to swim because the swimming "pools" will turn into river rapids. Avoid visiting from July to October if you want to see the waterfall at it's best. (Check out the video below to see what I mean. Looks a bit different than the photos.)
The recommended time to visit is November/December through April/May. We visited the end of November and the conditions were perfect!
How to Get to Kuang Si Falls
Getting to Kuang Si is easy. From Luang Prabang (Where we stayed – check out our exact hotel in Luang
Prabang) a van or tuk-tuk will drive you there for about 50,000 kip or $6 USD.
There are plenty of tuk-tuk drivers around town that you can grab last minute. They are flexible and will leave whenever you want.
We didn't plan in advance so we went out on the streets of Luang Prabang and flagged down a driver. There are tug-tuk drivers all over the city just waiting to take tourists to Kuang Si Falls.
You can pay a driver to wait the entire day for you but we didn't want to do that. Instead we found a different tuk-tuk driver to take us back. We ended up sharing one with a family of 5 and there was plenty of space.
Kuang Si Falls Map
Luang Prabang Accommodation
Hotels in Luang Prabang
One of the best hotels in Luang Prabang is Le Palais Juliana. This is the exact hotel we stayed at and absolutely loved it! The food was amazing, the rooms were super clean and they offered as much bottled water as we needed. (A must for us when traveling to a place where we can't drink the water). Check current prices on booking.com.
Read our full hotel review >> Le Palais Juliana
More hotels we recommend in Luang Prabang