Mount Phousi, also known as Phousi Hill or Sacred Hill is located in Luang Prabang. Climbing Mount Phousi is easily one of the top things to do in Luang Prabang. After climbing 300 stair to the summit you will be rewarded with 360 degree views of Luang Prabang. Including views of the famous Mekong river and surrounding mountains.
Guide to Hiking Mount Phousi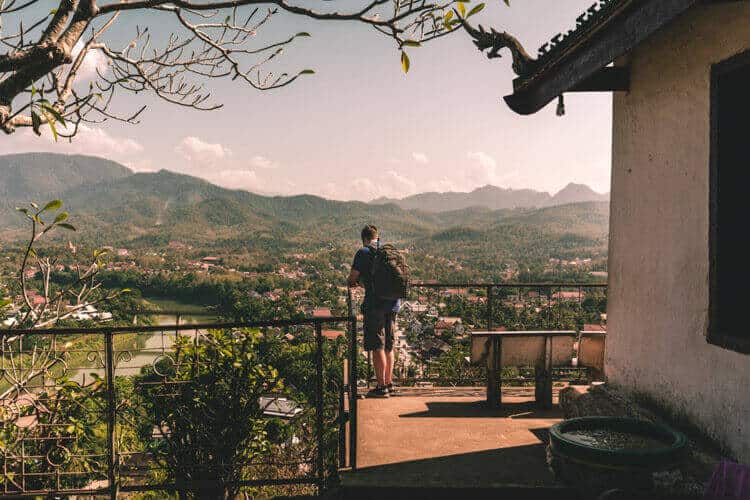 Find all >> Hotels in Luang Prabang
Mount Phousi Entrance Fee
Entrance fees for Mount Phousi are about 20,000 kip ($2.50 USD). You will pay this about halfway up.
Mount Phousi Opening Hours
You can begin climbing Mount Phousi at 5:30 am each day. It closes at 6pm but they will allow you to stay up at the top and enjoy the sunset.
Laos Inspiration | Why you need to visit Laos!
Mount Phousi Map
Here is a map to help you get a feel for just how accessible Mount Phousi is. It is right in the city center labeled "Phousi Hill" on the map. Located on the peninsula between the Mekong and Nam Khan rivers.
How to Get to Mount Phousi
Mount Phousi is located in the center of Luang Prabang. The main stairway up is behind the Royal Palace Museum on Sisavangvong road. You can walk there or take a tuk tuk.
Before going I assumed there was only one way to the top of Phousi Hill, turns out, there are two ways to the top and one is better than the other.
Two ways to the top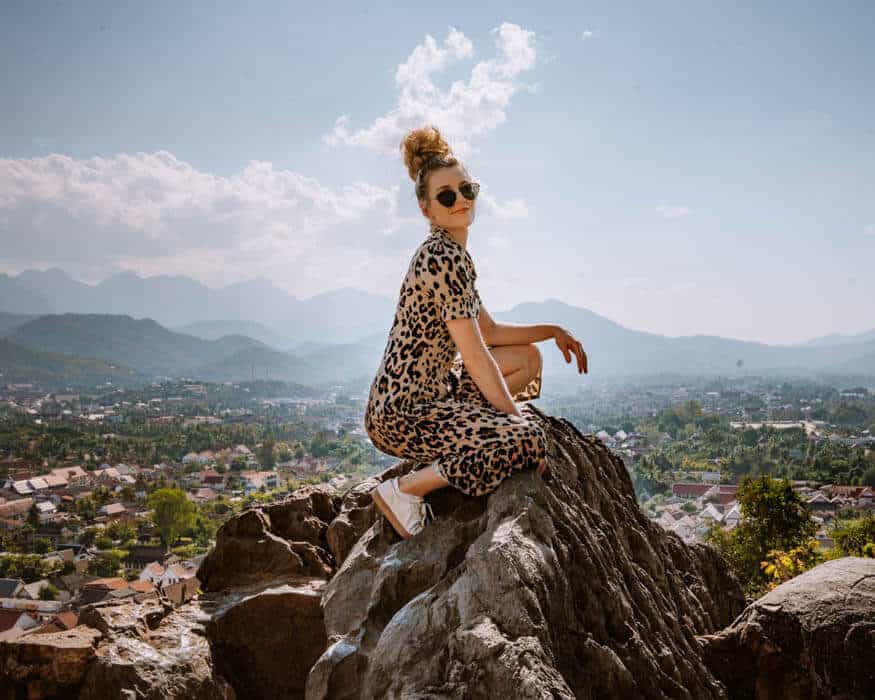 Two stairways lead to the top of the hill. In order to get the most out of the views and shrines, you will want to take one up and the other one down. The most popular way up is found on Sisavangvong road, opposite the Royal Palace Museum. This way is 328 steps to the top.
Another stairway is on Thanon Phousi with a total of 355 steps and several viewpoints along the way to the top. At the start of the stairway is a small restaurant with a map showing the various attractions on Phousi Hill. This is the entrance we took and the one we recommend.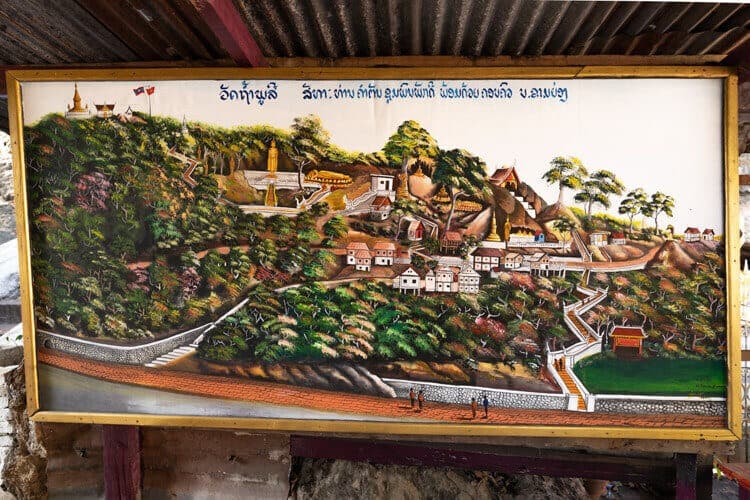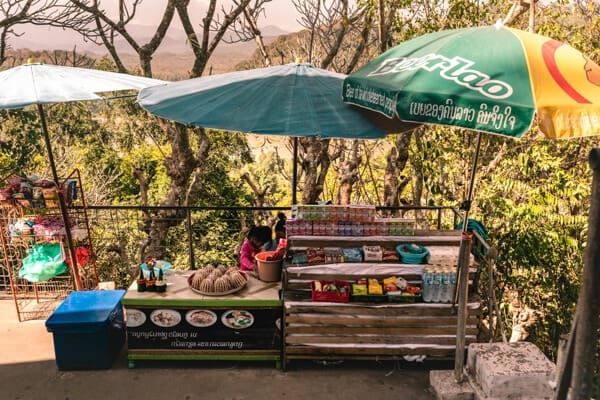 Where to Stay in Luang Prabang
Hotels in Luang Prabang
One of the best hotels in Luang Prabang is Le Palais Juliana. This is the exact hotel we stayed at and absolutely loved it! The food was amazing, the rooms were super clean and they offered as much bottled water as we needed. (A must for us when traveling to a place where I can't drink the water)
It is a little more on the pricey side for Luang Prabang and you can definitely find cheaper places to stay in the area. We paid about $100 per night and that included the best breakfast buffet I think I have ever had.
Note – When traveling to Southeast Asia I have to be very careful where I stay because I am immunocompromised. Basically that just means I have a weak immune system and can get very sick very easily. Because of this me and my husband always try and target nicer hotels because they are cleaner and offer more luxuries like bottled water and food I can eat without getting sick.
Read our full review on the Le Palais Juliana.
More hotels we recommend in Luang Prabang