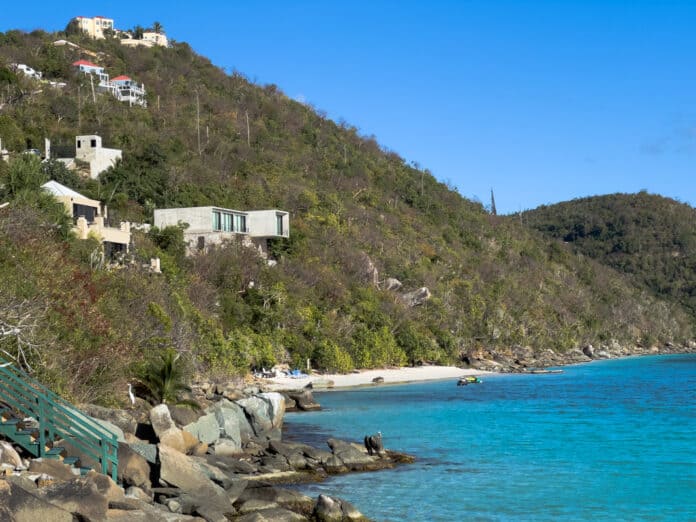 If you are at St Thomas in the US Virgin Islands then you are very likely to encounter Magens Beach. It is one of the biggest and most popular beaches on the island.
You can read more about Magens Bay Beach here (it really is a fabulous beach).
When on the beach, or perhaps like us staying at an AirBnB just above the beach you may see a small gorgeous rock framed beach just a little ways from Magens beach. It looked so gorgeous that we just had to find a way to get there.
The easiest way is to rent your own boat, kayak, or paddle board. If you don't want to do that you can even swim from Magens Bay Beach.
Finally, you can park on the cliff above and hike down, but warning, it might just be easier to swim there instead.
Little Magens Bay Quick Tips
Other Names: Little Magens Bay, Little Magens
Known for: looking remote but being pretty close to
Water Color: clear blue
Good for: getting away from the crowds of Magen's Beach
Not so good for: ease of access
Facilities: NONE
Lifeguards: no
Parking: only a couple spots and then you have a brief but trecharous hike
Cost: free
Other: may think private access only, but not true
Hours: NA
Where is Little Magens Beach located?
Little Mages Bay Beach is located just off the shore of Magen's beach (to the north east). You can see it from the shore. It stands out as a little stripe of paradise surrounded by jutting rock cliffs and tall bushes. It is located on the northern side of the island of St. Thomas in the US Virgin Islands.
If you are driving here from the main airport it will take you about 25 minutes, or about 20 minutes if you are coming from the capital city Charlotte Amelia.
Tip – When in the US Virgin Islands I recommend renting a car to get the most out of your experience. It would be difficult to see all the beautiful places in the islands without a car. Reserve a car here.
What can you expect at Little Magens?
If you make it here you can expect few people (you will see boats in the cove in front of you) but the ability to relax on the sand and take in the peaceful waves in near isolation.
Little Magens was previously known as a nude beach. Supposedly this is no longer the case and it is disallowed if people try to. When there, we were definitely clothed.
There are a few high end homes just above the beach, but the beach is open to the public.
Facilities
Basially none – there are some beach chairs and a dock for the homeowners to use.
Tips to Actually Getting Here
Okay, if you are like us then you can't resist the urge to try and access each amazing beach. Little Magens Beach was super cool and worth the effort to get there.
Basically, there are 3 ways you can get here.
1. You can take some sort of boat. From Magens Bay Beach you could rent a kayak or stand up paddle board. We even saw a couple of guys on jet skis scoot up to the beach
2. You could swim from Magen's beach. You don't have to be a strong swimmer to make it. Seriously, it's only about 100 yards. I'm not a great swimmer, but I could have pulled it off.
3. Take the convoluted hike. Since we stayed in the peninsula above Little Magens beach we had to give it a try. Our host gave us the directions.
Parking and Hiking to Little Magens Beach
The first step is to find the intersection of the roads Peterborg and Via Dominica. Via Dominica has a lot of signs labeling it a private drive, BUT this doesn't mean you can't walk down it. There are a couple of parking spots to the side of the road at the top, park here.
Walk down the road (you will be walking further away from Magen's beach). You will pass a driveway to a villa, keep going. On your left you will see a steep set of wooden stairs that head straight down. Take these down to the shore.
Once you are on the shore you will see a stretch of rocks. You need to turn left and walk a couple hundred yards along the rocky shore.
The problem is that this "walk" is actually quite treacherous. There is definitely not a path so you will scrambling up and over rocks while waves roll in. Some of the rocks are slippery and there are cactus growing on the way.
Be super careful to not slip and bust your head open. You will have to cross a couple other private docks, but you are allowed to be there are the shores are public in the USVI. If you avoided busted feet and shins you've made it.
Conclusion: Is Little Magens Beach Worth Visiting?
Is it worth it to get to this beach? If you are looking for an adventure, then sure. If you just want to swim over from Magens Beach cool, but otherwise I would say it isn't worth the effort because Magens Beach is already pretty cool.
Maybe if Magens Beach gets abnormally crowded and you are looking to find some extra space!
Tours in Area