The US Virgin Islands are home to a number of the top beaches on Earth. This is especially true on the island of St. John. Cinnamon Bay Beach is one of those truly fabulous beaches, BUT you hardly ever hear about it! I'm convinced that the only reason you don't hear more about it is because it gets overshadowed by some of its more famous neighbors, including Trunk Bay and Maho Bay Beach.
It also might be less famous because it takes a decent amount of effort to get to the island, and then a bit more than other beaches to get all the way to Cinnamon Bay Beach. If you do make it all the way here most people will opt for the more famous and quicker to access Trunk Bay Beach visit instead. I've been to both beaches multiple times and while I would give a slight not to Trunk Bay over Cinnamon Bay, that doesn't mean Cinnamon Bay won't be better for you.
Both amazing beaches are actually within 5 minutes of each other on the island of St. John in the US Virgin Islands. Both provide gorgeous clear blue water, soft white sand perfect for sunning, awesome snorkeling, and a bunch of amenities you to fill an entire day on the sand!
Oh, and one other huge perk of Cinnamon Bay is that there is an accompanying campground for those looking to save money (unfortunately accommodations on the island of St. John are quite expensive.
Cinnamon Bay Quick Tips
Other Names: Cinnamon Beach, Cinnamon Bay, Cinnamon Bay Campground
Known for: overall amazing beach experience, snorkeling, and proximity to Trunk Bay,
Water Color: so clear blue you can mistake it for pool water
Good for: snorkeling
Cost: free
Taxis: there is a staging area with taxis waiting to take people back to the ferry terminal (or your resort)
Parking: on-site parking lot with a decent amount of spaces and nearby side of street parking
Hike: the Cinnamon Bay Trail leaves from here and goes 1.8 miles
Camp Sites: Cabins, tents, and bare sites available
Lifeguards: I saw lifeguard stands, but no actual lifeguards
Facilities: restrooms, showers, snorkel gear rentals, kayak rentals, other water excursion toys, chair rentals, bar, concession stand, and barbeque pits
Not so good for: avoiding all people, though less crowded than other St. John beaches
Location Cinnamon Bay
This amazing beach is located on the north west side of the island of St. John. It is about 15 minutes from the Cruz Bay ferry terminal that drops you off on the far west side of this island.
If you aren't sure where the US Virgin Islands are, they are just east of Puerto Rico.
Tip – When in the US Virgin Islands I highly recommend renting a car to get the most out of your experience. It would be difficult to see all the beautiful places in the islands without a car. Reserve a car here.
Getting There
First off, the actual location is a little bit off from what you will find on Google maps. You can still put the location into your GPS and follow the directions, just know you are going to be turning off a little bit earlier in Cinnamon Bay than you expect. The are plenty of signs marking the beach, and realisticaly you can't miss it because the beach lot and accompanying shops are directly off the main road anyway.
To get to this beach you are probably coming from the main ferry terminal on the island of St. John. Remember, there isn't an airport here so you are very likely to be arriving from cruise ship or via a flight that landed on the island of St. Thomas. The ferry ride between these two islands is very quick and frequent. You can read more about it here.
Once you are on the island of St. John you can drive or hail a taxi to get to Cinnamon Bay Beach.
The taxi ride itself should only be about $10 per person each way and takes about 15 minutes. Warning though, the road to get there is pretty steep and winding.
What To Expect Once There
Once you arrive at the beach you will not be disappointed. It looks every bit as good as the pictures show. The water really is that piercing clear blue and the sand really is that brilliant white. I love that the calm waters really are clear!
Cinnamon Bay Beach Campground
You can book a cabin, a tent, or just a plain campsite with nothing really on it. All have access to the amenities. The prices aren't as cheap as other campsites, but compared to accommodations on the island they are better.
For a plain campsite you should expect to pay about $50 per night, and $150 for a tent provided, and the cottages or cabins can be quite expensive/same rate as a hotel.
You can make your reservations and read more here.
Cinnamon Bay Trail
This 1.8 mile out and back trail takes you away from the beach and up through the accompanying forest. The Cinnamon Bay Trail is generally easy for hikers of all level to do, so long as it hasn't just rained making it muddy.
You can read more about it on AllTrails here.
Cinnamon Bay Facilities & Amenities
This beach has everything you need to justify staying for the entire day. It has the basics of showers and restrooms, but it also has concession stands and a bar to justify the extra time.
If you are looking for a little bit more adventure you can rent snorkel gear, kayaks, and stand up paddle boards from the shops lining the shore. You can also get your own lounge beach chair if you don't want to lie directly on the sand.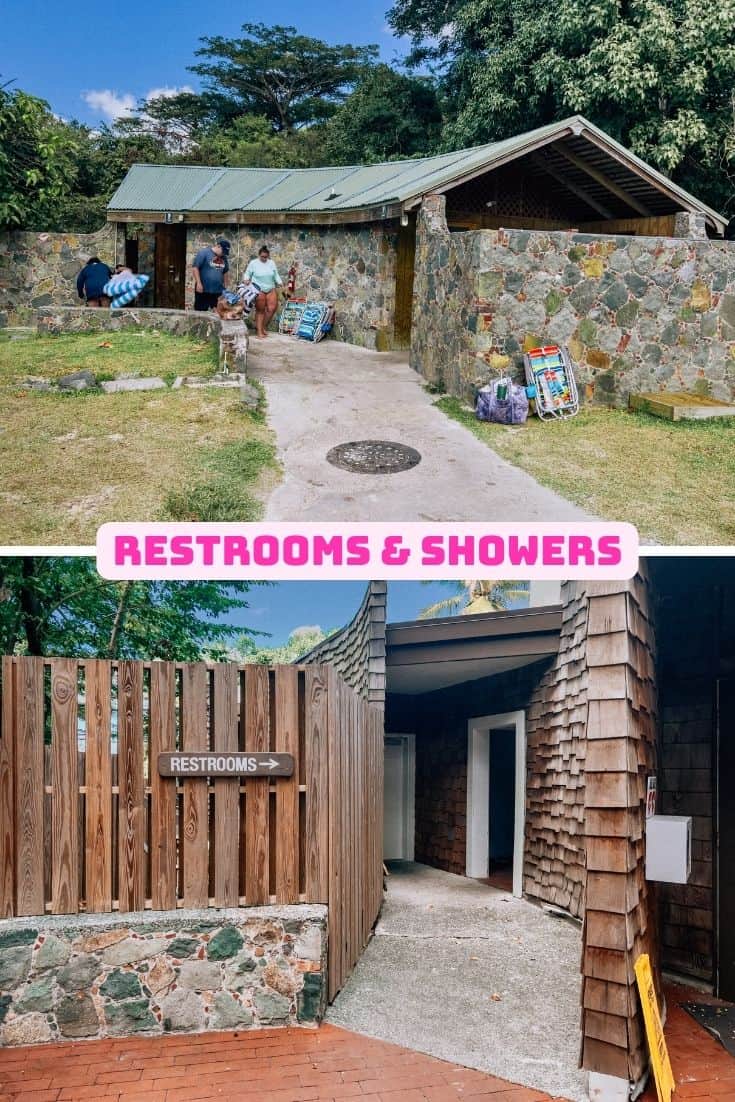 Cinnamon Bay Beach Snorkeling
Like most St. Jonn beaches the snorkeling here is incredible. The clear and calm waters make it perfect for exploring. The best wildlife can be found around the rocky areas.
One cool thing is the wreckage of a plane on the eastern end of the beach (to your right if you are facing the water). It is just to the west (left if facing the water) of the big rocks.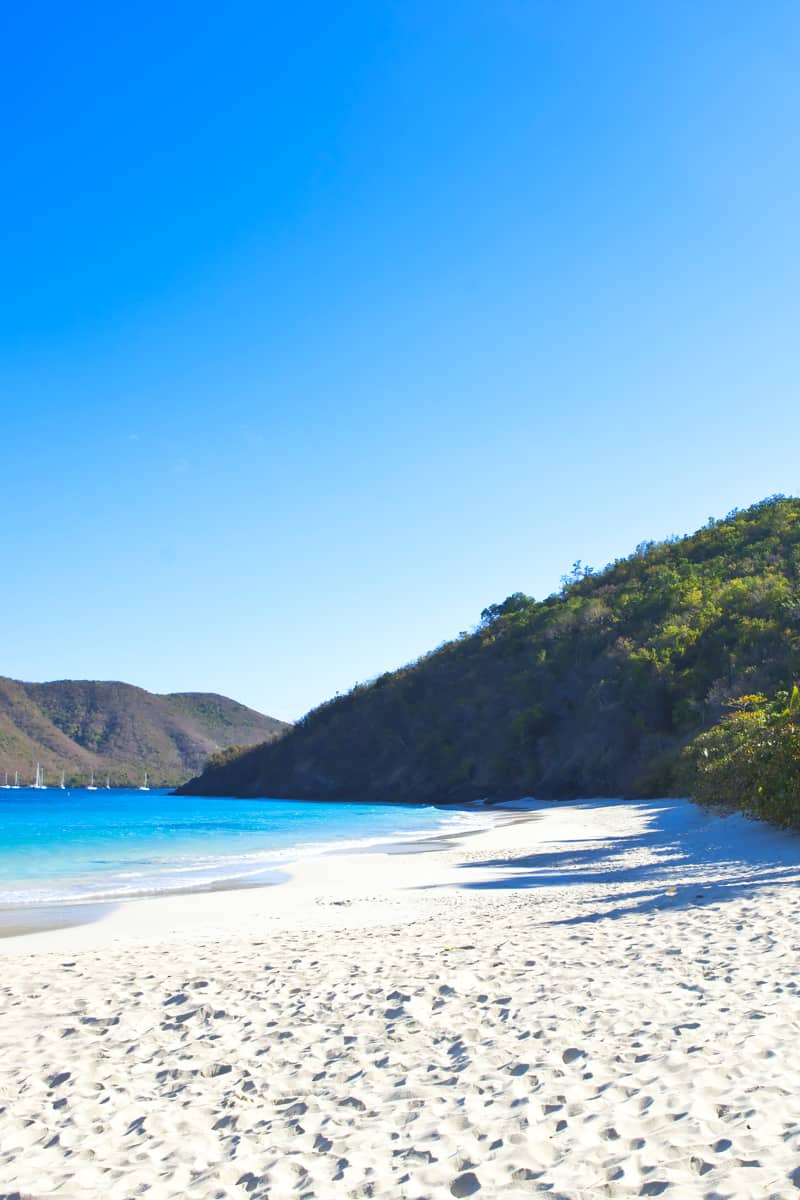 Parking and Taxi Access
There is a decent size lot that you can park in for free, but the real opportunity is the area where taxis are staged to take people back and forth. Rental cars on St. John can be expensive or taking the car ferry over from St. Thomas can be time consuming. Read more about the car ferry process here.
Cost
An advantage of this beach over Trunk Bay is that it is completely free, parking included.
Conclusion: Is Cinnamon Bay Worth Visiting?
If you are looking for an all around awesome beach experience including camping, water adventures, and even a hike then maybe you should skip the more popular Trunk Bay and go a little bit further to Cinnamon Bay Beach.
We have visited almost every beach on St. John and St. Thomas. Below are a list of our favorites.
How to get to the US Virgin Islands
Most people get to the US Virgin via cruise ship. This limits them to one or two quick excursions on the islands (still amazing). For those looking to spend more time, flights are available, though they can be a little bit tricky.
The main airport is on the island of St. Thomas generally has flights from the biggest US airline hub cities (New York, Atlanta, Miami, etc) which means that if you don't live in one of those cities you have to connect probably have spend a little bit more. Further, lots of these flights only operate on certain days of the week. This means that if you are looking to book a flight and you don't see options, or it is obscenely expensive try changing the day of the week!
The US Virgin Islands are generally a little bit more expensive across the board than other places in the Caribbean.
The only real budget airline offering flights is Spirit Airlines from Orlando and Fort Lauderdale. I know people love to hate Spirit Airlines, but when we flew them on the quick flight down from Florida we saved a ton!
Remember that if you want to go to St. John you are still going to have to fly into St. Thomas.
There is no commercial airport on the island of St. John, but there is frequent and fairly cheap ferry service (car or passenger). You can read about the ferries here.
For those wanting to go to St. Croix, you will have to book one of the even less frequent and quite expensive flights in from the mainland, as it isn't close enough for regular ferry service.