I love Lulumahu Falls! To me, the Lulumahu hike blends the perfect amount of rainforest exploration with an amazing 50 foot waterfall at the end. This 1.6 mile out and back trail is just hard enough to give you a bit of a workout, but not so intense that you will need to rest for the rest of the day afterwards.
In person, the waterfall looks so much bigger than it does in pictures. Even knowing what to expect I couldn't help but be impressed with the result. Not only is the Lulumahu Falls hike super fun, it is located in an easily accessible location from many of the main Honolulu tourist spots.
I highly recommend you include Lulumahu Falls on your next Hawaiian vacation.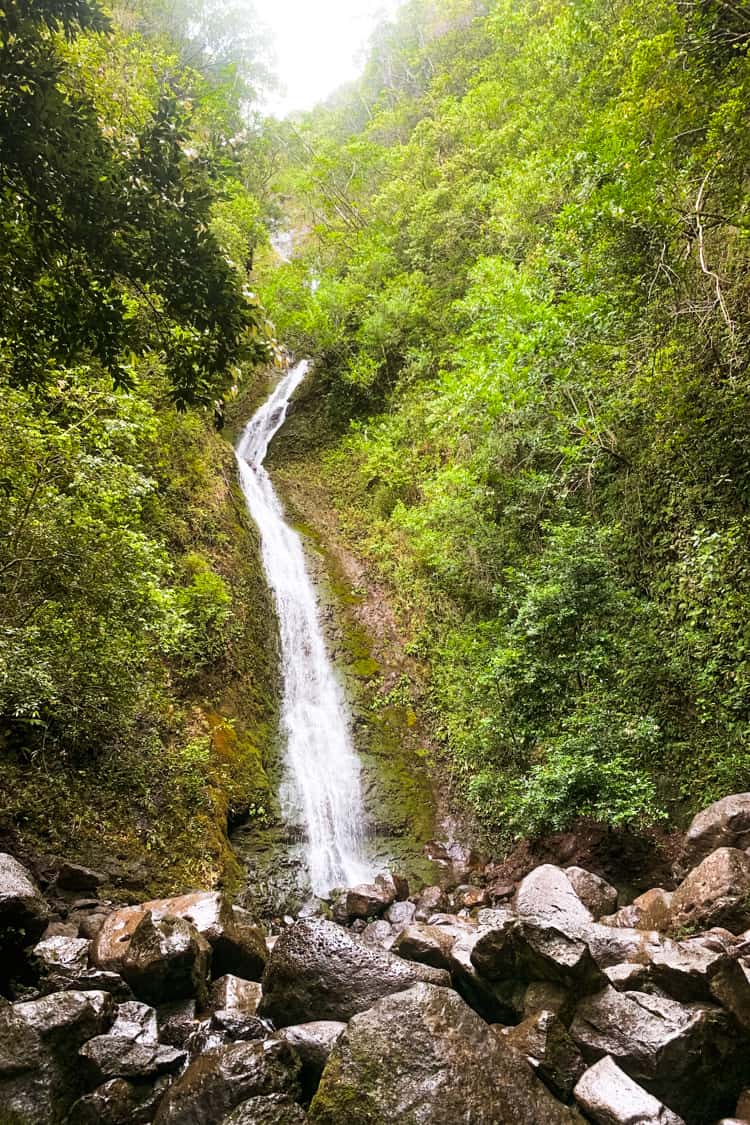 How Long is Lulumahu Falls Hike?
1.6 mile out and back.
Beware of Incorrect Info on the Lulumahu Hike
First off, there are a number of great websites that you can use to find trails and plan hikes. Unfortunately, in this case many of them are providing incorrect information on the Lulumahu Falls hike! Lots of sources currently indicate that Lulumahu Falls Trail is private government property and is illegal to hike.
Tourists going where they shouldn't is causing all sorts of problems in Hawaii. Whether it is dangerous, damaging local wildlife, or simply trespassing you need to make sure to be respectful of the local wishes. That being said, it's not illegal to hike the Lulumahu Trail.
While the falls are located on private government property, this doesn't mean that they are closed to hikers and that you will be trespassing if you visit. As of April 2022 to legally access, all you need to do is secure a super cheap permit.
Don't want to deal with the hassle of renting a car on Oahu? I recommend renting out a Hawaiian Style Moped for the Day! (Much easier to find parking.)
Do you need a Lulumahu Falls Permit?
Yes. A permit to access the Lulumahu Falls trail only costs $2.50. What is even better is that the $2.50 permit is good for up to 5 people. This means that you won't have to buy 5 different permits.
I also like that they don't run out of permits. Even though many still hike without permits, I'm a rule follower so I wanted to make sure I secured one. I expected a mad dash for available permits like what happens at Hanauma Bay or Pearl Harbor, but I was able to get one for the same day minutes before beginning the hike.
You can get your Lulumahu Falls permit here.
There was a security guard at the entrance that I expected to ask to see my permit, but he just waved hello as I walked by.
The Actual Lulumahu Waterfall
The waterfall comes down a narrow slot canyon. The walls of the cliff frame the falls perfectly. The 50 foot fall feels like it is even bigger once you get there in person.
Unfortunately, if you are hoping to swim in the falls this likely isn't the place. The water falls and then meanders away in a small stream rather than forming a large pool
Lulumahu Trail Warning
I wanted to make sure to offer a warning about the Lulumahu Trail. Unfortunately, the trail is not marked out that clearly. The direction you are supposed to go is marked with colored ribbons tied to various trees along the way.
The problem is that there are not enough of these ribbons and many of them are hard to find. If you aren't careful, there are other paths, dried streams, and fallen brush that will lead you astray.
I ended up going half a mile in the wrong direction following what I thought was the trail, but ultimately ended up being a stream. I ended up having to climb back down cliffs that were much steeper than I realized. By the time I finally got back on the proper Lulumahu Falls trail I ended up hiking over 4 miles.
I wasn't the only one losing my way. After finally making it to the falls and hiking back I had multiple other hikers ask me for directions. Hopefully they learned from my mistakes and didn't veer too far off course.
A Muddy Lulumahu Falls Trail Warning
One other warning would be that the trail can get pretty muddy. I wouldn't recommend doing it in your best shoes are they are likely to be caked in mud, regardless of whether it has just rained or not.
If you are trying to decide what to wear, I highly recommend this pair of waterproof hiking boots. These are the exact ones I wear on muddy hikes. They are cute, affordable, and comfortable.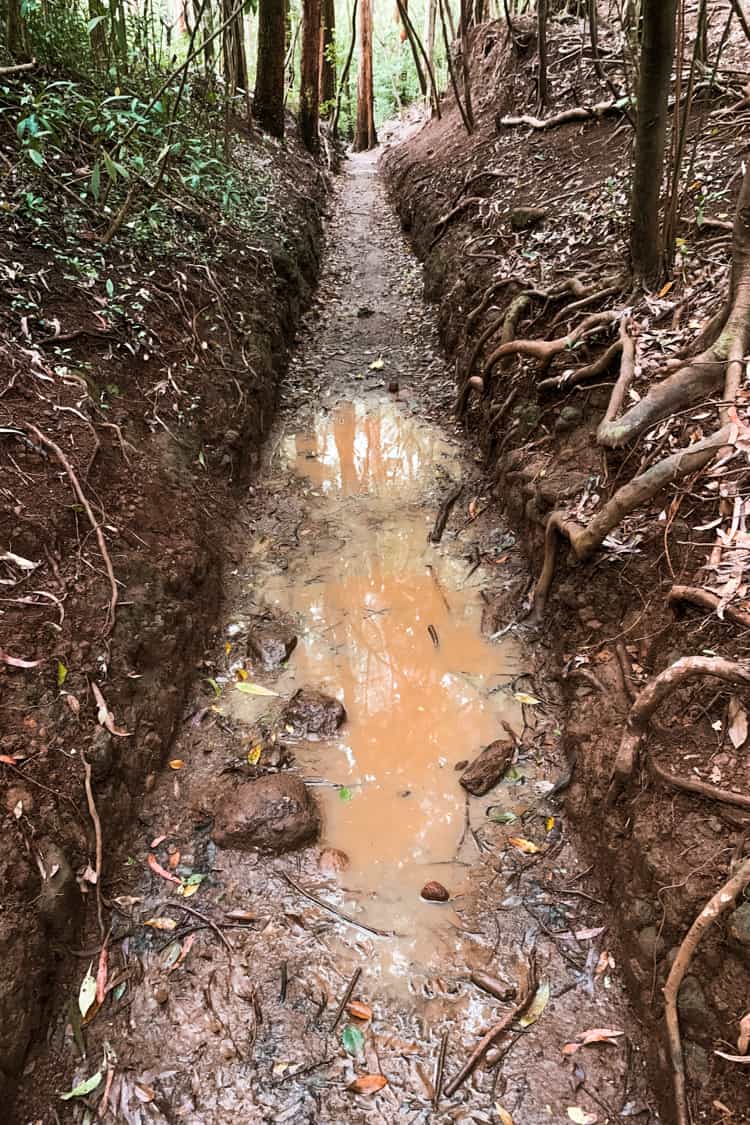 Lulumahu Hike Location
The Lulumahu hike is in a great location. It is only a 23 minute drive from Waikiki. All you have to do is begin to head into the center of the island of Oahu. Even though Oahu traffic can be brutal, it won't add too much time if you leave at a bad time.
Not only is the waterfall easily accessible, but there are other great things in the area that you can see at the same time. You will be super close to Kapena Falls or the Pali lookout. To get there head up the Pali Highway and you will see the parking lot immediately off to the side of the road.
Don't want to deal with the hassle of renting a car on Oahu? I recommend renting out a Hawaiian Style Moped for the Day! (Much easier to find parking.)
Lulumahu Falls Parking
The Lulumahu hike is pretty popular so the parking lot can fill up, though there are other spots along the street you can park in if you like.