Best Things to do in Waikiki
Did you know there are actually 137 different islands that Hawaii recognizes as part of their state? The majority of these "islands" are islets or a small island, big rocks, or coral reefs that disappear with the changing tides.
Obviously, a lot of these Hawaiian Islands are not available to visit. However, there are 8 main islands that are big enough to explore. Today we will be focusing on what to do Oahu, and more specifically, Waikiki.
Read more about the main Hawaiian Islands here.
What to Pack? Before traveling to Oahu, make sure to read my Hawaii Packing List guide so you can know exactly what you need to bring to Hawaii.
Oahu is the most visited and populous island in Hawaii. It features the capital city of Honolulu and a lot of the most common tourist spots like Waikiki beach, the North Shore, the bamboo forest and Pearl Harbor. To find out more see my post, The Top Things To Do on Oahu.
It is probably my favorite of all the Hawaian Islands.
Where to stay in Waikiki
I always recommend staying in Waikiki when vacationing in Oahu. It is the perfect location with so many activities going on within walking distance, including the beach!
We stayed in the Courtyard by Marriott Waikiki Beach Hotel. We ended up loving our hotel! The location was right by the beach and price was perfect! You can book and check out current prices here. Staying right on Waikiki Beach was a dream!
13 Best Things to do in Waikiki Hawaii
1. Go swimming at Waikiki Beach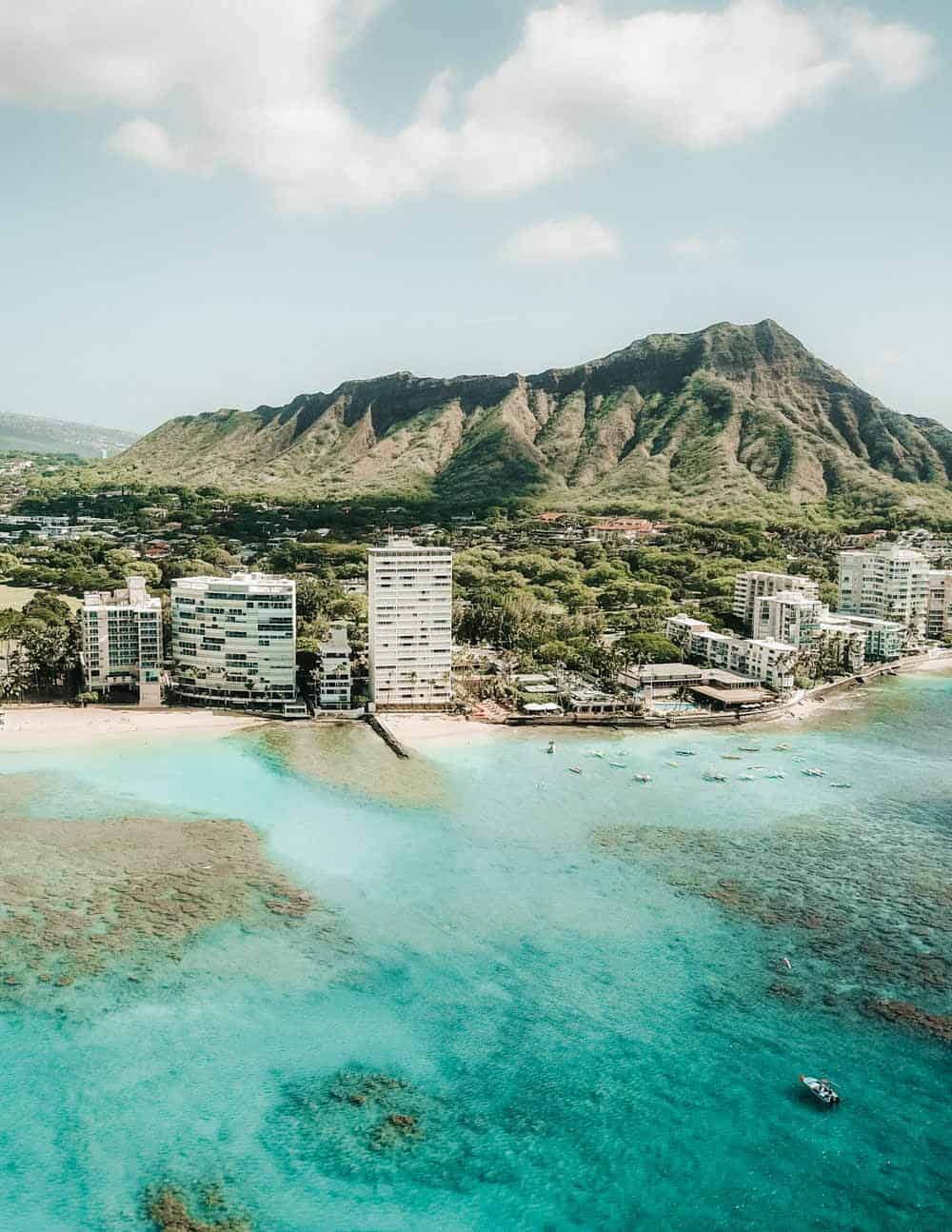 If you love getting in the water but are not a strong swimmer then Waikiki Beach is for you. Try "The Ponds" for easy swimming. These enclosed salt water ponds are constructed from concrete walls.
The walls stretch about 40 yards into the ocean. So grab your swimsuit and swim around this enclosure for easy-going fun!
2. Take part in Hawaii's most popular activities – surf lessons at Waikiki beach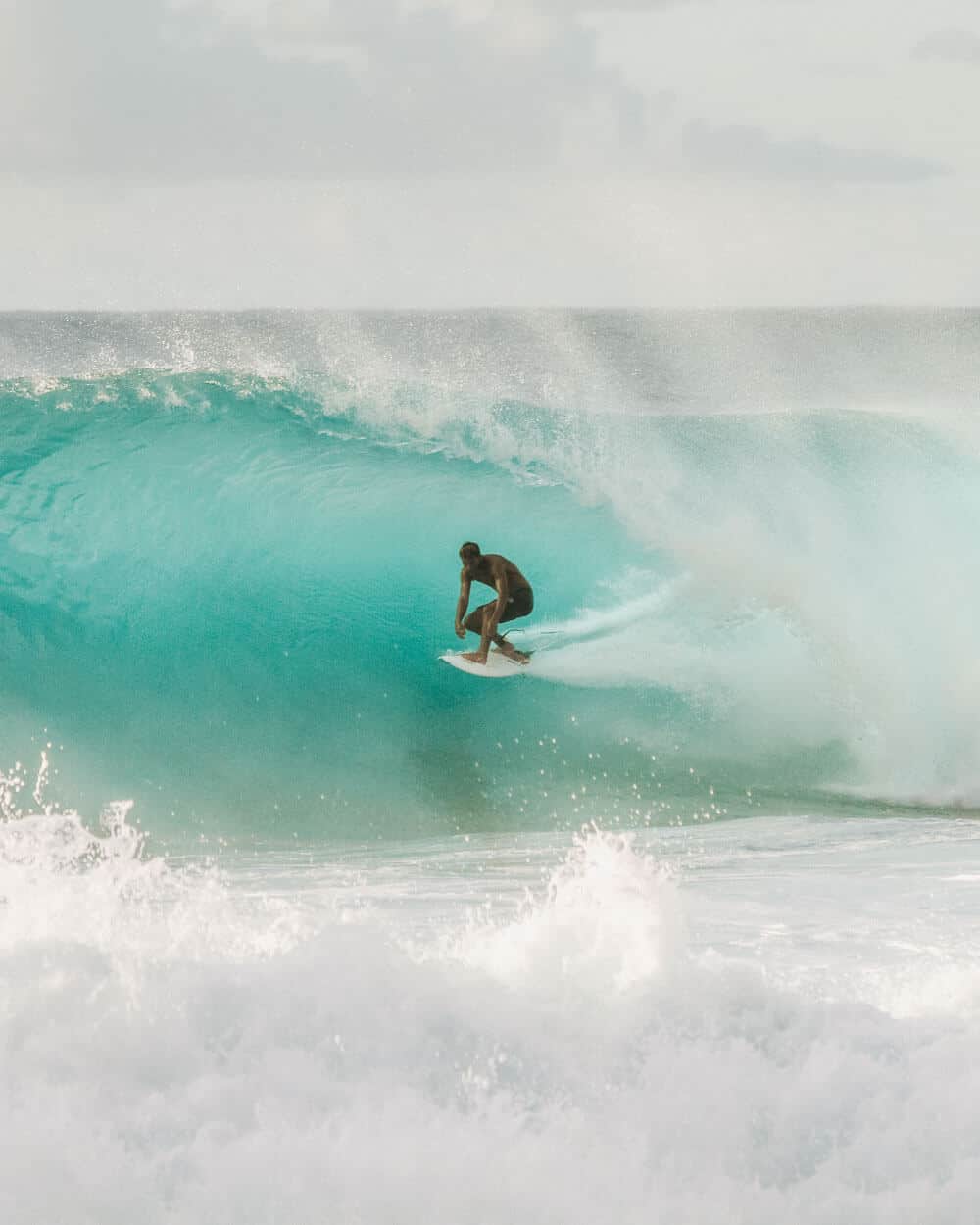 The white sand, clear blue water, and never ending small waves make this a perfect spot for beginners to become a grommet (supposedly this means beginning surfer).
Great instructors make this possible for even the least athletically inclined.
Book your tour: Group Surfing Lesson in Waikiki Beach
3. Go see the Polynesian dancers
While in Oahu make sure to go see the Polynesian dancers, one of the top 10 things to do in Hawaii.
The Polynesian Cultural Center is one of the top things to do in Hawaii. If you want to see an authentic amazing luau with native Polynesian dancers, The Polynesian Cultural Center is the perfect place (read more about that here).
This famous center isn't the only place on the island where you can see a great show. But if you want a taste you do have several options in Waikiki.
For another go-to show in the area, try the Kuhio Beach Hula Show. This authentic Hawaiian entertainment doesn't offer food like a traditional luau but the dancing is worth a visit.
Both groups of dancers greet you with a conch shell welcome. Then they offer traditional entertainment by a variety of either fire dancers, Hawaiian music, and Hula or stories told through dance.
Already sold? Book what in our opinion is the best Luau in Oahu, the Chief's Luau.
4. Take a Glass Bottom Boat Tour
Looking for a quick escape from the crowds of Waikiki?
This is one of the highest rated tours for a reason. It's fairly cheap and gets you out in the harbor in a boat that literally has a glass/see-through bottom.
You don't have to snorkel or be in the water at all to see the sea creatures. The captains know where to take the boats so it's very common to be able to see turtles and lots of other fish.
Also, the boat captains are known for being hilarious. One more perk is that you can bring your own booze on the boat!
Book the glass bottom boat tour here.
5. Looking for relaxing activities to do in Hawaii, try your hotel pool
With the vast amount of fast past activities in Hawaii, it's easy to become exhausted. If you are feeling exhausted – why not try relaxing in your hotel pool.
The majority of hotels in the Waikiki area offer fabulous pools with lush botanical grounds. Some of the pools even offer views of the ocean and swim-up bars. So you could be wading in a pool, sipping on your favorite beverage, while enjoying ocean views… guess that's why they call Hawaii paradise, haha!
6. Spending a day at the parks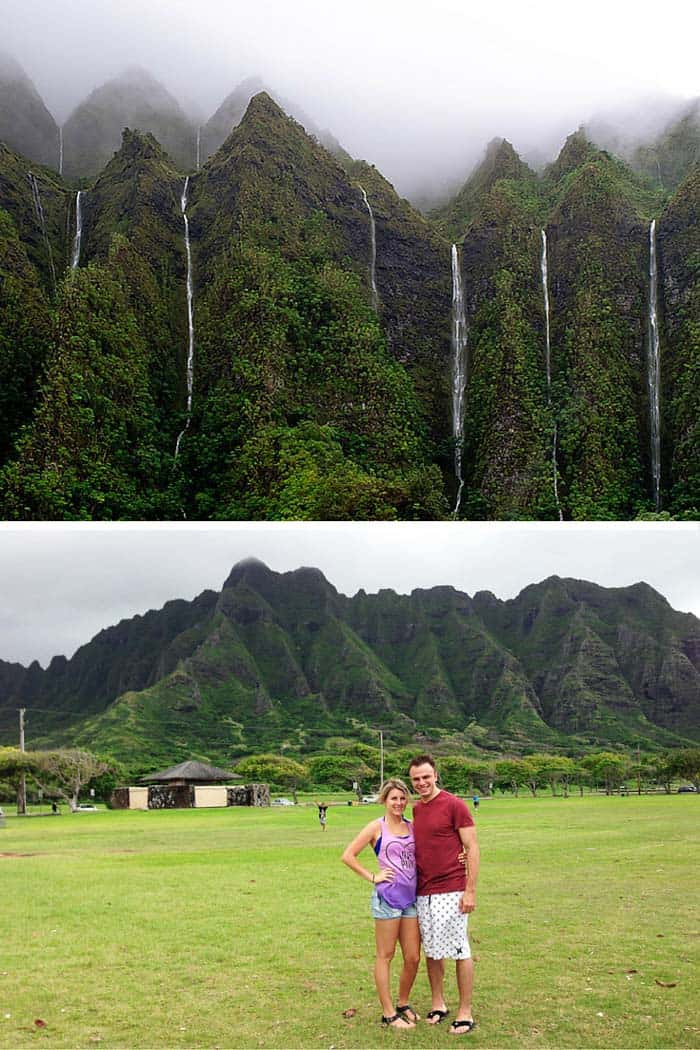 One of the most underrated Hawaiian attractions
Who knew there were so many parks in Oahu?! Actually, Oahu has over fifteen parks to visit. Each park has something to do for everyone in your family or travel group.
For those in your group that like to hike, try Diamond Head State Monument. Diamond Head (or "brow of the tuna" for its dorsal fin shape) is the most sought-after state park in the Waikiki area.
If you want to do more hiking on the Hawaiian islands check out 6 Easily Accessible Maui Waterfalls.
7. Check out the Blue Lagoon
The Blue Lagoon or "Duke Kahanamoku Lagoon" (named after Hawaii's Ambassador of Aloha, surfer, and Olympic swimming champion, Duke Paoa Kahanamoku) is a five acre lagoon filled with fresh salt water daily. This filtered salt water oasis is the perfect spot to take the entire family. So take your kids, they will love paddling the calm water in one of the many duck boats for rent.
Looking for things to do in Honolulu or Kona, Hawaii take a look at 27 Of The Most Incredible Places To Visit In Hawaii.
8. Make Hawaii's favorite points of interest your own and eat your way through Waikiki
Waikiki has a restaurant for every price point. Whether you want to save money at a hole-in-the-wall eatery or a five star restaurant where you can experience the best of fine dining – it's all here.
Try Ice Monster for a dish of their incredible shaved iced at such a reasonable price even locals eat there. Go to Roy's Restaurant for lavish island cuisine. Or if you're looking for a fun take on date-night try Duke's barefoot bar, while you plunge your feet into the sand – you can sip on a tiki-themed cocktail.
9. If you're looking for fun things to do in Hawaii then check out live music and dancing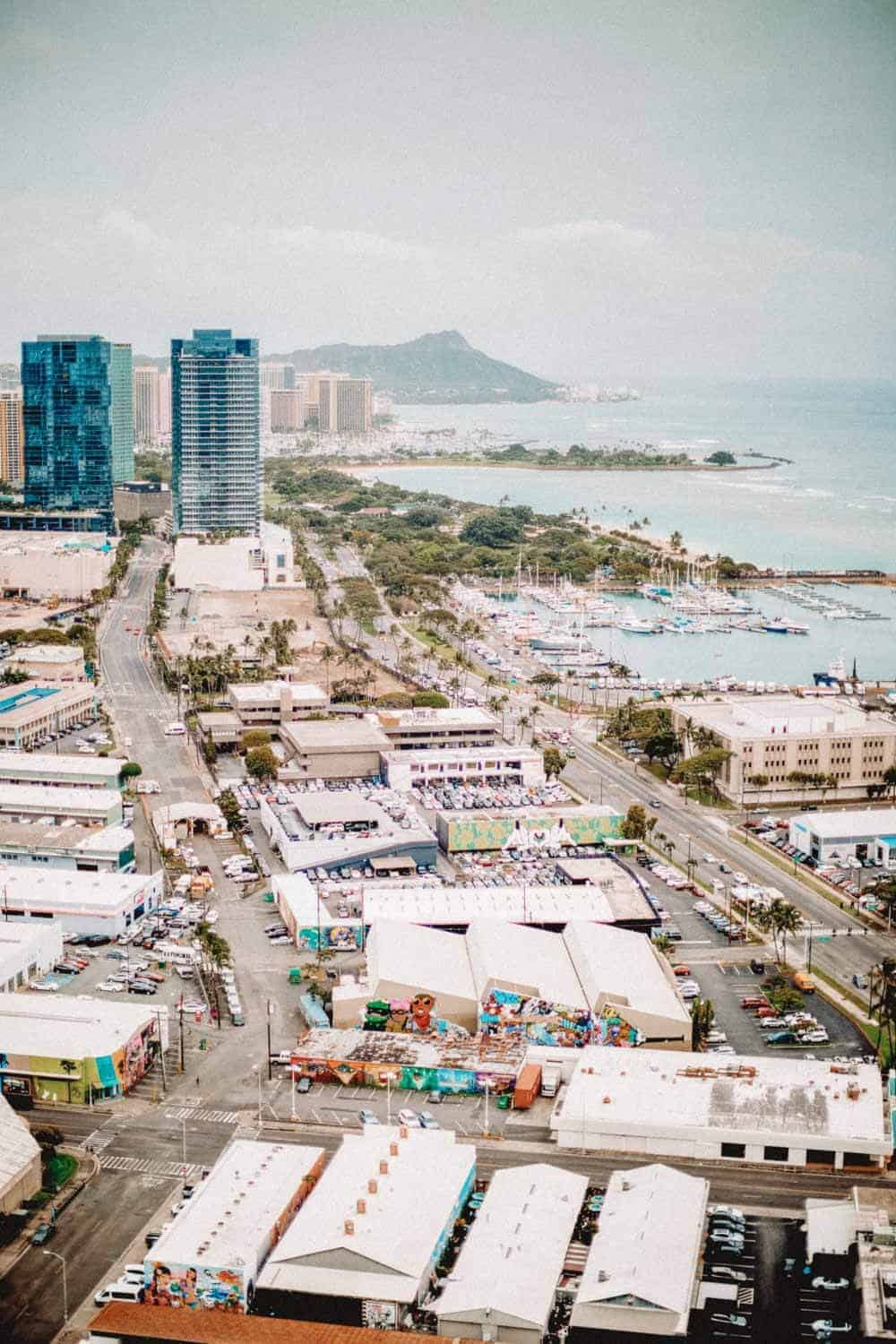 If you're looking for live music to dance to in the Waikiki area, you're in luck. The area has some great live nightly concert options at almost every hotel. You can also try the local grills or bars for great music, and dancing.
If you're in the mood for live Jazz you can not get much better than the Blue Note. Originating in New York, this new Hawaiian location features some of the biggest names in music.
11. Go shopping in Waikiki
There are no shortages of shopping locations in Hawaii. You can quaint local stores at the Kahala Mall. However if you would rather designer fashion then head to Luxury Row – Chanel is calling you. But if that call is not for you go over to the International Market Place.
This market place is a big funkier, with a mix of jewelry, clothing, and even entertainment – all centered around a century year old Banyan Tree. With all these options, you can literally shop until you drop.
12. Hawaiian tours are a great way to get in some exercise
If you're the type that loves to incorporate a workout on vacation then you have to go canoeing. Not any canoeing but outrigger canoeing.
Take an outrigger canoe tour of the beaches and have the best of both worlds. You can go on a multi-person outrigger or single person and follow an instructor. However, just because you'll have an instructor doesn't mean this is for the lazy – it's a test of strength and an adventure!
13. What could be better to do in Hawaii than watch the sunset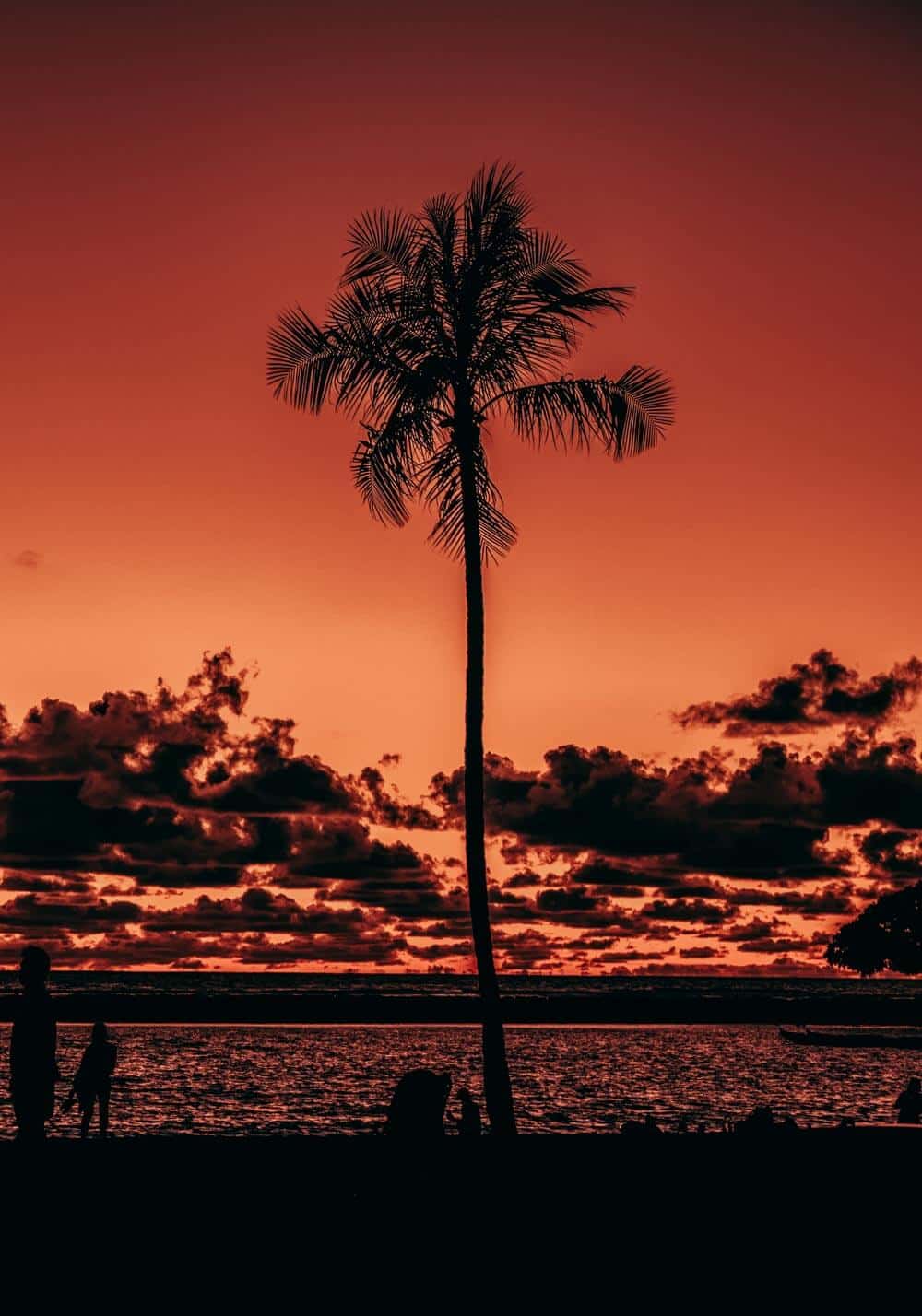 It's honestly hard to find a bad place in Hawaii to watch the sunset. Of course you could take in the sunset on the patio of your hotel. Or, maybe take watch the sunset while you're having a romantic restaurant dinner. But why not sink your feet into the sands of Waikiki, with your favorite tropical drink in one hand and your favorite person in the other hand.
If you want more Hawaiian adventures then South Point Hawaii Cliffs (Ka Lae): Cliff Jumping Hawaii Big Island Style will interest you.
What to pack for Oahu
Quick Dry Travel Towel – This quick dry towel is amazing to travel with. We honestly usually travel with 2 of them. It really will come in handy when you need extra room in your suitcase.
Snorkeling gear – for obvious reasons.
Sandals – LOVE these Tevas sandals. You can actually hike in them which is perfect for hawaii if you don't want to bother with hiking boots.
Hiking Boots – The hikes in Hawaii are MUDDY. Make sure to pack a nice pair of waterproof hiking boots so trekking through the mud and puddles doesn't make you miserable. Nothing worse than wet socks. These are my favorite hiking boots. They are cute and comfortable. I never go hiking without them! Buy them from DSW here.
Tank tops – Free people is my go to place to buy cute and affordable tank tops (Depending on the style of course). I have this tighten up tank in almost every color.
Shorts – Anyone who is traveling to Hawaii needs a good pair of shorts. Khakis are great for guys. For women, cute athletic shorts or denim shorts are perfect for a breezy summertime look.
Dresses for Hawaii – Packing a few good dresses is essential for Hawaii. Dresses have become my go to on trips to help quickly put an outfit together.
Tennis Shoes – I guess you could wear sandals hiking this trail but I would recommend tennis shoes. It can get narrow and slippery in parts. I never go anywhere without my white Air force ones. They are the most versatile shoe I own.
Beach cover-up – Having at least one good cover-up is essential on any beach trip. Amazon actually has amazing ones at really affordable prices. If you aren't a fan of buying clothes off Amazon I recommend ASOS, Nordstrom and Revolve as well.
Camera Gear – The iPhone 13 Pro is amazing and probably all that most people need. BUT, if you want something more I can't recommend the Sony A7IV mirrorless camera enough. It is AMAZING. If you are more into video than taking photos I recommend the Sony A7SIII or the Canon R5 for you Canon lovers.
Travel tripod – This Peak Design travel tripod is the best I have ever used. It is so easy to carry around because it is literally the size of a water bottle. Fits perfectly in a backpack. I have never seen a tripod so compact. It's life changing. You can check it out here if you're interested. Note – It isn't cheap, but that's why I bought it from backcountry.com. They frequently have 15% off sales so I was luckily able to purchase during a sale.
Planning a trip to Oahu? Read more of our Oahu blog posts below!
My husband and I have been to Oahu many times and have written up more blog posts to help you plan your trip. These are my most popular blog posts and Hawaii travel guides to help you plan your trip.
Best Things to do in Oahu
Oahu Beaches
Best Cliff Jumping in Oahu
Best Snorkeling in Oahu
More Hawaii Blog posts: