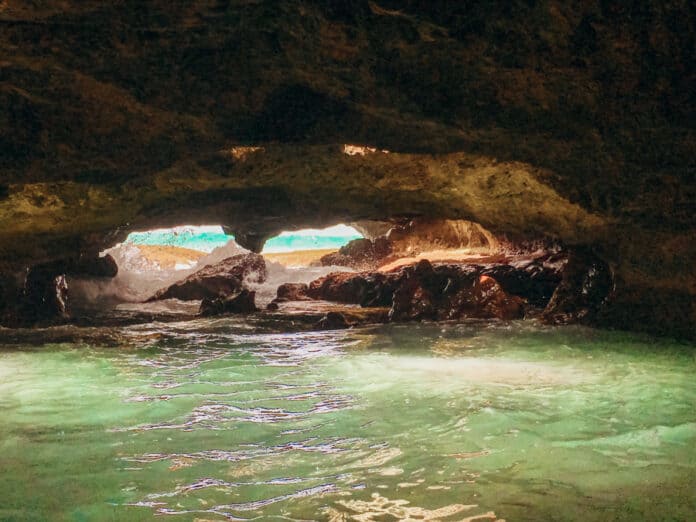 Visiting the Mermaid Caves Oahu
One of the best secrets of Oahu is the Mermaid Cave of Nanakuli Beach Park.
Hardly anyone knows of this secret beach (AKA Mermaid Beach) Oahu offers because you can pass directly over it without even realizing it's there. Let me explain.
There are tons of stretches of lava rock hugging the coast of Oahu. What is way less common than the ubiquity of lava rock meeting the ocean is a stretch of rock that is actually quite thin, with the underside sometimes opening up to a secret beach beneath.
If the tides aren't right when walking across the lava rock you will see holes full of water. If the tides are low, you will see a number of open holes. If you drop into one of these holes you will discover a stretch of sand with waves gently lapping up their shores.
What makes these secret shores even more alluring is the way the sun rays come through the holes. They light up the water in a truly magical way, which is why they've earned the nickname of the Mermaid Caves.
Update 2023 – There is now a private tour available of the Mermaid Caves. It also covers west Oahu and the Ka'ena Point Hike! It is a private tour so it is a little pricey, but if it's in your budget, I highly recommend booking it. You can get more info here.
Mermaid Caves Oahu Location
The island of Oahu welcomes thousands and thousands of visitors each year. The most popular places for visitors are probably Waikiki or the North Shore.
The west west side of the island is generally less developed than the rest of the island. This might be because the west side is the leeward side (i.e. generally receiving less rain and therefore less lush). The windward side (more rain and therefore more green) houses more of the tourist attractions.
So many visitors end up skipping the opportunity to explore the west side of the island. If they do, they will miss the Mermaid Caves.
If you know where to look, the Mermaid Caves aren't hard to find.
If you go to Nanakuli Beach Park on the west side of the island you can easily access the Mermaid caves.
Generally the west side isn't as developed as the rest of the island, but who knows how long that will last. The perfect west side sunsets as well as recent developments are starting to spread the word.
To further orient yourself, the secret Oahu caves are relatively close to the new Disney Aulani Resort as well as Kahe Point Beach Park (aka the Electric Beach and one of the best snorkeling spots on Oahu).
Get there via Kalanianaole Beach Park or Nanakuli Beach Park
There are a couple different parks and beaches directly next to each other, each with their own names and some with different parking lots.
The most prominent signage from the main road is Kalanianaole Beach Park, though directly next door and basically sharing the same parking lot is Nanakuli Beach Park.
You will also see signs and landmarks on google named Zablan Beach.
If you see or park at any of these areas you are in the right spot.
What you won't see is any signage for the Mermaid Caves, whether you are looking on the main road or actually at the beach. You have to know where to look.
There are restrooms and picnic tables in the area as well.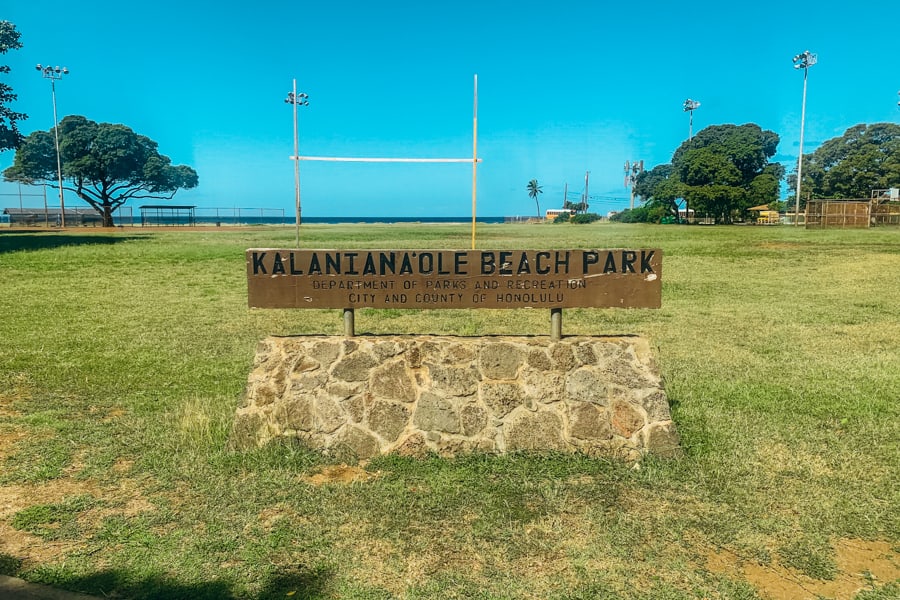 Parking at Nanakuli Beach Park
One great thing about Nanakuli Beach Park is that it is free, and there are generally plenty of available spots.
I was just there on a Saturday in March where the island as a whole was packed. Somehow, even though the island was packed there was plenty of free parking at Nanakuli Beach Park.
You will also see the area labeled as Zablan Beach, which is even closer to where you access the Mermaid Caves from. There is a little bit less parking in this lot, but you can still find more available spots than most other beaches.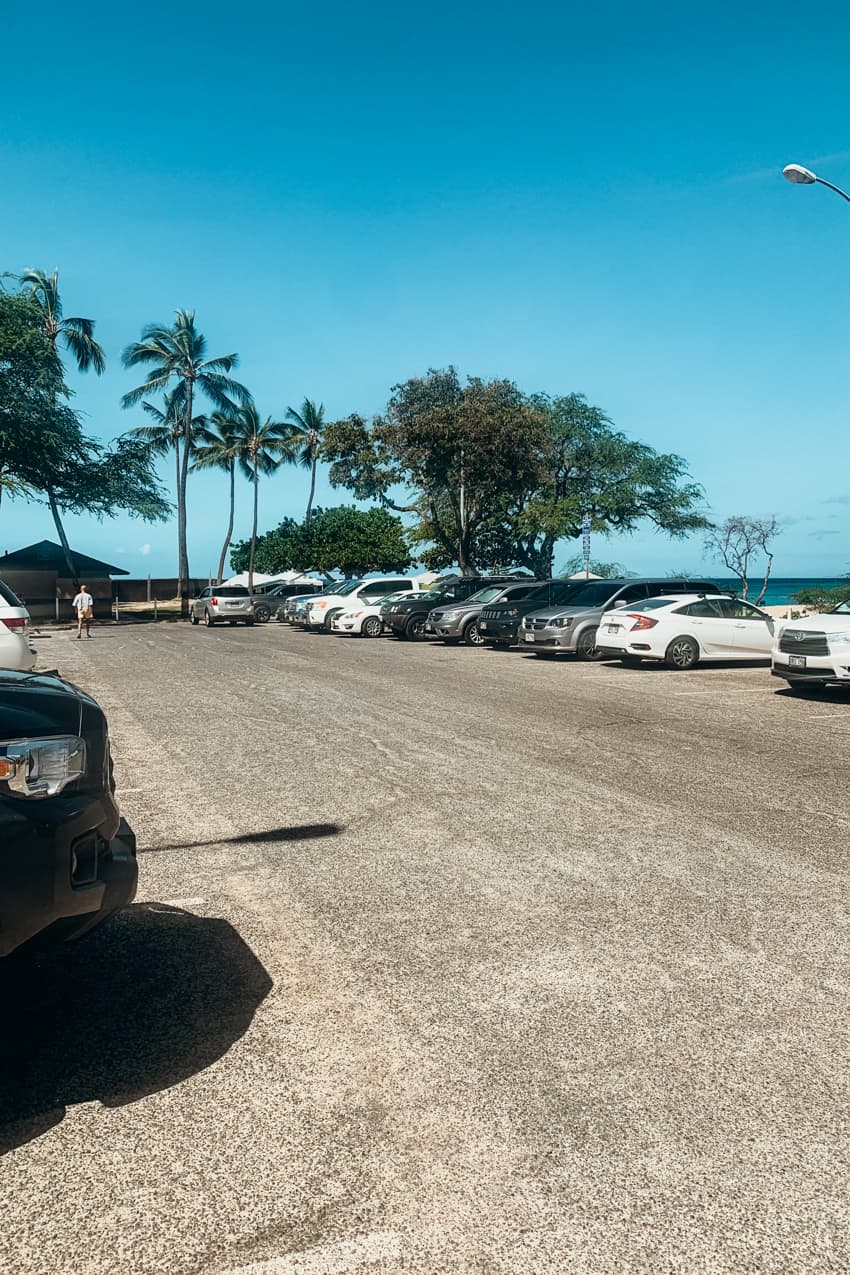 How to Get to the Mermaid Cave Oahu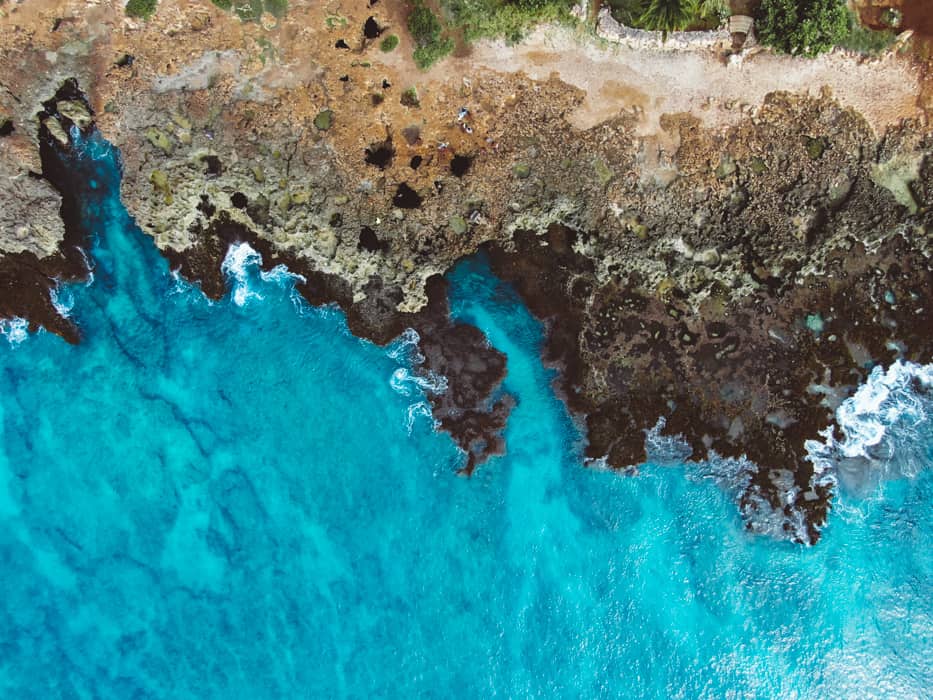 How to actually find the Mermaid Cave once there
Once at the beach park, you only need to walk south (or left if you are facing the water) for a couple of minutes to find the Mermaid Cave Oahu offers.
You currently will pass an area that is barricaded off for construction, but you won't have to pass through any barricades yourself as it is still open along the ocean.
Make sure you keep your shoes on though as the lava rock is quite sharp.
The entire walk from the Zablan Beach parking lot is only about 100 yards. Keep your eyes open as you can miss the holes that open up to the secret beach if you aren't careful.
When I was there someone put a ladder to climb down into the Oahu caves so you could access the secret shores below (see photos below). This ladder won't always be there though. Getting down and out can be extremely difficult without.
At times you will not be able to see the ladder from above. You will instead have to look inside each of the holes until you see a ladder underneath the rocks.
If the ladder isn't there, many people will swim or snorkel in from the water. I'm not the strongest swimmer and get nervous with the crashing waves, so I opted to climb in and out via the ladder.
If you do decide to swim or snorkel in, make sure you do it at a time when the waters are calm!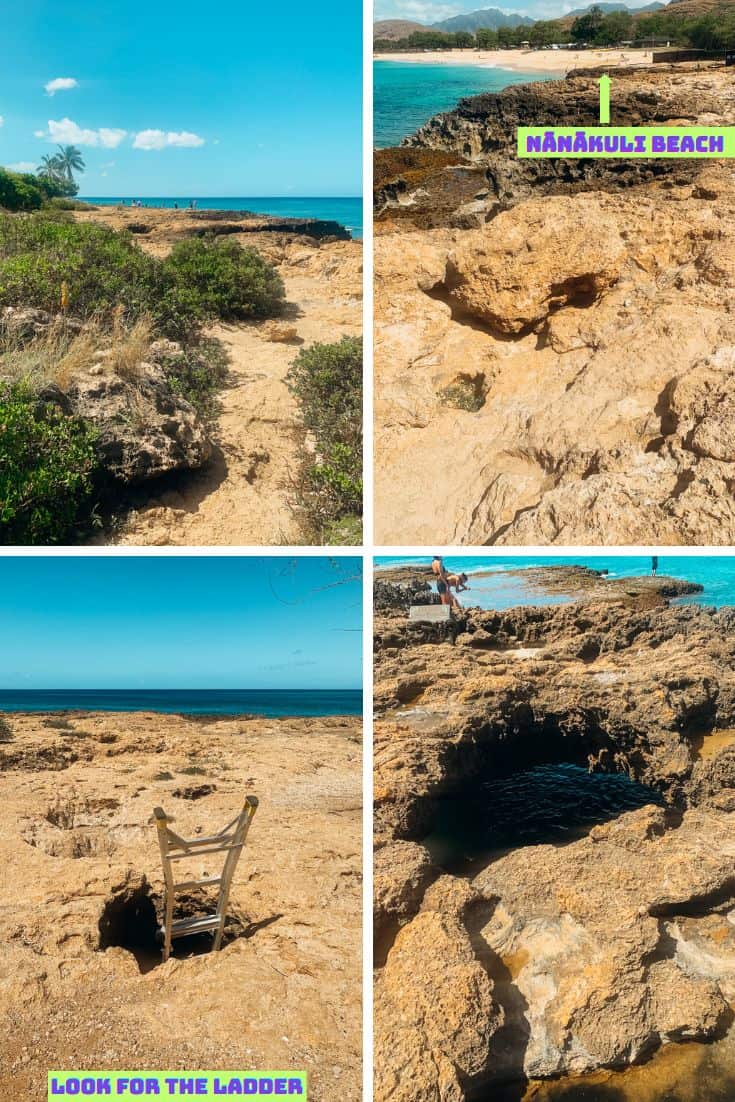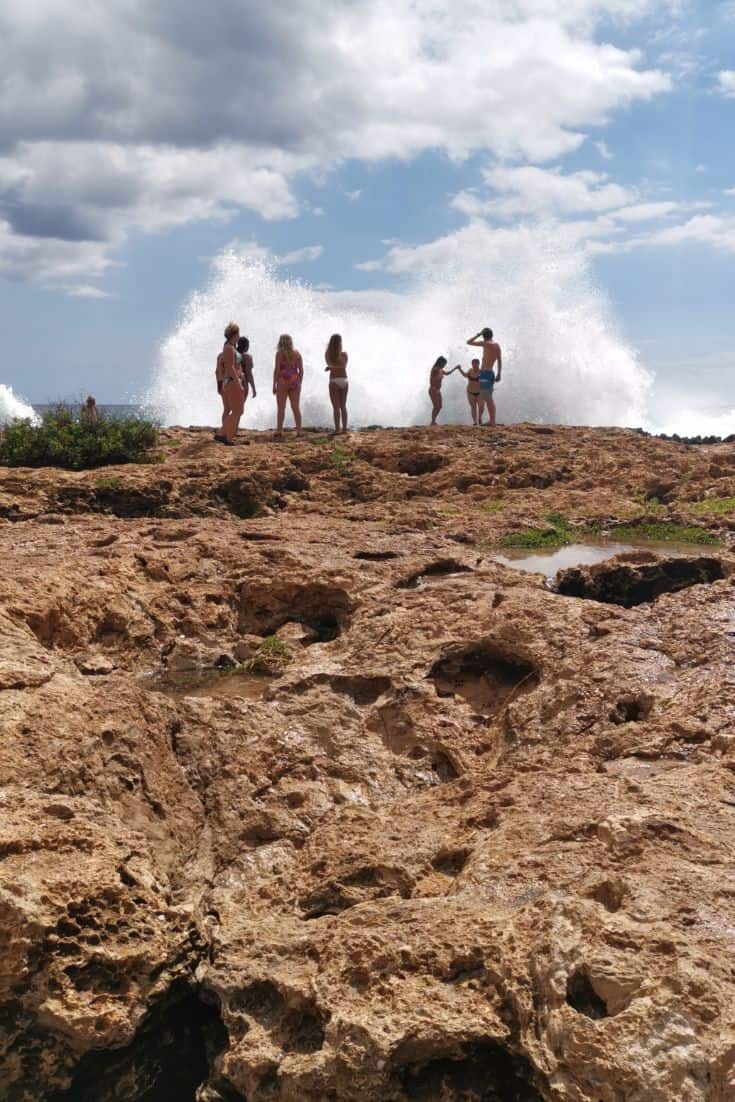 What to Expect inside the Mermaid Cave
Once you are in the caves you will be amazed at the way the light streams in and lights up the water with parts of the cave still remaining shaded.
It truly does feel like a place that a mermaid would hide out.
The entire area beneath the lava rock isn't that big. It is about 100 feet across with various open holes allowing for people to crawl down. You can stand up underneath, so long as you aren't over 7 feet tall.

There was one couple sitting on a patch of dry sand having a picnic, but there aren't a lot of spaces that stay dry, even during low tide.

Mermaid Caves Oahu Death

You may hear about MRGs Mermaid Caves being dangerous. My opinion is that they can be, so approach with caution. If the waves are too strong, don't go down!

The waves come and go, but in general if you go down there you should expect to get wet, even when the waves are mild. You could swim in the water, but it isn't super deep.

It's more wading into the water that will be up to your waist, just watch out for strong waves. You don't want to get smashed into the rocks.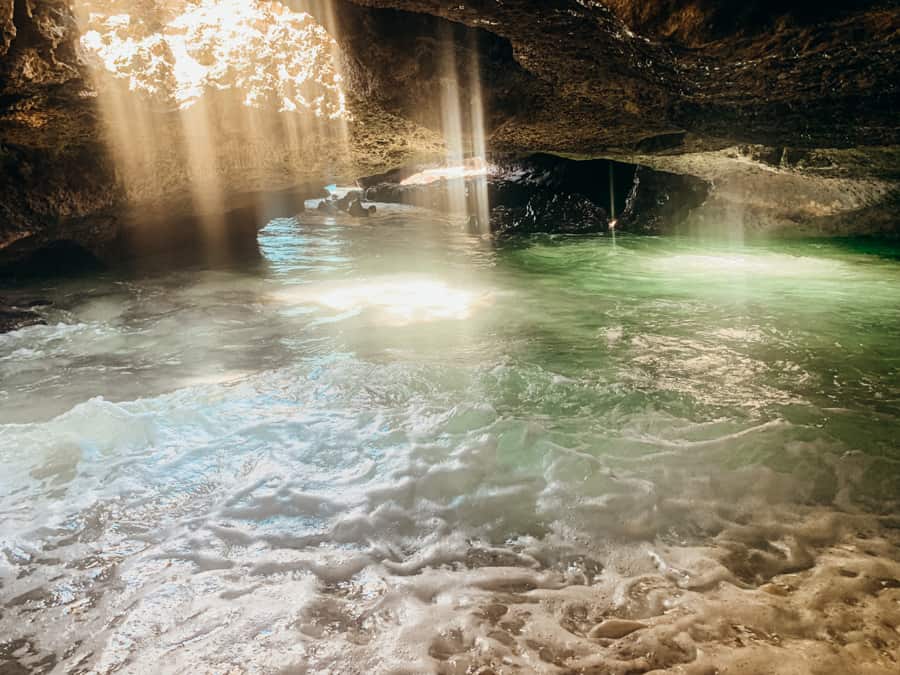 Mermaid Caves Low Tide – How to know when to go
Low tide & High tide reports
To be able to catch the secret beach you want to visit at a low tide. You can check the Oahu tide reports here.
IMPORTANT: If you go at high tide, you won't see anything when you look into the holes that lead down to the secret beach as they will be full of water.
When I visited, I needed to arrive at the beach by 11 am to be able to catch it at a low tide. It didn't take long before the tide rose and the secret beach temporarily disappeared.
Update – There is now a private tour available of the Mermaid Caves. It also covers west Oahu and the Ka'ena Point Hike! It is a private tour so it is a little pricey, but if it's in your budget, I highly recommend booking it. You can get more info here.
Hawaiian Mermaid Legends
you will likely hear some Hawaiian mermaid legends. While obviously fiction, being in these caves made my imagination run wild!
What else to do near the Mermaid Caves
The west side of the island isn't as developed, but my favorite next door attraction is Electric Beach.
Planning a trip to Oahu? Read more of our Oahu blog posts below!
My husband and I have been to Oahu many times and have written up more blog posts to help you plan your trip. These are my most popular blog posts and Hawaii travel guides to help you plan your trip.
Best Things to do in Oahu
Oahu Beaches
Best Cliff Jumping in Oahu
Best Snorkeling in Oahu
More Hawaii Blog posts: