The Koko Head Trail is my favorite hike on Oahu! That being said, you need to understand that the Koko Head hike is fundamentally different from most of the others on Oahu. Most of this hike isn't a traditional "trail." The more traditional Oahu hikes involve trekking through a lush rainforest and discovering a waterfall. This is not what you will find on the Koko Crater hike.
What makes the Koko Head hike so unique is that the majority of it is made up of abandoned railroad tracks going straight up the side of a mountain. The Koko Crater hike leads you straight up these tracks to a truly special viewpoint. These tracks were previously constructed to take supplies up to a World War II bunker.
Koko Head Hike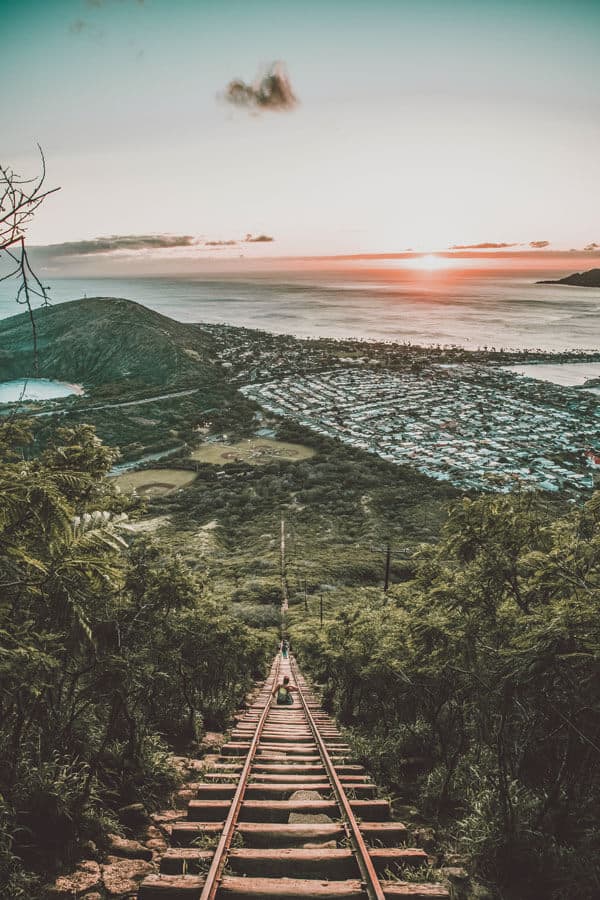 Koko Head Stairs Workout
There is a reason the Koko Crater stairs are affectionately called the "Stairmaster Special." As you hike directly up the railroad tracks you will definitely be getting a great workout. It literally felt like a competitive training session. What added to this feeling is that I could tell many of the others on this trail were serious athletes.
While ascending and descending the Koko Head stairs I saw some of the most gorgeous physiques on various men and women. While this made me feel a little self-conscious, I felt empowered being able to complete the same trail as them. The feeling of empowerment didn't last when I woke up incredibly sore the next morning though!
Koko Head Trail Length
The Koko Head Trail length is only 1.6 miles up and down. While that may not seem to be that far, you have to remember that the majority of it is basically up a set of really steep stairs. The average person can usually complete it in about an hour, though there are a number of people that abandon the cause and never make it to the top.
You will also see super athletes jogging up and down the entire trail. I was shocked to see an approximately 60 year old woman jog past me to the top, turn around and jog down, and then again at the bottom turn around and begin again. It was impressive!
The entire 1.6 miles isn't actually the stairs. The Koko Head stairs themselves are just about .6 miles up, or 1.2 miles up and back. The path to and from the parking lot adds the other .4 miles. I know this because I carefully observed and counted down on my watch to completion.
View from the Top of the Koko Crater Hike
What makes the view from the top of the Koko Head Trail so special is that you get an absolutely breathtaking view regardless of which direction you look. You can gaze out to the Pacific Ocean, at downtown Honolulu, or even Hanauma Bay. The summit of the trail opens up so even though there will likely be others gathering at the top, you will still be able to find some space to have to yourself.
Koko Head Trail Location
The Koko Crater Railway Trailhead takes off from the Koko Head District Park. The park is located on the eastern side of the island of Oahu. It is about a 30 minute drive from Waikiki (could be less with no traffic). It is located almost directly next to Hanauma Bay. Some people even park here and walk over to Hanauma Bay even though there are signs telling you not to.
There seems to be ample parking for the trail, though you may have to park in another tier of lot further down the hill. If needed, there are restrooms at the bottom as well.
Koko Crater Arch
Some people get confused when they hear the Koko Crater Arch mentioned. That is not another term for this hike or the summit up top, but instead another nearby attraction. The Koko Crater Arch hike is just over a mile long and takes you to a lava rock arch. To access the trailhead you can park at the Halona Blowhole.
Koko Crater Hike Popularity
Given its proximity to Waikiki and other top Oahu spots like Hanauma Bay, this hike is quite popular. You are very likely to not have the trail to yourself. The good news is that even though you are likely to encounter a bunch of other people, when I went in the afternoon there was still ample parking at the Koko Crater Railway Trailhead.
Preparing for Koko Crater Stairs
Ready to experience the grueling Koko Head hike? There are a couple more things that you will want to prepare for ahead of time. First off, there is hardly any shade from the bottom to the top. You will want to wear sunscreen because the sun will beat down on you!
Koko Crater Railway Trail Warning
Second, there is a stretch of the railroad trail where the tracks are open and you could conceivably fall through. If you did, the fall wouldn't only be about 10 or 15 feet. It is pretty easy to stay on the tracks, but if you are squeamish there is a path to the side where you can avoid the railroad aerial bridge. This portion is only about 50 feet long. The only time I would probably want to take the brief side path is if it was actively raining.
I LOVED this hike and would eagerly jump at the opportunity to do it again. I love that it's different yet still had the payoff of amazing views. What do you think? Are you up for the challenge?
Planning a trip to Oahu? Read more of our Oahu blog posts below!
My husband and I have been to Oahu many times and have written up more blog posts to help you plan your trip. These are my most popular blog posts and Hawaii travel guides to help you plan your trip.
Best Things to do in Oahu
Oahu Beaches
Best Cliff Jumping in Oahu
Best Snorkeling in Oahu
More Hawaii Blog posts: