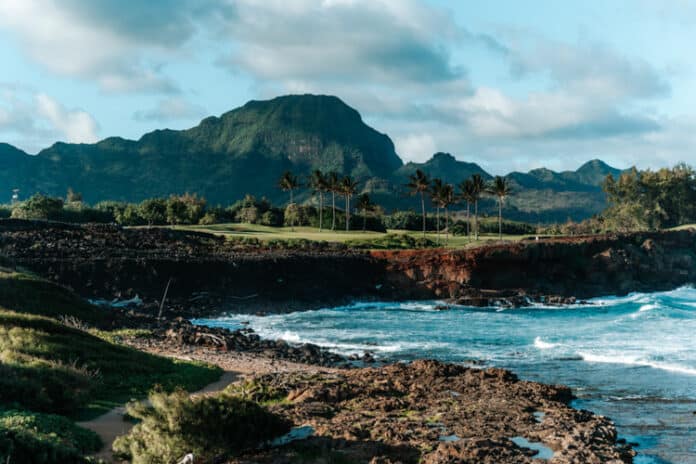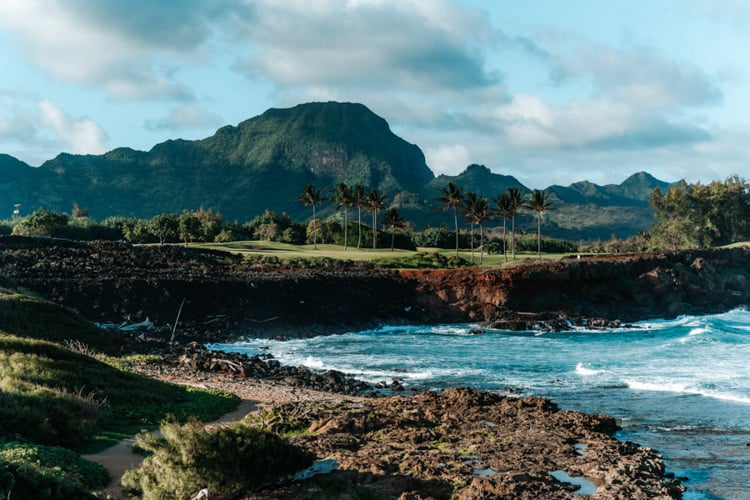 Hike the Maha'ulepu Heritage Trail for non-stop views of the aqua blue ocean and beachside cliffs!
The Mahaulepu Trail is a perfect hike for those that don't like to hike, or those that love to hike. Confused? Let me explain.
The Mahaulepu hike leaves directly from an amazing beach (Shipwreck Beach) and provides excitement almost immediately. This means that if you are only looking to go on a quick walk and then turn around you can thoroughly enjoy this hike. If you are looking to challenge yourself and go further, this hike will only continue to deliver.
The Mahaulepu Heritage Trail follows the coastline and displays rocky outcroppings, tide pools, sea life, and fabulous cove beaches.
Maha'ulepu Heritage Trail Quick Facts
Distance – 4 miles out and back
Duration – About 2 hours to complete depending on how many photos you stop to take.
Difficulty – Easy, I did it in flip flops although hiking boots or tennis shoes are probably recommended.
Elevation gain – only a couple hills up and down
Cost/Reservations: Free and not required
Known For – Leaving from Shipwreck Beach Shadeless, gorgeous coastline, tide pools, and hidden cove beaches
Foot Traffic – Fairly popular due to Poipu area proximity (even dogs on a leash allowed). However, when we did the hike (late afternoon) we hardly passed anyone else on the trail.
What to Bring – Hat (not a lot of shade), sunscreen (I never travel without this reef safe, natural sunscreen!), water, camera
Kid friendly: Ehhhh, I would say no for young kids that walk. There are about a million cliff side drop-offs that they could easily fall off of. If a baby is strapped to you I think it's fine. Older kids are fine but just watch carefully because of the cliff drop offs.
Location
The Mahaelupu Heritage Trail is located on the south east coast of Kauai. It is just east of the famous Poipu resort area.
This hike starts at Shipwreck beach and ends on Punahoa Point.
It takes about 25 minutes to drive here from the airport. The Mahaelupu trail begins at Shipwreck Beach. Shipwreck Beach is an awesome beach that offers great waves, a wide bar of sand, and even cliff jumping – read more about it here.
Maha'ulepu Heritage Trail Parking
Park at Shipwrecks beach parking. It is free but it's not huge so it will fill up. There is additional street parking nearby. There are showers and bathrooms right next to the parking lot.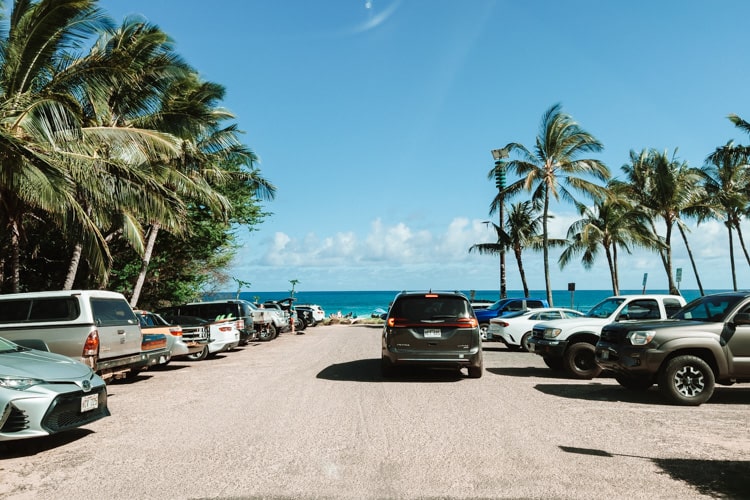 Maha'ulepu Heritage Trail Parking lot at Shipwrecks beach.
How to find the Trailhead (Can be a little tricky)
The Mahaulepu trail leaves directly from Shipwreck Beach. There is no trailhead sign that I was able to find at Shipwrecks beach. We found what looked like the start of a trail that was located directly to the left of the parking lot (if you are facing the beach) and it happened to be the right trail.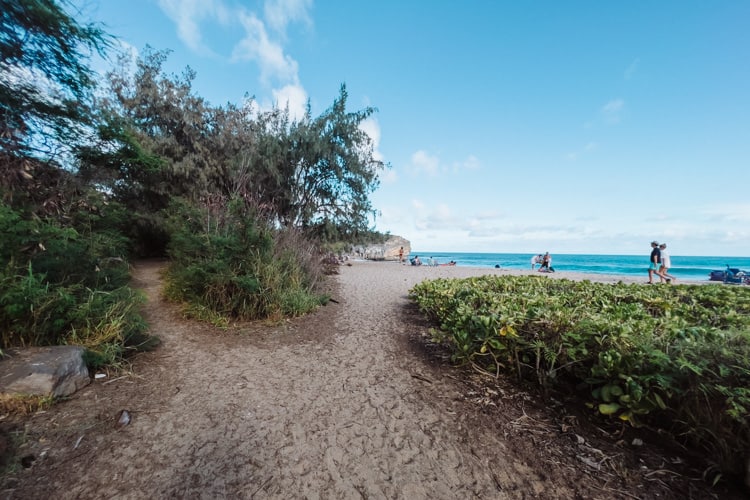 Mahaulepu Heritage Trailhead at Shipwrecks beach. (Located to the left of the parking lot if you are looking towards the beach.)
What To Expect on the Maha'ulepu Heritage Trail
This 4 mile out and back trail follows the southern coast of Kauai. You will have a new and exciting view almost every step of the way.
You will waves crashing against rocky coasts, tide pools, and mini cove beaches.
If you make it all the way to the end you will pass a resort golf course and have a chance to explore a cave. (more on that later in the post)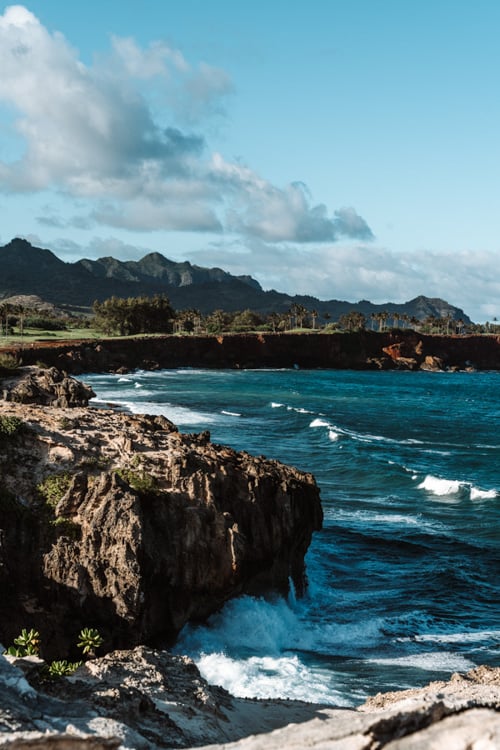 Instant Payoff
You don't need to go far down the trail before the amazing views begin. This means that if you only want to go on a quick stroll the Mahaulepu trail will still reward you.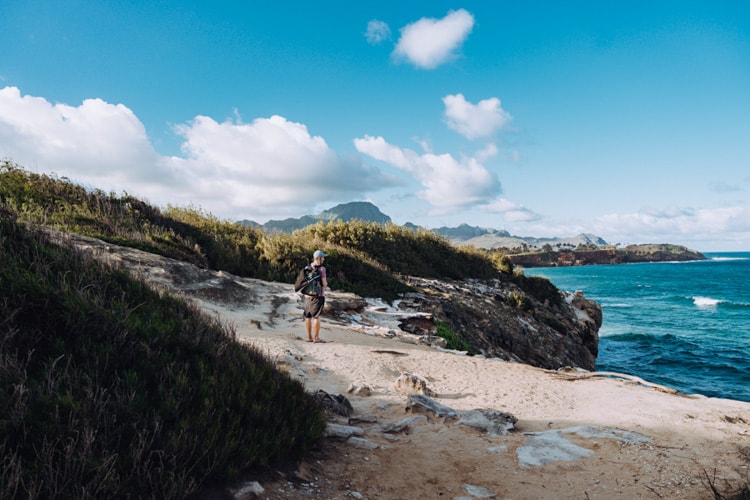 Tide Pools and Mini Cove Beaches
I never get tired of watching the waves crash against the rocky coast of lava rock. The waves form tide pools and mini cove beaches that will make you want to fill an entire memory card worth of pictures.
Animal Life
Whale watching, sea turtles, and even seals can be spotted on this hike.
Easy Difficulty
I did it in flip-flops and was fine, though at times I would have preferred some sturdier sandals or shoes as you have to cross some jagged lava rock in a couple of places.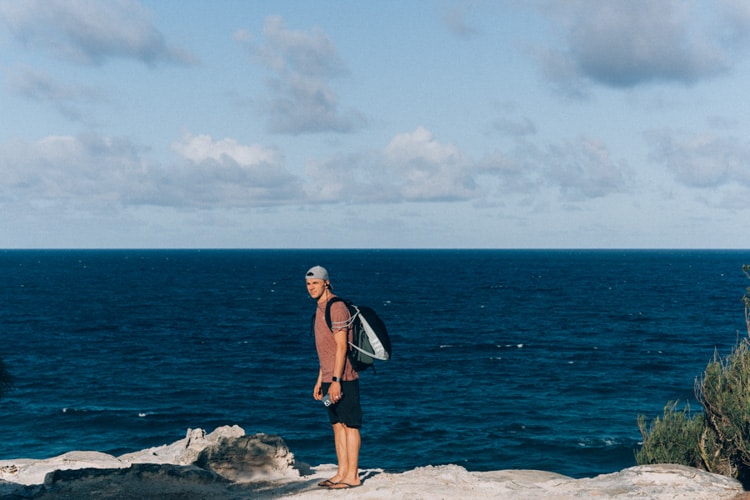 Decent Amount of People (depending on the time of day you go)
While I would love to have this hike to myself, that likely isn't going to happen. The trail was definitely not overrun but there was a decent stream of hikers enjoying it while we were there.
I recommend doing this hike in the late afternoon when it isn't quite so hot and there aren't as many hikers.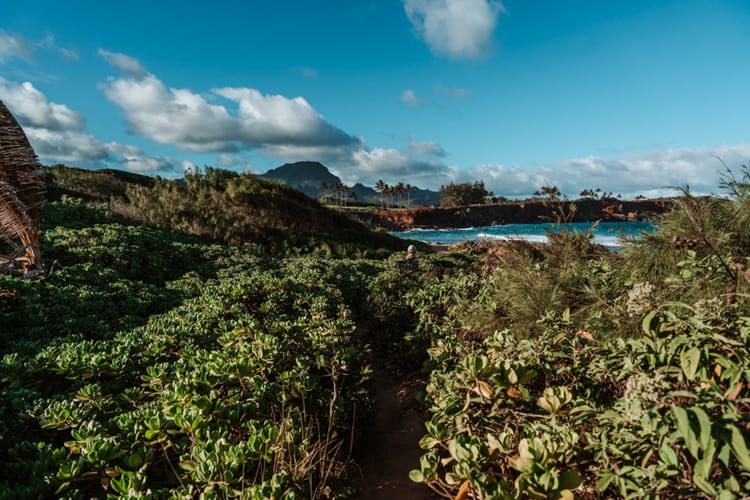 The hike ends at Punahoa Point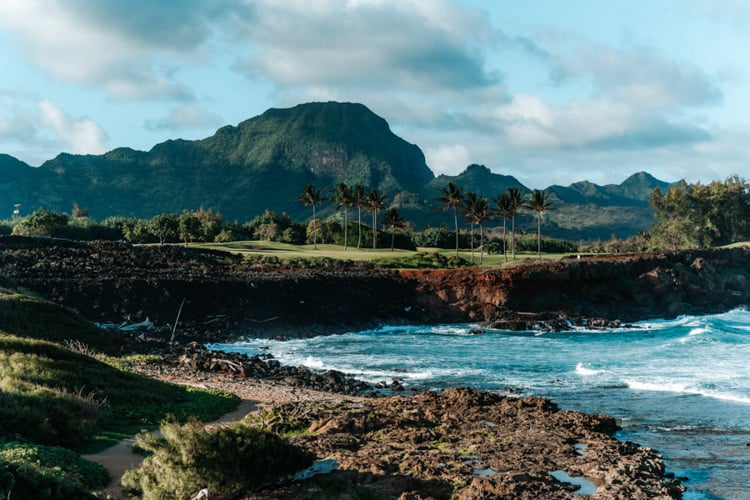 Easy Add Ons to the Mahaulepu Heritage Trail
If you decide to continue on once you reach Punahoa Point here are some of the best things to do close by.
Visit the Makauwahi Cave Reserve
The Makauwahi Cave is the largest limestone cave found in Hawaii. It is located close to Punahoa Point at the very end of the Maha'ulepu Heritage Trail. See map below.
Tip – If you decide to continue on to the Makauwahi Cave Reserve make sure you have good hiking shoes (or just be warned that your shoes will get dirty). It is all mud trails from here.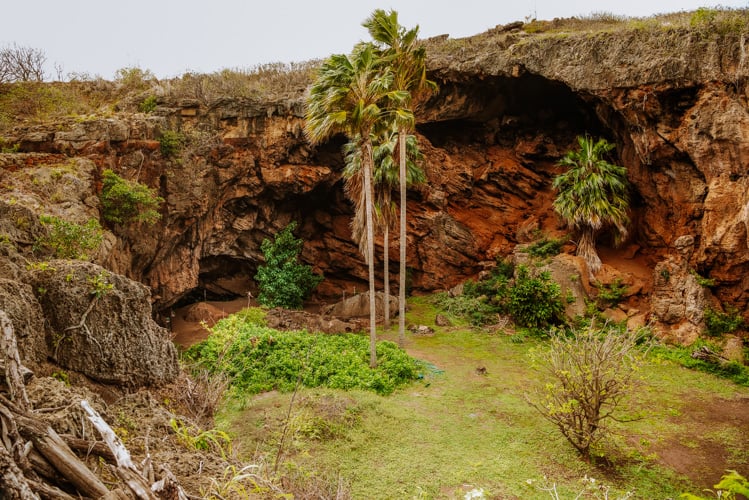 Map from Punahoa Point to Makauwahi Cave (walking)
Gillin's Beach (or Maha'ulepu Beach)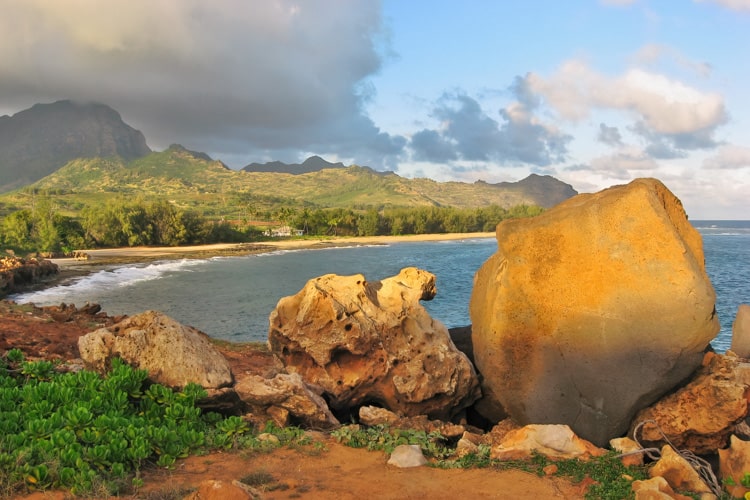 Hawaii Hike Gear Recommendations
Most of the Kauai hikes are a little bit more intense than this one. To prepare you for those you should check out
Conclusion
Given that you are likely to visit Shipwreck Beach already, make sure you don't miss the trail that begins along the east side of the beach! Even if you aren't in the mood for a full hike, you won't regret at least exploring the start of the trail. Be warned though, if you explore the start of the trail you will be tempted to complete the entire thing.