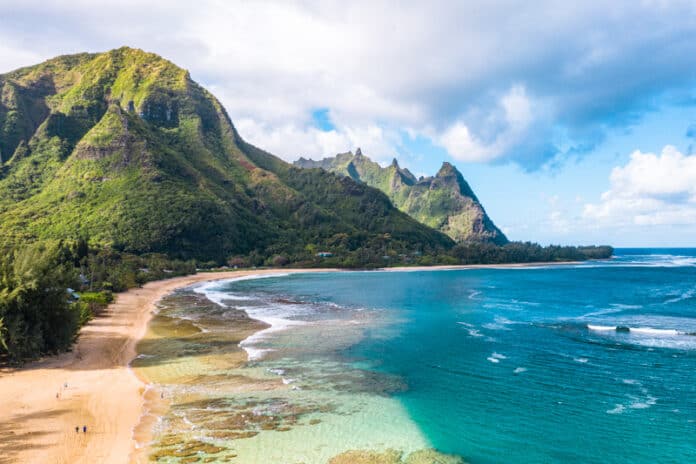 Tunnels Beach (Kauai) – Best snorkeling on the island!
We haven't visited all of the Kauai beaches, but we've covered a lot of them. We counted after our most recent trip to the Garden Isle of Hawaii and we've visited over 35. After analyzing all of the amazing options, Tunnels Beach Kauai is our favorite!
When you take everything into account, it even surpasses the neighboring and more popular Ke'e Beach.
This moon shaped bay is perfectly framed by lush green mountains. The verdant backdrop is a striking backdrop to the golden sand and clear blue water.
The look isn't the only thing appealing about this beach. Dried lava tubes/tunnels (i.e. the beach's name) helped create reefs that provide some of the best snorkeling in Kauai.
Tunnels Beach Quick Facts
Other Names: Makua (Tunnels) Beach Kauai
Known For: amazing reef for snorkeling, animal life, striking mountain backdrop, swimming
Hours: Open 24/7
Cost: Free
Parking: Difficult, small lots along the side of the road and limited street parking available.
Reservations/Permit Required: NO, though locals have proposed making this the case
Facilities: none, but walkable to Haena Beach Park facilities
Lifeguards: None
Tours: You can book snorkeling tours in Princeville here.
Where is Tunnels Beach?
Tunnels Beach is located on the northern shore of Kauai. You get there by following the coast all the way up and around the island.
When you get to Tunnels Beach, you are almost at the end of the road.
Given the rugged nature of parts of Kauai, there isn't a full road that circles the island. This explains why the road ends just beyond the beach.
By going a little bit further on the road you arrive at the famous Kalalau Trail that leads to the Napali Coast.
How to Get to Tunnels Beach in Kauai
We rented a car (check prices for car rentals here) for about a $100 a day. I highly recommend renting a car in Kauai in order to get around the island. There is Uber but I'm sure it's incredibly expensive. Also, make sure you make a reservation in advance because they often run out of cars.
Without traffic the drive takes about 1 hour if you are coming from the main Kauai airport.
On this drive you will pass through the Princeville and Hanalei resort areas.
If you are staying in the Hanalei Bay area the drive to Tunnels Beach is only 15 minutes.
When you are figuring out how to get to Tunnels Beach in Kauai you can put Haena Beach Park or Tunnels Beach in your GPS (depending where you want to park).
Book your hotel in Princeville here.
Overview of drive times:
1 hour drive from the main Kauai Airport
15 minute drive from the Hanalei Bay area
1 hour 30 minute drive from the Poipu area
The Official Name: Makua Beach Kauai
It is worth noting that even though your GPS might show Tunnels Beach the official name is Makua Beach Kauai.
You can access information by using either name.
Is it worth the drive?
Yes! If you are looking for a gorgeous beach surrounded by mountains, if you are looking for a great snorkeling spot for your kids and family, if you love to go swimming in more shallow-ish water, then yes! It is totally worth it in my opinion.
We drove one hour two days in a row to get to Tunnels beach because it was one of our all-time favorite beaches. My other favorite beach in Kauai was the severely underrated Moloaa Beach. Read our full guide to visiting that beach here.
Tunnels Beach Parking
Parking for Tunnels Beach Kauai can be a little bit of a nightmare. There are only a few places to park down a few alleys that lead up to the beach and they fill up very quickly. (See photo below)
If you can't find parking here no worries. There is an alternative option just up the road at Haena Beach Park.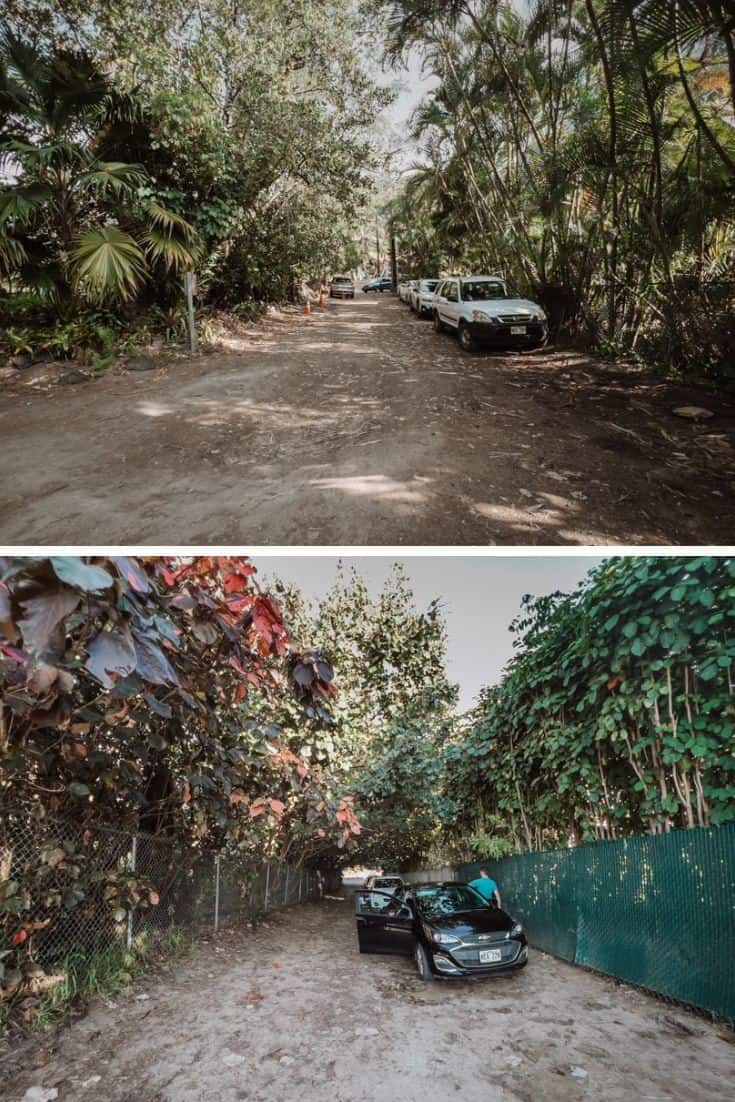 Park at Haena Beach Park Instead and walk over
Haena Beach Park is connected to Tunnels beach. The walk will only take you about 10 minutes.
When looking for parking at Tunnels Beach you will find that there is a generous sized lot at the Haena Beach Park located right next to Tunnels beach. (Look for a big cave and the parking lot is right across the street from that). Even though this lot is decently sized, it will still fill up.
There is also additional parking along the road in front of and beyond the actual beach parking lot.
There are also a couple of other Tunnels Beach parking options ahead of the actual Haena Beach Park lot, so keep your eyes open for a spot as you get close.
The crescent shape of the bay allows you easy access to the facilities even if you end up parking beyond the actual park lot.
While the parking is tricky, Tunnels Beach parking is actually easier than some of the other Kauai beaches. This is likely due to this beach being near the end of the road.
UPDATE: July 2022: Both times we were there we were able to find free parking on the side streets that are located all throughout Tunnels beach. We were there Saturday and Sunday afternoon and had no problem finding spots super close to the beach both times.
UPDATE: July 2023 – We could not find a parking spot right on Tunnels beach this go around. From what we saw the street parking at Tunnels started to clear out around 4-5 pm. We had to drive up to Haena Beach Park and drive past the main lot there and parallel park on the side of the road. It was MUCH more difficult to find parking this year as opposed to last year. That being said, the walk back along the shore to Tunnels Beach only took us about 10 minutes.
Tunnels Kauai: What to Expect Once There
Tunnels Kauai is famous for a lot of reasons. Below are just a few of the highlights.
Tunnels Beach Snorkeling is amazing and right by the shore
Put simply, Tunnels beach is one of the best snorkeling beaches in Kauai. In the summer. In the winter the water frequently gets too rough to snorkel.
I like to snorkel, but I'm not the strongest swimmer and often don't feel safe when I'm too far from shore.
Because the beach has a long shallow reef that then drops off further out you can get amazing snorkeling right on the shore.
Somehow the snorkeling at Tunnels beach alleviates my biggest concerns while still providing amazing reefs and sea life to explore.
While snorkeling at Tunnels is beginner friendly, if you still want a guide you can book snorkeling tours here.
Book your tour: Princeville Snorkeling Shore Excursion
What to Expect Snorkeling at Tunnels Beach
The reefs are immediately off shore and in some relatively shallow water. This makes them easy for a beginner to access and makes it so you don't have to worry about getting pulled out to sea or slammed into rocks.
The biggest concern is that you might drift on top of a reef and be tempted to stand up. Don't stand on the reef as you can seriously damage them and everyone has a duty to protect the best snorkeling beaches in Kauai.
Tip – I highly recommend wearing fins while snorkeling at Tunnels. It will be much harder to avoid stepping on the reef if you don't have fins or reef booties.
Water Entrance
Knowing where to enter the water can be confusing at Tunnels since the reef goes right up to the shore. There are two sand water entries where you will be able to safely enter the water without harming the reef.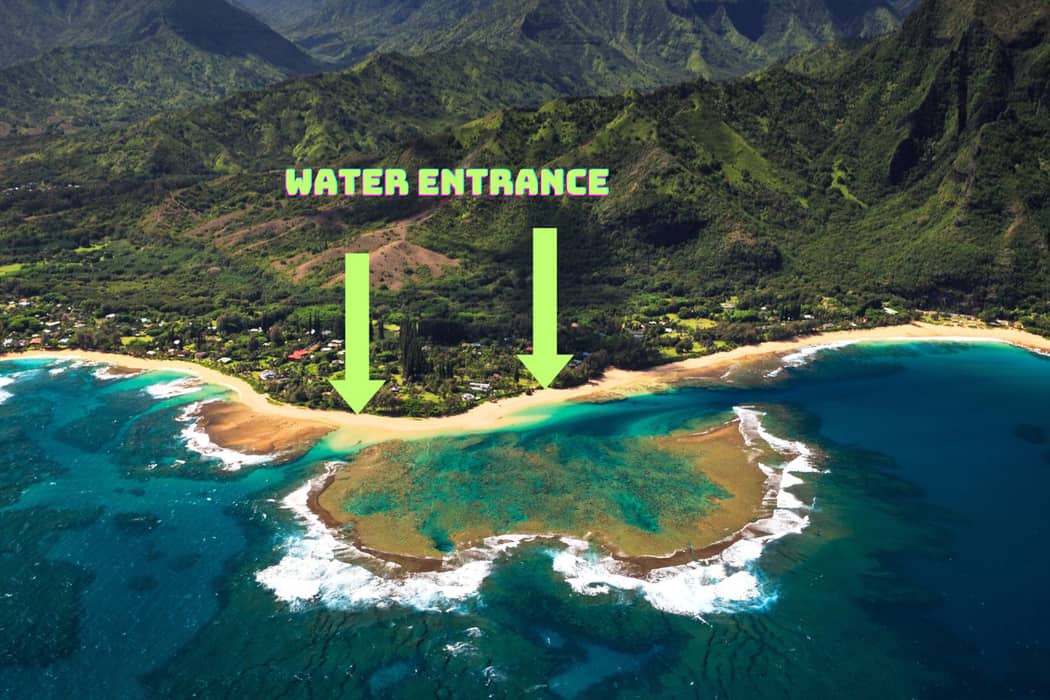 Snorkel with Sea Turtles at Tunnels
One of the best parts of snorkeling at Tunnels with swimming with sea turtles. They were completely unbothered by my existence and I was able to swim next to them while they just did their thing.
Note – please do not touch them.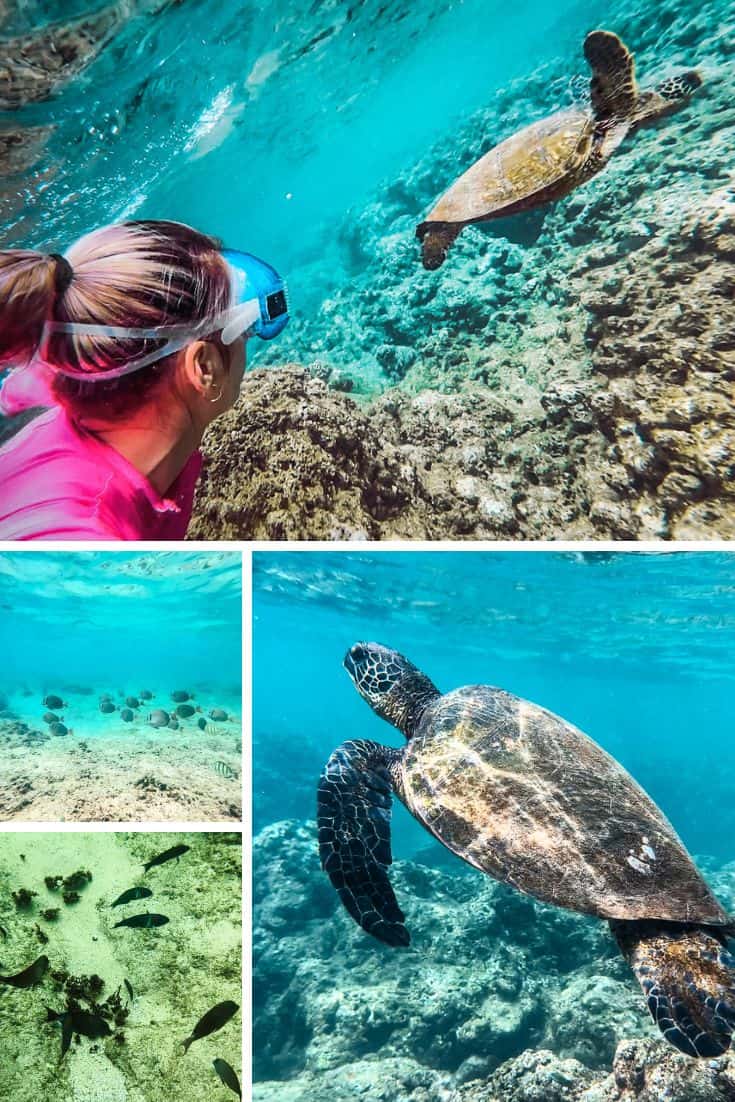 Other good snorkeling beaches in Kauai:
---
The mountain Views
Tunnels beach is right up against a mountain and it is so pretty. This was one of my favorite aspect Tunnels Kauai.
Monk Seals napping on the beach!
This was probably one of the coolest travel experiences I have had. I loved being able to see the endangered Monk Seal just chilling on the shore. You can even see them snorkeling if you get lucky!
One of the best beaches for swimming in Kauai
I LOVED swimming at Tunnels beach (officially known as Makua Beach). Because I am not a super strong swimmer I don't like swimming where I can't touch or in rough waves. It was peaceful and such a fun spot to play in the water without being knocked over by waves.
Another one of my favorite Kauai beaches for swimming is Hideaway beach!
If you are looking for big waves I recommend checking out Shipwrecks beach here. The waves there can get insane! This beach is also an amazing cliff jumping beach.
Tunnels Beach Kauai Photography
Me and my husband set up our amazing tripod in the water and took some photos. It was the perfect spot with the beautiful mountains in the background.
My husband was freaking out when I started digging the tripod into the sand because the waves were crashing against it and he was convinced it would fall. BUT, this Peak Design travel tripod was amazing and so sturdy even he was impressed.
It wasn't crowded so it was great to take some pictures.
Very Kid Friendly beach
I don't have kids but if I did this would be one of my favorite beaches to bring them to for a few reasons.
We got parking right on the beach so you won't have to walk very far with all your beach stuff and children.
The water is shallow and calm (at least while we were there in the summer, I'm sure it changes by the seasons).
The snorkeling reefs are literally right on the shore so your kids will not have to go far out for the best snorkeling. If you are a nervous parent this will make it much easier for you to keep an eye on them.
Lots of room to spread out
Tunnels beach felt so huge compared to some of the other beaches. We were able to find our own little spot where no one else was even around! And we were there during the busy summer season on the weekend. loved having the space all to myself.
Tunnels Beach Reservation
2023 Update: unlike a number of other beaches, you still do NOT need a Tunnels Beach reservation.
Tunnels Beach Permit
2023 Update: unlike a number of other beaches, you do NOT need a Tunnels Beach permit.
Where to Stay on The North Shore of Kauai
There are two main areas where you can stay on the north shore of Kauai. Those areas are Princeville and Hanalei.
Princeville Resort Area – Understanding the basics of each area will help you book. Princeville is a super well manicured master plan type of community more than a town. Check out all the hotels in Princeville here.
Think of it like a country club golf community that just so happens to be on a few beaches. It's beautiful, perfectly manicured and maintained, and especially attractive to retirees and people looking for high end condos. You can get more info here.
Hanalei Resort Area – The Hanalei town area is the more "happening" place. There area tons of bars, restaurants (and food trucks), and shops in the area. Check out all the hotels in Hanalei here.
Hanalei also borders one of the biggest and all around beaches on Kauai (Hanalei Beach), though the downside is that it isn't as quiet or master planned and not as quiet as Princeville.
I love both areas, but for my tastes I'm willing to sacrifice a little bit of super upscale feel of Princeville for the walkability access to everything in the Hanalei town area. You can get more info here.
Locals Secret Access to Kee Beach
We heard from some locals that if you are dying to get to Kee Beach and can't secure a permit, you can simply walk a mile west from Tunnels Beach along the shoreline.
Read about the permit process and how to get to Kee beach here.
I'm sure this probably isn't legal, but the beaches are directly connected.
Is Tunnels Beach in Haena State Park?
HUGE DIFFERENCE: Haena Beach Park vs Haena State Park
Tunnels Beach is located in/next to Haena Beach Park. Haena Beach Park is completely different from Haena State Park. Haena State Park requires a permit/reservation that is really hard to get to.
The amazing Kee Beach is in Haena State Park, but given the hassle associated with having to get a permit with an assigned entry time, having to ride in on a shuttle, and the expense, we highly recommend you go to Tunnels Beach instead.
Tunnels Beach provides a similarly amazing experience, is free, doesn't require a reservation, and is a million times easier to park at.
What to Bring to the Beach
Travel towel – So much easier to pack these quick dry microfiber travel towels than go without or be forced to buy one once there. We always travel with at least two of them.
Dry Bag – There are some lessons you just don't want to learn the hard way. Ruining your phone, camera, or other valuables at the beach is a very expensive lesson to learn. This dry bag is amazing and works for any and all water activities.
Reef-safe sunscreen – The sun here can be very strong. Make sure to wear a reef safe sunscreen or a rashguard.
Rash guard or long sleeve swim top – I wear the one from Skims and I love not having to worry about getting burned when I am out in the sun ALL DAY. Free people also has some amazing rash guards you can shop here.
Backpack or waterbottle sling – I am obsessed with my Beis travel backpack. I never travel without it. It is seriously the perfect size. Not too big, not too small. If you don't want to bring a full backpack this waterbottle sling is my absolute favorite. It fits a waterbottle, iPhone 14 pro max, plus some extra space for bars or snacks or your wallet.
Packable snacks – I always travel with these That's it bars from Amazon. OMG, they are sooo good and only have a few minimal ingredients.
Tunnels Beach Kauai FAQ:
Why is it called Tunnels beach?
Tunnels Beach gets its nickname from the maze of lava tubes found throughout its entire reef system.
Pros and Cons to Visiting Tunnels Beach
Pros
Some of the best snorkeling Kauai offers (beginner friendly)
Gorgeous mountain backdrop
Ample parking (compared to others)
Similar look and feel as Kee Beach without the need of a reservation, permit, shuttle
Free
Less crowds than other popular beaches
Cons
Further drive from most of the resort areas
There is A LOT of reef which is great for snorkeling, but can limit areas where you will be comfortable swimming
Waves not as powerful as other areas
Conclusion: Is Tunnels Beach worth visiting?
I already mentioned that I think Tunnels is the best beach on Kauai. While it is my favorite, I thought it would be helpful to have some brief highlights of the best things about it as well as some drawbacks.
Planning a trip to Kauai? Read everything we know about Kauai here:
My husband and I have been to Kauai many, many times and have written up more guides to help you plan your trip. These are my most popular blog posts and Kauai travel guides to help you plan your trip.
Kauai Beaches
Best Beaches for Snorkeling on Kauai
Best Cliff Jumping in Kauai
More awesome beaches
Kauai Hiking Guides
Read about all the hikes we have done in Kauai here.
Read all other posts on Kauai here.