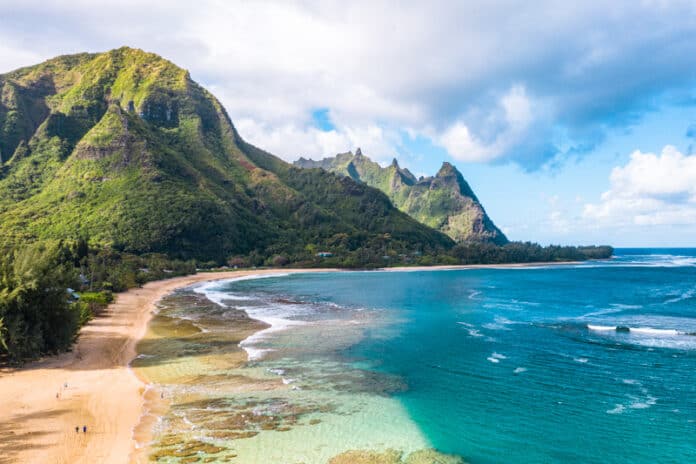 MOST INCREDIBLE BEACH IN KAUAI – Tunnels Beach (Kauai)
We haven't visited all of the Kauai beaches, but after multiple trips to the famous Garden Isle of Hawaii we've visited over 30. After analyzing all of the amazing beaches Tunnels Beach Kauai is our favorite!
When you take everything into account it even surpasses the neighboring and more popular Ke'e Beach.
The moon shaped bay is perfectly framed by lush green mountains. The verdant backdrop is a striking backdrop to the golden sand and clear blue water.
The look isn't the only thing appealing about this beach. Dried lava tubes/tunnes (i.e. the beach's name) helped create reefs that provide some of the best snorkeling in Kauai.
Tunnels Beach Quick Facts
Other Names: Makua (Tunnels) Beach Kauai, Haena Beach Park
Known For: amazing reef for snorkeling, animal life, striking mountain backdrop, swimming
Lifeguards: Yes
Parking: More than most other beaches. We were at Tunnels Saturday and Sunday at 2pm and we had no issue finding a parking spot right on the beach both times.
When we visited: Saturday and Sunday afternoon (around 2pm) in July 2022
Reservations/Permit Required: NO
Facilities: Bathrooms, Showers, Picnic Tables
Where is Tunnels Beach?
Tunnels Beach is located on the northern shore of Kauai. You get there by following the coast all the way up and around the island.
When you get to Tunnels Beach you are basically at the end of the road.
Given the rugged nature of parts of Kauai, there isn't a full road that circles the island. This explains why the road ends just beyond the beach.
By going a little bit further on the road you arrive at the famous Kalalau Trail that leads to the Napali Coast.
How to Get to Tunnels Beach in Kauai
We rented a car for about a $100 a day. I highly recommend renting a car in Kauai. There is Uber but I'm sure its incredibly expensive.
Without traffic the drive takes about 1 hour if you are coming from the main Kauai airport.
On this drive you will pass through the Princeville and Hanalei resort areas.
If you are staying in the Hanalei Bay area the drive to Tunnels Beach is only 15 minutes.
When you are figuring out how to get to Tunnels Beach in Kauai you can put Haena Beach Park or Tunnels Beach in your GPS (depending where you want to park).
Overview of drive times:
1 hour drive from the main Kauai Airport
15 minute drive from the Hanalei Bay area
1 hour 30 minute drive from the Poipu area
Is it worth the drive?
Yes! If you are looking for a gorgeous beach surrounded by mountains, if you are looking for a great snorkeling spot for your kids and family, if you love to go swimming in more shallow-ish water then yes! It is totally worth it in my opinion.
We drove an hour 2 days to get to Tunnels beach because it was one of our favorite beaches. My other favorite beach in Kauai was the severely underrated Moloaa Beach. Read our full guide to visiting that beach here.
HUGE DIFFERENCE: Haena Beach Park vs Haena State Park
Tunnels Beach is located in/next to Haena Beach Park. Haena Beach Park is completely different from Haena State Park. Haena State Park requires a permit/reservation that is really hard to get to.
The amazing Kee Beach is in Haena State Park, but given the hassle associated with having to get a permit with an assigned entry time, having to ride in on a shuttle, and the expense, we highly recommend you go to Tunnels Beach instead.
Tunnels Beach provides a similarly amazing experience, is free, doesn't require a reservation, and is a million times easier to park at.
The Official Name: Makua Beach Kauai
It is worth noting that even though your GPS might show Tunnels Beach the official name is Makua Beach Kauai.
You can access information by using either name.
Best Aspects of Tunnels Kauai
Tunnels Kauai is famous for a lot of reasons. Below are just a few of the highlights.
Tunnels Beach Snorkeling is amazing and right by the shore
Put simply, Tunnels beach is one of the best snorkeling beaches in Kauai. (In the summer)
I like to snorkel but I'm not the strongest swimmer and often don't feel safe when I'm too far from shore. Somehow the Tunnels Beach snorkeling alleviates my biggest concerns while still providing some amazing reefs and sea life to explore.
The reefs are immediately off shore and in some relatively shallow water. This makes them easy for a beginner to access and makes it so you don't have to worry about getting pulled out to sea or slammed into some rocks.
The biggest concern is that you might drift on top of a reef and be tempted to stand up. Don't stand on the reef as you can seriously damage them and everyone has a duty to protect the best snorkeling beaches in Kauai.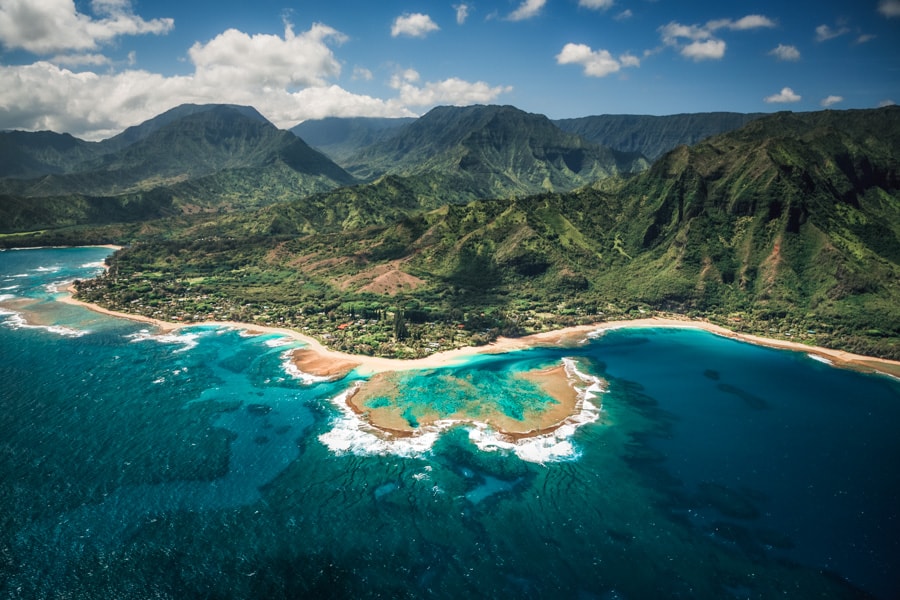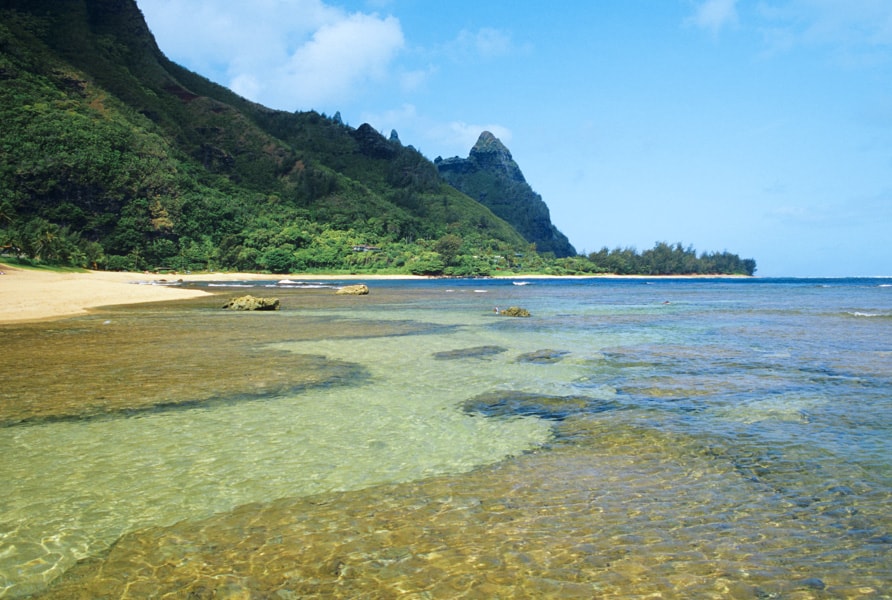 Other good snorkeling beaches in Kauai:
The mountain Views
Tunnels beach is right up against a mountain and it is so pretty. This was one of my favorite aspect of Tunnels beach.
Monk Seals napping on the beach!
This was probably one of the coolest travel experiences I have had. I loved being able to see the endangered Monk Seal just chilling on the shore.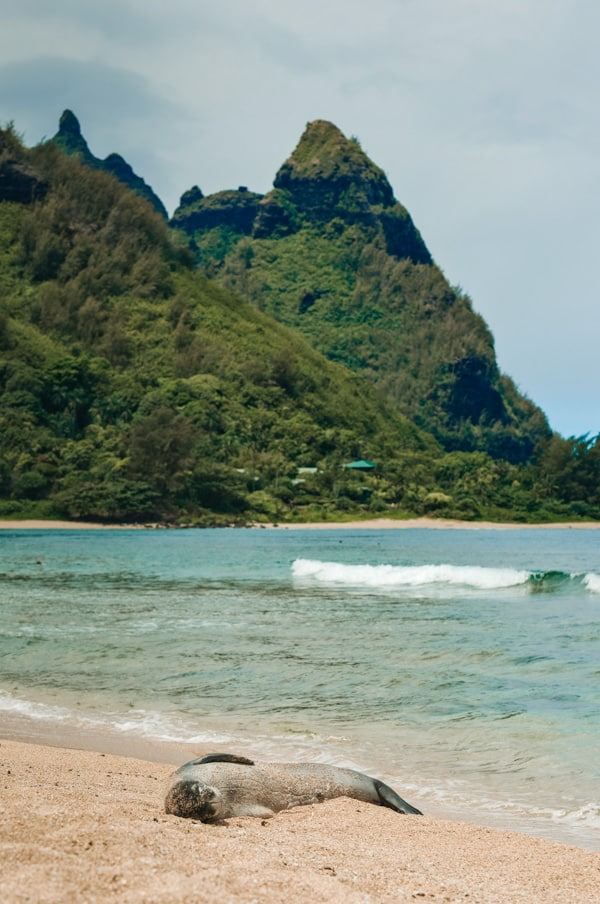 One of the best beaches for swimming in Kauai
I LOVED swimming at Tunnels beach. Because I am not a super strong swimmer I don't like swimming where I can't touch or in rough waves. It was peaceful and such a fun spot to play in the water without being knocked over by waves.
If you are looking for big waves I recommend checking out Shipwrecks beach here. The waves there can get insane! This beach is also an amazing cliff jumping beach.
Great beach for photos
Me and my husband set up our amazing tripod in the water and took some photos. It was the perfect spot with the beautiful mountains in the background.
My husband was freaking out when I started digging the tripod into the sand because the waves were crashing against it and he was convinced it would fall. BUT, this Peak Design travel tripod was amazing and so sturdy even he was impressed.
It wasn't crowded so it was great to take some pictures.
Very Kid Friendly beach
I don't have kids but if I did this would be one of my favorite beaches to bring them to for a few reasons.
1. We got parking right on the beach so you won't have to walk very far with all your beach stuff and children. 2. The water is shallow and calm (at least while we were there in the summer, I'm sure it changes by the seasons). 3. The snorkeling reefs are literally right on the shore so your kids will not have to go far out for the best snorkeling. If you are a nervous parent this will make it much easier for you to keep an eye on them.
Lots of room to spread out
Tunnels beach felt so huge compared to some of the other beaches. We were able to find our own little spot where no one else was even around! And we were there during the busy summer season on the weekend. loved having the space all to myself.
Tunnels Beach Reservation
2022 Update: unlike a number of other beaches, you do NOT need a Tunnels Beach reservation.
Tunnels Beach Permit
2022 Update: unlike a number of other beaches, you do NOT need a Tunnels Beach permit.
Tunnels Beach Parking
When looking for parking at Tunnels Beach you will find that there is a generously sized lot at the Haena Beach Park located right next to Tunnels beach. (Look for a big cave and the parking lot is right across the street from that).
There is also additional parking along the road in front of and beyond the actual beach parking lot.
There are also a couple of other Tunnels Beach parking options ahead of the actual Haena Beach Park lot, so keep your eyes open for a spot as you get close.
The crescent shape of the bay allows you easy access to the facilities even if you end up parking ahead of the actual park lot.
Tunnels Beach parking is MUCH EASIER than many of the other Kauai beaches, likely due to this beach being near the end of the road.
For reference we went there twice, Saturday and Sunday arriving around 2pm and we had no issue finding a parking spot right on the beach both times.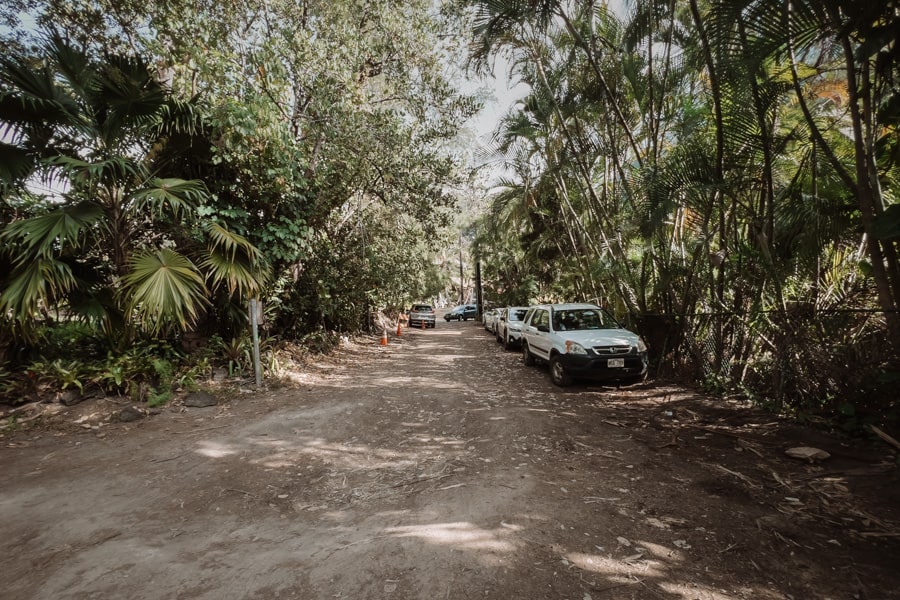 Where we parked: Both times we were there we were able to find free parking on the side streets that are located all throughout Tunnels beach. We were there Saturday and Sunday afternoon and had no problem finding spots super close to the beach both times.
Locals Secret Access to Kee Beach
We heard from some locals that if you are dying to get to Kee Beach and can't secure a permit, you can simply walk a mile west from Tunnels Beach along the shoreline.
Read about the permit process and how to get to Kee beach here.
I'm sure this probably isn't legal, but the beaches are directly connected.
Conclusion: Pros and Cons to Visiting Tunnels Beach
I already mentioned that I think Tunnels is the best beach on Kauai. While it is my favorite, I thought it would be helpful to have some brief highlights of the best things about it as well as some drawbacks.
Pros
Some of the best snorkeling Kauai offers (beginner friendly)
Gorgeous mountain backdrop
Ample parking
Similar look and feel as Kee Beach without the need of a reservation, permit, shuttle
Free
Less crowds than other popular beaches
Cons
Further drive from most of the resort areas
There is A LOT of reef which is great for snorkeling, but can limit areas where you will be comfortable swimming
Waves not as powerful as other areas
Planning a trip to Kauai? Check out all our Kauai blog posts below.
My husband and I have been to Kauai many times and have written up more blog posts to help you plan your trip. These are my most popular blog posts and Kauai travel guides to help you plan your trip.
Kauai Beaches
Kauai Hiking Guides
Read about all the hikes we have done in Kauai here.
Read all other posts on Kauai here.