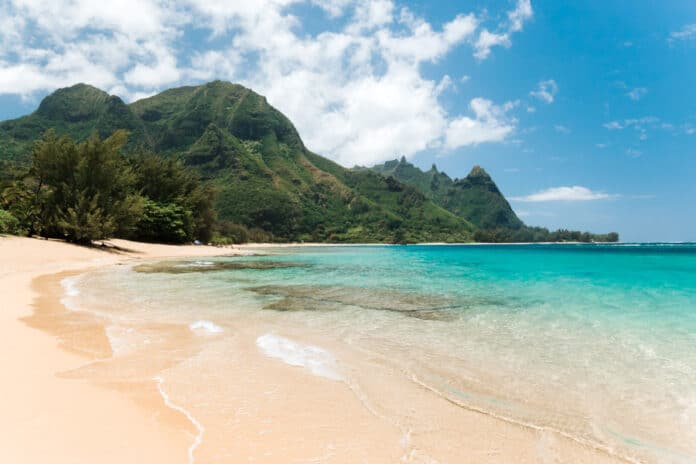 Haena Beach
I've been to a lot of Hawaiian beaches. After more than 10 trips in the last couple of years I don't make this recommendation lightly.
Haena Beach is one of the absolute best beaches on Kauai and in all of Hawaii. I love that there are so many different aspects to this amazing beach.
First off, the Haena Beach Park is immediately next to Tunnels Beach, so a lot of the perks are shared by both. You can read more specifics on Tunnels Beach here.
Haena Kauai offers the perfect sun tanning experience, great waves for you to play in, yet water that is tranquil enough in other areas to provide colorful reefs and amazing snorkeling.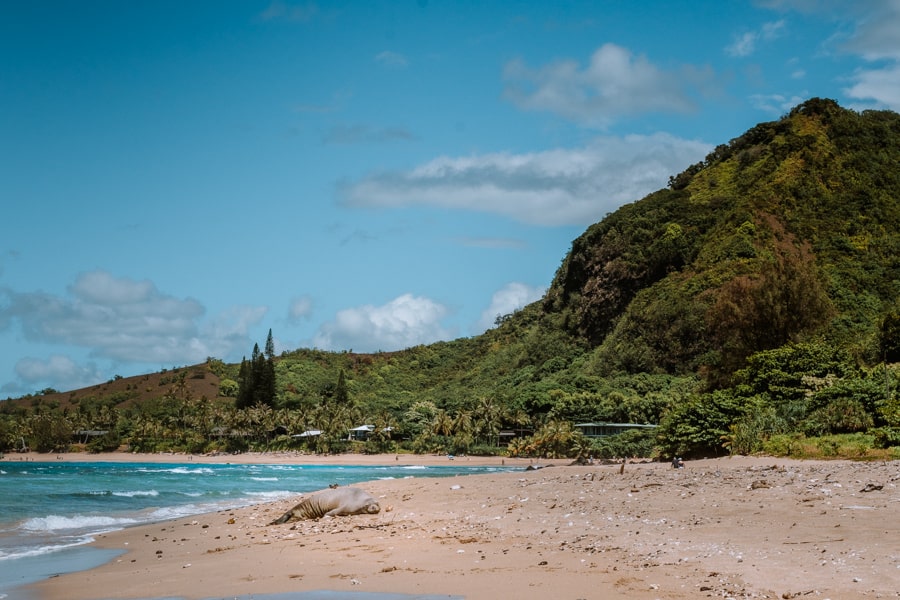 Quick Facts
Other Names: Makua Beach Kauai, Haena Beach Park, Tunnels Beach, Canon's Beach (though technically a couple of those are separate beaches, they are all connected)
Known For: protected bay framed by lush mountains, colorful reefs for easy snorkeling, and diverse sea life
Lifeguards: yes
Parking: more than most other beaches
Reservations/Permit Required: NO – take that nearby Kee Beach
Facilities: Bathrooms, Showers, Picnic Tables
Where is Haena Beach Kauai?
Haena Beach is located in Haena Beach Park – duh, I get it. It's on the northern shore of Kauai, but the drive here may take a little bit longer than you think. Remember, Kauai doesn't really have roads that cut through the island so you need to wind around the coast.
To get to this area you basically have to wind around the entire island.
Not only do you have to take the winding coastal road to get here, you can only come in from one way since the road ends just after the park as the super rugged Napali coast begins.
With no traffic it takes about an hour to drive from the airport and about an hour and a half from the Poipu resort area.
If you are staying in the Hanalei/Princeville area the drive to get here only takes about 15-30 minutes.
NOTE: Haena Beach Park is different than Haena State Park
Haena State Park is the home of Kee Beach and some of the Napali coast trails. To access this park and those trails you need a reservation and a permit (super annoying and expensive).
Haena Beach Park is a free no reservation required beach that provides a SUBSTANTIALLY SIMILAR experience as Kee Beach without all of the hassles.
Anyway, even though they are close, make sure you differentiate between the beach park and the state park.
Is Haena Beach Snorkeling any good?
I love the water yet still am not a strong swimmer. This makes it difficult for me to access some of the best snorkel spots. I feel like at times I don't get to see vivid reefs or colorful sea life. Haena Beach does not limit me in any way!
The reefs are immediately off the shore and there are spots where the cove is almost entirely protected from the waves (especially outside of winter).
You will find reefs bursting with sea creatures. I appreciate that in lots of areas the water is pretty shallow, which allows you to get closer to the reefs.
Remember, never touch the reefs!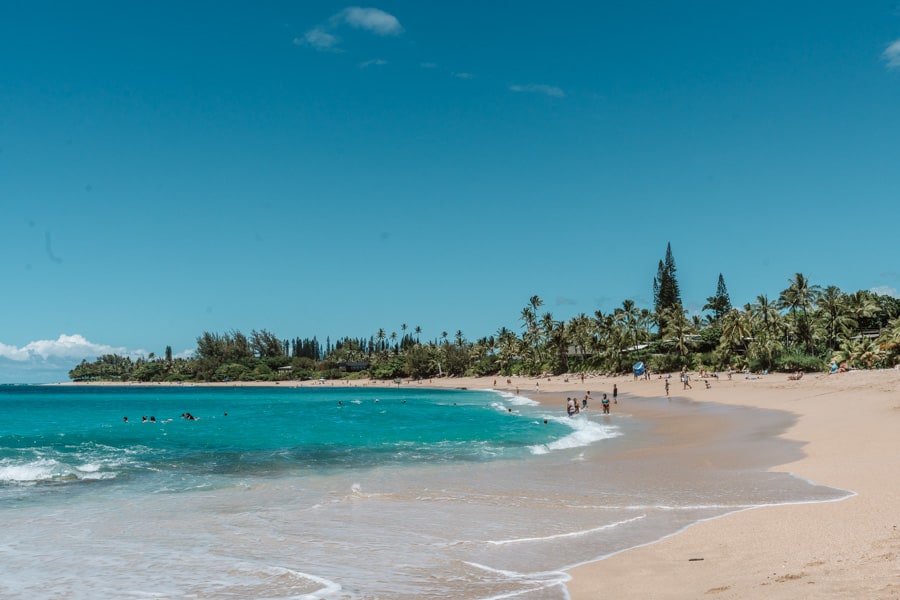 Monk Seals on Haena Beach
One of the highlights of my trip to Kauai was running into this Monk seal laying on the shore.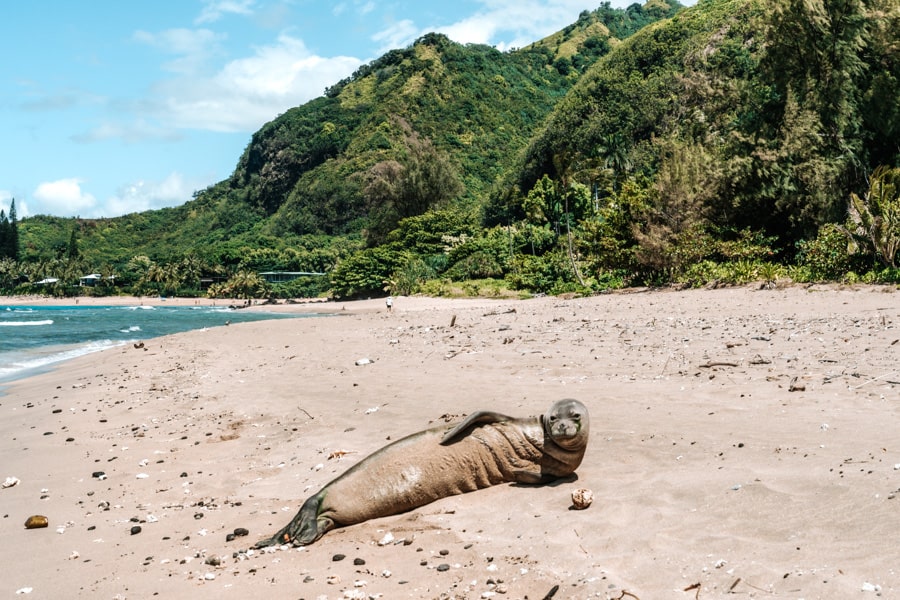 Haena Kauai Parking
Along with a full complement of facilities (restrooms, showers, lifeguards, and picnic tables) there is also a pretty generous amount of parking.
Haena Beach Park has its own lot a couple at next door Tunnels Beach. There is also a good amount of street parking if you go beyond the actual beach parking lot.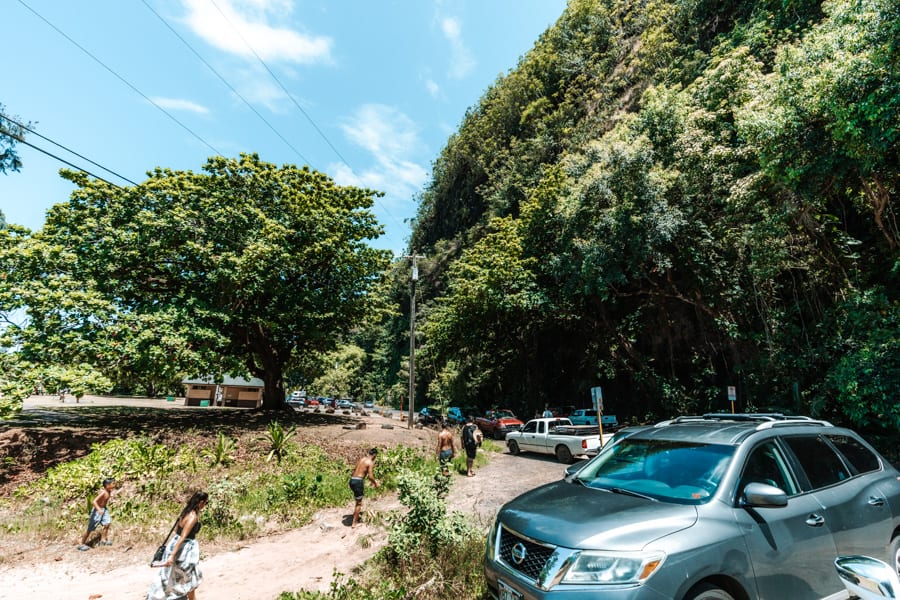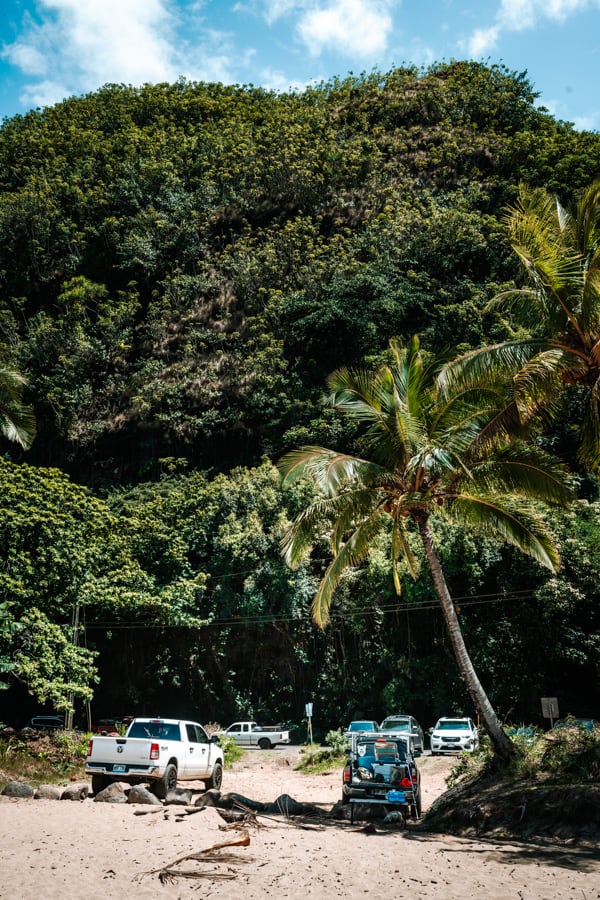 Locals Secret or Law Breaking Access to Kee Beach?
We talked to some locals that talked about accessing Kee Beach without a reservation or parking permit. They said you can simply walk along the shore beginning at Haena Beach. It is only about 1 mile away.
I've been to Kee Beach and loved the experience, BUT I think you don't need to go there since the experience at Haena Beach and Tunnels Beach is basically the exact same.
Conclusion
It's worth a visit, obviously! That being said, I thought it would be helpful to highlight some of the pros and cons.
Pros
Perfectly golden sand and clear blue water
Easy snorkeling
Framed perfectly by gorgeous mountains
FREE – no reservations required
Not as many people as other popular beaches
Ample parking and facilities
Cons
The drive from various parts of the island can be a little long
A lot of reef and not as many reef free swim spots
Waves generally not as intense as other beaches due to the cove protections
Planning a trip to Kauai? Read everything we know about Kauai here:
My husband and I have been to Kauai many, many times and have written up more guides to help you plan your trip. These are my most popular blog posts and Kauai travel guides to help you plan your trip.
Kauai Beaches
Best Beaches for Snorkeling on Kauai
Best Cliff Jumping in Kauai
More awesome beaches
Kauai Hiking Guides
Read about all the hikes we have done in Kauai here.
Read all other posts on Kauai here.