The Big Island of Hawaii is a surprising island. Its extraordinary multicolored beaches, variety of different climates and ecosystems, and contrasting east and west coastlines set it apart from the rest of the Hawaiian Islands (read on each of the Hawaiian islands here).
An island of adventure, the Big Island offers a surplus of unusual activities. Some of the highlights are exhilarating cliff-jumping, leisurely horse rides through the rainforest, thrilling helicopter rides over active volcanoes, lounging on colorful, Instagram-worthy beaches, and you can't forget the snorkeling Hawaii Big Island offers. There's everything you could want right here and more.
What to Pack? Before traveling to Hawaii, make sure to read my Hawaii Packing List guide so you can know exactly what you need to bring on your trip to The Big Island.
Where to Stay on the Big Island – We stayed at the Royal Kona Resort and loved it. Honestly, we did not have high expectations for this hotel as we ended up having to book it last minute. We were pleasantly surprised by how nice it was. Yes, the actual property was a little bit older, but was meticulously maintained and positioned in an awesome area. It was NOT on a beach, but it was right on the water and rocky shore that was beautiful to walk along and watch the sunset. Our hotel even had its own lagoon you could swim in. Super easy access from the airport. Book the Royal Kona Resort here on Booking.com
10 Things You Must Know about Hawaii's Big Island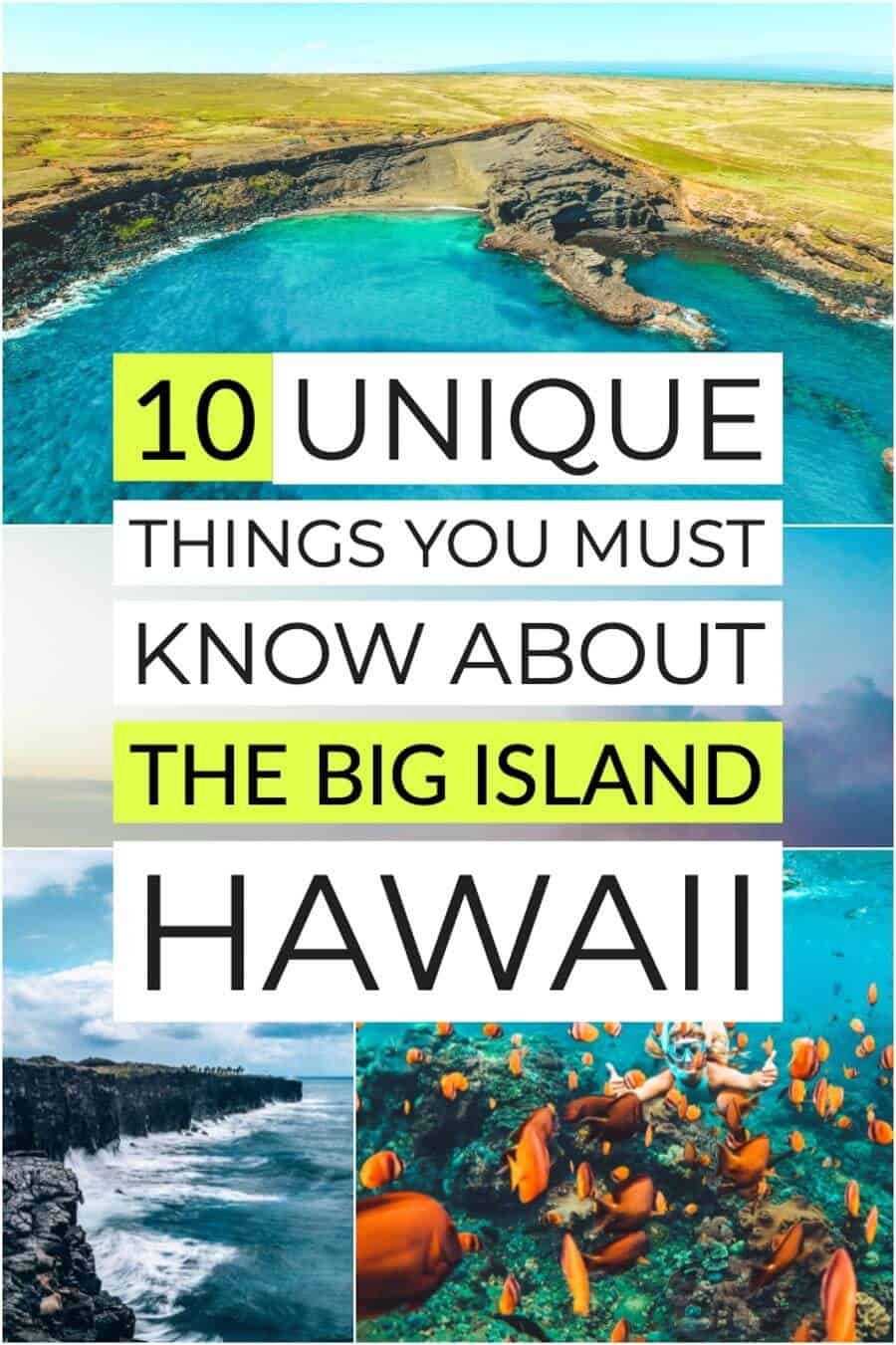 Here's what you can expect from the unexpected on Hawaii Big Island:
1. The Big Island is Actually Named Hawaii
It's confusing, but Hawaii Big Island is actually named 'Hawaii Island' or the 'Island of Hawaii,'. Yes, you are justified in being confused since the entire state shares the same name.
The island is now known as the Big Island for obvious reasons; at 4,028 square miles, it's double the size of all the other Hawaiian Islands put together.
2. The Big Island is Still Getting Bigger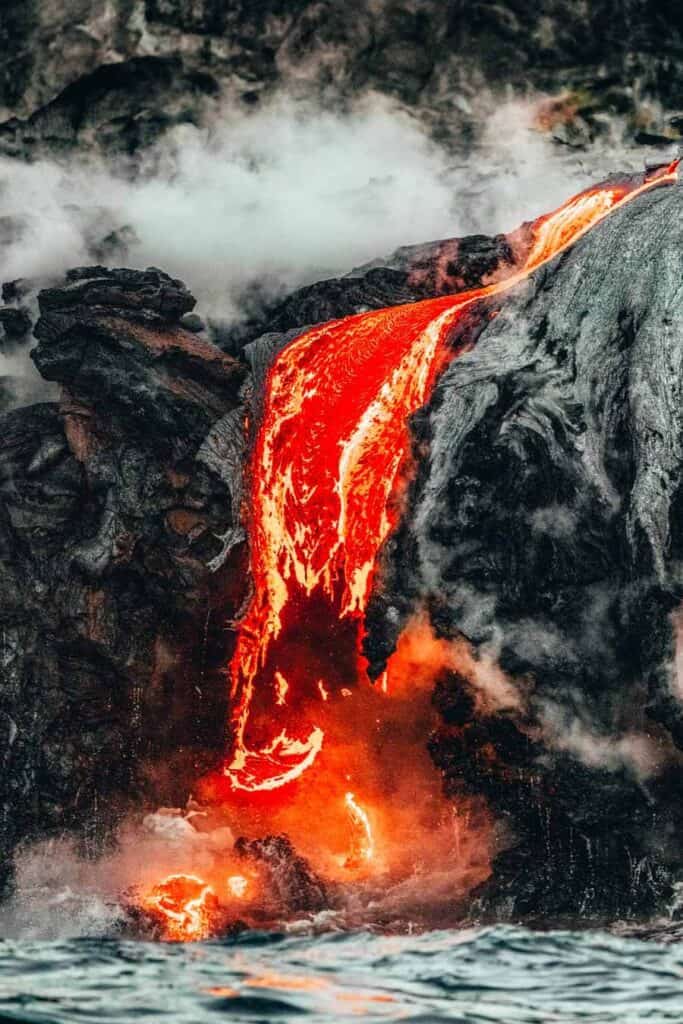 As its name implies, the Big Island is the largest of all the Hawaiian Islands, and due to ongoing volcanic activity, it's actually still expanding. Literally! As the volcanoes erupt, the lava flows into the sea and generates more land.
According to the United States Geological Survey, the constant lava flow from Big Island's active volcanoes has added 570 additional acres to the island since 1983.
3. It Has the Biggest Mountain/Volcano in the World
Forget Everest; did you know that Big Island has the largest mountain on the planet? At 13,000 feet above the ocean, Mauna Kea may not be the tallest mountain above sea level, but Mauna Kea rivals Mount Everest as the tallest in total surface area when measured from its base on the sea floor – a total of 33,000 feet!
While the majority of Mauna Kea lies underwater, this volcano is still the highest point in Hawaii, and one of the greatest spots on earth to observe space. You'll see loads of humungous telescopes up there! We'd recommend hiking the six-mile trail or driving up to the summit in time for sunrise or sunset, just make sure that you are ready to deal with the altitude!
4. You Can Horse Ride through the Rainforest like a Hawaiian Cowboy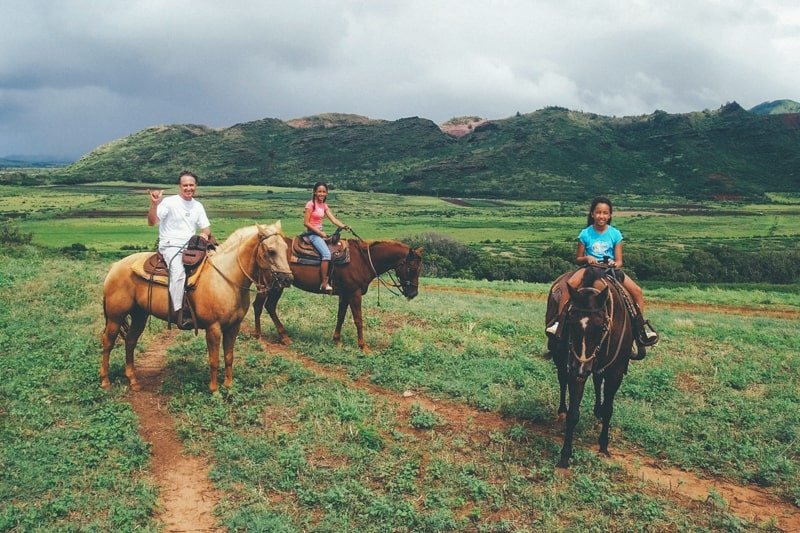 Hawaii has its own cowboys with a history of horse riding and roping that dates back to the 19th century when Spanish cowboys arrived.
The open landscape of the Big Island with its lush rainforests, horse and hiking trails, rocky Kona Hawaii beaches, and coastlines are perfect for exploring by horseback. Today, many of these Hawaiian Cowboys offer horse riding adventures, especially in and around Waimea, the Waipi'o Valley, Hilo, and the Hamakua coast. They are a truly unique way to discover this massive atoll.
5. You Can Take a Helicopter Ride over Volcanoes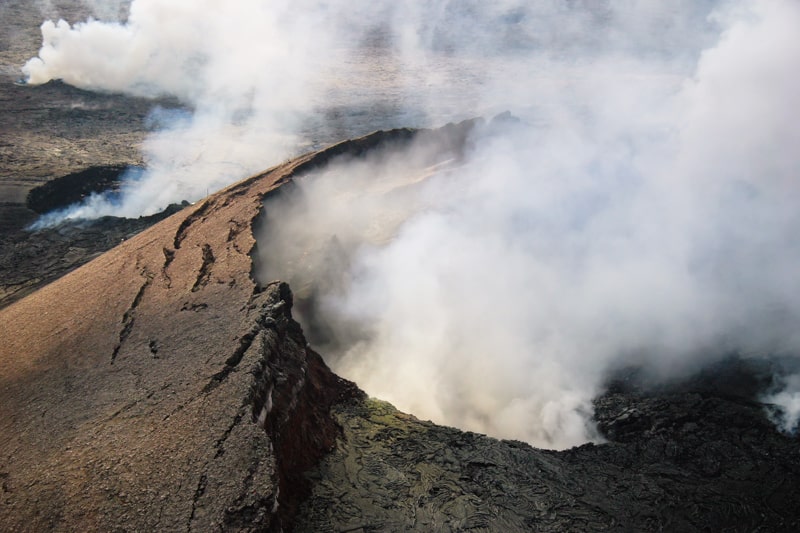 Hawaii Big Island has a total of five volcanoes – Kohala, Mauna Kea, Hualalai, Mahukona, Mauna Loa, and Kilauea – the latter two being the most recently active. A popular way to see the sights of this enormous island is from the sky – by riding a helicopter over the hard-to-reach areas, including the craters of the island's beautiful volcanoes.
Some lava flow can be seen at certain times over the Halema'uma'u crater within Hawaii Volcanoes National Park via a helicopter tour. However, as of May 2019, even Kilauea – which was one of the most active volcanoes in the world – is no longer erupting. There is currently no surface lava flow, which is sad, as you won't be able to see the orange glow of lava. Even without seeing lava, it's still an impressive island to see from above. If the surface lava starts flowing freely again, you definitely have to go!
6. The Kona Beaches Are Colorful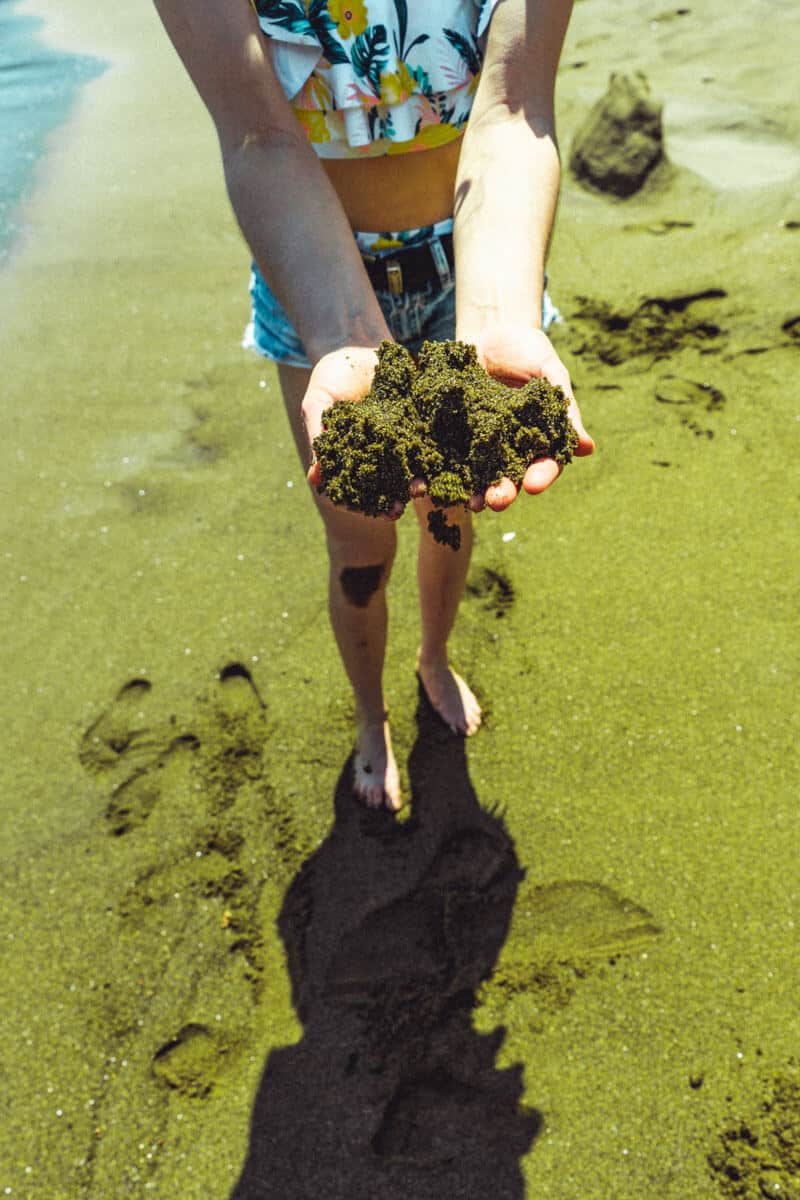 The beaches of the Big Island are not what many people expect. In fact, it's one of only a few places on earth you'll get black, white, and green sand beaches!
While the Big Island may not have as many colorful beaches as the island of Maui with its rare red sand beach, it still offers many sunbathing alternatives that rival the expected white or beige sandy shorelines.
The Big Island is a popular place for lounging on black sand beaches caused by volcanoes. Two of our favorite spots are Waipi'o and Punalu'u. Most people don't know about Waipi'o, and the ones that do usually only take pictures from afar and don't trek down the slopes to the beach. The Waipi'o Valley with its waterfalls and meandering hiking trails is worth an exploration!
For a day spent lounging on a green sand beach, visit Papakolea Beach – one of just two green sand beaches and one of the best beaches the Big Island offers. Located beneath a lava cliff, the unusual green colored sand is created by olivine, a mineral found in both Big Island's volcanic lava and green peridot gemstones.
7. The Beaches Aren't Always Sandy
While the Island of Hawaii's coastline is lined by rocky beaches and cliff tops, these beaches aren't always good for lounging. Many hotels offer nice sandy beaches for sunbathing; one of our hotels even had a gorgeous sheltered lagoon with rocks that protected the water from crashing waves.
However, finding a great beach to swim at is as not as easy as it is on the rest of the Hawaiian Islands. If you're looking for a vacation where you're planning on spending all day every day on the beach, you may not want these Big Island beaches to be your first choice – try Maui or Oahu instead.
Oahu is a mix of adventure and (better lounging) beaches, which is why most people go there first, but keep in mind that it's usually packed. The Big Island is different and exciting in its own way, focusing more on one-of-a-kind outdoor adventures than beachside lounging.
8. It's Epic Snorkeling Big Island Waters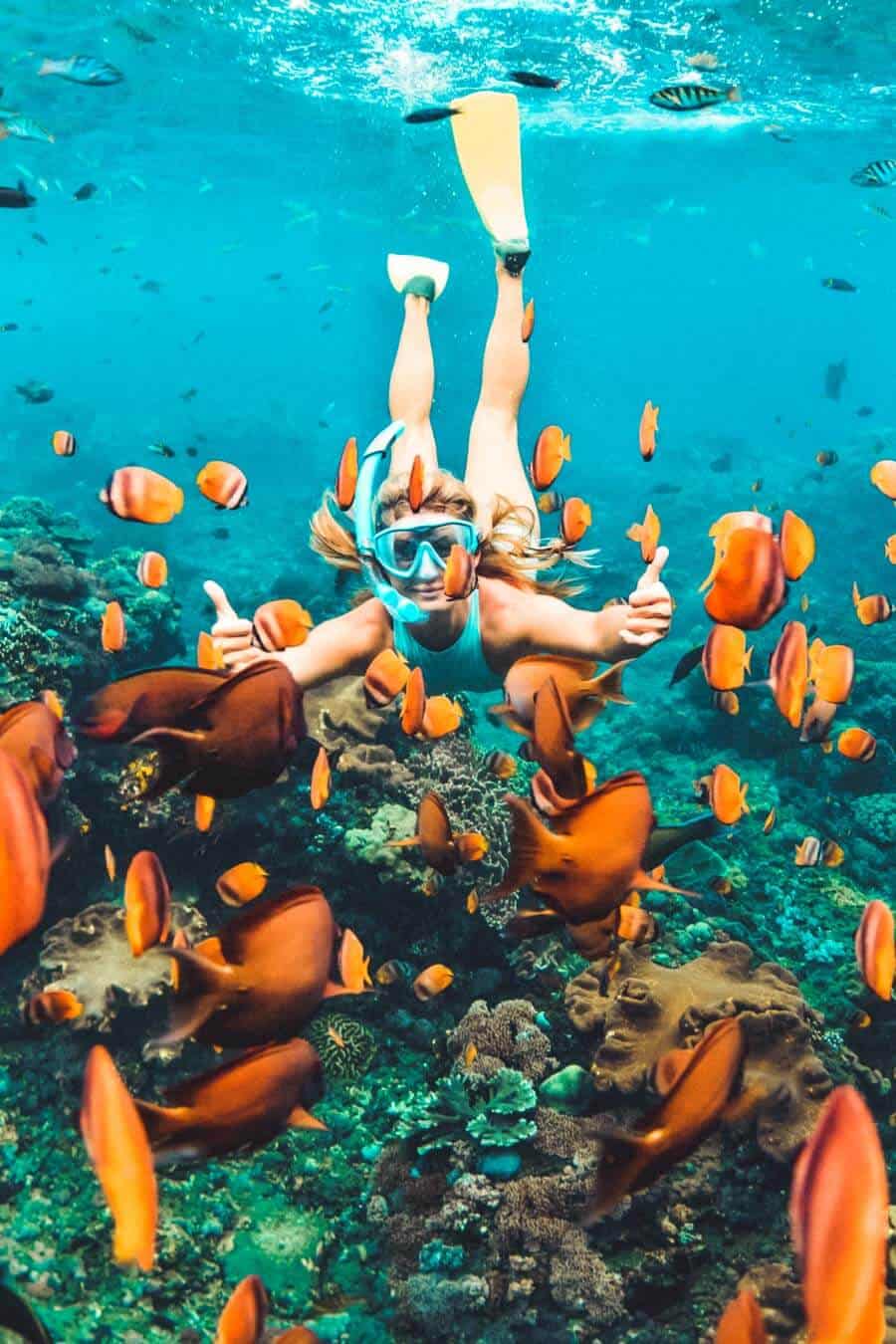 Kahalu'u Beach Park just south of Kona offers some of the best snorkeling Big Island has to offer – it's the most popular snorkeling destination on the Big Island, so prepare for crowds. The beach isn't much to look at, but it's easy to get to and offers terrific snorkeling opportunities in a sheltered, family-friendly, and shallow bay with excellent visibility. You'll see tons of beautiful fish!
Kahalu'u is also a wonderful place to see sea turtles up to two feet in length! But snorkeling aside, it's also an epic place to go surfing, or just sit and watch the surfers tackle the waves breaking just outside the bay.
For something a little different, head to Kauna'oa Beach – also called Mauna Kea Beach – where you can snorkel around two coral reefs. At night, it's a popular manta ray feeding spot – you can view these curious creatures from the lookout at Manta Ray Point or with an eerie night dive.
9. You Can Go Cliff Jumping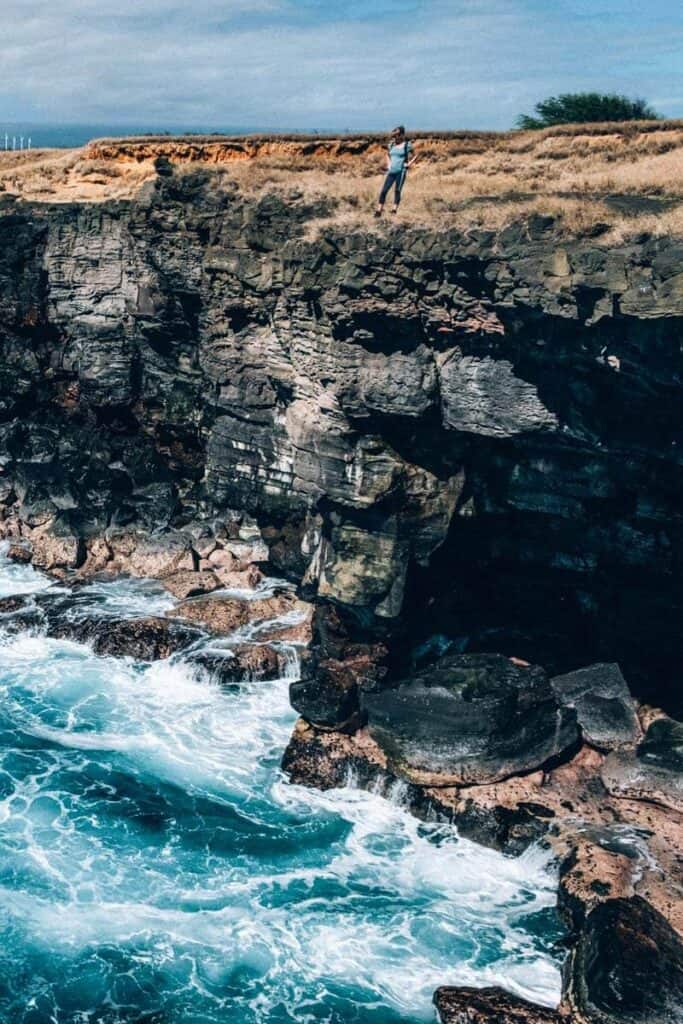 Cliff jumping enthusiasts will likely already know about the world-famous cliff jumping spot at South Point. If you're not an eager daredevil, you may not have heard of it.
The scenic coastline along the southernmost point of Big Island is a cliff jumping paradise for those who dare to brave the five-floor drop into the crashing waves below. Accounts vary as to how high the jump actually is, but the most common guess is between 40 and 50 feet.
Though there are many signs telling you not to cliff jump at Ka Lae ('the Point' in Hawaiian), tons of people do. You are going to want a rental car to get here (rental cars are pretty cheap) as it's located around an hour and a half's drive from Kona – right next to Green Sand Beach, one of the best Kona beaches.
10. The Two Sides of the Island Are Worlds Apart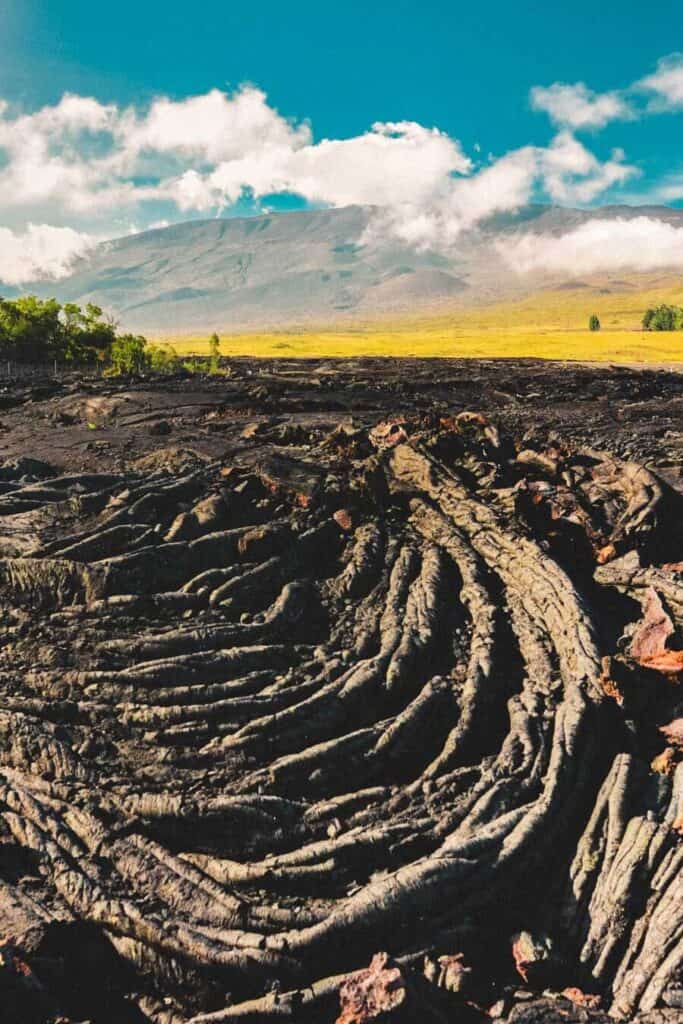 The two sides of the island could not be more different, each offering their own unique appeal. There are beautiful resorts in both Kona to the west side and Hilo to the east side of the island, with plenty of natural beauty too.
Kona in western Big Island is quite dry; it can even seem desert-like. Hilo on the eastern side gets a lot more rain and therefore is greener with fewer tourists. We have visited both sides of Big Island and thoroughly enjoyed each one, though when on a beach vacation, we'd prefer the sunshine found along the western coastline.
In a Nutshell: The Top Things to Do
Hike to Papakolea Beach (Green Beach)
Sunbathe without the crowds at Waipi'o Black Sand Beach
Spot sea turtles at the Punalu'u Black Sand Beach
Go cliff diving at South Point
Take a helicopter ride over Hawaii Volcanoes National Park
See manta rays feeding at Kauna'oa (Mauna Kea Beach)
Whether you're looking for cliff jumping adventures or the best snorkeling Big Island has to offer, you'll find all this and more on Hawaii's most adventurous island.
If you enjoyed this post don't forget to share it with your friends! Thank you so much for reading!
Read Next: Cliff Jumping on the Big Island!
Pin it for later!