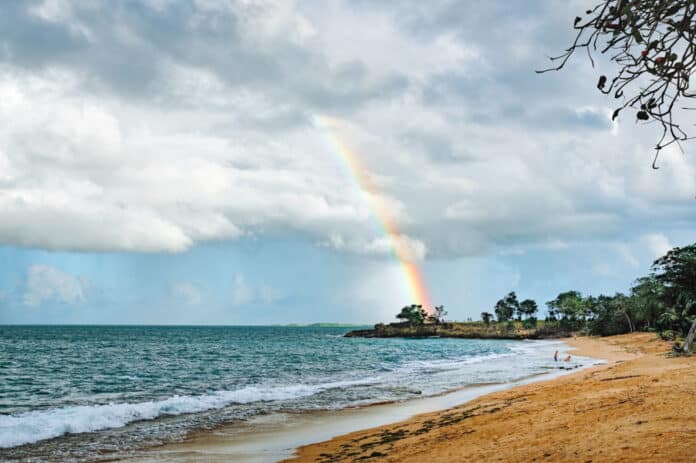 Plage de Clugny (Plage de Cluny)
Guadeloupe is the somehow mostly a secret French getaway in the middle of the Caribbean. I guess I should clarify, even though it is much closer to the rest of North American than Europe, only 6% of the visitors are actually from North America.
As a French overseas territory this means that French is the dominant language and the Euro is accepted. The lack of knowledge of this amazing destination can be a huge advantage for you though. Long story short, the distance from Europe and anonymity to the US means that there are miles of gorgeous beaches that aren't overrun with crowds.
Plage de Cluny is one of those amazing beaches that is barely developed and doesn't seem to get a ton of visitors.
There are a few other unique things to know about this beach before visiting though, so keep reading!
Plage de Clungy Quick Tips
Sand & water color: Fine golden sand clear turquoise water
Best for: Walks along the beach, sunbathing, and avoiding crowds
Known for: "Relatively" big waves due to a drop off in the sea floor
Facilities: showers, restrooms, and one bars and random vendors
Swimming conditions: Can be calm, but the waves often pick up to make it less than ideal for a beginner swimmer. The waves can be good for boogie boarders though.
Lifeguard: none
Where is Plage de Cluny located?
Plage de Cluny is located on the northern coast of Guadeloupe on the Basse-Terre side. It is only a couple minutes away from the super popular Grand Anse beach.
If you are driving here from the airport it will take you about 45 minutes.
Plage de Cluny Parking
Plage de Cluny parking is easily accessible and very close to the beach. There are a lot of parking spaces in nearby, right off of the main road.
---
Ways to tour Guadeloupe Island
Book these experiences for a close-up look at Basse-Terre & Grande Terre Island. Another perk of this beach (and almost every beach in Guadeloupe) is that the parking is free.
---
What you can Expect at Plage de Cluny
The charm of this beach is that it is stunning and practically deserted. The nearby Grand Anse beach attracts most of the crowds since it has a lot more development (hotels, restaurants, bars, vendors etc). You will NOT find a lot of those things on Plage de Clungy.
If you want space to spread out without others this is it! There is plenty of fine brown sand to call your own.
The beach itself is gorgeous; it stretches out over 500 yards of soft sand! It is perfect for a stroll or sunbathing. One drawback is that there is not a lot of natural shade or a place for you to rent umbrellas.
BIG WAVE ALERT
Due to a drop in the sea floor the waves will pick up steam as they head to shore. The crashes are much bigger than you generally expect in the Caribbean, and especially in Guadeloupe. In general though, the Basse-Terre beaches in this part of Guadeloupe get the biggest and most consistent waves.
If you aren't an experienced swimmer you might not want to swim here. There are warning signs that tell you it might not be safe to swim in the water. We felt totally comfortable wading into the water, though we didn't swim around that much.
Pros and Cons
Pros
Nesting site for sea turtles (supposedly)
Long stretch of sand (plenty of room to space out)
Deserted, even during the high season.
Less crowded than neighboring beach Plage de Grande Anse.
Less vendors, but still has nearby bar
Cons
Potentially not great for swimming
Big waves
Not great for snorkeling
No beach lounge chairs available
not a ton of surrounding beach development
Some things to be aware of before traveling to Guadeloupe
Language Barrier: Guadeloupe is a French speaking island and there is very little English spoken. Trust me, it will help to know a few beach terms in French.
I had to use google translate while doing my trip research because most of the articles were written in French.
Some words that will be especially helpful to know are…
Plage – Beach
Anse – Cove
Plongée en apnée or "palme masque tuba" PMT (Fins, snorkel, mask) – Snorkeling
Geography Clarification – most people think of Guadeloupe as 1 island, but there are actually 6 different inhabited islands. The biggest island is named Guadeloupe, but this island is split in two by a small sound – the west (left side on most maps) is called Basse-Terre and the east (right side on most maps is called Grand-Terre.
Money – They use the Euro
Population – about 400,000 people.
Conclusion: Is Plage de Cluny worth visiting?
This is a great beach for those who love the waves and want to avoid the crowds. If you want to swim in calmer waters I recommend going to Plage De La Perle or Grande Anse. For those interested in snorkeling I recommend Plage De Petite Anse or Plage De Leroux.
Things to do near Plage de Cluny
Plage de la Perle (One of the best beaches on Basse-Terre) Read the full blog post here.
Jardin Botanique de Deshaies
Carbet Falls (Les Chutes du Carbet)
What to Bring to the Beach
Travel towel – So much easier to pack these quick dry microfiber travel towels than go without or be forced to buy one once there. We always travel with at least two of them.
Dry Bag – There are some lessons you just don't want to learn the hard way. Ruining your phone, camera, or other valuables at the beach is a very expensive lesson to learn. This dry bag is amazing and works for any and all water activities.
Reef-safe sunscreen – The sun here can be very strong. Make sure to wear a reef safe sunscreen or a rashguard.
Rash guard or long sleeve swim top – I wear the one from Skims and I love not having to worry about getting burned when I am out in the sun ALL DAY. Free people also has some amazing rash guards you can shop here.
Backpack or waterbottle sling – I am obsessed with my Beis travel backpack. I never travel without it. It is seriously the perfect size. Not too big, not too small. If you don't want to bring a full backpack this waterbottle sling is my absolute favorite. It fits a waterbottle, iPhone 14 pro max, plus some extra space for bars or snacks or your wallet.
Packable snacks – I always travel with these That's it bars from Amazon. OMG, they are sooo good and only have a few minimal ingredients.