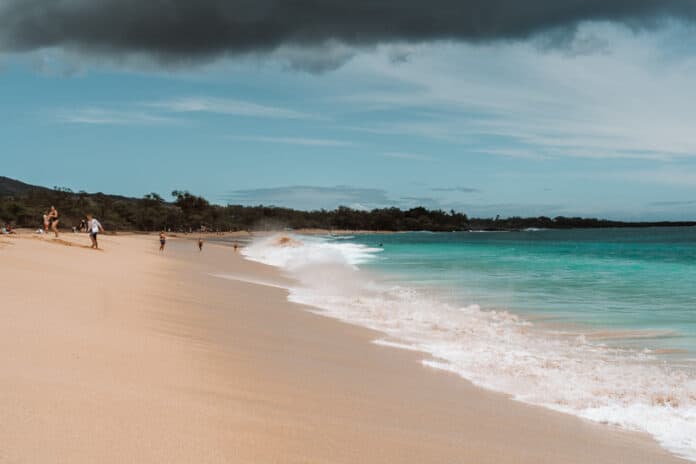 Makena beach also known as Big Beach and Oneloa beach is located in Makena State Park in Maui and is known as one of the most beautiful beaches in Maui.
The Hawaiʻian name for Big Beach is Oneloa, "long [stretch of] sand."
Where to stay near Makena Beach
Best Option* Aston Maui Hill Hotel – If you want to stay near Makena Beach I recommend the Aston Maui Hill Condo hotel. The location is ideal. Only a 6 minutes' walk from Kamaole Beach Park III (another incredible beach in Maui).
Makena Beach Quick Tips
Sand & water color: Fine white sand (not rocky) and turquoise blue water
Other names: Big Beach, Oneloa beach
Best for: Surfing, skimboarding, bodyboarding, snorkeling and swimming.
Known for: Large shore break
Swimming conditions: Waves can get incredibly dangerous. Check conditions before going.
Facilities:
Lifeguard: Yes!
Cost: Free
Parking: Large paid lot or free street parking.
Available tours: There are snorkeling tours, Turtle Reef Kayak tour (so cool!)
Where is Makena Beach located
Location: South Kihei Road, Makena
The best way to get here is to rent a car. If you don't have a car rental you can rent a moped for the day, or take an Uber/Lyft. Uber/Lyft will be your most expensive option depending on where you are staying.
If you decide to explore the island by moped you can rent one here for up to two weeks at a time!
There are boat tours & kayak tours that take off from Makena beach and snorkel in the area, but you can access amazing sea life directly from the shore as well.
Makena Beach Parking
There are two options when parking. You can pay to park in a large lot right by the beach. Or you can park on the street for free and walk 10 minutes to get to the beach.
We arrived in the middle of the day and there was plenty of parking available.
What you can Expect at Makena Beach
Great surf
Famous for its large shore break
Beautiful turquoise water
Lots of quality sand (not rocky)
Swimming Conditions
When we arrived at Makena Beach I could hear the thunderous waves crashing from the parking lot. I said to my husband "is that sound the waves??" He responded with "I don't think so."
Turns out, it was the waves, and they were massive. The biggest waves I have ever seen.
There were lifeguards stationed in the water on surfboards.
There were more lifeguards at multiple guard towers. And even more walking along the beach with megaphones yelling to "do not get in the water, it is dangerous to swim".
I spoke with a local and she told me that when she was at there last year a women got knocked over by a waves and died on the spot. She said, and I quote "this beach is famous for breaking peoples backs."
The state website warns that "High surf, particularly during the spring and summer months and during southerly (Kona) storms, generates dangerous shorebreak waves and powerful rip currents at Big Beach."
The neighboring Little Beach has much calmer waves.
Lifeguards
I have honestly never seen so many lifeguards on one beach. They were stationed in the water and out of the water. It's like they were just waiting for disaster to strike.
There were so many lifeguards I couldn't decide if it made me feel safer, or less safe. It had me thinking, why do they need so many lifeguards? Is my life in danger? lol
Lifeguards are posted between 8 am and 4:30 pm.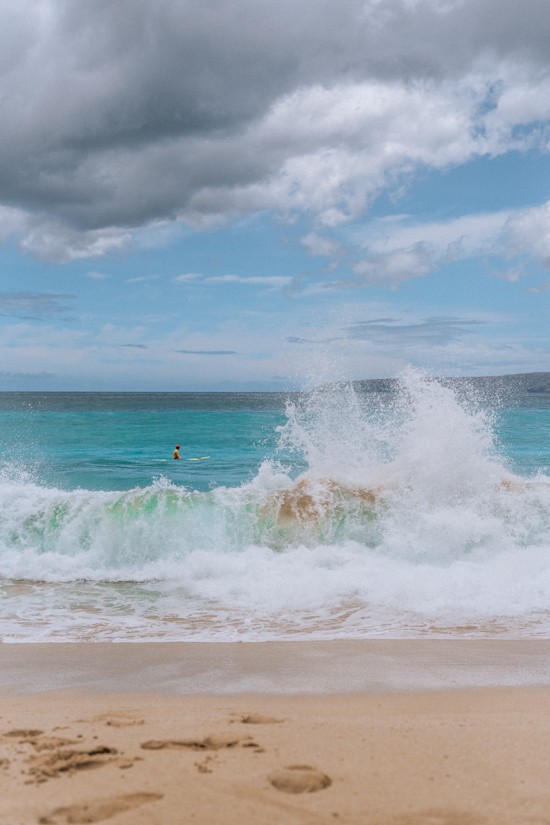 Makena Beach Snorkeling
On calm days, snorkeling around the point separating the two beaches (little beach and big beach) will give you great chances of seeing some marine life.
Pole fishing is also popular at Big Beach for ulua, or crevalle (See video below to see just how massive these fish are). These popular game fish may reach five feet in length and weigh over 100 pounds. Kinda nuts.
Pros and Cons
Pros
Great quality sand
Gorgeous blue water
Lots of space to spread out.
Cons
Not a ton of shade
Waves can get too big. Not always suitable for swimming or snorkeling. Great if you know how to surf.
Big Beach vs Little Beach Maui: What's the difference?
There is a big difference between the Makena Beaches also known as Big Beach and Little Beach.
Put simply, little beach is a nude beach. I was shocked walking in because I had no idea before hand that everyone would be naked. It was interesting, but definitely not my jam.
Big Beach (Makena Beach) is not a nude beach. It is more of a family beach with great waves, and beautiful sand and water.
Big Beach and Little Beach are two of Maui's most popular bodysurfing and bodyboarding beaches.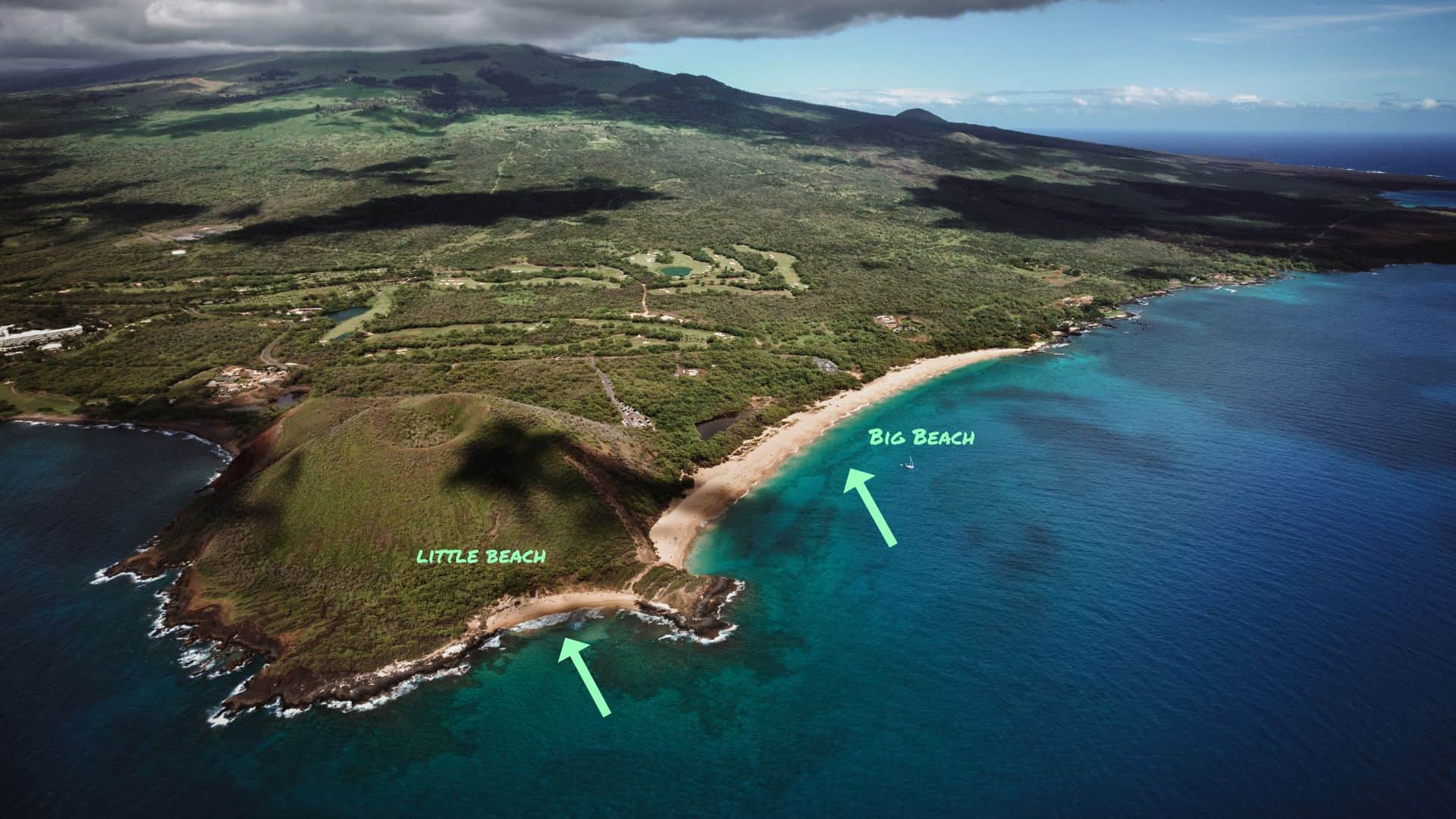 Things to do near Makena Beach
Conclusion: Is Big Beach worth visiting?
Yes! Absolutely, this was one of my favorite beaches in Maui.
What to Pack for Maui
Planning a trip to Maui? Here are our best MAUI BLOG POSTS:
My husband and I have been to Maui a couple times and have written up more blog posts to help you plan your trip. These are my most popular blog posts and Hawaii travel guides to help you plan your trip. I hope it helps!
Maui general trip planning
Maui Beaches
Maui Hikes & Lookouts
Maui Waterfalls
Everything else