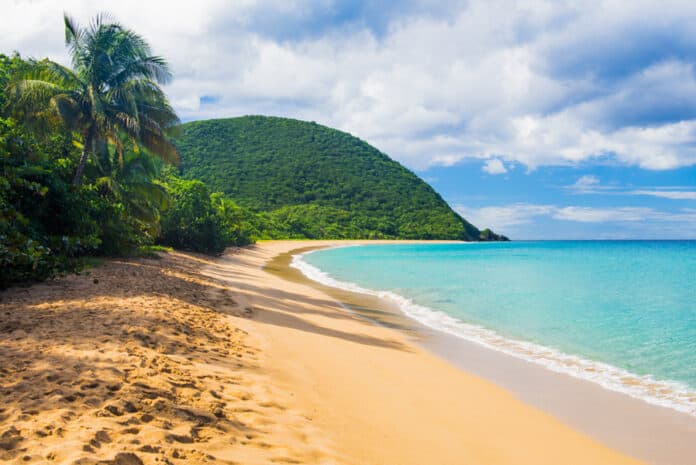 Plage de Grande Anse is the "flagship" beach in Guadeloupe. When I say that, I mean that it probably the most famous, most developed, and biggest of all the Guadeloupe beaches.
Generally, my strategy is to avoid beaches with a ton of notoriety and tourist infrastructure. I try to find a nearby beach with the same benefits but less crowds. I did NOT have to do that here. There was really nothing negative to try to avoid at this beach!
Guadeloupe itself is so off the radar that even their most famous beach feels almost undiscovered. This beach strikes a perfect balance of being absolutely gorgeous, having plenty of amenity offerings, yet somehow still having tons of space for everyone to spread out on!
Plage de Grande Anse Quick Tips
Water: Turquoise, calm water
Sand: a long stretch of gold-sand
Other names: Plage Grande Anse, Grande Anse Beach
Best for: providing tons of space for everyone to spread out on, water sport rentals, wide selection of restaurants/bars
Facilities: Lots of restaurants and bars nearby (and my favorite food trucks)
Swimming conditions: generally calm, the water gets relatively deep quickly though
Lifeguard: none
Cost: Free
Parking: the lots at the beach fill up quick, but there are lots of nearby streets that you can parallel park on.
Where is Plage de Grande Anse located?
Plage de Grande Anse is located on the northwest side of the Basse-Terre island of Guadeloupe. Basse-Terre is one of the "main" islands of Guadeloupe that make up the famous "butterfly" shape (the other "main" island is Grande-Terre. If you think of the butterfly shape on a common map this beach is on the top left edge of the wing.
It is located in the town of Deshaies in Guadeloupe. This town doesn't really have a ton of locals though as it is mostly built out for the tourists.
Driving To Grande Anse Beach
If you are driving here from Pointe-a-Pitre or the main airport it will take you about 45 minutes. It is a fairly easy drive that will take you around the top of the island.
Address: N2, Lieu-dit Ziotte, 97126, Deshaies, Guadeloupe
Parking
This is the worst thing about this beach and it really isn't that bad. There are a few lots directly off the beach, but they tend to fill up pretty quick. Don't let this deter you by thinking the beach will then be too crowded, trust me it wont be.
If you keep driving you will find a few more lots you can explore for a parking spot. We ended up giving up and parallel parking on a nearby street. The walk took us less than 5 minutes.
Sidenote: we were last there on a busy Saturday afternoon and the parking situation wasn't terrible.
What you can Expect at Plage de Grande Anse
The beach itself is really long. Seriously, the beach is just about one mile long. This means that it is hard to describe all the nuances in one quick post as different parts of the beach have difference features.
In general though, the beach looks 100% as beautiful as the pictures show. The water really is that gorgeous turquoise blue! Wide stretches of the sand are punctuated by the beautiful palm trees.
Swimming Conditions
The name Grande-Anse translates to "large cove." The beach itself being a "large cove" helps make it great for swimming! The protected cove waters are typically calm, there are times where the waves can get a little aggressive.
It is so nice to be in the water and able to look down and actually see your feet. The water is that clear! It is also great that there aren't rocks in the water that will hurt your feet.
One thing to note though is that the water can get fairly deep fairly quick, which can be alarming for the little ones.
Facilities
The facility offerings and where this beach shines. In general, this beach has everything you would want. There are obviously restrooms and showers, but I think the biggest perk are the beach rentals and food offerings.
Restaurants/Food Trucks
There is a line up of restaurants with beachside seating for you to choose from. I loved that we could choose from all different types of foods and the prices weren't outrageous. Generally, a main dish cost about $14.
If you wanted to eat at one of the food trucks you could save a few bucks as those entrees were generally just under $10.
For those looking to sip a drink there were a few different bar offerings. We confused the term for juice/punch and ended up ordering shots of rum. The prices were under $5 so I mistakenly thought they couldn't be alcohol.
Beach Rentals
If you want to rent a kayak, a beach lounger, or even a stand up paddle board you can do that on the beach. You can also book and excursion from a number of the tour operators in the area.
Pros and Cons
Pros
Almost a full mile of gorgeous sand
Lots of shade from gorgeous trees
Great swimming
Tons of great food and drink options
Cons
Limited parking
It won't be overcrowded, but you won't have it to yourself
Where to stay near Plage de Grande Anse
The area of the island was my absolute favorite. There are just so many iconic beaches within minutes of each other.
Top Things to do near Plage de Grande Anse
Plage de la Perle (6 minutes away) – Read the full blog post here.
Plage Naturiste (7 minutes away)
Jardin Botanique de Deshaies (Botanical gardens)
Plage des Amandiers (13 minutes away) – Read the full blog post here.
Plage de Petite Anse (13 minute drive)
Plage Caraïbe (14 minute drive from the beach) Read the full blog post here.
Conclusion: Is Plage de Grande Anse worth visiting?
Yes! While I generally hate the most popular beach in the area I regret that we didn't book our accommodations to stay directly on this one. I would happily have returned to it each day!
What to Bring to the Beach
Travel towel – So much easier to pack these quick dry microfiber travel towels than go without or be forced to buy one once there. We always travel with at least two of them.
Dry Bag – There are some lessons you just don't want to learn the hard way. Ruining your phone, camera, or other valuables at the beach is a very expensive lesson to learn. This dry bag is amazing and works for any and all water activities.
Reef-safe sunscreen – The sun here can be very strong. Make sure to wear a reef safe sunscreen or a rashguard.
Rash guard or long sleeve swim top – I wear the one from Skims and I love not having to worry about getting burned when I am out in the sun ALL DAY. Free people also has some amazing rash guards you can shop here.
Backpack or waterbottle sling – I am obsessed with my Beis travel backpack. I never travel without it. It is seriously the perfect size. Not too big, not too small. If you don't want to bring a full backpack this waterbottle sling is my absolute favorite. It fits a waterbottle, iPhone 14 pro max, plus some extra space for bars or snacks or your wallet.
Packable snacks – I always travel with these That's it bars from Amazon. OMG, they are sooo good and only have a few minimal ingredients.