Plage de Saint-Félix is a less often visited Guadeloupe Beach. While there is a beach here, it isn't really a beach that people lounge on (though you could). It is best known as part of a really cool hiking or jogging trail.
If you want to hike or jog beginning at Plage de Saint Felix you won't be disappointed. The trail loop is just under two miles total.
What makes this trail extra special is that it follows the gorgeous shoreline for a lot of the way. You will get to breathe in the fresh sea air and hear the waves crash onshore.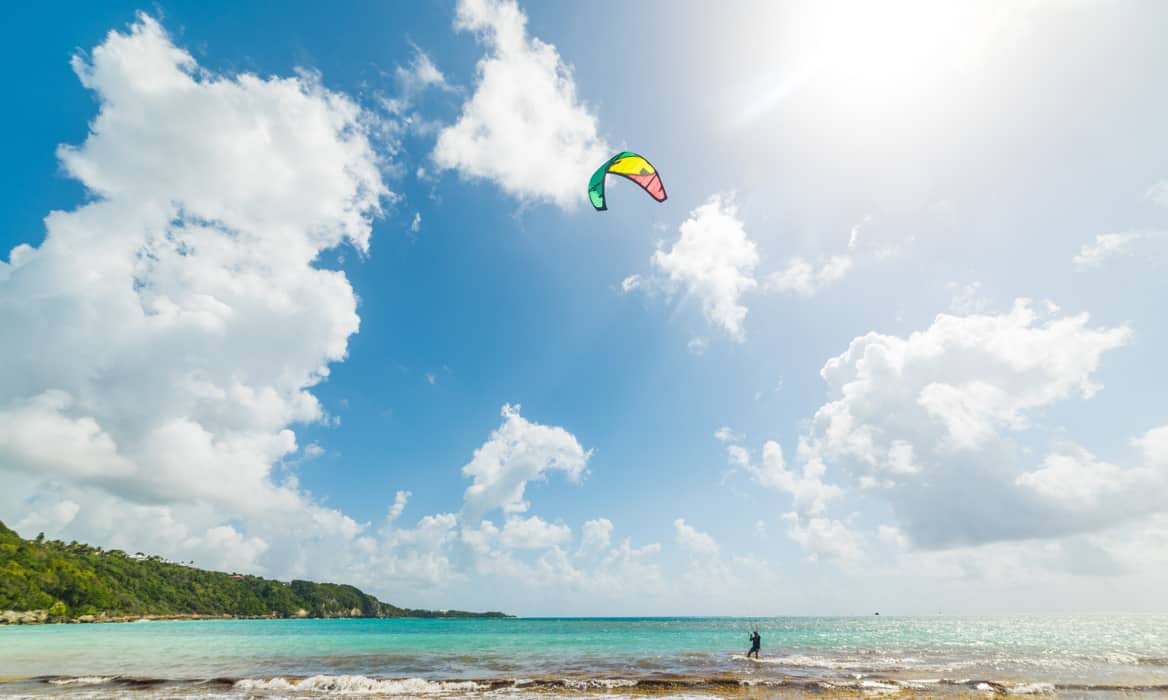 Plage de Saint-Felix Quick Tips
Sand & water color: Tan sand and blue water
Other names: Saint Felix Beach Circuit, Anse Dumont (area), Pointe Canot
Best for: Waves and the accompanying trail
Facilities: none
Lifeguard: none
Cost: Free
Parking: large lot at Plage de Saint-Felix
Where is Plage de Saint-Felix located?
The beach park is in the town of Le Gosier on the island of Grande Terre in Guadeloupe. This means that you are likely to encounter more locals than a lot of the other beaches because Le Gosier is a center of business activity (compared to other parts of the island).
If you are driving there from the airport it takes about 25 minutes. You have to wind through the town which can be a little bit time consuming.
Address: 6G2V+V76, Le Gosier 97190, Guadeloupe
Parking
There is a relatively large parking lot at the Saint-Felix park. I went on a Saturday and the lot was less than half full. It is also free of charge.
What you can Expect at Plage de Saint-Felix
In general, don't expect a lot of tourists or beachgoers. It isn't really a beach you will see people lounging on. Think of it more as a sandy shoreline, and a relatively thin strip of sand at that.
What you will see is a good amount of locals hiking and jogging down the coast. You can see specifics on the loop trail here.
Doesn't Connect to Anse Vinaigri
If you look at a map you might think that the trail will connect you to Anse Vinaigri. When jogging the trail I hoped to be able to connect all the way, but there is a fenced off area of private land blocking the final stretch.
Pros and Cons
Pros
Cool jogging trail
Easy to find parking
Plenty of shady areas to lounge in on a sunny day
Not a lot of tourists
Cons
No facilities
Rougher water
Not a very pretty beach (comparitively)
What to Bring to the Beach
Travel towel – So much easier to pack these quick dry microfiber travel towels than go without or be forced to buy one once there. We always travel with at least two of them.
Dry Bag – There are some lessons you just don't want to learn the hard way. Ruining your phone, camera, or other valuables at the beach is a very expensive lesson to learn. This dry bag is amazing and works for any and all water activities.
Reef-safe sunscreen – The sun here can be very strong. Make sure to wear a reef safe sunscreen or a rashguard.
Rash guard or long sleeve swim top – I wear the one from Skims and I love not having to worry about getting burned when I am out in the sun ALL DAY. Free people also has some amazing rash guards you can shop here.
Backpack or waterbottle sling – I am obsessed with my Beis travel backpack. I never travel without it. It is seriously the perfect size. Not too big, not too small. If you don't want to bring a full backpack this waterbottle sling is my absolute favorite. It fits a waterbottle, iPhone 14 pro max, plus some extra space for bars or snacks or your wallet.
Packable snacks – I always travel with these That's it bars from Amazon. OMG, they are sooo good and only have a few minimal ingredients.
Conclusion: Does Plage de Saint-Felix live up to the hype?
As a beach this one is a pass. The beach itself is one of the least pretty on the island. As a cool and easy hike this could be for you!
Things to do near Plage de Saint-Felix
If you are looking for a cool beach in the area go to one of these ones instead!
Anse Vinaigri (another city center beach)
Plage de Bois Jolan (one of my favorite beaches on Grande Terre)
Plage de Caravelle (another awesome beach in the area!)