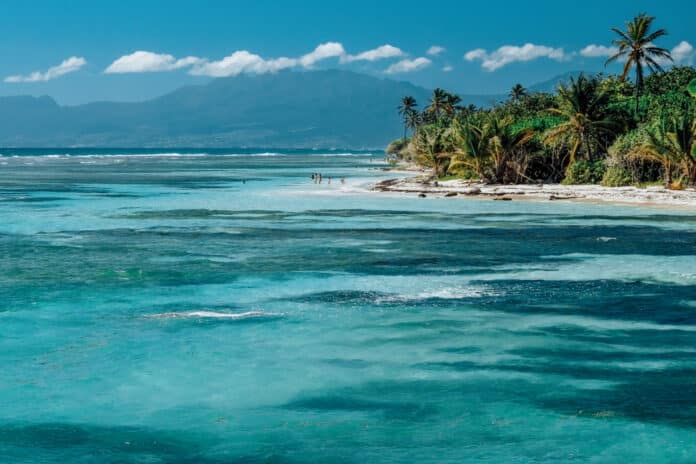 All beaches in Guadeloupe are supposed to be public, that being said, there are developments and neighborhoods that make effectively make certain beaches private, or at a minimum, not worth the hassle.
Anse Des Rochers is one of these beaches. It took a lot of effort to get there, and by the time we did I wish we would have just gone to a different beach instead.
The beach itself is beautiful, but there are a number of gated communities directly around the beach that require you to hike in from a ways away, unless of course you are one of the lucky guests staying in the area or own a house.
Quick Tips
Other Names: Anse A La Barque (area)
Known for: difficulty of access due to private neighborhoods.
Water Color: gorgeous clear blue
Good for: avoiding almost all crowds as it is mainly for the vacation rental guests
Not so good for: ease of access
Facilities: none, unless you are a owner or a guest at one of the properties
Lifeguards: no
Parking: street parking a hike and exploration away
Cost: free
Where Is Anse Des Rochers Located?
Anse Des Rochers is on the south eastern side of the main island of Grande-Terre in Guadeloupe.
If you are coming from the main part of the island or the airport it will take you about 45 minutes to drive here.
It is located about 5 minutes from the mini town of Saint Francois. Des Rochers is also the name of a private vacation rental community.
How to get there?
This is the trickiest part of this beach! It is easy to get near, but to get onto the actual beach you have to be willing to hike.
When you pull up you will see that there is a gate blocking access to the public and allowing residents access only.
We parked on the street a ways away and hiked in, but the closest spots without no parking signs were about 10 minutes away.
We just walked passed the guards and into the complex rather than asking if we could. I wouldn't have been surprised if they asked us to leave.
What can you expect at Des Rochers?
Due to the difficulty of access, the proximity of other nearby beaches with better facilities you can expect to find only a few other people.
Accessing Des Rochers
While you can't drive into the private Des Rochers community we were able to just walk in as there wasn't anyone at the gate. We've heard mixed stories about some people being turned away and others being allowed to walk in, just not park.
We parked along the street and walked down the steep hill in. It's a gorgeous resort area if you are looking to make a reservation.
Facilities
For non-guests there aren't really any facilities.
Where To Go Instead
One of my favorite beaches is only a little bit away, Plage de Bois Jolan.
This beach has all the facilities as well as it is long enough that you can usually find your own stretch of sand without other people on it.
Also, if you want another great beach and are willing to have people on it, then drive just a little bit further to Plage Des Raisins Clairs.
This beach is huge, has all the facilities you could ever want. There are actually multiple beaches in the area with the same name where you can still find your own space, you just won't feel like you have it to yourself.
Conclusion
While the beach is pretty I would say it's not worth the trouble of accessing. Score this one as a victory to the private landowners that have effectively restricted access.