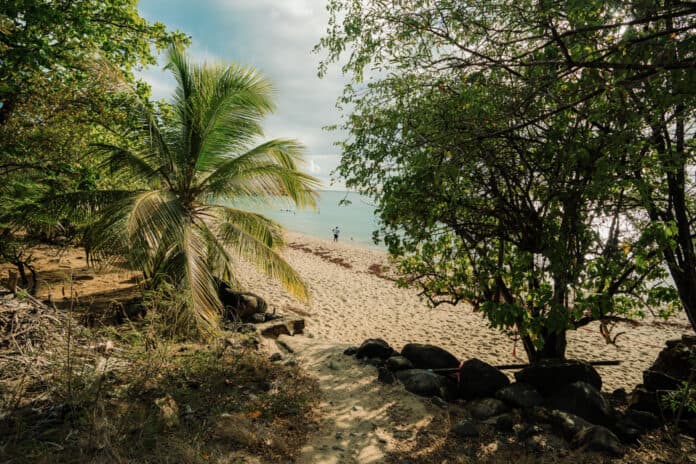 Plage de Leroux
This relatively unknown beach is close to the more famous Plage de Grande Anse and the super popular Plage de la Perle. The notoriety of those beaches (well deserved) keeps this as a largely under the radar beach.
This beach being under the radar doesn't mean it isn't great itself though. This Guadeloupe beach actually offers the complete package!
It is typically not that crowded, has great swimming and snorkeling because of its generally calm waters, has trees that provide good amounts of shade, and nearby restaurants and bars. What more could you ask for?!
Plage de Leroux Quick Tips
Best for: Swimming, relaxing, snorkeling
Facilities: no restrooms or showers (you'll have to go to the beach restaurant at the entrance to the beach)
Swimming conditions: Good. Small waves. Generally calm and quiet beach
Cost: Free
Parking: Limited, but right on the beach
Where is Plage de Leroux located?
Plage De Leroux is located in the town of Deshaies on the western coast of Basse-Terre in Guadeloupe.
If you drive straight here from the main airport it is about a 1 hour drive. In this drive you will pass a number of the more popular beaches, Grande Anse and Plage De Le Perle.
I think the fact that the drive requires you to pass these keeps Plage De Leroux from being more popular.
Plage de Leroux Map
Plage de Leroux Parking
If you drive down the steep hill at the entrance to the beach you will find parking spots directly off of the sand. The lot isn't that big, so you could get stuck without a spot.
If you don't get a spot, there are extra spaces across the street. The walk would literally take you less than a minute.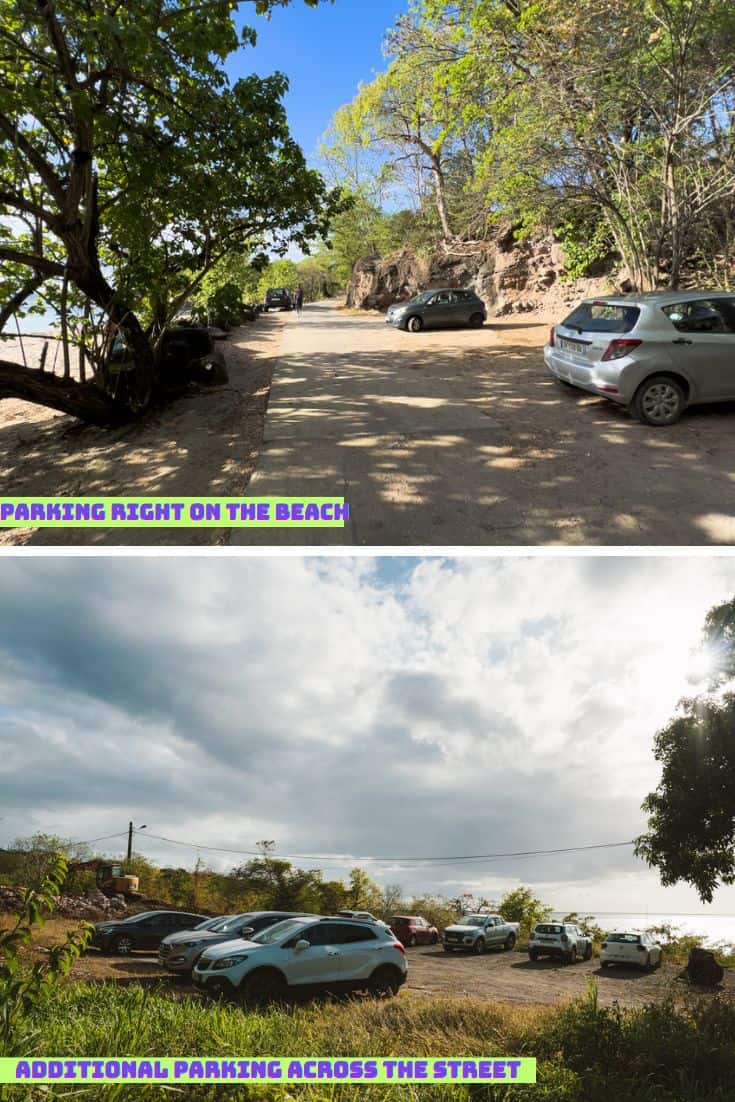 What you can Expect at Plage de Leroux
Sand & water color: Fine white sand, clear turquoise water
First off, this beach isn't as big as its more popular neighbor beaches. It is nestled in between a couple rock walls. Even though it is smaller than others, it's not dinky. It is probably only about 100 yards long, though the stretch of sand itself is decently thick.
Swimming Conditions
The waters are generally calm which makes it great for swimming, even with little ones. When the waves do come in they are generally quite light.
The ground under the water is generally made up of the same fine sand that you find on the beach.
At times the water can be rough, so use good judgment and stay out if the waves are too big.
Plage De Leroux Snorkeling
The rock wall creates an excellent environment for sea animals to thrive. The cove also keeps waves away so that you generally can snorkel without having to worry about getting bashed into the walls.
This beach and the nearby Petite Anse are two of the best areas in all of Guadeloupe to snorkel.
Once again, only do this when the water conditions permit though!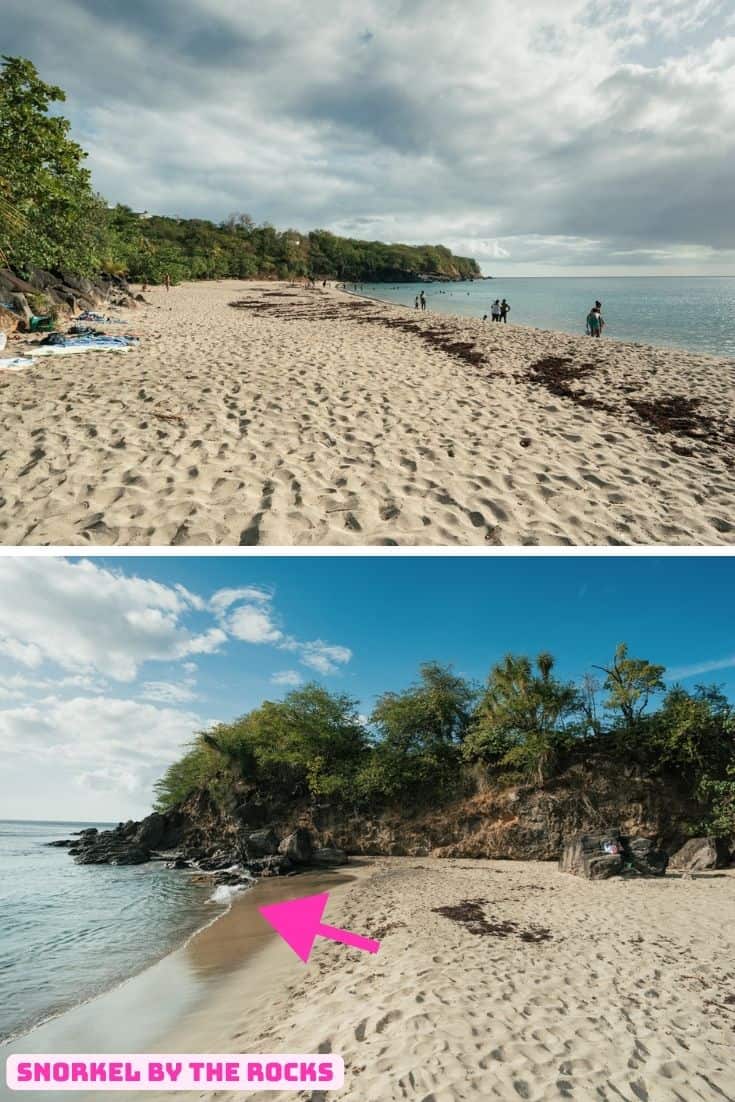 Restaurant right by the beach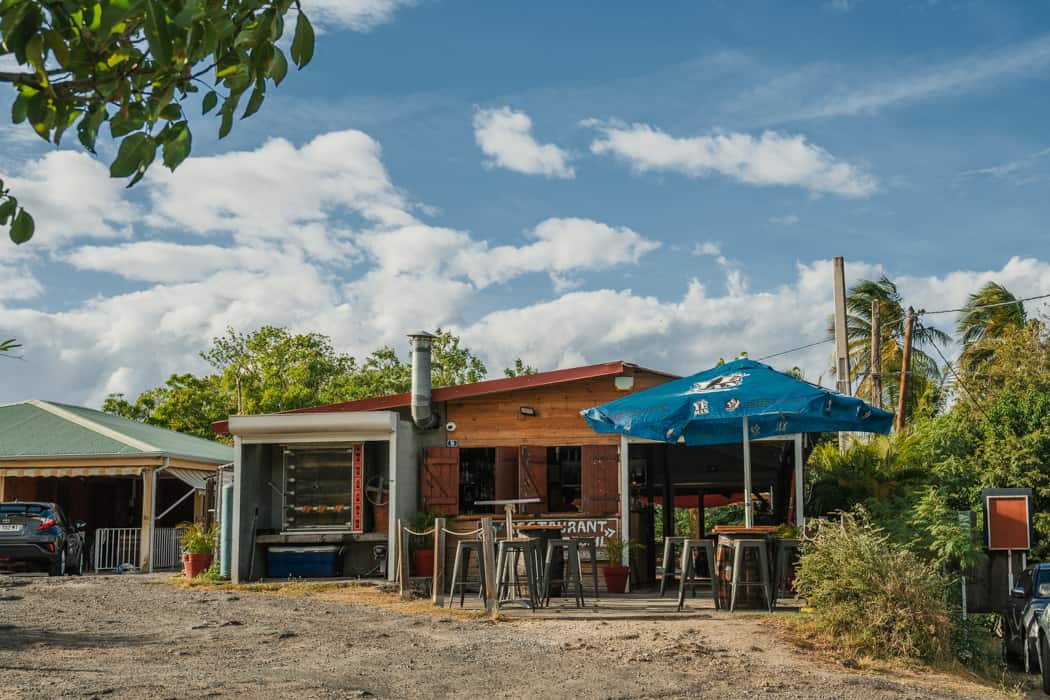 The Tradeoff – Lack of Facilities
The tradeoff when coming to this beach opposed to the others is that there aren't nearly as many facilities. There are no restrooms or showers. Also, there is only one restaurant at the entrance to the beach, and when we were there near sunset it was getting ready to close down.
This area of town isn't popular in any way with night life!
Crowds
Typically this beach has less people than its more popular neighbors, but if the secret gets out and people do flock to this beach it can feel crowded a whole lot easier by virtue of it not being as big.
Pros and Cons
Pros
Amazing snorkeling (especially on the south side) Go to the rocks on the left of the beach.
Cons
Limited parking
No showers or restrooms
Other Things to do in Deshaies
Jardin Botanique de Deshaies – Spectacular Botanical Garden
Anse Tillet – probably my favorite beach on the entire island!
Plage Naturiste
Conclusion: Is Plage de Leroux worth visiting?
Yes! This beach is still somewhat undiscovered and not crowded at all. While here you can enjoy great snorkeling, swimming, and sun bathing. Honestly, its one of the all around amzing beaches of Guadeloupe.
Some things to be aware of before traveling to Guadeloupe
Language Barrier: Guadeloupe is a French speaking island and there is very little English spoken. Trust me, it will help to know a few beach terms in French.
I had to use google translate while doing my trip research because most of the articles were written in French.
Some words that will be especially helpful to know are…
Plage – Beach
Anse – Cove
Plongée en apnée or "palme masque tuba" PMT (Fins, snorkel, mask) – Snorkeling
Geography Clarification – most people think of Guadeloupe as 1 island, but there are actually 6 different inhabited islands. The biggest island is named Guadeloupe, but this island is split in two by a small sound – the west (left side on most maps) is called Basse-Terre and the east (right side on most maps is called Grand-Terre.
Money – They use the Euro
Population – about 400,000 people.
What to Bring to the Beach
Travel towel – So much easier to pack these quick dry microfiber travel towels than go without or be forced to buy one once there. We always travel with at least two of them.
Dry Bag – There are some lessons you just don't want to learn the hard way. Ruining your phone, camera, or other valuables at the beach is a very expensive lesson to learn. This dry bag is amazing and works for any and all water activities.
Reef-safe sunscreen – The sun here can be very strong. Make sure to wear a reef safe sunscreen or a rashguard.
Rash guard or long sleeve swim top – I wear the one from Skims and I love not having to worry about getting burned when I am out in the sun ALL DAY. Free people also has some amazing rash guards you can shop here.
Backpack or waterbottle sling – I am obsessed with my Beis travel backpack. I never travel without it. It is seriously the perfect size. Not too big, not too small. If you don't want to bring a full backpack this waterbottle sling is my absolute favorite. It fits a waterbottle, iPhone 14 pro max, plus some extra space for bars or snacks or your wallet.
Packable snacks – I always travel with these That's it bars from Amazon. OMG, they are sooo good and only have a few minimal ingredients.