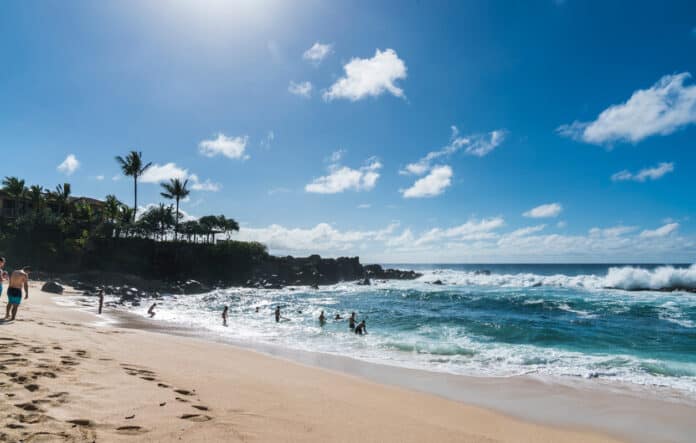 The North Shore of Oahu is most famous for the epic waves that crash onto the shores each fall/winter.
What many people don't know is that in the summer the waves calm down and there are actually a couple amazing North Shore snorkel spots.
Three Tables Beach is one of these amazing spots. The diversity of marine life along with a gorgeous golden sand beach make it extremely attractive!
Three Tables Beach Quick Tips:
Where: Pupukea, Hawaii (North Shore of Oahu)
Known for: amazing waves (winter)
Facilities: restrooms, showers, and picnic tables
Lifeguards: no
Parking: the worst part of this beach – limited spots just in front of beach
Hours: technically the beach closes at 10 pm and opens at 5 am (to prevent campers)
Other names: Waimea (area), Kalahopele Gulch
Where is Three Tables located?
This beach is located on the north shore of Oahu. This is the side of the island that is less developed (only comparatively).
It is just beyond the Waimea Valley and right next to Shark's Cove (another amazing snorkel spot).
How to get there?
There are really only two ways to get here and both involve you driving your own car. You could take a bus, but that turns into an all day affair.
The main road cuts across the middle of the island. Coming this way is the fastest, but you should still expect it to take about an hour from the airport or Waikiki, add even more time due traffic.
Renting a car is super easy in Hawaii and so worth it!
Don't want to deal with the hassle of renting a car on Oahu? I recommend renting out a Hawaiian Style Moped for the Day! (Much easier to find parking.)
Tip: When in Hawaii I highly recommend renting a car to get the most out of your experience. It would be difficult to see all the beautiful places in Hawaii without a car. Reserve a car here.
What can you expect at Three Tables Beach
You can expect the golden sands and turquoise waters! The unique rock formations (the three tables) protect the beach and make it a hole to all sorts of unique water life.
When the waves aren't too tall the protected cove is perfect for snorkeling. The creatures are just off the beach, so it's quite beginner friendly as well.
The beach is not very big in comparison to other options on the island.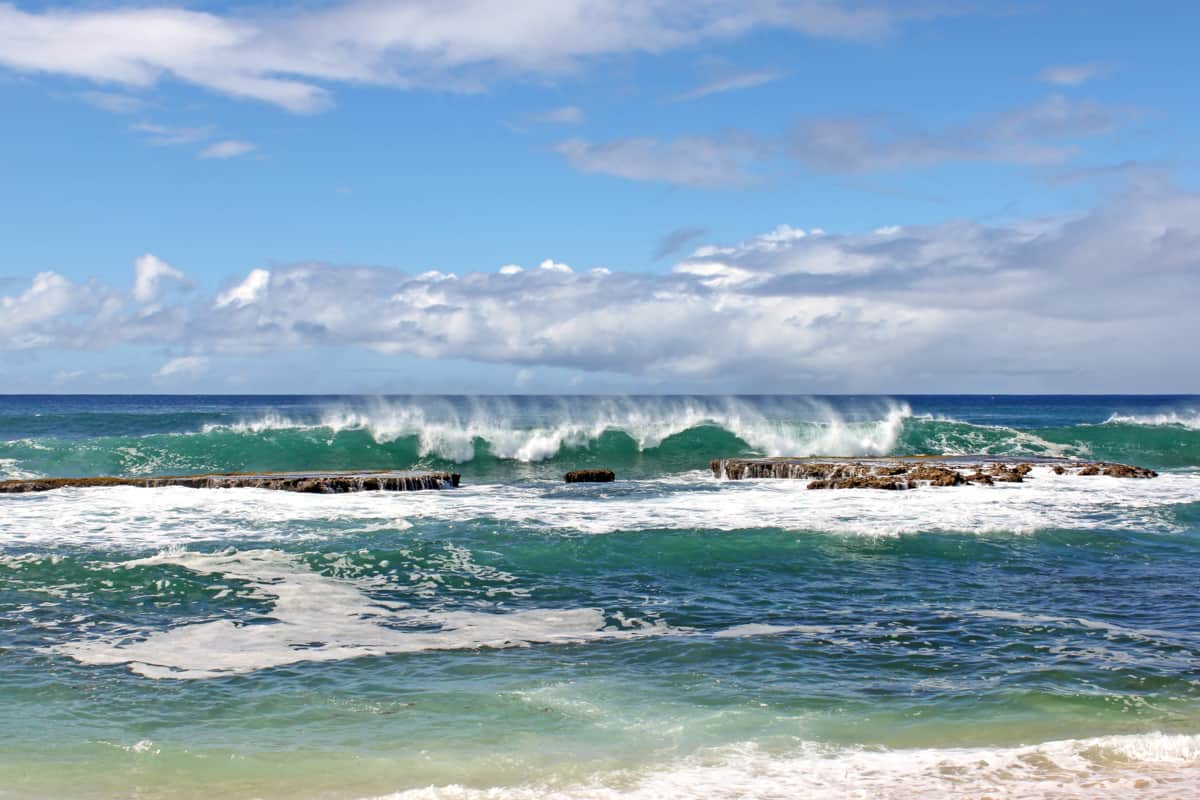 Facilities
There are restrooms, showers, and picnic tables. I did not see any lifeguards either time I was there.
There are a few restaurants and shops in the area that you can walk to.
Three Tables Beach Snorkeling
Three Tables snorkeling can be great depending on the season. In the winter the waves are too intense to even swim. But in the summer the water calms down and can make for good snorkeling.
Other great snorkeling spots on Oahu:
Three Tables Beach Parking
Parking is the worst aspect of this beach. There are only a few spots directly in front of the beach, and they fill up quickly. Street parking isn't really available without a long walk.
The only good thing is that the beach will only get so crowded because only so many people can park there.
Things to do Near 3 Tables Beach
Close to Shark's Cove (another snorkel spot), Waimea valley and Waimea Bay Beach.
Another epic snorkel spot is directly next door (Sharks Cove). The Waimea Valley also features the amazing botanical gardens and waterfalls. I also love the cliff jumping available at Waimea Bay.
Conclusion
If you want a north shore snorkel spot in the summer it is worth fighting for a parking spot to get here!