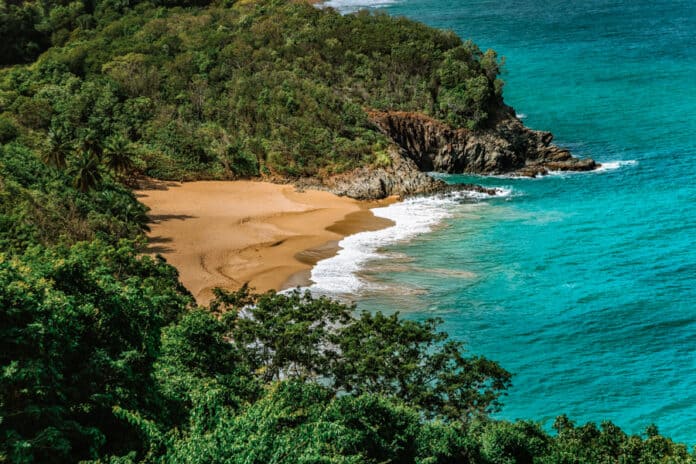 The Caribbean has a lot of gorgeous white sand beaches with gorgeous turquoise blue water. What the Caribbean doesn't have is many beaches like this that are almost entirely empty!
Plage de Tillet is incredibly gorgeous, easy to access, yet somehow mostly isolated beach! This is AWESOME news for those looking to have their own stretch of paradise.
Beaches in Guadeloupe are a secret that so many Americans don't know about. Being in the Caribbean it is quite close to the US, but 80% of the visitors to this island group are from Europe! With it being a French overseas territory it makes sense that it gets a lot of visitors from France, but somehow it stays a secret from most Americans.
For those that aren't French speakers, calling it Plage de Tillet Beach is a little redundant; it is basically saying Tillet Beach Beach. Regardless, of the redundancy, it is worth a visit.
I'm convinced that Plage de Tillet won't stay a secret for too much longer so you should plan your visit immediately!
Plage de Tillet Quick Tips
Other names: Anse Tillet, Tillet beach
Good for: Relaxing, swimming, sunning
Known for: Isolated beautiful beach
Facilities: None (only nature) – this is the tradeoff!
Cost: Free
Parking: This beach is easily accessible, it is located very close to road. Parking is located directly on the beach.
Where is Plage de Tillet located?
It is located in far northern part of the Deshaies region on the north side of Basse-Terre in Guadeloupe. The shape of Guadeloupe is often described as being shaped like a butterfly. With that mental image in your mind it is located on the top of the left wing (northwest part of the main island).
If you drive there from the main airport it will take you about 35 minutes.
Google Maps Slightly Off
The location for Plage De Tillet in Google Maps is slightly off. It shows the entrance to the beach a little bit east of where it actually is. There are signs marking the entrance, so once you get close keep your eyes peeled.
Plage de Tillet Parking
This beach is easily accessible, the entrance is right off the main road. The parking lot is easy to find and given that this beach is largely still a secret, it is almost never an issue to find an open spot.
Once you park you need to walk about 5 minutes through a small forest to access the beach.
Choosing the Right Path For Your Mini Hike
There are actually a few different paths that come out of the parking lot. You want to take the biggest one at the far east end of the parking lot. If you are facing the ocean this means that it will be at your right side.
The other trails lead to a cliff rock ledge or another beach, Anse Du Grand Bas Vent. The hike to that beach will take you a lot longer though.
Once you are on the correct path the hike is only about 200 yards downhill. You will go straight down towards the beach and finish by cutting through a mini forest.
What you can Expect at Plage de Tillet Beach
Sand & water color: Golden sand, turquoise blue water
Swimming conditions: Moderate (Current can get strong)
Lifeguard: none
In short, you can expect to find a perfect slice of paradise, and you have a good shot of having it almost to yourself. Even if there are others on the beach it is generally quite easy to spread out so you feel alone.
When there we felt totally isolated, in an awesome way. There were a few other groups of people there, but most of us found our own stretch of shade under some trees and would only see each other when we decided to swim.
Swimming Conditions
The waves on this side of the island are pretty consistent. They aren't super strong, but there is a current so you need to be careful.
We easily swam in water up to our chests, but at times we could feel the current pulling us away from shore.
Plage De Tillet Snorkeling
This beach is not great for snorkeling. Instead, I recommend Plage de Malendure or Plage De Petite Anse!
I tried putting on my mask since the water was so clear. When I looked in the water it was perfectly clear, but I saw no fish..only soft sand.
Pros and Cons
Pros
Isolated, not crowded
Beautiful
Cons
Not great for snorkeling
No facilities
No lifeguards
Conclusion: Is Anse Tillet worth visiting?
Yes! Isolated and so beautiful! Highly recommend visiting this beach in Guadeloupe to have your own Caribbean beach escape!
Things to do near Plage de Tillet
There are 10 more beaches available within a 5 km (3 mile) radius. The best one is Plage des Amandiers.
Plage des Amandiers – most relaxing beach in Guadeloupe.
Plage de la Perle (Another incredible beach)
---
Most Popular Tours on Basse-Tillet
---
What to Bring to the Beach
Travel towel – So much easier to pack these quick dry microfiber travel towels than go without or be forced to buy one once there. We always travel with at least two of them.
Dry Bag – There are some lessons you just don't want to learn the hard way. Ruining your phone, camera, or other valuables at the beach is a very expensive lesson to learn. This dry bag is amazing and works for any and all water activities.
Reef-safe sunscreen – The sun here can be very strong. Make sure to wear a reef safe sunscreen or a rashguard.
Rash guard or long sleeve swim top – I wear the one from Skims and I love not having to worry about getting burned when I am out in the sun ALL DAY. Free people also has some amazing rash guards you can shop here.
Backpack or waterbottle sling – I am obsessed with my Beis travel backpack. I never travel without it. It is seriously the perfect size. Not too big, not too small. If you don't want to bring a full backpack this waterbottle sling is my absolute favorite. It fits a waterbottle, iPhone 14 pro max, plus some extra space for bars or snacks or your wallet.
Packable snacks – I always travel with these That's it bars from Amazon. OMG, they are sooo good and only have a few minimal ingredients.