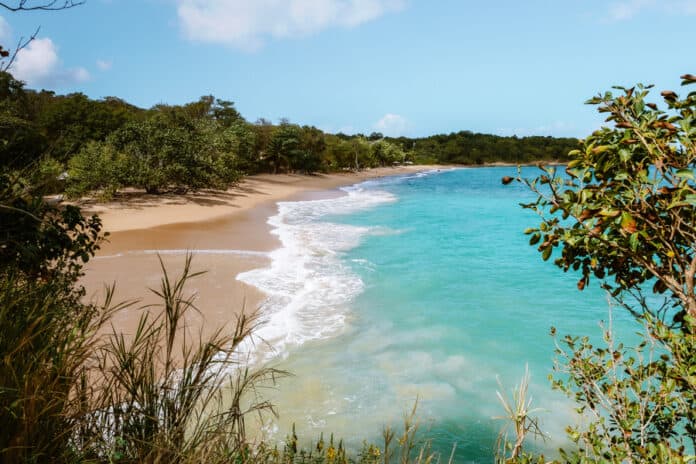 Plage des Amandiers is a great beach to visit if you want crystal clear waters, fine sand, and do not want to be surrounded by crowds. You won't even have to fight the crowds during the high season! Talk about a rare find.
Plage des Amandiers Quick Information
Other names: Amandiers beach
Good for: Relaxing
Known for: Windsurfing and kitesurfing
Facilities: Bathrooms, beach bar
Sand Color & Quality: Fine brown sand
Water color: Crystal clear turquoise water
Sea bottom: Fine sand
Swimming conditions: Waves can get pretty intense so watch out for children
Lifeguard: none
Cost: Free
Parking: Within 100 meters (330 ft)
Where is Plage des Amandiers located?
It is located in the Sainte-Rose settlement on the northern coast of Basse Terre in Guadeloupe.
Parking
Parking is located within 100 meters (330 ft) of the beach.
What you can Expect at Plage des Amandiers
The beach is partially covered by trees which will provide you with some shade from the sun.
Popular for windsurfing and kite surfing.
Amazing sand in and out of the water, great for relaxing.
Snorkeling
Unfortunately, Plage des Amandiers is not great for snorkeling.
Swimming conditions
The waves can get pretty intense so you will want to watch out for children. I found them fine to swim in but they can pull you out if you aren't careful.
If you are looking for a more shallow, calm beach I recommend Plage de la Caravelle and Plage de Bois Jolan on Grande-Terre in Guadeloupe.
Pros and Cons
Pros
Trees provide shaded areas
Fine, soft sand in and out of the water (nothing worse than getting in the water and finding out the ocean bed is covered in rocks)
Easily accessible
Not crowded even during high season
Cons
Doesn't have a lot of amenities
Conclusion: Is Plage des Amandiers worth visiting?
Yes!
Things to do near Plage des Amandiers
There are 9 more beaches located within a 5 km (3 mile) radius. The best one (highest rated) is Plage Du Souffleur.
Plage Du Souffleur – highest rated beach nearby
Plage Du Cluny
Plage Mania (lowest rated beach of the four)
---
Most Popular Tours on Basse-Terre
---
What to Bring to the Beach
Travel towel – So much easier to pack these quick dry microfiber travel towels than go without or be forced to buy one once there. We always travel with at least two of them.
Dry Bag – There are some lessons you just don't want to learn the hard way. Ruining your phone, camera, or other valuables at the beach is a very expensive lesson to learn. This dry bag is amazing and works for any and all water activities.
Reef-safe sunscreen – The sun here can be very strong. Make sure to wear a reef safe sunscreen or a rashguard.
Rash guard or long sleeve swim top – I wear the one from Skims and I love not having to worry about getting burned when I am out in the sun ALL DAY.
Free people also has some amazing rash guards you can shop here.
Backpack or waterbottle sling – I am obsessed with my Beis travel backpack. I never travel without it. It is seriously the perfect size. Not too big, not too small. If you don't want to bring a full backpack this waterbottle sling is my absolute favorite. It fits a waterbottle, iPhone 14 pro max, plus some extra space for bars or snacks or your wallet.
Packable snacks – I always travel with these That's it bars from Amazon. OMG, they are sooo good and only have a few minimal ingredients.