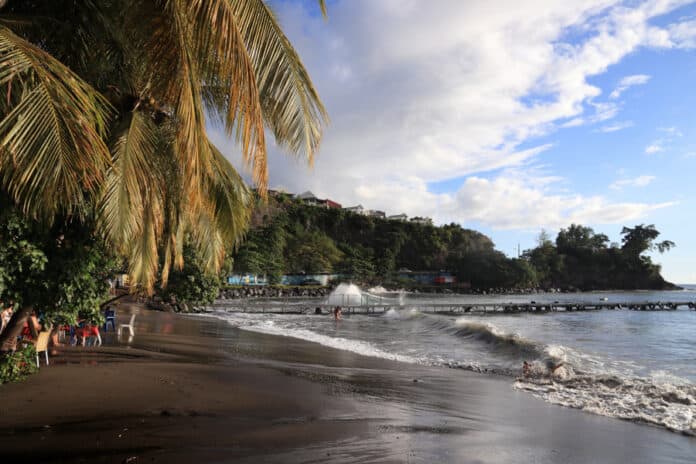 There are a number of gorgeous beaches in Guadeloupe. Plage de Malendure is NOT one of the prettiest shorelines, BUT I still highly recommend visiting.
Even though it's not the prettiest sand, it makes up for it by offering some of the best snorkeling in all of Guadeloupe. The generally calm waters and reefs are home to all kinds of amazing sea life!
Snorkel with turtles at Plage de Malendure!
Plage de Malendure Quick Tips
Sand & water color: Black volcanic sand, Blue water
Other names: Malendure beach
Best for: Observing sea turtles and other creatures around the reefs
Known for: Snorkeling with sea turtles!
Facilities: bathrooms, showers, kayak rentals, excursion sales, and a few restaurants
Swimming conditions: generally very calm waters
Lifeguard: none
Cost: Free
Parking: a small paid lot, but you should probably plan on street parking and walking from a ways away
Where is Malendure beach located?
Malendure Beach is located on the western coast of the island Basse-Terre in Guadeloupe. If you are coming from the main airport the drive will take you about 45 minutes.
If you are coming from the popular resort area near the Plage De Grande Anse the drive will take you about 30 minutes.
Address: Malendure 97125, Bouillante 97125, Guadeloupe
Parking
This is the worst part about the beach. There is one small lot directly behind the beach that you have to pay for. The good thing is that if you can find a spot in there you can pay via app and the rates aren't expensive.
For most people though you should plan on nearby street parking with a bit of a walk. If you don't show up early in the morning the lot is going to be full anyway. You might as will find street parking relatively close and walk the rest of the way.
What you can Expect at Plage de Malendure
First off, don't expect the white or golden sand of many of the other beaches in the area. Plain and simply, the sand here doesn't look quite as good as a number of the other beaches. This beach makes up for this by what it offers in the water.
Amenities
This beach features almost everything you look for in a beach. There are restrooms and showers. There are also a number of relatively affordable restaurants and bars directly on the shore.
For those looking for various rentals or excursions for more adventure there are also places to book those. One of the popular activities that attracted us was jet ski rentals/lessons.
Lot of awesome water activities and rentals offered in the area are
---
Check out the most popular tours below
---
Snorkeling at Plage de Malendure
While the sea bed, which is mainly made up of seagrass, is not very mind blowing, it is the perfect place to swim with turtles and green turtles in particular (especially in the morning).
There are a few reefs and rocky spots on the edge of the beach that are home to all sorts of sea life. The variety of fish is genuinely impressive. This is 100% what attracts so many unique visitors to this beach.
Crowds
This is a well known beach that will attract all types of snorkelers and divers. While it won't be absolutely overrun, do not plan on having this beach to yourself.
Pros and Cons
Pros
Perfect for observing sea turtles (especially in the morning)
Black volcanic sand
Cons
Beach is not as pretty as other beaches in the area
crowds
Conclusion: Is Plage de Malendure worth visiting?
If you are looking to snorkel then the answer is definitively yes! Being able to swim with sea turtles is a truly amazing experience, and it is easily accessible on this beach.
Things to do near Malendure Beach
Visit Plage Caraïbe beach
Parc des Mamelles
What to Bring to the Beach
Travel towel – So much easier to pack these quick dry microfiber travel towels than go without or be forced to buy one once there. We always travel with at least two of them.
Dry Bag – There are some lessons you just don't want to learn the hard way. Ruining your phone, camera, or other valuables at the beach is a very expensive lesson to learn. This dry bag is amazing and works for any and all water activities.
Reef-safe sunscreen – The sun here can be very strong. Make sure to wear a reef safe sunscreen or a rashguard.
Rash guard or long sleeve swim top – I wear the one from Skims and I love not having to worry about getting burned when I am out in the sun ALL DAY. Free people also has some amazing rash guards you can shop here.
Backpack or waterbottle sling – I am obsessed with my Beis travel backpack. I never travel without it. It is seriously the perfect size. Not too big, not too small. If you don't want to bring a full backpack this waterbottle sling is my absolute favorite. It fits a waterbottle, iPhone 14 pro max, plus some extra space for bars or snacks or your wallet.
Packable snacks – I always travel with these That's it bars from Amazon. OMG, they are sooo good and only have a few minimal ingredients.