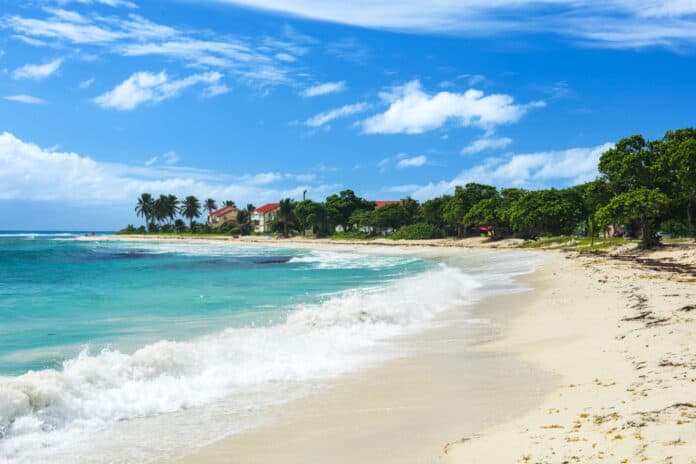 Plage des Raisins Clairs in Guadeloupe
There are a lot of great beaches in Guadeloupe. This French overseas territory is home to a number of gorgeous beaches, yet somehow remains a secret in many parts of the world.
I was shocked to discover how close Guadeloupe was to the United States, and how perfect and way less crowded their beaches are.
If you aren't familiar, Guadeloupe is famous for not being as developed as other Caribbean islands. There aren't tons of high rise hotels, super high end resorts, or extremely pricey restaurants. It is definitely a laid back beachy island vibe.
Plage Des Raisins Clairs, or Raisins Clairs Beach (I still have no idea where the name comes from but it translates to Light Grapes Beach) is a beach that epitomizes the Guadeloupe island vibe. It is an all-around perfect slice of paradise that you can relax on.
When trying to choose where to stay in Guadeloupe, you should consider Plage Des Raisins Clairs. Overall it is amazing, but there are potentially a couple of drawbacks you need to be aware of to make an informed decision.
Plage des Raisins Clairs Quick Tips
Sand Quality : White sand, but there are some bigger rocks in the water that can be painful to walk on
Water color: Generally an amazing clear turquoise (it's gorgeous)
Other names: Raisins Clairs Beach, Saint Francois Beach
Best for: Lounging, swimming
Facilities: Showers, food trucks, bathrooms, showers, volleyball courts, and there was even a food fair the weekend we were there
Swimming conditions: Good, generally gentle waters
Lifeguard: none
Cost: Free
Parking:Free, large parking area that typically doesn't get too crowded
Where is Plage des Raisins Clairs located?
Guadeloupe is made up of many islands, six of which are inhabited. Most people spend all their time on the main one (actually two) which is shaped like a butterfly. There is a sound that divides them, so each side of the main island has a different name.
On the "right" side or east side of the main island it is known as Grande Terre. It helps a lot of people to picture the shape of the island as a butterfly. The location of Plage Des Raisins Clairs bottom of the wing on the right side according to the orientation of almost all maps.
This beach is located in the town of Saint Francois on the southern coast of Grande Terre in Guadeloupe. If you are driving here from the main airport it will take you about 50 minutes.
Raisins Clairs Clarification
There are actually a few beaches in the town of Saint Francois that have the name Raisins Clairs. The beaches aren't actually connected so it can be a little bit confusing. The biggest and main one is the furthest west, though the one marked on Google Maps is the furthest east. They are all close to each other, but in general this post describes the furthest east "Raisins Clairs."
How big is the island of Guadeloupe?
One more comparison of the size of Guadeloupe, it is about 1/2 the size of the state of Rhode Island.
Parking
A huge perk of the island of Guadeloupe is that you generally don't have to fight for parking. That is a huge perk of visiting an island that so many people don't know about.
Even though this is a popular beach on the island, the large parking lot is almost always adequate to allow everyone wanting to visit to find a spot. Even if it does fill up there is free street parking on the side of the roads leading up to the beach.
What you can Expect at Raisins Clairs Beach
Basically, you can expect exactly what you see in the pictures! Soft sand, gentle waves of clear blue water, and beaming sun make it a perfect place to relax.
I also love that it is in the middle of the town of Saint Francois, which makes getting lunch or a drink so easy. There are also a lot of hotels and AirBnBs (very affordable) in the area that allow you to walk to this beach. The area is nice, but not super expensive as well.
The area is famous for having food trucks that pull up directly to the beach. I love not having to go far for a meal and then continuing to relax. The setup of this beach really helps me turn off my brain and do nothing but relax.
The waves are generally very mild, which can make the beach perfect for families to spend time at. It is always nerve-wracking to have strong waves and kids in the water.
One huge potential drawback is the presence of sargassum. For those that don't know what sargassum is, it's basically brown seaweed that will wash up and accumulate on the shore. Lots of times authorities will clear it away from the beaches, but it isn't always done and can sometimes look gross and begin to smell.
When we were there in May of 2023 there were some beaches that were covered in the seaweed, but almost all of it was cleared away from Raisins Clairs.
Summary of the Pros and Cons
Pros
Lots of shade
Lots of restaurants/food trucks nearby
Clear water for good snorkeling
Restroom and Shower Facilities
Soft sand and gentle waves
Cons
Sometimes the seaweed isn't cleared
Randomly an algae bloom will make the water gross
There will be other people on the beach (the island has plenty of others you can likely have to yourself)
Conclusion: Is Plage des Raisins Clairs worth visiting?
All in all it depends. When it is maintained Plage des Raisins is one of the most beautiful beaches in Guadeloupe that has all the nearby amenities to let you relax at it for an entire week!
That being said, if the seaweed isn't cleared or you don't want to be in the same area as a lot of locals, you might want to trek to a different beach.
Things to do near Plage des Raisins Clairs
Anse des Rochers (10 minute drive away)
Pointe Tarare (15 minute drive away) – Warning! Nudist beach.
Plage de Bois Jolan (23 minutes away)