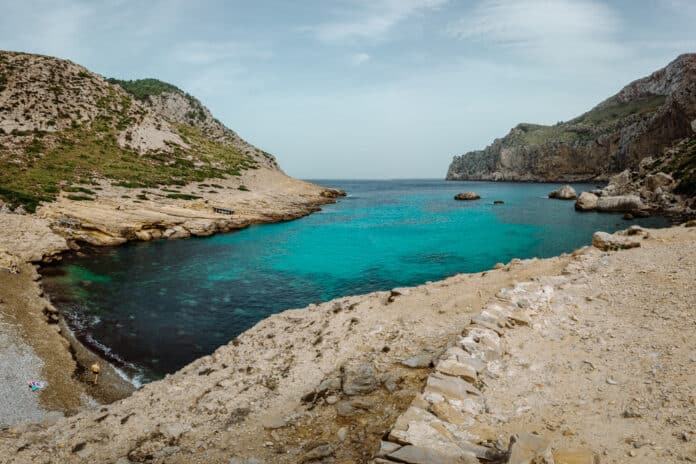 Cala Figuera is a small virgin cove on the Formentor peninsula in Mallorca.
Surrounded by mountains with crystal clear water and a small number of people during our stay.
Great view from above when you follow the main road, there is a large parking lot from where you will find a path leading down.
Despite the mountains, you can enjoy the long-set sun that illuminates the area, revealing an even more beautiful place. Remember to say hello to the mountain goats!
Clearing up the "Cala Figuera" confusion
Two Cala's by the same name in Mallorca. Don't get them confused!
IMPORTANT: There are technically two Cala's in Mallorca by the name of Cala Figuera and it can get a little confusing. One is located the south east end of Mallorca and one up north in Formentor. Two very different Cala's at opposite ends of the island. FYI – This post is covering the one up north.
To make matters worse when you google "Cala Figuera" half the results are of the one up north in Formentor and half the results were of the one in the south eastern end of the island. Be careful not to merge your research like I did at first.
Even the Mallorca.com website includes both places as if it were one, which is incorrect and only furthers the confusion.
Cala Figuera Quick Tips
Sand & water color: Rocky sand, Blue water
Other names: Cala Figuera beach, Cala Figuera Formentor
Best for: Snorkeling, diving, cliff jumping
Known for: Natural, rocky beach and mountain goats
Facilities: none
Swimming conditions: Calm waters but rocky shore
Lifeguard: none
Cost: Free
Parking: Free parking
Child friendly: I wouldn't go here with small children as the hike down can be difficult.
Where is Cala Figuera located?
Cala Figuera is located in on the north side of the Formentor peninsula, in Pollensa, Mallorca.
Cala Figuera Parking
Large parking lot.
How to get to Cala Figuera beach?
You can get there easily taking the bus or driving. The drive is pretty insane as the roads are very windy.
After parking, it is a 10-15 minute hike to the beach. I would make sure you are wearing hiking sandals or tennis shoes because navigating on the rocks in flip flops is not ideal.
I absolutely love hiking in my Teva sandals. They are so comfortable and can even be worn in the water as well. Which you will need here since the water is rocky as well as the shore.
It is a bit confusing to get down to, but you make your way down one way or another eventually.
What you can Expect at Cala Figuera
Mountain goats!! So fun!
Rocky beach
Calm water
Great snorkeling and diving
Great cliff jumping
Quiet beach
Be careful of the jelly fish
Cala Figuera Beach (Beautiful, but rocky)
The water is super clear, the beach is not too busy, and the goats were an added bonus.
Even though the beach is stoney, it is still worth it!
I would definitely recommend water shoes to avoid getting cut up on the rocks. Water shoes will also help when cliff jumping in the area as you have to climb out back onto the rocks.
There are no restaurants or bars in the cove. Make sure to bring lots of water as the walk up to the parking lot under the sun can be brutal.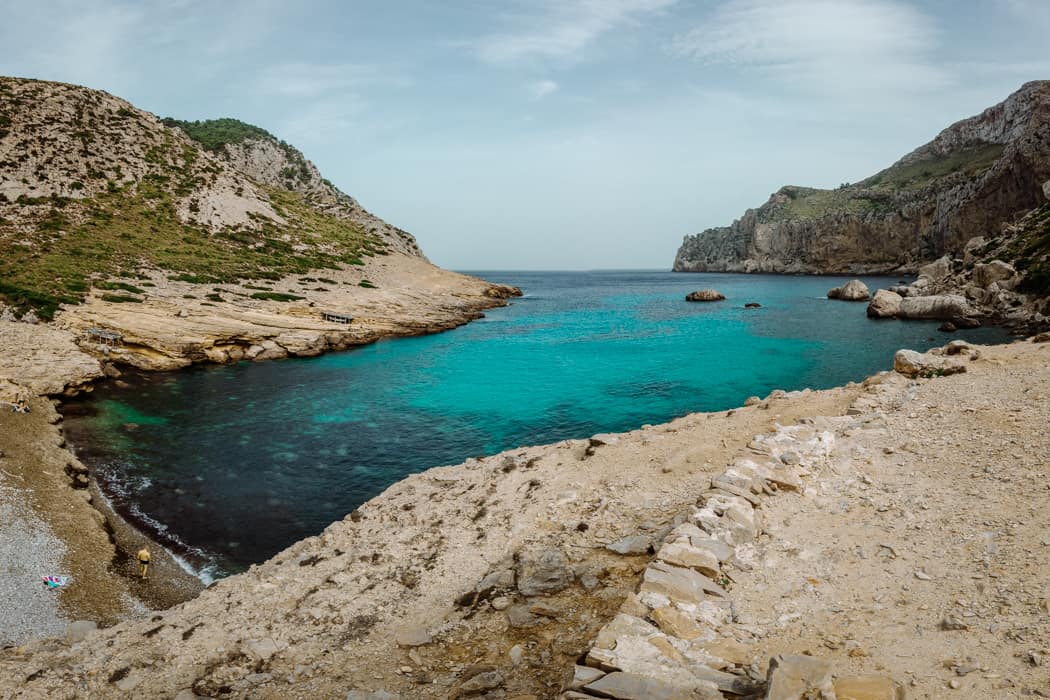 Mountain Goats on the Cliffs
Wild Goats living in the mountains on each side of the beach. (Warning, they get really excited and slightly annoying when you bring food).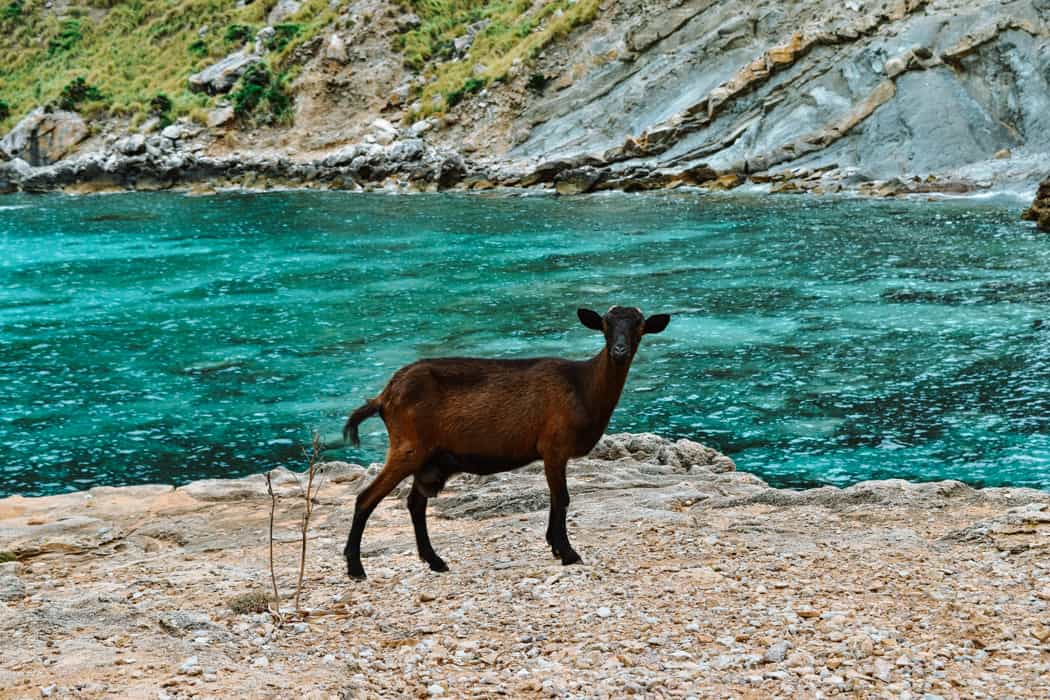 Cala Figuera Snorkeling Tips
This is a popular snorkeling and diving spot. You can find colorful schools of fish and corals on the rocky ground.
You can snorkel anywhere in the cove, but the rocky areas on either side of the beach are the best.
The cove typically has excellent underwater visibility. Perfect for snorkeling!
Note – You have to bring your own equipment if you want to snorkel. There is none available for rent nearby.
Cliff Jumping
There is great cliff jumping all along the cliffs with a ladder to help you climb out of the water.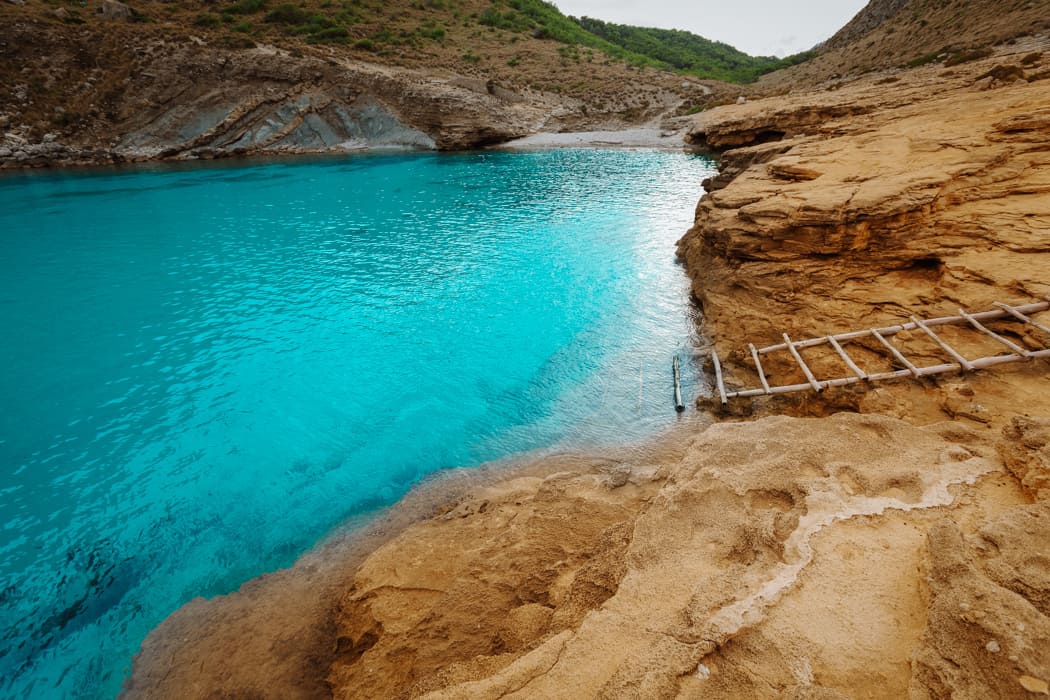 Pros and Cons
Pros
Calm water
Great snorkeling and diving
Peaceful
Mountain goats
Cons
Limited parking
Rocky beach
Trash on the path
Conclusion: Is Cala Figuera worth visiting?
Yes! Absolutely. One of the best spots in the north of Mallorca.
Full guides on my favorite Mallorca beaches
I have visited over 30 Calas (or beaches) in Mallorca and have full guides about all of them. From which ones are best to the parking (it can be a nightmare) to how to get down to the actually beach as a lot of them require hikes.
CALO DES MORO – This is probably the most beautiful cove beach I have ever seen. It was crowded when we went (high season) but if you go during the spring or early fall it won't be nearly as crowded.
CALA S'ALMUNIA – Amazing cliff jumping spots here. Not too high, not too small. It was just perfect in my opinion. This beach is literally a 5 minute walk from Calo des Moro. Don't miss it! It's beautiful!
CALA DES BORGIT – Amazing, lesser known beach. This may have been my favorite Cala we visited. It is much lesser known and wasn't nearly as crowded as the others.
ES TRENC – Lesser known but amazing! Es Trenc is more of a traditional beach than the others on the list (no rocks or cliffs around) but more out of the way from most of the touristy things. It was another one of my favorite beaches. The water was so blue, and the sand so white! Trust me, you don't want to miss this hidden gem.
Other Mallorca beaches we loved:
Note: We have been to every single one of these beaches. It was A LOT of work but we love it! Mallorca is one of our favorite spots to vacation in the summer. I hope you find this information helpful. Thanks so much for reading!