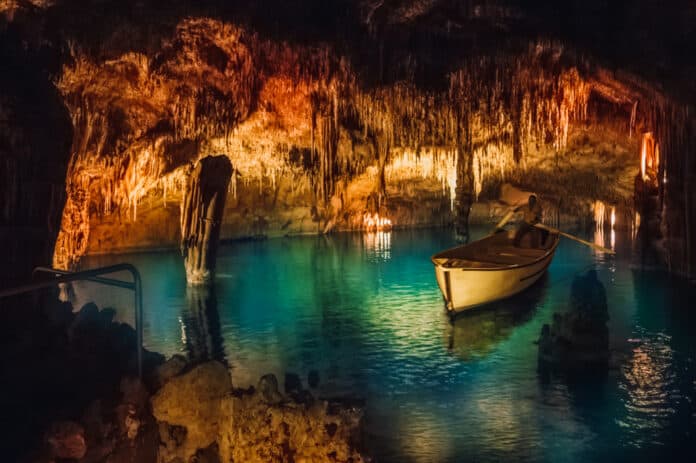 Cuevas del Drach Mallorca (Dragon Caves)
World famous caves located inside the enormous lake Martel! The Cuevas del Drach or The Dragon Caves in English are considered one of the largest underground cave lakes in the world!
The Caves of Drach are comprised of 4 separate and gigantic caves full of impressive stalagmites (upward-growing mound of mineral deposits that have precipitated from water dripping onto the floor of a cave) and stalactites.
The most interesting attraction of these caves is their 177 meter long underwater lake, known as Lake Martel.
Formed millions of years ago by the water pressure of the Mediterranean Sea.
WARNING! There are two caves to visit in Porto Cristo, the largest and more frequently visited are the Caves of Drach. Make sure to check to make sure you have the real Cuevas del Drach before buying tickets.
During high season you will really want to make sure you buy your Cuevas del Drach tickets in advance. Tours will sell out!
Where are the real Cuevas del Drach caves located?
The Dragon Caves are located in Porto Cristo, Mallorca.
Best ways to explore the Cuevas Del Drach
There are a few ways you can visit these caves. You can go on your own and just buy tickets, or you can go by tour.
Personally, I like that you can explore the cave on your own without a guided tour to listen to. You follow the path in your pace.
I also like that there are a lot of tour options at pretty affordable prices offered as well. There is something for every kind of traveler.
Cuevas del Drach tickets
Your ticket will show the time of your visit, and how long you have to complete it.
You can either make your reservation via the Internet or at the caves themselves, whichever you prefer. Places on each trip are limited, and only those holding a ticket will be able to go in. Book Online at getyourguide.com
---
Book these experiences for a close-up look at The Dragon Caves in Mallorca
---
Caves of Drach Tours
There are a number of different tour options for viewing this cave.
Option 1: Majorica Pearl Shop and Caves of Drach
Enjoy a boat trip on Lake Martel (one of the world's largest underground lakes), listen to a live classical music concert, and watch a spectacular light show. Finish the day with a panoramic sightseeing tour of Porto Cristo and a liqueur tasting in Manacor.
Do I recommend visiting the Cuevas del Drach?
Yes, absolutely. This is one of the coolest caves you will ever see. It is seriously MASSIVE. The light show and music is a great touch to set the mood as well.
Things to do near the Dragon Caves:
Explore the old quarter of Manacor
Visit the Church of Nostra Senyora dels Dolors
Visit the turquoise waters of Cala Morlanda
Full guides on my favorite Mallorca beaches
I have visited over 30 Calas (or beaches) in Mallorca and have full guides about all of them. From which ones are best to the parking (it can be a nightmare) to how to get down to the actually beach as a lot of them require hikes.
CALO DES MORO – This is probably the most beautiful cove beach I have ever seen. It was crowded when we went (high season) but if you go during the spring or early fall it won't be nearly as crowded.
CALA S'ALMUNIA – Amazing cliff jumping spots here. Not too high, not too small. It was just perfect in my opinion. This beach is literally a 5 minute walk from Calo des Moro. Don't miss it! It's beautiful!
CALA DES BORGIT – Amazing, lesser known beach. This may have been my favorite Cala we visited. It is much lesser known and wasn't nearly as crowded as the others.
ES TRENC – Lesser known but amazing! Es Trenc is more of a traditional beach than the others on the list (no rocks or cliffs around) but more out of the way from most of the touristy things. It was another one of my favorite beaches. The water was so blue, and the sand so white! Trust me, you don't want to miss this hidden gem.
Other Mallorca beaches we loved:
Note: We have been to every single one of these beaches. It was A LOT of work but we love it! Mallorca is one of our favorite spots to vacation in the summer. I hope you find this information helpful. Thanks so much for reading!