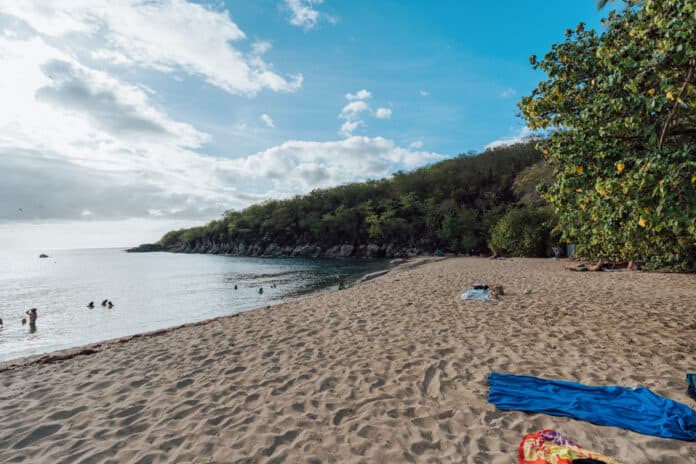 Plage de Petite Anse is located in Bouillante in Guadeloupe on Basse-Terre island. It is known for its amazing snorkeling! (Perhaps the best on the entire island?)
Everyone visiting Guadeloupe heard about Plage de Grande Anse. Plage De Grande Anse is one of the biggest and (justifiably) most popular beaches in all of Guadeloupe. In French "anse" means cove, to the name translates to the Big Cove Beach.
What many people don't know is that there is a Plage De Petite Anse about 15 minutes away. This name translates to Little Cove Beach.
The name describes what you will find. A smaller version of the grand beach just up the road. This beach is especially perfect for snorkeling. The big rocks on the either end of the beach help keep the waters calm and attract tons of sea life.
Plage De Petite Anse Info
Where: western side of Basse-Terre in Guadeloupe
Facilities/Amenities: none, other than one restaurant on the beach
Best for: snorkeling, swimming
Downfalls: parking access and amenities
Where is Petite Anse located?
This beach is located on the western side of the island of Basse-Terre. It is located about 15 minutes south of its big brother beach (Grande Anse).
How to get to Plage De Petite Anse
The drive to this beach from the main airport on Guadeloupe will take you about 1 hour. You have two choices on which way to get there with both of them taking about the same amount of time.
You can drive up and around the northwest tip of the island of Basse-Terre, or you can go straight west and up and over the mountain. If you go around you will pass a lot of the bigger and most popular beaches like Grande Anse and Plage De La Perle. If you go up and over the mountain you will pass some of the most famous waterfalls like Acomat Falls and Cascade Aux Ecrevisses.
Parking
Parking is the trickiest part of accessing this beach. There are only a few spots in the mini parking lot. If you can't get a spot here you need to be prepared to park a ways a way and hike in on foot. There aren't as many street parking options close compared to other Guadeloupe beaches.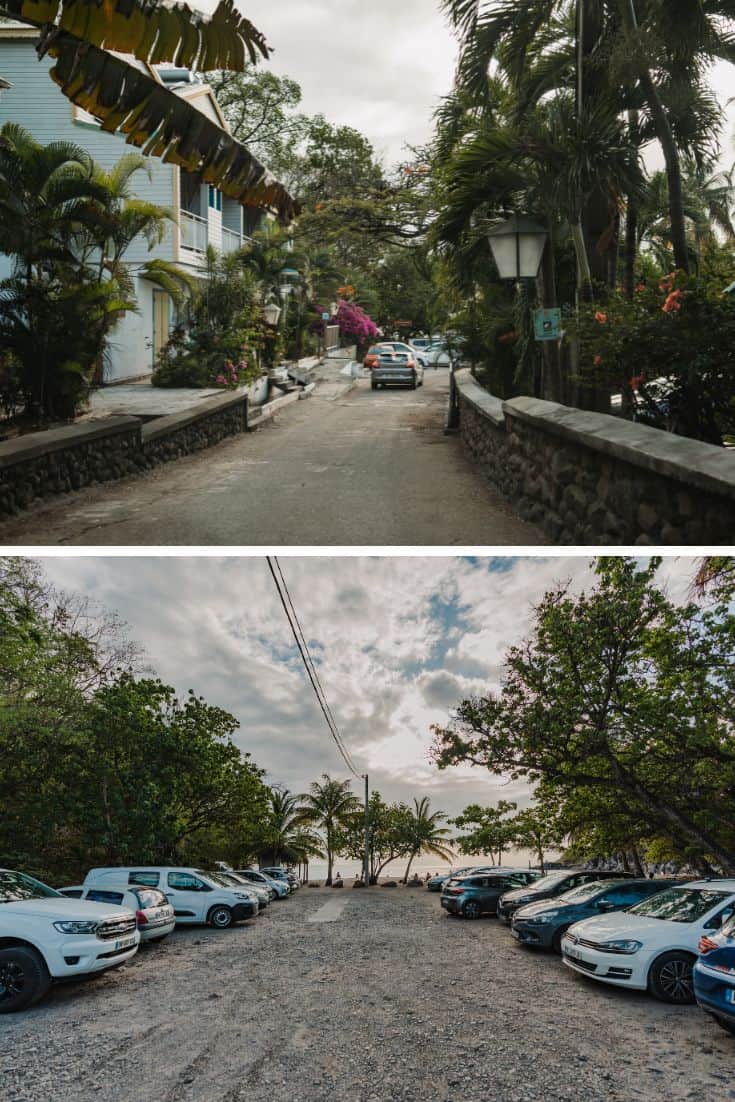 What you can Expect at Plage De Petite Anse
Sand: Golden sand (Watch out for pebbles while getting into the water)
Water: Clear, turquoise water
Length: 100 meters long (328 ft)
Even though the beach isn't that big the stretch of sand is pretty wide. This gives lots of people the opportunity to spread out and enjoy. The sand itself is a little bit darker (golden) than some of the other beaches in Guadeloupe. But still beautiful.
Plage De Petite Anse Snorkeling
I think Plage de Petite Anse has some of the best snorkel beach on the island. The large boulders on either side of this beach provide a perfect environment to snorkel in. The cove walls protect the area from getting big waves, which also keeps the sea life near the rocks.
The water is so clear that it makes it really easy to see the creatures. Once you stick your face underwater you will be shocked at everything you can see.
At less than 1.5 meters (4.9 feet) deep, with a mask, you can see so many fish!
Where to snorkel
The best snorkeling is by the rocks on either end of the beach. On the sides of the cove, near the rocks you can see turtles when the water is not too rough. The sea turtles are sometimes spotted feeding on the seagrass bed. You can easily find the seagrass by looking for the dark spots in the water.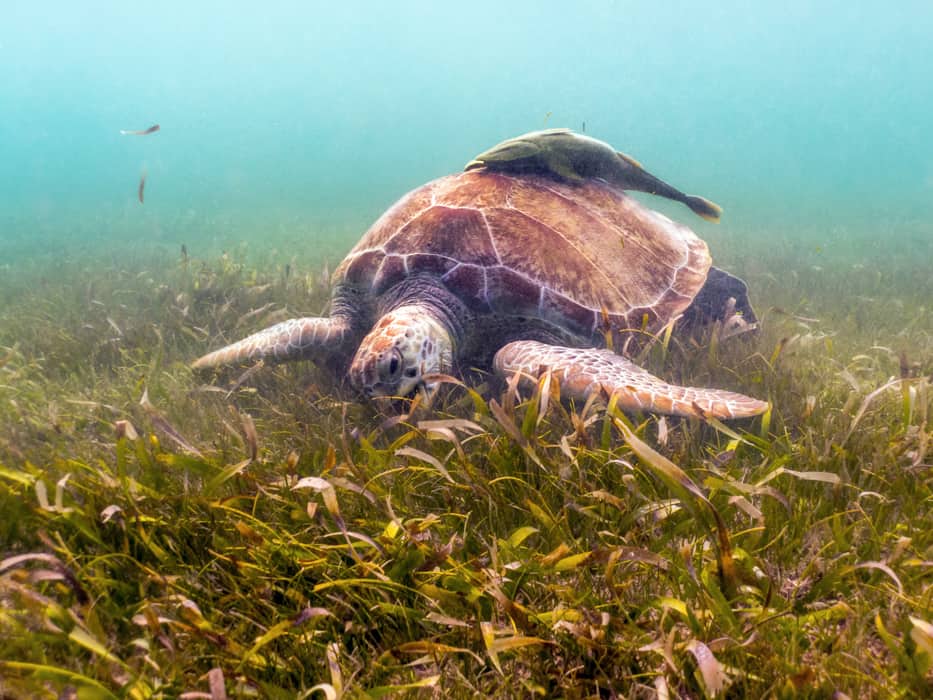 Best Snorkeling spots in Guadeloupe
In general, the west coast of Basse-Terre island has the greatest spots to go snorkeling in Guadeloupe.
Plage de Petite Anse (Bouillante) – truly one of the best spots! Easy entry.
Plage de Malendure (Bouillante) – Another snorkeling beach on the west coast of Basse-Terre island. Great place to swim with sea turtles!
Plage des Raisins Clairs (Saint Francois) – Located on Grande-Terre island.
Trou a man Loui – Okay, so this beautiful little cove beach is definitely not known for it's snorkeling, but hear me out. While the currents can be rough, I saw the most fish here in such a concentrated little area than anywhere else on the island. Definitely worth checking out. I couldn't get enough.
Swimming Conditions
The cove protects the water from getting big waves on shore. This makes it an excellent swim spot, especially if you have little kids. There are some rocks in the water, but not enough where you need to have serious worries about injuring your feet.
Crowds
This small beach can get crowded, even with the parking limitations. Because it isn't that big it doesn't take too many people to make it fill up.
It felt especially crowded when people were lining the shore to watch the sunset. Even with the people the sunset was amazing though (it helps that the beach faces west).
Amenities
Other than the one restaurant on the beach there are not other amenities. You don't have showers, restrooms, or equipment rentals.
Conclusion: Is Plage de Petite Anse worth visiting?
If you are looking for a great snorkeling spot then this is the beach for you! If you aren't especially interested in snorkeling then you might not love this beach. It is smaller and has less amenities than others in the area.
Some things to be aware of before traveling to Guadeloupe
Language Barrier: Guadeloupe is a French speaking island and there is very little English spoken. Trust me, it will help to know a few beach terms in French.
I had to use google translate while doing my trip research because most of the articles were written in French.
Some words that will be especially helpful to know are…
Plage – Beach
Anse – Cove
Plongée en apnée or "palme masque tuba" PMT (Fins, snorkel, mask) – Snorkeling
Geography Clarification – most people think of Guadeloupe as 1 island, but there are actually 6 different inhabited islands. The biggest island is named Guadeloupe, but this island is split in two by a small sound – the west (left side on most maps) is called Basse-Terre and the east (right side on most maps is called Grand-Terre.
Money – They use the Euro
Population – about 400,000 people.