This cute little beach is in the heart of the Guadeloupe action. If you land at the main airport you are just minutes away from Anse Tabarin, as well as tons of other restaurants, bars, and shopping.
This cove beach has pretty sand and calm waters to go along with its proximity to Pointe-a-Pitre (the main city in Guadeloupe).
Is it the best beach in the islands of Gaudeloupe? Not at all, but that doesn't mean you still can't enjoy it.
FYI – It is also worth noting that this beach is much prettier than my photos show. I went in morning and it was rainy and grey so the photos came out pretty crappy. When sunny, the water is typically a lot more vibrant and bright turquoise.
Anse Tabarin Quick Info:
Where: Le Gosier, Grande-Terre, Guadeloupe
Facilities/Amenities: sizable park, pavilions, restrooms, showers, and restaurants and vendors
Best for: being close to the city action
Not So Good For: avoiding crowds
Cost: Free
Parking: large free lot and nearby street parking
Where is Anse Tabarin located?
This little cove beach is about 10 minutes from the heart of Pointe-a-Pitre in Guadeloupe. Pointe-a-Pitre isn't a big city, but it is as big as you get in Guadeloupe. It is where most of the locals are, as well as the best shopping.
Guadeloupe doesn't have high rise hotels, but there are still areas catered to the tourists. This isn't one of those areas. The people at this beach are much more likely to be Guadeloupe locals.
The beach is on the southwest side of Grande-Terre.
Anse Tabarin Map
How to get to Anse Tabarin
It's an easy drive from most parts of the island because it is centrally located. From the airport itself it will take you about 20 minutes.
There is some construction going on in the area that could slow you down a bit, but GPS should have no problem taking you there.
Anse Tabarin Parking
This beach has a large lot. Considering how small the beach is, it's kind of funny that the parking lot itself is bigger than the beach.
What you can Expect at Anse Tabarin
This is not really a beach you will see people sunbathing on. You aren't likely to even see a lot of tourists. This is a beach where the locals are likely to bring their kids to come and play in the calm protected waters.
There is a grassy park where people will spread out for a picnic. You don't have to bring your own food though as there are food stalls in the area.
There is also a built out "pier" that you can walk out on in the water.
Swimming Conditions
The protected waters are usually calm. This makes it a great place for little kids to swim.
Crowds
Given its proximity to the hustle and bustle of town a lot of people seem to be at this beach. It didn't feel crowded, but each time I passed (even early in the morning or later at night) it was never deserted.
Facilities
There are not a ton of amenities at this beach. But there are a few pavilions set up and glorified porta potty bathrooms.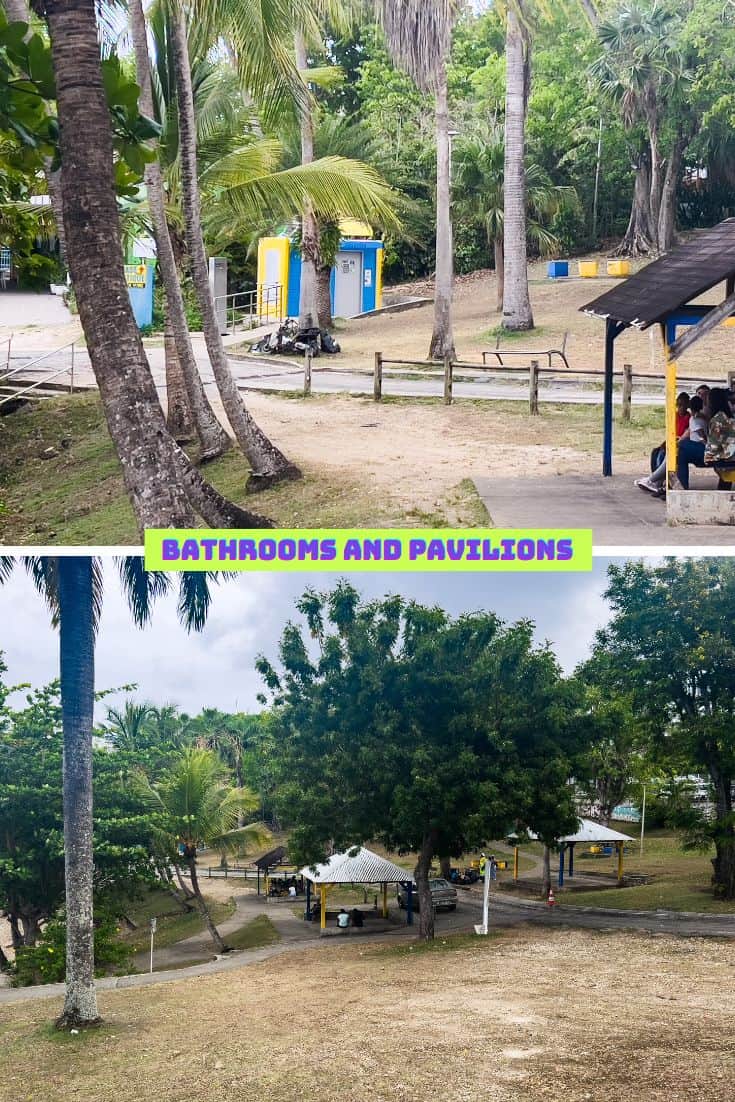 Conclusion: Is Anse Tabarin Worth Visiting?
It isn't the prettiest beach, but it's still cute and relaxing. It has amenities but they aren't really catered to the standard beach goer. If you are in the area you may enjoy this beach, but I wouldn't seek it out if you aren't.
You should head to one of my nearby favorites instead – Plage De Caravelle or Plage de Bois Jolan.