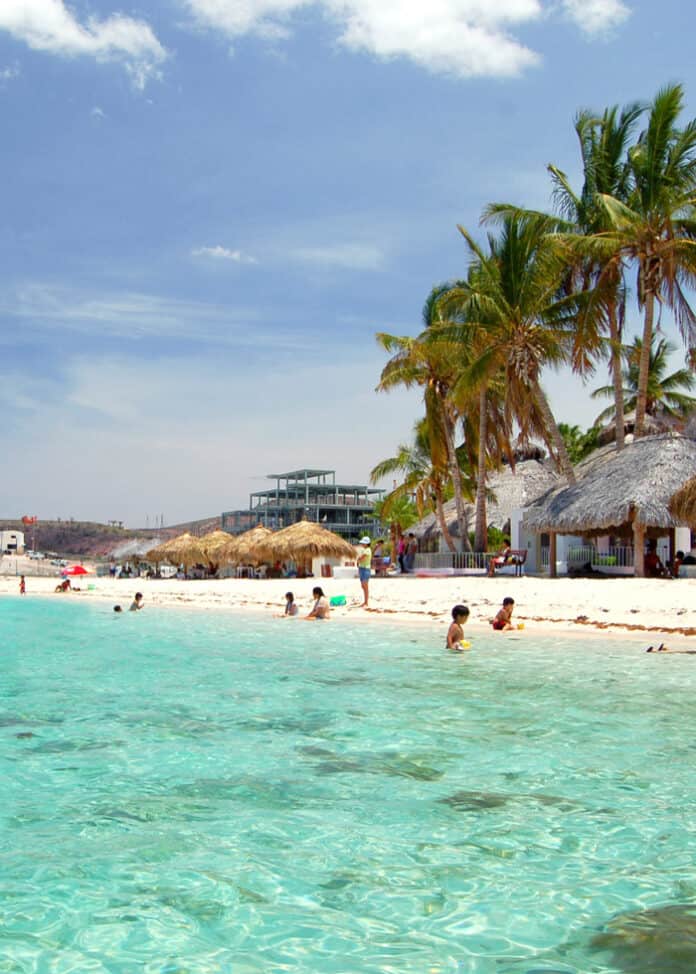 Playa el Caimancito (El Caimancito Beach) is a small hotel beach with a public square type area in La Paz, Mexico.
Playa El Caimancito
This dinky beach has a hotel directly on it. If you stay in this hotel you can definitely enjoy a small stretch of sand backing up to crystal clear blue waters.
If you aren't staying at the hotel you can still enjoy this beach, I would just recommend some of the others in the area ahead of this one though. The non-hotel portion is quite small and gets a little crowded.
Playa El Caimancito Info
Other Names: Little Alligator Beach (English translation)
Where: just north of La Paz, Mexico (directly next door to Playa El Coromuel)
Facilities/Amenities:
Best for: proximity to La Paz
Not So Good For: large stretch of pretty sand
Available excursions:
Cost: free
Where is Playa El Caimancito located?
This beach is located just north of the town of La Paz. The drive takes less than 5 minutes when coming from the Malecon. Trust me, if you are in La Paz you will end up on the Malecon.
It is also located 19 minutes from Playa Balandra. (The most popular and most beautiful beach in La Paz, Mexico.)
How to get to Playa El Caimancito
Finding this beach can be a little confusing if you aren't a hotel guest. The hotels have gates that only let guests in.
If you aren't a hotel guest you can still get in for free though. The public entrance looked like a prison yard though. There were tall stucco walls and a metal gate with a guard.
If you pull up though you will get waved into the beach easily though, just know it's not labeled and looks a little off.
Parking
There is a large parking lot that rarely fills up, even though the beach can get crowded. It's great because it is directly off the sand and is free of charge.
What you can Expect at Playa El Caimancito
First off, this beach is fairly small. It is divided in two by a man-made rock wall. The one side (prettier side) is reserved for hotel guests only.
The other side is open to the public, though it is quite small. There are a few umbrellas that are open to the public, but they will likely be occupied very quick.
Most of the visitors on the public side are locals. Later in the day it will get more and more crowded as locals come to hang out.
Swimming Conditions
Like a lot of the Gulf Of California waters they are quite calm on the shores. This makes it a great spot for swimming, especially if you have little ones that you don't want to get washed away.
Playa El Caimancito Snorkeling
There are calm clear waters that you can snorkel in, just don't expect to see too many fish here.
Facilities/Amenities/Activities
Unfortunately there are no restaurants or amenities on this beach. Other than the easy parking situation and few publicly available beach umbrellas there is not much to offer. There are no restaurants or bars.
Things to do near
The best things to do near are head to some of the other beaches or tours. I highly recommend Playa Balandra.
Conclusion:
This pretty little beach isn't my favorite. The stretches of sand are quite small and in places look more like dirt than fluffy white sand.
If you go a little bit further north the beaches get much more beautiful, have lots of other amenities, and are still free to access!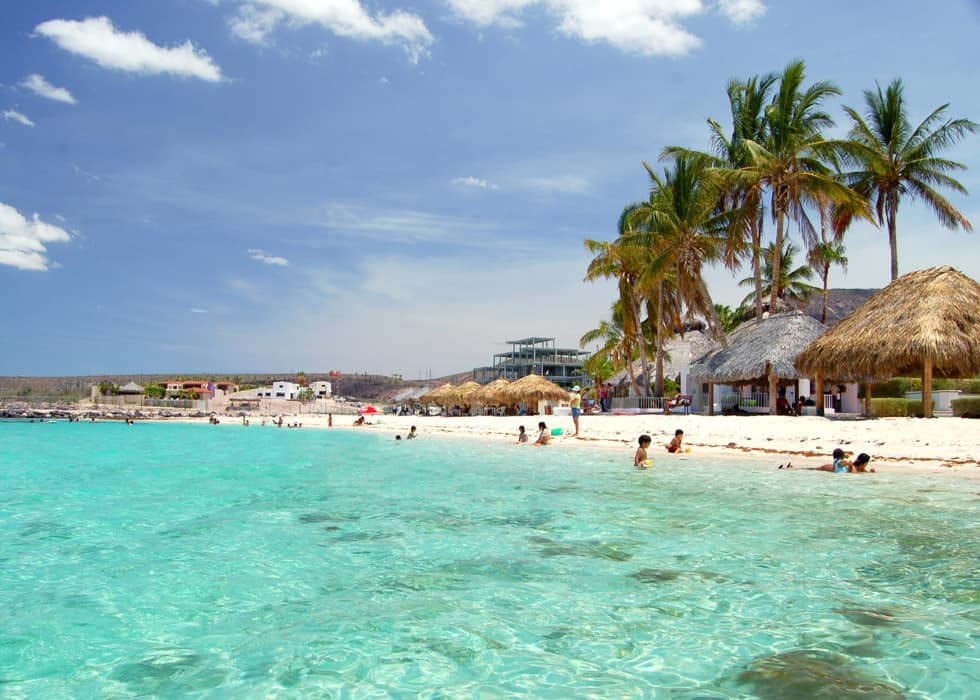 Where to stay in La Paz
There are plenty of accommodation options in La Paz, that will suit any budget. To be honest, it's more difficult to find an expensive hotel than it is a cheap one. If you are looking for luxury, many grand hotels also await. Explore all the top rated hotels in La Paz here.
For snorkeling – The La Concha Beach Hotel & Club is one of the best hotel picks for those who love easy access to snorkeling. The resort offers snorkeling, diving and canoeing tours. You can rent all your snorkeling great from the hotel! There is a reef you can access from either the beach or at The Cortez Club Dive Shop. Check prices here.
Most Popular Tours in La Paz
---