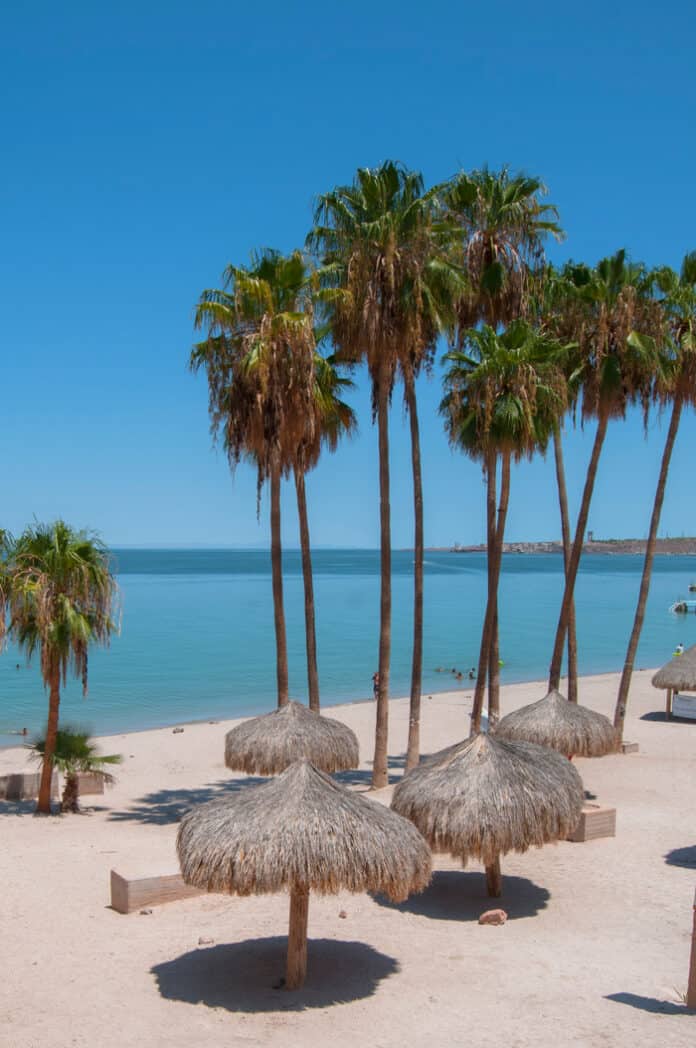 Playa El Coromuel
In the city of La Paz and looking for a beach to stop at? There are a few options just north of the main Malecon/boardwalk.
This small beach is still a hub for a lot of action. It features the gorgeous calm waters that are common in the area. The stretch of sand isn't super large and in some stretches kind of looks like dirt, but the clear blue water is stunning! Also, the area is full of every amenity you would want.
Full disclosure, this beach isn't close to the beauty of Playa Balandra or Playa El Slatito, but is still be a fun spot for a diversion from La Paz.
Playa El Coromuel Info:
Other Names: Coromuel Beach
Where: five minutes north of La Paz
Facilities/Amenities: restrooms, restaurants, bars, beach umbrellas, and a short pier
Parking: free lot running the length of the beach
Best for: closest quality beach to the city of La Paz
Not So Good For: large stretch of sand
Available excursions:
Cost: Free
Where is Playa El Coromuel located?
Playa El Coromuel is located just outside of La Paz Mexico. La Paz is the closest "city" to Cabo, but it's still pretty small. La Paz gives you a real Mexican feel though, unlike the super touristy environment of Cabo.
Playa Coromuel is north of the main Malecon or boardwalk of La Paz.
How to get to Playa El Coromuel
The drive from Cabo to La Paz is about 2 and a half hours on wide highways. It's super easy, though there is one toll that will cost you about $6.50.
Once in La Paz you just need to drive north of the main Malecon or shoreline boardwalk. It is only about one half of a mile. The parking lot comes immediately off of the road, so you can't miss it.
Parking
There is a parking lot the goes all along the outside of the beach. There are plenty of spots and the best part is that they are free.
What you can Expect at Playa El Coromuel
The beach isn't big, but it is a great gateway to the stunning blue water of the ocean/gulf of California.
The sand is rather packed and at times can look a little like dirt. It doesn't have the super soft feel of some other Mexican beaches. The water really is as clear and blue as the pictures show!
Swimming Conditions
The water is typically calm and great for swimming. There is an area roped off that you swim in to avoid the boats. It's relatively shallow all the way out so it works pretty well to lounge in.
Playa El Coromuel Amenities
This is where this beach is especially great. There are a number of different restaurants and bars lining the shore. You can choose from a number of different food options.
There are free restrooms and rentals of kayaks and other beach sports equipment, and even a small zipline!
I like that there is a bike path and ample opportunities to take a break from the sun and rest in the shade.
Playa El Coromuel Snorkeling
The calm waters of the Gulf of California are always great for snorkeling. The waters are calm and clear, just don't expect a ton of sea-life here.
Playa El Coromuel Crowds
Given its proximity to the city it can attract a lot of the locals. This does make it more of a fun party environment though.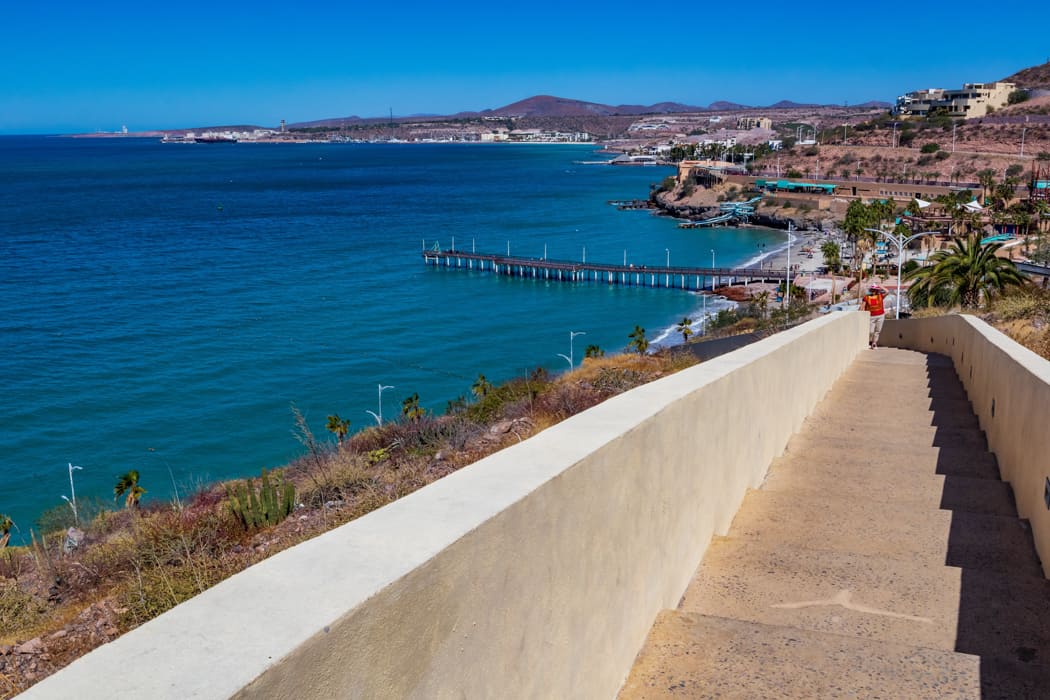 Conclusion:
If you can't make it all the way up to Playa Balandra or one of the other nearby beaches north of La Paz, then you can still enjoy Playa Coromuel. I would recommend going the extra 20 minutes to Playa Balandra instead, but I still don't have anything bad to say about Coromuel.
Even if you aren't a beach person there is a lot to do here other than swimming and sunbathing. There are lots of restaurants, viewpoints, a pier etc. making it perfect to spend the afternoon walking around and exploring.
There is even a zipline but it was closed when we were there.
There's also a bike path and sidewalk that goes along the road/rock wall that was shaded for part of the morning. There's benches to sit on along the way too.
Where to stay in La Paz
There are plenty of accommodation options in La Paz, that will suit any budget. To be honest, it's more difficult to find an expensive hotel than it is a cheap one. If you are looking for luxury, many grand hotels also await. Explore all the top rated hotels in La Paz here.
For snorkeling – The La Concha Beach Hotel & Club is one of the best hotel picks for those who love easy access to snorkeling. The resort offers snorkeling, diving and canoeing tours. You can rent all your snorkeling great from the hotel! There is a reef you can access from either the beach or at The Cortez Club Dive Shop. Check prices here.
Most Popular Tours in La Paz
---