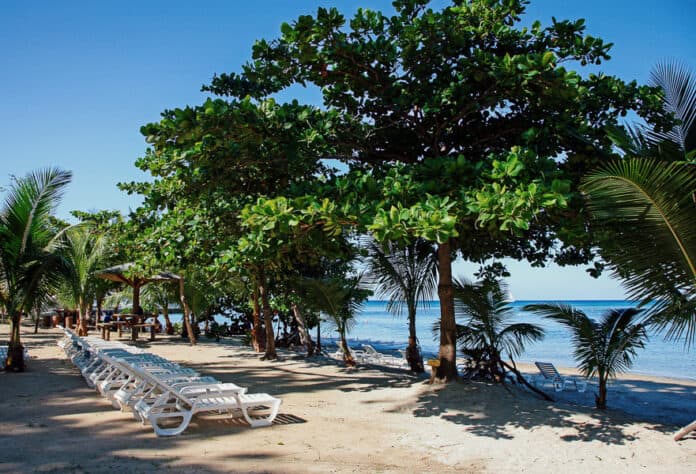 After spending a number of days in Roatan I finally figured out the mystery of Tabyana Beach! While it doesn't really say it anywhere, Tabyana Beach is another name for West Bay Beach.
There is a resort directly on West Bay Beach that is named the Tabyana Beach Resort.
It sits on the south end of west bay beach, and I previously thought the beach got this name from this resort, but after talking to a couple of locals they told me otherwise.
Supposedly the actual name of West Bay Beach is Tabyana Beach, but everyone calls the beach West Bay Beach because it sits in the West Bay neighborhood and then the name West Bay Beach just kind of took over. If you type Tabyana Beach into Google it will automatically switch you over and take you to West Bay Beach. You can read additional details about West Bay Beach here.
Tabyana Beach Quick Facts:
Other Names: Tabyana Beach Break, West Bay Beach
Known For: Being the most popular beach on Roatan
Facilities: anything and everything
Lifeguards: stands but I didn't see any
Parking: plenty of street parking
Cost: FREE, you do not have to be a resort guest to enjoy
Other: See West Bay Beach post here for more
Location: Tabyana Beach Resort
If you are looking for Tabyana Beach Resort specifically, it is located at the far south end of West Bay Beach. Just beyond the resort is a rock cliff that marks the southern boundary of the beach.
Hotel Reservation Not Required
Specifically addressing this to that portion of the beach in front of the resort. You do NOT have to be a guest at the resort to hang out here. West Bay Beach and Tabyana Beach are open to the public. This is the area that has the most hotels and resorts in Roatan.
While all the beaches on Roatan are supposed to be public, some in effect require you to purchase a day pass or to be a hotel guest to enjoy.
The Tabyana Beach resort is not one of these. You can enjoy the beach directly in front of the resort without issue.
What to Expect at Tabyana Beach
Generally, you can expect gorgeous water and an opportunity to enjoy it while lying in the sand. Directly in front of the resort there isn't a wide stretch of sand.
The sand here is taken up by resort loungers that extend almost to the water line. To use them, you have to be a hotel guest.
When you are on this beach you are only about 100 feet from the famous Mesoamerican coral reef. Make sure you book a tour to experience the reefs that are chock full of aquatic life!
You are literally close enough to the reef that you could swim there from the shoreline, but experienced guides are best at taking you directly to the best spots, and these tours are shockingly affordable.
Crowds
This is the most popular beach on the island, so it does get crowded. That being said, it isn't super small so there generally is enough space for everyone to spread out on.
What Else To Do In The Area
You definitely want to do a snorkel or dive tour, and I also recommend the Gumbalima Eco-Adventure park, which is actually walking distance from Tabyana Beach.
Conclusion: Is Tabyana Beach Worth Visiting?
There are a lot of gorgeous Caribbean Beaches. If you are interested in diving to see the most amazing coral sea life and then want to relax afterwards, you will love Tabyana Beach.