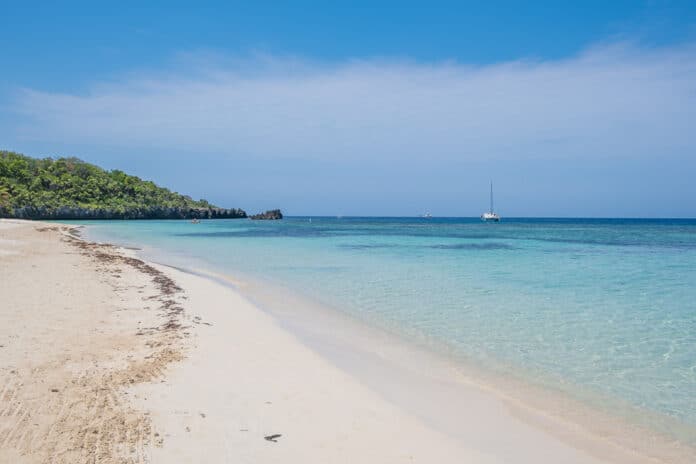 The island of Roatan is most famous as a cruise stop for its coral reef for diving and snorkeling opportunities.
For people looking to spend time on the island or possibly as a different cruise excursion, they should consider the most popular beach on the island of Roatan, West Bay Beach.
West Bay Beach has been voted the best beach in Central America. This beach has it all. There is soft white sand and sparkling turquoise water. That's not it though, this beach has so much more!
Yes, West Bay beach has restaurants, bars, cool boutique hotels, as well as providing opportunities to participate in any water sport or adventure you could imagine. Those things make it easy to enjoy for extended periods of time, but even that isn't what makes this beach especially awesome.
What makes the West Bay Beach of Roatan so unique is that it sits about 100 feet away from the second biggest coral reef on earth! Yes, just behind the Great Barrier Reef of Australia ranks the Mesoamerican Reef that is directly off the coast of Roatan Honduras.
This means that aside from the normal opportunities of a stunning beach, you have access to some of the best snorkeling and scuba diving on earth.
West Bay Beach Quick Info:
Other Names: Tabyana Beach, West Bay, West Beach
Known For: start of dive or snorkel tours, amazing sunsets, being the Roatan tourist hub
Facilities: no direct restrooms or showers, but tons of restaurants, resorts, and shops have facilities
Lifeguards: there are lifeguard towers, but I've never actually seen lifeguards
Parking: plenty along the various streets
Vendors: there are vendors of all types on the beach, from selling jewelry, massages, snacks, and adventure tours
Cost: free, but you can pay about $10 for a beach chair for the day
Other: water taxis leave here for the West End
Location of West Bay Roatan
Okay, when trying to plan your trip to Roatan some of the lingo can be a little bit tricky. There are a few things that are worth clarifying when trying to figure out where exactly West Bay Roatan is!
West Bay Vs West End
The West Bay is a neighborhood on the western side of the island of Roatan. Not surprisingly the West Bay Beach is in the West Bay neighborhood. The West Bay town is home to a ton of hotels, restaurants, dive shops, and other things catering largely to the tourists.
The West End refers to a different neighborhood entirely. The West End neighborhood is also on the western side of the island of Roatan, but it is a little bit north of the West Bay Area. The West End has its own beach. The official name of the West End Beach is Half Moon Bay.
The West End village also features lots of hotels, restaurants, and bars. The West End doesn't seem to have quite as much action as the West Bay, and in my opinion the West Bay Beach is better.
If you were to walk between the two it would take you about 45 minutes, but the preferred way to transfer between them is via water taxi! By transferring via boat it will only take you about 5 minutes.
The West Bay neighborhood is about 25 minutes from the Roatan airport, and if you are coming from one of the main cruise ports you can expect the drive to be about the same.
Infinity Bay Roatan
One of the most popular resorts on West Bay Beach is the Infinity Bay Resort in Roatan.
It sits on the south end of West Bay Beach. Is famous for its over 300 foot infinity pool.
The resort is so popular that I've heard people call the West Bay Beach the Infinitiy Bay Beach.
The best part is you don't have to stay at this resort to enjoy the amenities. Get your day pass here.
How Cruise Passengers Can Visit West Bay Beach
This Resort Beach Day Pass Excursion is available for cruise ship passengers arriving at the Port of Roatan Coxen Hole and Mahogany Bay.
The drive is about 20 minutes from Coxen Hole pier and 45 minutes from Mahogany Bay pier. Beach chairs fresh water shower and restrooms are included in this excursion!
West Bay Beach Activities
This beach gives you access to so many different activities. You can book a snorkel or diving tour on the spot on the beach. There are shacks and vendors offering the opportunity.
It doesn't stop there though as there are fishing tours and the ability to book my favorite experience on the island, the Gumbalimba Eco Adventure Park (get up close and personal with monkeys, ride an intense zip line, and then relax on a private beach – book here).
You can also go parasailing or stand up paddle boarding. If you want a drink there are tons of bars lining the shore, or you can have a nice sit down meal in one of the sand side restaurants.
The prices are obviously more expensive than other parts of the island, but the location is amazing. For pricing, you can expect to pay about what you would pay at a mid-tier restaurant in the United States.
The water really is as clear and blue as the pictures show. It is tempting to just lounge in the beautiful water all day. There are sand volleyball courts if you are looking to expend some energy.
Best West Bay Beach Excursions
Here are a few of the best excursions you can do at West Bay Beach.
Discover Private Scuba Diving in West Bay Beach– This is a great option for those who are not scuba certified yet. You will have the help of a PADI-certified diving instructor. With this Discover Scuba Diving program, you can try scuba diving without having to commit to a full certification course.
Snorkeling in West Bay – Don't miss out on some of the best snorkeling in the world.
All Inclusive Day Pass at West Bay Beach Resort
You don't have to stay at the fancy resort in order to enjoy the best amenities in Roatan. Whether you are vacationing there or there on a cruise stopover, I highly recommend checking out this all inclusive day pass at the West Bay Beach Resort.
Head to this page for more details.
Is West Bay Roatan Safe?
While no place is devoid of risk, it feels pretty safe in the West Bay of Roatan. There are tons of security guards lining the streets and the beach, and they are very willing to help if you need directions.
Drawbacks
While West Bay Beach is great, it isn't perfect. To be fully prepared there are a few drawbacks to be aware of.
Crowds
With it being the best beach on the island, it tends to attract a good number of crowds. Even on weekends at noon it's not overrun, but don't expect to have it to yourself.
If you want a similar experience without the crowds I recommend checking out
Thin Sand In Spots
The sand isn't that wide all the way down. At points, the waves basically come all the way up to to the end of the beach, or to resorts that have the space marked off. With this, you sometimes have to walk further down to find a spot that you can lay out your towel on.
To combat this, if you are booking a resort in the area I recommend one that has its own stretch of beach with chairs laid out that you can use.
If you don't want to book one of those resorts, there are a number of areas where you can reserve a lounge chair for the day. You can expect to pay about $10.
Vendors
If you want to zone out in the sun you might not fully have the chance due to vendors being in the area. They will try to sell you the standard snacks, jewelry, and tours. They are friendly and clue in really fast if you aren't interested.
Conclusion: Is West Bay Beach worth visiting?
Even though there are some drawbacks, overall this beach is worth it if you are going to be on Roatan. I've explored almost all of them, and it really is the best on the island!
The water really is as gorgeous as you see in the pictures, and you really can easily get to the underwater metropolis that is the Mesoamerican coral reef.
Also In The Area
From this area you have access to a bunch of other top sites in Roatan.
You are within walking distance of my favorite Gumbalimba Eco Adventure Park where you can see and play with monkeys and macaws (think pirate parrots).
You can take a water taxi to the other happening spot, the West End and the Half Moon Bay Beach.